"The bitter truth for Chelsea is that too many of their vaunted performers failed to deliver. Once again, Drogba's European season ended in disappointment and disgrace" – Henry Winter
Comment & analysis round-up
Quote of the day: "Yesterday someone asked me if I would still be special if I lost here. But today I'm not so special for Chelsea supporters who will probably never forgive me. It was difficult coming to my home as an enemy, but that is what happened. I exchanged SMS messages with John Terry yesterday [and] told him one of us would be sad today. That's life. Roman is a very intelligent person and because of that he's not the same person that he was when he arrived in football. Probably he thought it would be easy when he first arrived in football. It's not easy. It's difficult. Teams win on small details which make the difference. He knows it's not easy now. He knows now how to read a game, understand a game, analyse the game and knows his team lost against a side who deserved to win. He's a man of class, so he will accept this defeat because he knows Inter were the best team… I'm not saying Inter are better than them. I'm saying that, today, Inter were much better than Chelsea, from the first minute to the last minute, and that brought frustration to their players, great professionals and great people. My people will always be my people. But today I was the enemy. And the enemy won. That's life." – Jose Mourinho.
Runner-up: "Maybe this defeat could be a very good motivation for the next few games." – Carlo Ancelotti.
Today's overview: If you don't like the Special One you may as well stop reading now. After Inter's brilliant victory at Stamford Bridge on Tuesday night the fourth estate collectively gush over Mourinho's Nerazzurri and the Special One appears to have become even more special.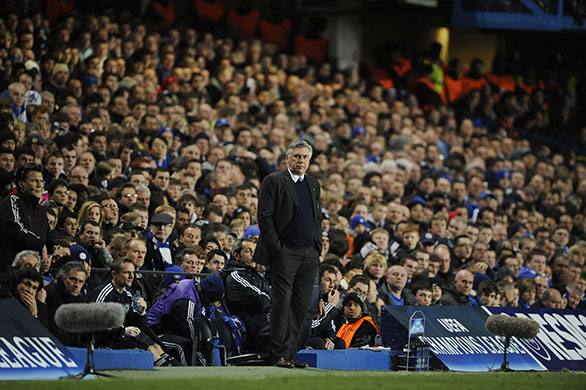 But before we get there, Dominic Fifield sucks on his sour grapes. "Mourinho's former players departed with a familiar snarl and there were echoes of their controversial elimination by Barcelona a year ago as two credible penalty appeals were ignored, Didier Drogba was sent off and John Terry confronted the referee at the end before appearing to mouth 'fucking shit' at the fourth official on his way down the tunnel."
Kevin McCarra detailed the problems now facing Chelsea, and even raises questions over Ancelotti's future at the club. "Carlo Ancelotti, must sense some players are succumbing to wear and tear while others are not cut out for this level. He might even have flinched when the visiting fans sang 'Bye bye Carletto' at full-time… Mourinho was victorious in every aspect. His system, with three forwards supported by the excellent Wesley Sneijder had Chelsea in distress." Similarly hinting that Chelsea's defeat could be the beginning of the end for Ancelotti was Matt Hughes. "Ancelotti's position is not under threat, but much will depend on the outcome of the Barclays Premier League title race, in which Chelsea trail Manchester United by two points with a game in hand."
Stopped just short of calling for the guillotine, Patrick Barclay begins the preparations for Ancelotti to be viewed as a failure. "He must lead Chelsea to the Barclays Premier League title or be judged a failure. There are no excuses available to Ancelotti or his players. A season that began with Manchester United shorn of Cristiano Ronaldo has featured a decline by Liverpool while Arsenal struggle with injuries to key men. The invitation to be champions, as Chelsea last were under José Mourinho in 2006, has been issued and received, and within the next ten days they must answer it."
Examining Chelsea's distress further was David Pleat. "I have rarely seen Chelsea look so anaemic, failing to unbalance Internazionale at any time. It was a fine away performance, Inter posing questions which Chelsea failed to answer… Frank Lampard struggled to find space. Without rhythm or passing flow Chelsea struggled."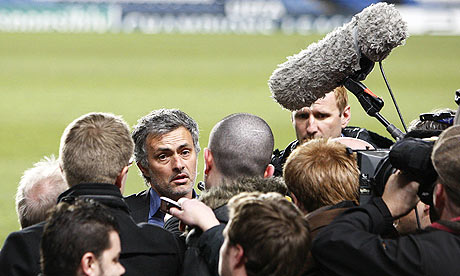 But rather than focus on Chelsea's failings, Richard Williams begins the celebration of Jose Mourinho. "The Special One has his own ideas. For him the best method of defence is to keep the opposition's rearguard fully stretched. His degree of sophistication means this does not usually involve committing all his resources to attack. What it does entail, as we saw again tonight, is a mastery of the art of transition, requiring not just pace and alertness but positional discipline."
The Mourinho chorus was loudly continued by Matt Dickinson. "So now Chelsea know what it is like to be Mourinho'd. To face a team wound up to manic heights of intensity. To hit a brick wall of organisation. To face a manager in the opposing dugout who, even as Chelsea rushed to take a throw-in, refused point blank to give back the ball. Welcome back, José. Egotistical, cynical and brilliant. A few Chelsea fans cursed his name as they faced up to defeat and another failure in the Champions League last night, but it was the bitterness of envy. They would have him back tomorrow."
Almost talking in negatives, Mark Fleming talked up the management style of Mourinho by picking apart Ancelotti's evening on the sidelines. "Ancelotti was on his feet throughout the match, hands in pockets, chewing gum, showing all the emotion of a man waiting to hail a taxi in the Fulham Road. However as the match began to slip away from Chelsea, he continued with his stoic demeanour, while just yards away Mourinho was cajoling his side with yells of exhortation and direction. In contrast Ancelotti seemed powerless to prevent Inter gaining a greater grip on the game. Abramovich is said to want a team in his own image. He has got it in a manager who is undemonstrative and unemotional."
Looking more forensically at individual performances on the night was Oliver Kay, who examined Sneijder vs Mikel. "Sneijder is a wonderful talent but he could hardly have imagined that he would find as much space as this in the cramped confines of Stamford Bridge. If Chelsea still had a player in the Claude Makelele mould to patrol the area in front of their back four, it would have been a different story, but John Obi Mikel has nothing of the great Frenchman's discipline or tactical nous."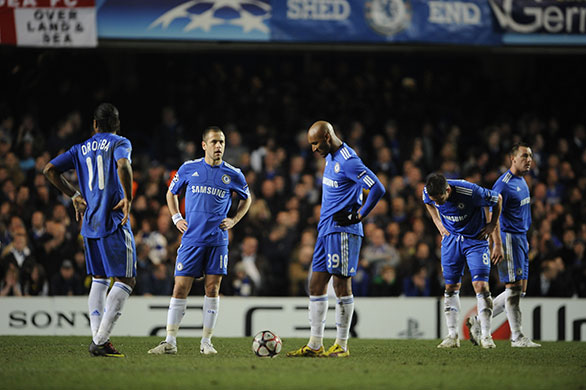 Delivering the harshest character assassination of the Pensioners was Henry Winter. "The bitter truth for Chelsea is that too many of their vaunted performers failed to deliver. Once again, Drogba's European season ended in disappointment and disgrace. He rarely escaped the shackles of the outstanding Lucio… Nicolas Anelka and particularly Michael Ballack were largely anonymous. Joe Cole was too lightweight when he came on. At full-back, Ivanovic and Yuri Zhirkov were as undynamic as Maicon and Zanetti were buccaneering in possession and doggedly resolute in defence."
Jason Burt then rolled in with a knock out punch on Didier Drogba. "A slap in Nemanja Vidic's face, an eye-popping foul-mouthed confrontation with referee Tom Henning Ovrebo – and on Tuesday night a stamp on the ankle of Thiago Motta. Didier Drogba's association with the Champions League is studded with frustration. Punctuated by failure. Coated in controversy."
There is a few other stories making the backpages, beginning with discussion of who will be Hull's new boss.
Delivering the skinny is Ian Whittell, who reports "Hull City's perilous status as a Premier League club is expected to be placed in the hands of Iain Dowie, who was last night on the verge of being appointed manager in succession to Phil Brown… It seems Dowie appealed to Hull because he was a cheap option, instantly available and desperate to prove he can succeed against the odds, which are stacked heavily against him."
Jeremy Cross also believes that Dowie will take over at the KC Stadium, but, almost embarrassingly, only because nobody else wanted the job. "Alan Curbishley and Gary Megson made it known that they were not interested, while Mark Hughes, the former Manchester City manager who was the preferred choice of Adam Pearson, the chairman, also rejected the offer of a return to the game on Humberside. Avram Grant, whose Portsmouth side host Hull on Saturday, was also approached but was reluctant to leave Portsmouth, despite the difficult circumstances he finds himself in at Fratton Park."
So will the Tigers be happy with Mr. Got-A-Face-Only-A-Mother-Could-Love Dowie? Rob Stewart doesn't seem to think so. "The prospect of Dowie's imminent arrival has caused a fans' backlash on Humberside thanks partly to his undistinguished managerial record and his role in Newcastle's relegation last season when he headed to St James' Park as interim manager Alan Shearer's No 2 with eight games left. Hull avoided relegation on the last day of the season following Newcastle's run of just one win in eight games during Shearer's tenure."
Switching tracks, Martin Samuel takes issue with rumours that investment interest from the Rhone Group in Liverpool will mean an upturn in fortunes for the Merseysiders. Samuel: "The idea that an investment of £100million and the arrival of the mysterious Rhone Group, owned by Robert F. Agostinelli and M. Steven Langman, brings an end to troubled times is premature. Liverpool owe that amount to the Royal Bank of Scotland, payable this summer. There is no clear picture of how the Rhone Group's proposed injection of funds will be used or what is expected in return. It is certainly not the same as a wealthy investor buying the club outright and providing £100m on top for transfers."
Onto the transfer news.
Not usually ones to blow our own trumpet, but we feel the need to point out how on February 23rd we reported that Arsenal are interested in Ajax's Danish youngster Christian Eriksen (see a report, including video evidence here). Anyhoo, today David Hytner jumps on the story, farting "Arsene Wenger has identified the 18-year-old Ajax attacking midfielder Christian Eriksen as an Arsenal star of the future, although the manager may have to bide his time before he can conclude a deal for the Dane."
Darren Lewis reports the never-gonna-happen lie that "Ashley Cole has been targeted by Real Madrid as the fallen giants bid to rebuild after their Champions League disaster," and finally in the managerial-merry-go-round we learn that "Sven Goran Eriksson hopes to be named manager of Ivory Coast for the World Cup later this week" according to James Nursey.
Best football betting tips & free bet offers
Click here for more Premier League betting tips
---