"The big question has always been who would play with Rooney, and Gerrard is the perfect candidate. Peter Crouch, Emile Heskey and Jermain Defoe, the other contenders, are not on the same level" – Alan Hansen
Comment & analysis round-up
Quote of the day: "Ancelotti wants me for next season and now everything depends on Liverpool. Chelsea will have to pay some £6m but I believe that in the end I'll be moving there." – Yossi Benayoun.
Runner-up: "I am calm about Fernando [Torres]. I spoke to him about his future and he has told me that he intends to continue with us. Fernando suffered so many blows last season, but he is a professional and has always wanted to do well for us. That is what he remains – committed to this club. I am convinced that Rafa will still be with us and that is good for us because he wants revenge in the next campaign." – Pepe Reina.
Today's overview: England's World Cup preparations is the central topic of discussion this Monday as Mexico get ready to take on the Three Lions at Wembley.
England vs Mexico: Starting with the negatives, Oliver Kay details the widespread concerns over the Wembley pitch. "With key players such as Ferdinand, Ledley King and Wayne Rooney nursing back, knee and ankle problems respectively, there is concern about the risks involved in playing on the Wembley pitch 19 days before England's opening World Cup finals match against the United States."
Stuart James gives a broadbrush review of England's selection issues ahead of the visit of El Tri. "Capello is to rest the quartet of Chelsea players in his squad, as well as Portsmouth's David James, for this evening's game with Ledley King [is] expected to feature for his country for the first time in three years… Darren Bent is unlikely to play tonight having been unable to train over the weekend because of a tight hamstring, leaving his place in the final 23 very much in doubt."
Continuing the review of England's likely line-up against the Mexicans Oliver Kay scribbled "in selecting the second oldest of the 32 squads submitted to Fifa before the World Cup finals, Fabio Capello has voted decisively in favour of experience over largely unproven youth, but Joe Hart and Adam Johnson will be given the opportunity to stake their claims in the penultimate warm-up match against Mexico this evening."
Delving deeper in to the tactics, Patrick Barclay makes the case for why Gerrard should be played behind Rooney in the attack. "What is clear is that England need more spark from Gerrard than he showed for Liverpool over much of the past season. That it has been a difficult time at Anfield is axiomatic and to give Gerrard his due, he has played with the intelligence you would expect from a 29-year-old. But Capello will want some of the old explosiveness and who better, if someone is required to light the touchpaper, than Rooney?"
Alan Hansen also makes the case for Rooney-Gerrard to lead the England attack. "The big question has always been who would play with Rooney, and Gerrard is the perfect candidate. Peter Crouch, Emile Heskey and Jermain Defoe, the other contenders, are not on the same level… Gerrard has been devastating in the last few years for Liverpool playing in the same role as he would occupy behind Rooney. He is intelligent enough to play there, and he is such a hard worker that he does not shirk his defensive duties. Facing the goal, roaming forward from the old inside-left position is where Gerrard is at his most dangerous… Gerrard may have struggled, as Liverpool have done, this year, but one bad season all too often makes people forget the 10 fantastic ones that went before."
Kevin Gardside strikes up the band for the inclusion of Joe Cole in South Africa. "Capello has two genuine No 10s in his squad. One is Wayne Rooney. The other is Cole. Ten is football's magic number, the shirt managers throw to the men who can make a difference, to players not bound by convention, who see the pass and the gap that others do not, in whose imaginations a different game plays out… If Rooney is to be a lone striker in a more advanced position, the need for magic feet to operate behind at some point in a match is met by Cole."
Jose Mourinho & Real Madrid: Richard Williams goes about trying to qualify how good a manager the Special One is. "In one area above all Mourinho is definitely Clough's superior: for all his volatility, his iconoclasm and his provocations, he knows how to handle the pressures of life in football's penthouse suite. Having shown, with Porto, that he could prosper in a comparatively modest setting, he went on to meet the demands of two men, Roman Abramovich and Massimo Moratti, for whom nothing but the very best would do. Perhaps he is not, after all, inherently as volatile and iconoclastic as he seems, just a very clever man with an unusually wide array of psychological weapons at his disposal."
Looking ahead to Mourinho's move to Madrid, Matt Hughes ramps up the chatter over Steven Gerrard joining the Galaticos. "In addition to asking for wages of £10 million a year, Mourinho will present Pérez with a list of transfer targets, including Steven Gerrard. The Portuguese came close to signing the Liverpool captain on two occasions at Chelsea and believes that the midfield player may finally be ready to leave Anfield as a result of his perceived disillusionment with Rafael Benítez, the manager, and the club's American owners, Tom Hicks and George Gillett Jr."
Patrick Barclay aims to temper the hype surround Mourinho's impending move to the Bernabeu claiming the Special One may not have instant success. "Mourinho seems indomitable after Inter Milan's triumphs over Chelsea, Barcelona and, in the final at the Bernabéu on Saturday, Bayern Munich, and it is tempting to envisage the making of history next May as Real become the third club he has led to the European summit before his 50th birthday. But there is a lot of ground for Real to make up in a short time and Mourinho, even in tandem with the great Cristiano Ronaldo, may find that the miracle takes a little longer."
Wrapping up this section, Alan Nixon claims in the Daily Mirror that "Roy Hodgson has emerged as the shock candidate to replace Jose Mourinho at Inter Milan."
World Cup Watch: The Guardian flag up injury problems engulfing the American defence. "The United States defenders Oguchi Onyewu, Jay DeMerit and Carlos Bocanegra are all battling injury before the World Cup in South Africa where they face England in the first game in Group C on 12 June."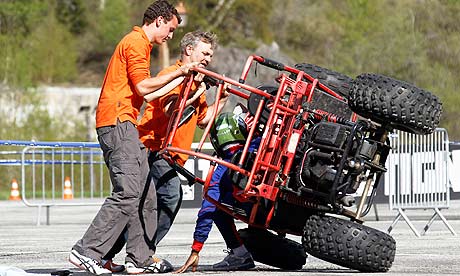 In a separate article The Guardian report on how "France defender William Gallas is unhurt despite suffering another injury scare after crashing during a buggy race that was part of a team-bonding exercise… His dune buggy rolled on to its left side and he stuck out an arm to cushion the impact. He received minor scratches to his left hand."
In an offbeat article, Martin Kelner appreciates the return of Graham Taylor as a television pundit during the World Cup. "Who would have thought that after failing to qualify for the 1994 World Cup, Graham Taylor would still be making money from the England manager's job, four World Cups later?… I say good luck to the former England supremo (the word is used loosely). He is probably lounging in his mansion this morning, lighting big cigars with £20 notes as the hacks who lampooned and who hounded him wait to have their nappies changed in Dunscribblin, the convalescent home for distressed journalists."
Owning Arsenal & Cesc Fabregas: All of a sudden the battle for control of Arsenal is thrown into the spotlight.
Helen Power reports "eight super-rich investors, including one of Africa's wealthiest men, are vying to buy Lady Nina Bracewell-Smith's stake in Arsenal in a sale that could radically transform the balance of power in the club's boardroom… A sale of the shares, which is expected to go through within the
next month, could upset the delicate balance of power between the club's largest shareholders, Stan Kroenke, the owner of several sports franchises in the United States, and Alisher Usmanov, the Uzbek-born mining billionaire."
Never explaining the real pitfalls and fears, Jeremy Wilson flags up the reaction of Arsenal fans to their boardroom shenanigans. "The Arsenal Supporters' Trust has urged Lady Bracewell-Smith to place the long-term interests of the club above financial gain as the auction for her 15.9 per cent shareholding intensifies… Fans are concerned that she should only sell to the right sort of investor."
Switching tracks, Rob Kelly wonders why Barcelona are allowed to tap-up Cesc Fabregas in public. "It is a tried-and-tested approach, and one that will likely end in success, but Barcelona's shameless wooing of Cesc Fabregas continues to leave a bad taste in the mouth… All the while, Fifa and Uefa stand idly by, seemingly happy to watch the Spaniards unsettle Fabregas… If the Barcelona approach is not a clear-cut case of tapping-up, then it comes pretty damn close. When are football's governing bodies going to take a stand?… Perhaps Fifa should consider the approach of basketball's NBA, which has just fined Dallas Mavericks owner Mark Cuban $100,000 for comments he made expressing an interest in signing Cleveland Cavaliers' star LeBron James."
Sam Wallace, however, believes Arsenal have little to complain about now that Barcelona are circling their captain. "Arsenal would do well to remember how they acquired Fabregas. The club – and they are not alone in English football – had no remorse about taking one of Barcelona's brightest young players. So they in turn cannot complain now that Barcelona are taking him back. Fabregas has a contract and so legally he is Arsenal's player to sell at a price of their choosing. But as they hold out for the biggest sum possible they should remember that they only had him in the first place because of this flawed system that allowed them to take away the best young foreign players from their clubs."
Dethroning the Red Knights: Martin Samuel wastes his Monday morning sticking the knife into the seemingly failed Red Knight takeover of Manchester United. "The bogus Knights can then posture and bluster and make a dash for the high ground, claiming that the Glazers' expectations are unrealistic and the club is overpriced. They haven't got the money. That is the truth of it, because nothing is overpriced to those with the funds and determination to drive a deal through… The Glazers will set a price for Manchester United based on their valuation, expectation of return and the fact that they do not want to sell. If the Knights are such hot-shots in the City, why did they not expect this?"
Transfer Talk: Simon Jones kicks things off bleating "Jose Mourinho is ready to test Ashley Cole's commitment to Chelsea by offering England's left back the chance to join his Real Madrid revolution."
Rob Beasley takes things a step further in The Sun farting "Mourinho's move to Real Madrid has caused panic at the top Premier League clubs. Chelsea's Didier Drogba, Frank Lampard and Ashley Cole are in his sights, along with Liverpool stars Steven Gerrard and Fernando Torres. Mourinho, who led Inter Milan to Champions League glory on Saturday night, will be handed a £100million kitty to make Real the kings of Europe. He will sign a four-year deal with the Spanish giants worth £8m a year, plus hefty bonuses for winning La Liga and the Champions League."
The Daily Mail chug "Chelsea are weighing up a double move for Liverpool's Javier Mascherano and Yossi Benayoun," before their hard-working no-name reporter farts "Wolfsburg manager Steve McClaren wants Manchester City's Craig Bellamy to switch to Germany in an £8m deal."
The faceless hack also announces "Everton midfielder Steven Pienaar has alerted Tottenham, Liverpool and Manchester United to the fact he has rejected the Goodison club's latest contract offer," while separately linking Portsmouth's Tal Ben Haim, Kevin Prince Boateng, Nadir Belhadj and Tottenham's Jamie O'Hara to West Ham.
The Daily Mirror add "Birmingham have joined Wolves, West Brom and Everton in the race for Hull forward Stephen Hunt," while their lamely titled EuroSpy hurls "Barcelona are ready to continue their raid on Arsenal by moving for utility man Emmanuel Eboue."
---
GAMBLING CAN BE ADDICTIVE, PLEASE PLAY RESPONSIBLY