The battle of the broadsheets: The Guardian say Ronaldo is off to Real Madrid, The Telegraph deny the rumours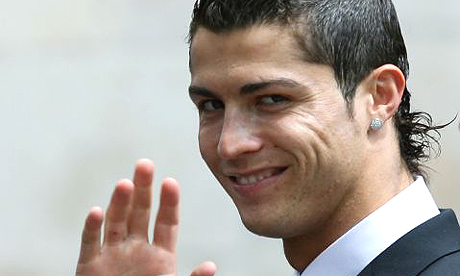 Comment & analysis round-up
Quote of the day: "There are not many people who could come in and affect the club like this, but Alan is certainly one who can and the proof has been there even before we face Chelsea. Everybody's in a great frame of mind, and now if we go out on the pitch and get a positive result, the whole thing can snowball. For my part, I'm really delighted to see Alan here as manager. I watched his career when I was a kid, I admired him as a player, and then I got the chance to play alongside him with Newcastle three or four years ago, which was great for me. Now it's come full circle." – Michael Owen.
Runner-up: "We've had quite a humdrum time since going to Japan for the World Club Cup, catching up the leaders and then having to listen to all the nonsense from you lads [the media] about how magnificent we are. I'm trying to dampen things down, trying to dismiss all the talk about five trophies. The job is done for me by the Fulham result. What it has done is get rid of all that nonsense about us being untouchable and unbeatable. We've been done a favour. We're into a situation where we can concentrate on playing football and not reading newspapers. There has never been a game won in a paper yet." – Sir Alex Ferguson.
Today's overview: It is the battle of the broadsheets this Saturday. After one of the longest courtships in football history, it now seems that Real Madrid have finally landed Cristiano Ronaldo who is set to move to Spain in the summer. Until that is you consult the Telegraph.
A year in the making, but today the Guardian's Daniel Taylor announces "Ronaldo remains determined to move to the Bernabeu and it is understood his salary and contractual terms have already been determined as part of a planned world-record £75m transfer." Offering his reaction to the news, Daniel Taylor writes "nobody should be particularly shocked… [although] what nobody can deny is that Old Trafford will not be anything like as daunting for opposition teams."
From a Spanish perspective, Sid Lowe mocks the fact that Florentino Perez, not deposed president Ramon Calderon, will be praised for the signing. "The supreme irony of Calderon's presidency is confirmed once more; the man for whom he felt most fear and loathing is the man he has most served."
But it is all nonsense according to Rory Smith in the Telegraph, who confidently prints "sources at Old Trafford last night insisted there was no substance to the claims, in line with the club's public stance that Ronaldo, under contract until 2012, will not be leaving Manchester in the near future."
Sitting on the fence is the Independent's Ian Herbert. "Florentino Perez, a near certainty to win Real's presidential elections at the end of the season, will bring in one marquee name and though Kaka looks the best bet, there is a growing feeling that the verbal agreement reached between Ronaldo and Real last summer may reach fruition." The Daily Mail's Ian Ladyman then pathetically has the word EXCLUSIVE scribbled over his article in which he unhelpfully farts "Sportsmail understands that the Spanish giants are sure they have the foundations of a deal in place with the player and with the English and European champions."
Staying with United, Neil Custis appears to invent the splash for the red-top boasting "David Moyes is Alex Ferguson's choice to succeed him as Manchester United boss." And how did Mr. Custis reach this conclusion? Because Sir Alex was quoted saying "when you take everything into consideration, he's done an incredible job at Everton." Rock-solid reporting.
As Real Madrid look to have secured their man, Kaveh Solhekol documents how "Arsene Wenger has brushed off speculation linking Cesc Fabregas with a £45 million summer move to Barcelona while insisting that Arsenal are not a one-man team."
Looking at this season's title race, Patrick Barclay remembers how just 38 days ago "there was a rumour that Benítez had gone and everyone hoped it were true." There is worrying news on Merseyside this Saturday with Matt Scott reporting how Liverpool's co-owner Tom Hicks has defaulted on US$525m of personal loans.
Alan Shearer's former Toon strike-partner Les Ferdinand dishes the dirt on Super Al in the Guardian. "Alan is always perceived as boring but that is just a persona he puts on for the media. He was a pain in the arse like everybody else and loved playing practical jokes… I think whatever happens this season Alan will stay. This is the job he has always wanted and he has it now and I don't see him letting it go very easily."
Terry Venables then plants the kiss of death on Shearer as the permanently orange talking-head eurphorically claims "it is the perfect appointment for [Shearer]. It is the perfect appointment for Newcastle. They might be third-bottom and two points from safety but they have the squad to survive. Now they have the manager, too."
But the Toon-bashing was once again in full-flow. James Lawton sticks his boot into the Magpies wondering "am I alone in having to fight the urge to shield my eyes at each new example of how hopefully they wear their martyrs' crowns?… Newcastle doesn't need another favourite son but a wholesale reconstruction as a football club acquainted with the fundamentals of success. Before anything else, though, it needs a serious session of hosing down." Des Kelly is quick to join in the festivities adding "what better way to describe Newcastle United than as a place built on pie-crust promises. It's the home of unfulfilled ambition, botched quick fixes and false messiahs."
In other Premier League news, a wildly pompous Graham Poll barks "I should take my share of the blame for the excesses of Wayne Rooney – as should all of his managers, past and present… One problem for Rooney, though, would appear to be that his behaviour is not being discouraged at his club."
Despite having peddled the Downing-Spurs story for seemingly decades now, today the Daily Mail bleat "Tottenham are reportedly set to renew their efforts to sign Manchester City winger Martin Petrov at the end of the season." Spurs are also linked with Paraguay's 20-years-old centre-half Paulo Cesar da Silva by the Mirror's Alan Nixon.
Daniel Finkelstein speculates over the introduction of a European Super League wondering "is the money from the Champions League leading to a concentration in each league it touches?"
The backpages have their usual Saturday splattering of interviews.
Brazilian striker Jo tells Daniel Taylor how he has found love and affection at Goodison Park. In the Independent, Jamie Carragher tells Sam Wallace why 2009 could be a vintage year for his medal collection. Alan Smith meets Titus Bramble to celebrate the centre-backs return as a reliable figure at the back for Wigan. While Matt Dickinson sits down with Gary Neville to discuss a future in management – "One slip and you're a bum. Is that really for me?"
---
GAMBLING CAN BE ADDICTIVE, PLEASE PLAY RESPONSIBLY