The 20-minute halftime break, Champions League previews & Benitez's contract talks stall again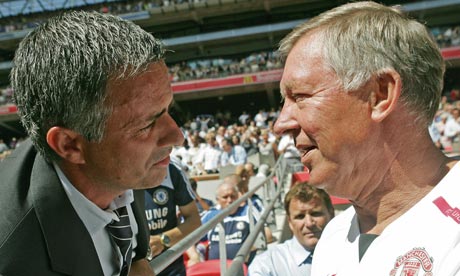 Comment & analysis round-up
Quote of the day: "For me in the Champions League there are only two points. Win it or don't win it. For me the point is not to beat Man United. If we beat Man United and lose in the quarter-final what's the history? I think a big club must think like this and not be happy with a small thing. For a big club to finish the championship in second is to be the champions of the losers. I'm not saying 16 teams could win [this year's Champions League], but eight of them could. So you have to be cool, do your job. If an English team go out, the English press will smash them. If Juventus or us go out, they'll smash us here. If Barcelona or Real Madrid go out the Spanish press will smash them. The reality is that we have to be cool and understand how big the competition is. Cool. Enjoy. After the derby we were very proud of the game we showed to Europe, because the world was watching that game, and so again, against United, we must show a real game." – Jose Mourinho from an interview with Paul Hayward in the Observer.
Runner-up: "Everybody calls me Mr Bling now, so apparently I am not even allowed to wear earrings any more. I've not come from much and I'm just enjoying myself. I'll still wear earrings. That's my personal choice – it doesn't matter what people say. As long as it's not affecting my football I don't see why it's a problem. When I was in the England team and wearing earrings and driving fast cars nobody had anything to say. Now they're saying I have lost my focus, but I'm giving everything. It's not about running into wealth. I am still grounded. Every youngster wears earrings and every little boy wants to drive a fast car, so now I've got the chance to do it, I am doing it." – Micah Richards from an interview with Joe Bernstein.
Roy Keane's rant against heart-attack victim Clive Clarke: "On a night we got beaten in the cup by Luton, the staff came in and said, 'Clive Clarke has had a heart attack at Leicester.' I said, 'Is he OK? I'm shocked they found one, you could never tell by the way he plays.' Clarke later goes and does a piece in some newspaper telling the world that I have lost the dressing room. How does he know? He wasn't there! Clown. We went back to Stoke and Clive had been there as a player. I swear he actually thought he was Stanley Matthews coming back to them."He was kissing everybody. He got back on the bus with presents for his baby, delighted with himself."
Today's overview: Momentum ahead of the return of the Champions League is slowly starting to build, but before we get there fans are today learning of the new proposal to increase the break during football matches.
There is uproar in the Observer this Sunday as Matt Scott reveals plans to increase the length of the halftime interval for commercial reasons. "The proposal for a 20-minute interval has been put forward by Fifa, who say they are concerned that players and referees have no time for rest at some stadiums after walking to the dressing room."
After Guus Hiddink won his first match with Chelsea, Paul Hayward examines how the Dutchman has already got to grips with the Blues' tactics. "There is no Arjen Robben, no Damien Duff to scorch the touchlines, so Chelsea must power their way through the centre with Ballack, Lampard and Mikel, as Hiddink has already calculated… His biggest asset is still Lampard, whose footwork to set up Anelka was pure Brazilian, even if they're not allowed to use that word at Chelsea any more." Paul Wilson argues that the Premier League would have been far less interesting in the last few years without the money of Roman Abramovich.
With the Champions League just around the corner a series of articles whet the appetite ahead of the first round of the knock-out stages.
Chris McGarth steps back to look at the battle between the Premeir League and Serie A. "The Premier League may be soaring in wealth, accomplishment and ambition. But never forget Italian football's genius for pragmatism, as succinctly expressed by one of its great coaches. 'Icarus flew,' Giovanni Trappatoni said. 'But Icarus was a jerk.'"
On Arsenal's meeting with Roma, Brian Glanville argues that "the Gunners will start as favourites [with] almost an embarrassment of riches among the Arsenal strikers." Ian Hawkey previews Juve's trip to Chelsea citing the importance of set-plays in the tie as well as talking up the importance of Alex Del Piero. For Real Madrid, Hawkey traces how "Gonzalo Higuain has turned into an unlikely saviour of lost causes for Madrid despite a slow start," and in his final preview on Inter's meeting with the Red Devils Hawkey highlights how "Adriano has become a Lazarus" for Mourinho's men.
Staying with Inter, Jose Mourinho writes his preview for the match in the Sunday Telegraph. "Some may see it as a very 'Italian' way. I know almost everything about the quality of Manchester United from my time at Chelsea, which gives me an advantage. And make no mistake, we know we are going to have to make it very, very difficult for them. We are going to be a very difficult team to beat."
Hugh McIlvanney mourns the absence of Nemanja Vidic in the first leg of United's tie with Inter. "At San Siro his absence could prove as influential as the presence of the most vibrant attacking talents either side will field… Vidic looks like somebody born with a love of defending, with a temperament that finds fulfilment in repelling sieges and surviving crises. He is one of a rare but recognisable breed."
On Rafa Benitez's ongoing contract saga, Steve Tongue reports "the manager's relationship with the other one, George Gillett, is non-existent and that divide is one reason why his new contract is no nearer to being signed." Rafa's future is plunged into further doubt by Chris Bascombe who writes "Benitez has now boxed himself into a corner, claiming he can't continue under the current structure at the club. Hicks has been sympathetic to Benitez in the past but he doesn't have the power or will to meet all his manager's demands." Steve Bates adds his two cents including "Benitez is at the lowest ebb of his five years at Anfield and feels frustrated, under-valued and publicly exposed while the real villains are hiding from the spotlight."
Focusing on records in football, David James continues his features with the Observer. "The thing about records, such as Van der Sar's, is that everybody starts getting bogged down about who should take the plaudits." While the man of the hour, Edwin van der Sar, is found talking to Sam Wallace in the Independent on Sunday – "I'm proud, of course, but what you start the season for is winning prizes and that's probably not going to be decided until the last two games or so."
The Sunday Times' Nick Greenslade speaks to Roy Keane about why he left Sunderland and his future in the game. "Alex Ferguson. My old manager comes out and says, 'You never know what he is going to do next'. What did he think I was going to do? Go backpacking around Mexico? I've got five kids! Football is in my blood! I'd just had enough at Sunderland. Things had changed. End of bloody story."
In other football news, Chris Bascombe claims that Avram Grant is out of the running for the Pompey job, while Rob Shepherd urges David Beckham that "if you really do want to be a serious player again and be a force for England at the World Cup, now is the time to dig into those deep pockets" and buy out his LA Galaxy contract.
John Richardson announces that "Michael Owen has had a secret groin operation in Germany as injuries once again play havoc with the Newcastle United striker." Reporting the same story, the People's Alan Oliver adds as gospel "[Owen's] four-year contract runs out in June and the striker will move to Manchester City in the close season."
The tabloids continue to peddle transfer rumours despite all the obvious signs that the stories being tabled are fiction. Bob Cass tell his Mail on Sunday readers that "Arsene Wenger has targeted Valencia's David Silva as his one big summer transfer priority." And Arsenal are linked to "a summer move for Brazil international Felipe Melo" by the News of the World.
Shifting attention to the other end of the Football League, Rod Liddle examines the demise of teams like Luton and Brighton. "Few clubs have had it harder than Luton these past five years, although Brighton run them close… You hope the supporters of the big Premier League clubs look downwards at the likes of Brighton and Luton with the realisation that there but for the grace of God, etc. Though I doubt that they do. Football has ridden out the credit crunch, suffering only apparently minimal impact. That, surely, cannot be the case for much longer. Luton and Brighton may be the future some of our top clubs have to look forward to."
---
GAMBLING CAN BE ADDICTIVE, PLEASE PLAY RESPONSIBLY