"That's what money does to some people. What a shame it was wasted on someone like King" – Alan Smith
Comment & analysis round-up
Quote of the day: "I don't think it's a soft centre [with Arsenal], I think it's maybe a little bit of a lack of experience. They're not an experienced team. It's still a young team, a fantastic young team. But I just feel Chelsea and Man United … they have players who have been there and done it all, and that's where I think the winners will come from. Arsenal are potential winners but, I don't think they will win it. I'm not writing them off, or Liverpool, but I think the winners will come from Chelsea or Man United. Chelsea are powerful, they are men, you just feel they have that power. I think they will take all the beating. Even the other night [against Bolton in the Carling Cup], they made loads of changes but look at who came into the team. They're proper players, aren't they?" – Harry Redknapp.
Runners-up: "I read the stuff in the newspapers and I hear [Rio Ferdinand] is going to be dropped and all this but I don't think any of you have access to my mind. Any of you. You can try and pick my teams but you will never pick my teams, you can try as much as you like." – Sir Alex Ferguson.
Today's overview: Marlon King has been sentenced to jail for assaulting a women, and former Arsenal striker Alan Smith has no sympathy for the forward who has since been fired by Wigan.
Smith: "It's more the fact that here is a man of, how shall we say, less than average ability by Premier League standards who has managed to become a millionaire. I only know that because he modestly revealed as much before breaking that poor girl's nose. This is where I have a problem with today's wage levels. People like King can earn 35 grand a week without even proving themselves in the top flight. In total, at Watford, Wigan, Hull and Middlesbrough, the striker scored 12 goals in the Premier League. Hardly enough, you'd think, to be acting all cocky. But that's what money does to some people. What a shame it was wasted on someone like King."
Yet the hugely cynical James Lawton also calls out Wigan for instantly terminating King's contract. "The most relevant point is that the 29-year-old King, sentenced to 18 months for an attack on a young woman he had sexually molested in a Soho nightclub, currently has negligible re-sale value, certainly not enough to warrant his continued attachment to a Premier League club who frequently announce their status as a family entertainment. However, the ensuing question is inevitable: if the player, who cost Wigan £5m when he moved from Watford in January last year, had retained any kind of significant value would his contract have been so promptly torn up?"
Rio Ferdinand's below-par form is still on the chopping block this Saturday, Chris Brereton suggesting it will be a while until the centre-half is back on top form. "Ferdinand, who has Jonny Evans breathing down his neck, has suggested he needs a run of 10 full matches to regain fitness after being troubled with a thigh injury, groin problems and persistent back trouble so his cause was not helped by the announcement that he is doubtful for today's match with a calf problem."
Flagging up his celebrity lifestyle, James Ducker comments on how Rio needs to re-prioritise football. "Ferdinand will be asked to scale back his off-field commitments, which include an online magazine, #5, and a partnership in an Italian restaurant in Manchester. Ferguson could also order Ferdinand to cancel next month's filming of a special edition of Hell's Kitchen, in which the defender is due to appear alongside Marco Pierre White, the chef."
If Liverpool fans thought that the Merseysiders had turned some sort of corner beating United last weekend, think again.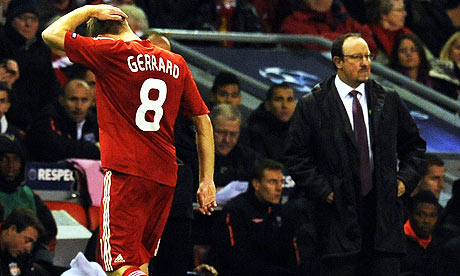 Andy Hunter reports on the latest setbacks at Anfield. "Liverpool have been forced to delay Alberto Aquilani's eagerly anticipated Premier League debut and may send Steven Gerrard for surgery next week should he fail to make their critical Champions League tie in Lyon… With Fernando Torres not fully recovered from a groin injury, and Glen Johnson also ruled out of the Fulham trip with a calf problem, Benítez's selection problems have not eased since the invaluable defeat of Manchester United last Sunday."
Looking at the bigger picture, Daniel Finkelstein reassesses why the Reds are struggling this season. "First, they have stayed steady in quality but have changed with their defence getting weaker and their attack getting stronger. They are letting in a large proportion of the shots on goal. They need to put this right. Second, Xabi Alonso was, next only to Steven Gerrard, their best player. It was a disaster to lose him to Real Madrid. But most importantly — the money. Our figures show that Benítez outperforms the wage bill. Blame the Americans. Not Rafa."
In an offbeat article, Dara O'Brian investigates how "the computers have won. They are better at simulating football than the footballers themselves. And what do we have to do now? We have to go backwards. We have to make the computers more stupid. We have to program them to leap like salmon from the slightest touch, bellyflopping on to the grass, there to clutch their ankles, to roll around and grimace and then to get up and sprint away."
Keeping with the theme of art imitating life, the Guardian report how "the BBC has admitted it posted pictures of actors from the film The Firm on the Crimewatch website and wrongly claimed they were football hooligans earlier this week… The Met put the mix-up down to it having been supplied with footage screened on the night of the game, which included shots of actual rioters."
Ahead of the North London derby, Daniel Taylor has a chin-wag with Gunner striker Nicklas Bendtner, Gary Jacob speaks with Spurs' Wilson Palacios and Jermaine Jenas tells John Ley about his England aspirations.

Russell Kempson details how Wenger has an incredible head-to-head advantage over Harry Redknapp. "If Tottenham have a fair way to go before earning bragging rights, Redknapp's pursuit of Wenger in their head-to-head duels would appear an impossible chase. Redknapp has won only once in 23 meetings." Sam Wallace goes one step further to argue that in the North London derby, form matters. "The knackered old cliché goes that in a derby game the formbook goes out the proverbial window. Well, not in the north London derby. In north London, the formbook says that Arsenal do not lose to Spurs and that has rung true for the last 10 years, since Spurs last beat Arsenal in the league in November 1999."
In a brilliantly cock-eyed piece, former Spurs boss Terry Venables tells Arsene Wenger "nobody is indispensable, especially football managers. And if I was Wenger, I would keep half an eye on the remarkable job Redknapp is doing at the other end of the Seven Sisters Road… would [Arsenal fans] be prepared to accept their bitter rivals finishing above them in the Premier League's top four?"
For all those haters of international friendlies, Patrick Barclay offers a new solution to avoid the meaningless games. "I heartily agree with [Sir Alex] that international friendlies should be all but abolished. I have long felt that they should be replaced by competitive matches in a new kind of calendar that caters for a World Cup or continental tournament every summer. In other words, the competitions should be every two years instead of four."
The sack race rolls into gear this Saturday as Jeremy Cross chimes "Adam Pearson is expected to attend Hull City's match at Burnley today before his return to the club as chairman. If Hull lose, the game could spell the end for Phil Brown. Staying with the Tigers, Matt Lawton accuses Hull of overspending outside their limits over the past two years while forwarding potential candidates to take over from Phil Brown. "Overspending certainly appears to be at the root of Hull's problems, not least in the form of signings like Jimmy Bullard from Fulham… The odds of Pearson turning to Paul Jewell again would, however, appear to be remote after their time together at Derby. Alan Curbishley and Graeme Souness have also been linked with the job."
How much does Sol Campbell want to return to the football pitch? According to Rob Stewart, "Sol Campbell's hopes of securing a move to Championship leaders Newcastle United have been scuppered by the former England international's wage demands."
In the transfer gossip, the Daily Mail announce "Sunderland will press ahead with a £5m move for Wigan left back Maynor Figueroa, who hopes to have recovered from a knee ligament injury by Christmas," before
the Sun's Steven Howard is at his sentastionalist best by farting "Cristiano Ronaldo wants Wayne Rooney to follow him to Real Madrid. The £80million superstar says the Manchester United striker would be a sure-fire hit alongside him in Spain. Ronaldo told SunSport: 'Wayne would be a sensation out here. I think we could do with Rooney to help us out.'"
The Mirror work hard at inventing a series of transfer lies thi Saturday. John Cross writes "Chelsea are tracking Le Mans right back Sebastien Corchia – despite their transfer ban," before the hack trumpets "desperate David Moyes is weighing up a emergency loan move for Inter Milan winger Ricardo Quaresma." James Nursey then claims "West Brom are planning a loan move for Sunderland outcast David Healy," and the red-top closes with news that "Wigan boss Roberto Martinez has lined up Espanyol striker Raul Tamudo as a cut-price replacement for disgraced Marlon King."
---