"That's why José Mourinho is more valuable than any star player. That's why he will be the hottest signing in world football this summer if he leaves Inter Milan" – Tony Cascarino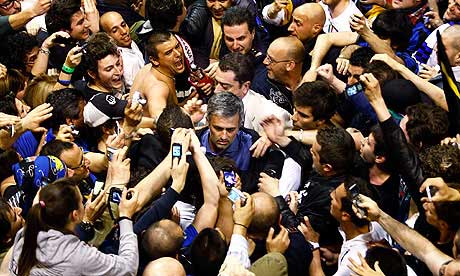 Comment & analysis round-up
Quote of the day: "It's the greatest moment of my career. For the players, me, the fans, it's the greatest. We were a team of heroes. We sweated blood. It's been 38 years since Inter played in the final. This is not a team of young players who can wait 15 years to make the final – they will not have another 10 opportunities to play in one. Against Barcelona, it's difficult with 11 players but with 10, it's an historic achievement to win like this. It's the most beautiful defeat of my life. The season doesn't finish here. We have five games left in all competitions. Tonight we will party, tomorrow we will sleep and after that prepare to face Lazio on Sunday. I ask the fans for another favour – come to Milan airport and welcome this splendid team home. Come to Rome on Sunday for the game with Lazio and then come to the Italian Cup final next Wednesday. I was close to the fans when I was at Chelsea, but I am even closer to the Inter fans. I love Inter and the supporters, but not Italian football. I respect it, but I don't love it. I thank everyone who played and who did not play. I thank all the fans, those who were here and those who remained at home. Absolutely incredible things happened." – Jose Mourinho.
Runner-up: "It was tough, but the players did all they could. But we couldn't do it this year. When a team defends like Inter you have to open up the pitch and try to take advantage of the middle, but we were not able to link-up well and one-against-one it always led to a foul. We lost to a great team and a great coach, but we want to win the league and we will be back – I have nothing to reproach my players for. I feel bad not reaching Madrid. We've tried and I'm proud of it. We have to apologise. We can only congratulate Inter." – Pep Guardiola.
Today's overview: One name permeates across the backpages today after Jose Mourinho's Inter Milan put in a defensive display of winners to dump Barcelona out the Champions League and set up a final date with Bayern Munich.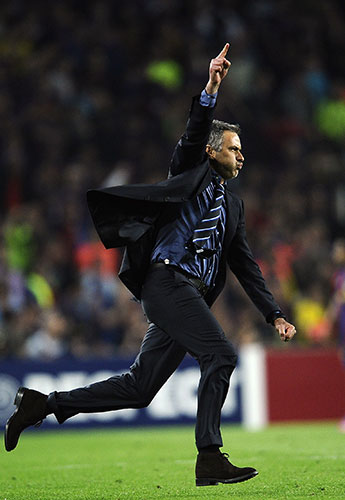 Inter's triumph: Richard Williams celebrated Inter Milan's fantastic defensive display in the Nou Camp. "Inter's defenders ground the pretty butterflies to dust with a performance admirably full of dedication to a straightforward task, if utterly devoid of the sort of joy that their opponents can exude on better nights than this… This was a victory for a rearguard tuned to near-perfection: a virtuoso demonstration of the Italian defensive arts, without a single Italian on the field."
Delving into the Mourinho factor deeper was Amy Lawrence. "What Mourinho has helped this team to discover is personality. The combination of his particular brand of leadership, with the inspired transfers from last summer which emboldened their ranks to the tune of Lúcio, Wesley Sneijder, Diego Milito and Samuel Eto'o, has allowed Inter to express themselves on the grandest arena in a way that has eluded them for years."
Next, Tony Cascarino was almost foaming at the mouth as he sparkled star-dust on the Special One. "That's why José Mourinho is more valuable than any star player. That's why he will be the hottest signing in world football this summer if he leaves Inter Milan. This was a display of tactical genius that should be a lesson to every team in Europe, especially those in England… Mourinho shows up as nonsense the idea that a manager is powerless on the touchline. This tie was full of twists and he always had an answer. Defensive yesterday, Inter were devastating in attack in the first leg."
Injecting the poetry was Henry Winter. "What a night. What a manager. After prising Barcelona's fingers from the Champions League trophy and sending Inter into a first European Cup final since 1972, a jubilant Mourinho sprinted on to the pitch, racing across the grass like a dapper version of David Pleat to salute his fans… So May 22 will instead resemble Mourinho's audition for the Real job. He even masterminded a result at the Nou Camp with a team all in white. He even had a verbal altercation with Barcelona players in the tunnel at half-time. He even angered Barcelona's fans. It sounds his Real job interview has already begun."
The idea that Mourinho's next post of call is Real Madrid was further expunged by James Lawton. "Few coaches have ever had so many choices, so much undisputed belief in their powers of alchemy and sheer, winning devilment. It was supposed to be the night when Barcelona came back to life. But Mourinho was never inclined to accept that. It was his night, his resurrection and now he is just one game away from his finest moment in the stadium of Real Madrid. He is likely to win the Champions League now. We cannot doubt for a second that Real, the richest of clubs, will also be delighted to throw him their keys."
Switching focus, Kevin Gardside flagged up how the dismissal of Thiago Motta affected the semi-final. "The sending off was technically deserved though football can do without the kind of cynical reaction offered by Busquets, who peered through fingers clutched to his face to determine how successful his exaggerated response had been in persuading the referee to dismiss his assailant. What should have been an advantage to Barcelona was turned into a disruption by Inter, whose histrionic response destroyed for the remainder of the half what rhythm Barcelona managed to strike. And that wasn't much. Mourinho excels in the bunker. He is by nature in sympathy with Millwall, no one likes him and he doesn't care."
Latest at Liverpool: With their potential season saving Europa League semi-final against Atletico Madrid on Thursday night, Liverpool's pre-match preparation remains embroiled with questions about the club's future.
On Rafael Benitez's future at the club, Andy Hunter details how Juve are edging closer to snaring their manager of choice. "Juventus are to hold an extraordinary general meeting today at which Andrea Agnelli, son of the former owner Umberto Agnelli, is likely to be appointed president. Agnelli Jr is not expected to divert Juventus's managerial pursuit from Benítez and his elevation will herald a summer of ambitious spending by the Turin club."
Putting some more meat on the Agnelli story, Rory Smith claims "he will oversee the spending of a £60 million transfer kitty this summer, the start of a three-year plan to deliver the Champions League to the Turin club."
Switching focus to the visit of the Rojiblancos, Tony Barrett arguably does the Scousers a disservice believing only one player hold Liverpool's successes in his hands. "Liverpool's hopes will rest on Gerrard's comic-book ability to drag his team kicking and screaming through games that are slipping away from them. Few players in English football have such a logic-defying knack, fewer still do it in the games that matter most, as Gerrard did on that memorable night in December 2004."
Going Down: In an offbeat article discussing how the premier League relegation battle played out this year, Paul Wilson already forecasts that next year's scrap will be fierce. "Next season should be a much sterner test. Newcastle and West Brom are up and, while they may not find the going easy, it will be a surprise if they disappear back into the Championship as meekly as Burnley or limp along as slowly as Hull. The bottom three should not be nailed on from the start, and some of this season's survivors – Bolton and the three Ws – will have to do better. So one hopes, anyway."
Staying with teams in freefall, Nick Szczepanik is the bearer of more bad news for Portsmouth fans. "The FA and the Premier League have issued a joint statement explaining why Portsmouth are wasting their time pursuing the possibility of playing in the Europa League next season… It was reported yesterday that [Andrew Andronikou, the Portsmouth administrator] had taken legal advice about an appeal and could take the club's case to the Court of Arbitration for Sport."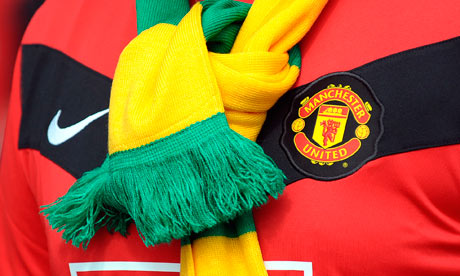 Boycotting United: Where are MUST (the Manchester United Supporters Trust) in this story?
With the Green and Gold campaign appearing to have made little impact from the outside, Daniel Taylor reveals how "Manchester United  supporters are being urged to demonstrate their opposition to the ownership of the club by the Glazer family by effectively going on strike, via a mass boycott of season tickets. With the Glazers insisting they have no intention of relinquishing their power to the Red Knights consortium or any other potential buyers, the Independent Manchester United Supporters' Association (Imusa) has written to its members asking them not to renew their season tickets this summer, in a collective show of mutiny."
Transfer lies & policy: In news that will shock few Arsenal fans, but may nevertheless leave them frustrated, the Guardian announces "Arsène Wenger's reluctance to be rushed into spending Arsenal's millions on fresh talent will extend to the World Cup with the Gunners manager insisting he will not be tempted to buy players who make an impact during the tournament."
As usual the Daily Mail ignore erring on the side of caution to spew unlikely transfer rumours surrounding the Gunners. "Arsene Wenger's head talent spotter, Steve Rowley, ran the rule over summer targets Phil Jones and Steven N'Zonzi while scouting Sam Allardyce's side ahead of Arsenal's trip to Ewood Park on Monday… The Arsenal manager is also on the look out for a goalkeeper with AZ Alkmaar's £8million rated Argentina international, Sergio Romero, on his wish list."
Switching back to policy, Gabriele Marcotti spits fire at Manchester City's ability to sign a goalie at this stage of the season. "I feel sorry for Shay Given and Manchester City's Champions League ambitions. But this "emergency goalkeeper recall" thing is silly  and another example of the lack of a level playing field in Europe. If City were playing in the Champions League final next week, they would never be allowed to field a player they signed at this stage of the season. Beyond that, it's simply wrong. We have transfer windows for a reason."
Dipping into the rumours though, the Telegraph come from nowhere with two stories that would usually be found in the red-tops.
First we learn how "Tottenham midfielder Luka Modric has emerged as a possible summer transfer target for Manchester United… Any move for Modric would cast doubt over the Old Trafford future of Michael Carrick, who reportedly may be used as a makeweight in the deal."
Next, it's all happening at West Ham with Jason Burt barking "West Ham United are considering offering either captain Matthew Upson or James Tomkins to Tottenham Hotspur in return for Jamie O'Hara… Argentine striker Mauro Boselli is a prime target, with Portsmouth's Kevin-Prince Boateng also on a list of potential signings. West Ham will make an improved offer for West Bromwich Albion midfielder Graham Dorrans, having had a £4 million bid rejected this week."
The Daily Mail then take over with their never-gonna-happen lies with news that "Rangers  defender Madjid Bougherra could be a summer target for Liverpool  – if Rafa Benitez keeps his job."
Elsewhere, The Sun link Wolves with a £3million swoop for Burnley's Andre Bikey, the Mirror fart "Tottenham want to sign Bayern Munich's Hamit Altintop when his contract runs out this summer," while David Anderson claims "Newcastle want Hull's crocked Republic of Ireland international Stephen Hunt."
Lastly, serial-gossiper Alan Nixon shouts "Newcastle are facing a fight to keep super Slovenia kid Haris Vuckic – with Manchester United, Chelsea and Liverpool ready to make bids…Newcastle have not yet pinned down Vuckic on a long-term contract and an offer of around £1.5million may steal him away."
Best football betting tips & free bet offers
Click here for more Premier League betting tips
---