"Thanks to Luis Suarez's fairytale introduction to the Premier League at Anfield, Liverpool hardly gave Fernando Torres a second thought." – Andy Hunter
Comment & analysis round-up
Quote of the day: "I was delighted for Luis. He hasn't even had the opportunity to train with us yet. He got his work permit yesterday and was straight in the squad. I think we'll see him improve even more when he starts training with the rest of the lads. He's got a big smile on his face, but he's that sort of lad. He's a happy guy and a good guy… When you think we've got attacking options like Luis, Andy Carroll, Steven Gerrard and Raul Meireles, I think we're going to start frightening opponents when they come here." – Kenny Dalglish.
Runner-up: "Torres is simply a mercenary who has gone for a huge pay rise 'Liverpool fans stuck by him this season. They made excuses for his poor performances, about his injuries still affecting him. But all the time Torres appeared to be taking the club and the fans for a ride. Once he had put in a transfer request Liverpool were right to let him go. Torres talked about how much it meant to him to be a Liverpool player. He seemed to embrace Liverpool's values but now we know he didn't mean it." – John Aldridge.
Surrender of the day: "It's too much for us. Right now it's very important for us to start playing football again. I'm disappointed because we conceded two goals,. It's impossible to win if you keep conceding two goals every game. We have done this for the past four, five, six games. We work hard in training, but it does not happen in matches.'At this moment, when the team is in January and February and the team is tired, you need to win 1-0. We will keep trying but if we play like this we won't do it. If we play better, then maybe we have a chance. But not like this." – Roberto Mancini.
Excuse of the day: "It's a long story. [Ledley King] couldn't fly out to [Germany to] have it [and operation] done because he couldn't find his passport. He'll have to have the op next week now." – Harry Redknapp.
Today's overview: After Luis Suarez got off the mark on his Liverpool debut on Wednesday night, the papers go overboard this Thursday saluting the Uruguayan hitman.
A long line-up of scribes try to convince readers that Suarez's goal have sealed the Fernando Torres chapter at Anfield as the Spaniard fades into the background. The sole dissenting voice arrives from Tim Rich who injects some sense of balance by comparing the forward to Stéphane Guivarc'h.
The next big topic of the day surrounds the retirement of Gary Neville, effective immediately. Owen Gibson says the Neviller will join Sky as their newest pundit, a role Matt Lawton believes the former Manchester United and England full-back will thrive in. Richard Williams, in turn, reviews Neville's amazing top flight career.
Other topics of interest include how Manchester United have moved to Delaware and Arsenal's title ambitions, before we arrive to the final big debate of the day over Cesc fabregas' behaviour against Everton. Matt Barlow stands himself out from the crowd by ridiculously using the match against the Toffees to regurgitate long-standing rumours that the Arsenal skipper will return to Barcelona.
Finally, although the transfer window is closed until the summer, both the Guardian and Independent list Chelsea's summer shopping list.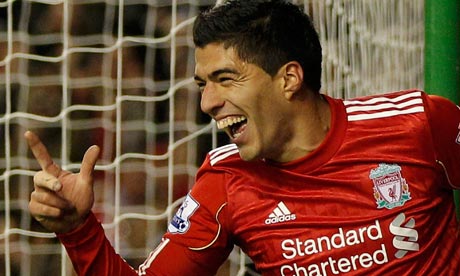 Luis Suarez: The king is dead! Long live the king!
Andy Hunter could have simply quipped Fernando who? as the Luis Suarez love-in takes on a life of it's own this Thursday. "Liverpool mourned when Kevin Keegan left and replaced him with the finest player in their history. Liverpool despaired when Ian Rush joined Juventus and replaced him with arguably the most attractive team in their history. Thanks to Luis Suárez's fairytale introduction to the Premier League at Anfield, Liverpool hardly gave Fernando Torres a second thought."
The baton was then passed onto Paul Hayward. "A 28-minute debut against Stoke City is no basis for judging a £22.8m signing but Luis Suárez has already helped Liverpool kick Fernando Torres into history. Like El Niño four years ago, Suárez scored on his Anfield debut and enlivened a crowd who had become obsessed with departures rather than arrivals. With one new forward returning from a seven-game ban for biting and a second with a conviction for common assault, Liverpool's new strike force is guaranteed to unsettle defenders. In a more legal sense the whole frontline will, when Andy Carroll and Suárez are hunting in front of Steven Gerrard and Raul Meireles."
Rory Smith is next to jump on the bandwagon (as feelings that this waxing lyrical over Suarez stinks of over-compensation a little). "Less than 48 hours after he completed his defection to Chelsea, Liverpool have begun the process of expunging Fernando Torres from Anfield's collective memory. The Spaniard is now an unperson. The iconography of his reign is being torn down. The giant poster of him shooting, his blond hair swept across his forehead, has been removed from the glass frontage of the Kop. This is testament as much to how jealously his image rights are guarded as to the pain he has caused… The first thing they will have observed is that Suárez, clearly, is a man who is certainly not afraid of a challenge."
The poetic rhythms of Henry Winter then join in the chorus. "Life goes on. Life after Fernando Torres certainly goes on for Liverpool. Good byes are said, good buys are saluted.Before the opening whistle, Andy Carroll was hailed by Anfield. At the final whistle, this famous old ground shook to chants of 'Suarez, Suarez.' Life goes on.As the £36million Carroll looked on, the £23million Suarez was moving with a stealth that helps set the leading strikers apart.Can't buy me love? Really? Anfield was swooning."
A more balanced review of Suarez's debut was posited by Tim Rich. "If you judge a man's career by his first five touches, then Luis Suarez represents Dalglish's worst signing since he brought Stéphane Guivarc'h… If you judge him by the way he scored Liverpool's second, a little over a quarter of an hour after coming on, he is a signing that bears the quality of an Aldridge or a Barnes… Since Suarez had not even trained with his team-mates since Liverpool paid Ajax £22.8m for his services, his goal was astonishingly well taken."
Fernando Torres: As Liverpool appear to be getting over his departure, The Sun report on Torres' first meeting with his new boss. "Fernando Torres was summoned to dinner with Chelsea owner Roman Abramovich's enforcer on his first night as a Blues player. The £50million ace was told to be at Eugene Shvidler's mansion at 7.30pm on Tuesday to watch teammates play Sunderland… Last night it was revealed NINE times more of his Chelsea shirts had been sold than the rest of the team put together in the 48 hours since his transfer."
Manchester City: Drawing 2-2 at St Andrews, Roberto Mancini claimed Man City are now out the title race.
Sam Wallace investigates. "He accused his team of having "slept" through another crucial away performance and lacking the concentration in defence not to concede goals at such a critical point of the season. He hinted at a lack of application in training that was being felt in matches. He promised to make changes, even if it meant goalkeeper Joe Hart…Â Mancini is not a ranter and he betrayed barely a hint of emotion last night in his post-match press conference but this was clearly a manager who lost patience with his players last night. His criticism that at this time of the season, with tired opponents, Manchester City should have the composure to close out teams in 1-0 victories was said with quiet exasperation."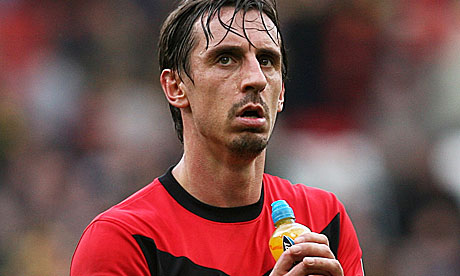 The Neviller Retires: As detailed by Owen Gibson, "After making 602 appearances for Manchester United, winning eight Premier League titles, three FA Cups and one European Cup, as well as playing 85 times for England, Gary Neville has announced his immediate retirement from football… The timing of the announcement led to immediate speculation that he would join Sky's roster of pundits in the wake of the sacking of Andy Gray. Although it is understood that the broadcaster is not planning to announce a replacement for the Scot immediately, instead continuing with a rotating cast of presenters and pundits, Neville is likely to appear in some capacity before the end of the season."
Matt Lawton tips Neville to be a top pundit. "If a career in the media is something he now settles on, he will be impossible to ignore there, too. Intelligent, articulate and fearless in expressing his opinion, he should make a terrific television pundit. Even if half the audience want to switch over or kill the volume, something will s top them. An almost masochistic desire to let him wind them up perhaps. He was not the easiest to deal with for a reporter. But the meetings were always compelling; the material always terrific."
Richard Williams goes about summing up Gary Neville's career. "Gary Neville played the game in the old-fashioned English way, neither giving nor seeking quarter… Never short of an opinion on either side of the dressing-room door, forever railing against injustice, real or imagined, he was Manchester United and he was England, through and through. Everyone else was the enemy, a conviction which could lead him into moments of rashness, such his unwise response to the Kop's baiting… Neville would be an automatic choice in anyone's selection of an all-star team from the years of English football's great boom. And so another member of United's matchless crop – the class of '92 – walks away into history. Only Giggs and Scholes left now."
Mark Ogden informs Manchester United fans of their chances to say thank you to Neville. "Neville will be offered the chance to wave farewell to United supporters prior to the Manchester derby against City next week. A testimonial against yet-to-be decided opponents is planned for the summer."
Glazers Move Manchester To Delaware: Paul Kelso comments that "the ownership structure of Manchester United has become even more opaque after the Glazer family shifted the ultimate ownership of the club to a new company incorporated in the US state of Delaware. Delaware is rated the most secretive financial location in the world, and the change means that it will be even harder for supporters and media to establish the implications of the club's corporate structure… Delaware's secrecy rules mean that the directors, officers and shareholders of the new company are unknown, as is the source of the money used to repay the PIKs."
Arsenal's Title Ambitions: Chris McGrath goes out on his own to talk up Arsenal's potential to win the championship. "Ornate Arsenal have just won six matches in 18 days. The dreamy alchemist and his porous team are still heavily involved in four competitions. Wenger has long been implored to shore up his team's brains with a bit of brawn; to buy a dynamic midfielder – I don't know, maybe someone like Alex Song – and a bulldog in central defence… The wheels could still come off. Song "could not walk" after coming off on Tuesday. Samir Nasri is missing a critical period. Above all, there is an alarming dissonance in Cesc Fabregas… Arsenal are on a familiar knife edge."
The Abuse of Cesc: Matt Barlow claims to have the inside scoop on what Cesc Fabregas said to infuriate David Moyes on Tuesday night. "It is alleged the Spaniard shouted in the direction of the officials: 'How much have you been paid?' He then allegedly accused an opponent of cheating… Fabregas made his comments from afar and referee Lee Mason chose not to report the incident to the FA when he was quizzed on the matter on Wednesday. It will go no further unless Everton lodge an official complaint."
In a supplementary article, Matt Barlow verges on the ridiculous as links Cesc's shouty outburst with claims that the Gunners skipper is going to Barcelona this summer. "He remains brilliantly influential in Arsenal's midfield as the team chase four trophies but something is eating away at him. Something is stirring his demons and sparking criticism from respected figures like David Moyes… Would he prefer to be elsewhere? Where Torres sulked, does Fabregas rage? One thing is for sure: the Arsenal captain does not share the excuses of an unstable club and a misfiring team.The Gunners are in the Carling Cup final, the FA Cup fifth round and sit second in the Premier League. Then there's the Champions League. It resumes later this month, when Arsenal take on Barcelona, more than a club to Fabregas."
In a week in which Cesc Fabregas' on-field behaviour has come under question, Dominic Fifield tears into the Arsenal captain. "The fierce competitor in Fábregas is tarnishing his image these days.That much is regrettable. The 23-year-old World Cup winner is such a magical footballer to watch, his vision and delivery of pass and shot invariably thrilling and undoubtedly inspiring a team that are thriving on four fronts. But too often these days it is the memory of his spikiness that lingers after contests."
The Transfers:Â Once again, no sooner has the transfer window slammed shut but already transfer rumours for the next window are growing.
Dominic Fifield reports "Roman Abramovich is set to sanction further eye-catching additions to the Premier League champions' squad [in the summer]… Those include the Ajax right-back Gregory van der Wiel… Players such as the Stoke City goalkeeper Asmir Begovic, the Lille midfielder Eden Hazard, the Udinese winger Alexis Sánchez and Anderlecht's Romelu Lukaku have been assessed extensively by Chelsea's scouting department."
The Independent offer a different list of summer targets for the Pensioners. "Chelsea's extensive list of possible targets include Dutch right-back Gregory van der Wiel of Ajax, young Belgian internationals Eden Hazard from Lille and Romelu Lukaku of Anderlecht, Slovakia captain Marek Hamsik of Napoli and French winger Dimitri Payet of St Etienne."
Turning to the Daily Mail we read "Manchester City failed with a £4m deadline-day bid for Belgium international winger Yassine El Ghanassy… City are also rivalling Barcelona with interest in £3million-rated Brazilian teenager Arthur Maia of Vitoria."
Best football betting tips & free bet offers
Click here for more Premier League betting tips
---