Tevez says Mancini "treated him like a dog" & the pressure builds on AVB at Chelsea
Comment & analysis round-up
Quote of the day: "He is in the middle of an argument so then he tells me to keep on warming up and treats me like a dog. So, when he spoke to me in that tone of voice I said 'No I'm not going out'. I was willing to play but the coach was in such a foul mood because he had that argument with Dzeko. He started on me as well, started swearing at me. That was because I was calm. Mancini said some horrible things to me. I told Man City, 'I'm a Man City employee, you have to take care of me'. Mancini lied about me and the Man City directors knew it. They looked after Mancini. I wanted Man City to tell the truth to the fans." – Carlos Tevez.
Video of the Carlos Tevez interview is here.
Runner-up: "The problem with Arsenal is one day they play amazing football and then they play really badly. In the end they don't have balance. They either play unbelievable football or they don't know what they're doing. It comes down to inexperience. Arsenal don't know what you have to do to win titles — they're always close but they break down. All their players are young, of course they're hungry but they don't know how to get this target. Without the experience it's difficult — to take the last step, experience is what you need. To win the league or to reach the semi-final or final of the Champions League you need experience. There's always something missing at Arsenal. That bit is the experience — we have so much of that at Milan and I think that's what they need." – Kevin Prince Boateng.
Today's top stories
New AVB crisis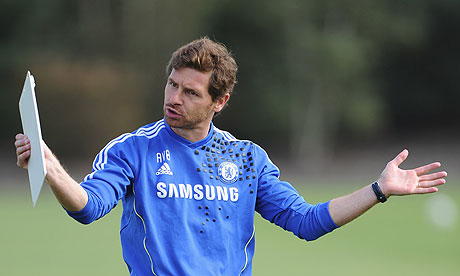 Chelsea players in Andre sack shocker (Pat Sheehan, The Sun) "Chelsea players do not care if manager Andre Villas-Boas is sacked. SunSport has learned that support in the camp for the beleaguered Portuguese boss is dwindling so fast players are not bothered either way. Fans turned on AVB, 34, during Saturday's 2-0 defeat at Everton — and now even his own players are largely indifferent as to whether AVB stays or not."
Hiddink on alert as Blues players slam AVB tactics (Neil Ashton, Daily Mail)
Chelsea players argue with angry AVB (John Cross, Daily Mirror)
Patience may not be a virtue this time, Roman – Andre Villas-Boas looks all at sea (James Lawton, Independent)
Carlos Tevez
Manager happy to forgive but striker is still embittered (Ian Herbert, Independent)
Carlos Tevez says Manchester City manager Roberto Mancini 'treated him like a dog' (Mark Ogden, Daily Telegraph)
Ryan Giggs on playing 1,000 games
Manchester United's Ryan Giggs aims to stay at top table and is hungry for more silverware as milestone looms (Mark Ogden Daily Telegraph) Giggs on City: "They are our local rivals and have never really competed with us until this season, so it has added a different dynamic to it. It's good that different teams are challenging for the league, but it will only be good for us if we beat them. It's as simple as that."
Mick McCarthy out at Wolves
Wolves want Steve Bruce to rescue their season on a 13-match deal (Graeme Bryce, The Sun)
Axed McCarthy to be offered vacant Leeds managerial post (Matt Barlow, Daily Mail)
I feel sick for Mick… now I fear AVB is next (Ian Wright, The Sun)
The Luis Suarez chatter continues 
To tackle racism, we must tackle ignorance (John Barnes, The Times via The Anfield Wrap) "As football finds itself at the heart of arguments about handshakes and insults, let's use it to make real progress. There is a positive change between the generations and we can speed that up by destroying some basic myths about colour, race and superiority."
Liverpool owners flying in early to crack whip over Suarez PR disaster (David Maddock, Daily Mirror)
Don't preach, try to teach… make racists Kop a lesson (Martin Samuel, Daily Mail)
Liverpool's American owners have decisively clipped Kenny Dalglish's wings at Anfield (Paul Hayward, Daily Telegraph)
Rangers head for administration
Rangers headed towards this debacle on the back of vanity and delusion (Kevin McCarra, Guardian)
Rangers' humiliation will be savoured by Celtic supporters but they must be careful what they wish for (Roddy Forsyth, Daily Telegraph)
European round-up
Rafa Honigstein profiles Borussia Monchengladbach boss Lucien Favre and Sid Lowe fears the La Liga title race is all over.
Gossip
Hazard tells friends he's heading to Spurs despite fears over £35m price tag (Daily Mail)
Manchester City are eyeing up Atletico Bilbao's central defender Javi Martinez (Sun)
---