Tevez faces jail for driving offence, Real Madrid accused of illegal state aid, Di Canio still in Sunderland bother & Palace eye Adam
Comment & analysis round-up
Quote of the day: "Jose needs to come back. He is a winner, he is close to the players. He went to Inter and is now at Real Madrid but he is still talking about Chelsea so he loves this club. The fans want him back. I think for the club it is the best solution to bring Jose back because you want to rebuild a team and to give them the strength we had before." – Didier Drogba.
Runner-up: "I am the unique one. I am joking, actually I'm not. I am at the beginning of my career. One day we will discover that I am either a fantastic, good or normal manager." – Paolo Di Canio.
PSG 2 – Barcelona 2
Paris Saint-Germain 2 Barcelona 2: match report (Henry Winter, Telegraph) This was a crazy, compelling game, highlighting Barcelona's reliance on Lionel Messi and the occasional madcap nature of their defence. This also showed that for all David Beckham's disciplined display for 70 minutes, Paris St-Germain buzzed with more energy without him, scoring twice in a memorable climax to this Champions League quarter-final first leg.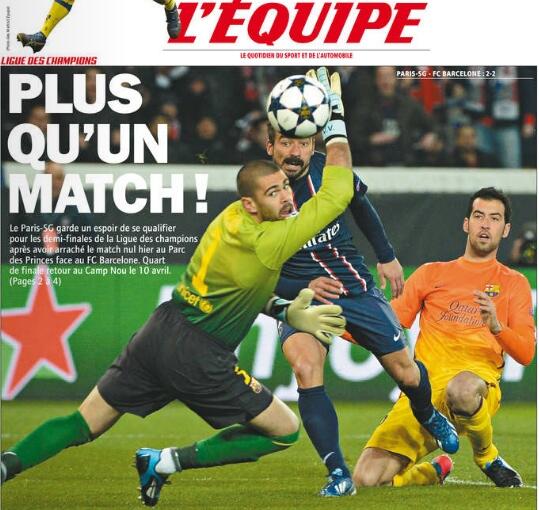 Blaise Matuidi gives PSG hope in Champions League tie with Barcelona (Daniel Taylor, Guardian) For Barcelona it meant a night of conflicting emotions bearing in mind how close they had been to going into the second leg in a position of even greater strength. They should still be regarded as the favourites but any sense of satisfaction has to be tempered by the knowledge that Xavi Hernández's penalty to make it 2-1 had come in the 89th minute of normal time. From that position a side of this refinement will consider it wasteful not to have finished the job. They will also have to consider the possibility that Lionel Messi will not take any part at Camp Nou on Wednesday week because of the hamstring problem that cut his night short. Javier Mascherano will definitely be missing after one booking too many, though damaged knee ligaments would have ruled him out anyway.
Messi injury, controversial Ibra goal and an injury-time equaliser… but Becks is the talk of Paris (Ian Ladyman, Mail) Before he played his final game in America last November, David Beckham leaned against a wall outside the LA Galaxy dressing room and said he dreamed of playing Champions League football again. In the rarefied atmosphere of the Parc des Princes, we saw exactly why. Beckham is edging towards his 38th birthday and may not be the remarkable athlete of old, but  why would he turn his back on nights like this while his legs can still carry him?
Barcelona left to sweat on Messi injury as star man faces up to three weeks out (Joe Ridge, Mail) Lionel Messi is a major doubt for Barcelona's Champions League quarter-final second leg tie against Paris Saint-Germain next week after he limped away from last night's first leg with a hamstring injury.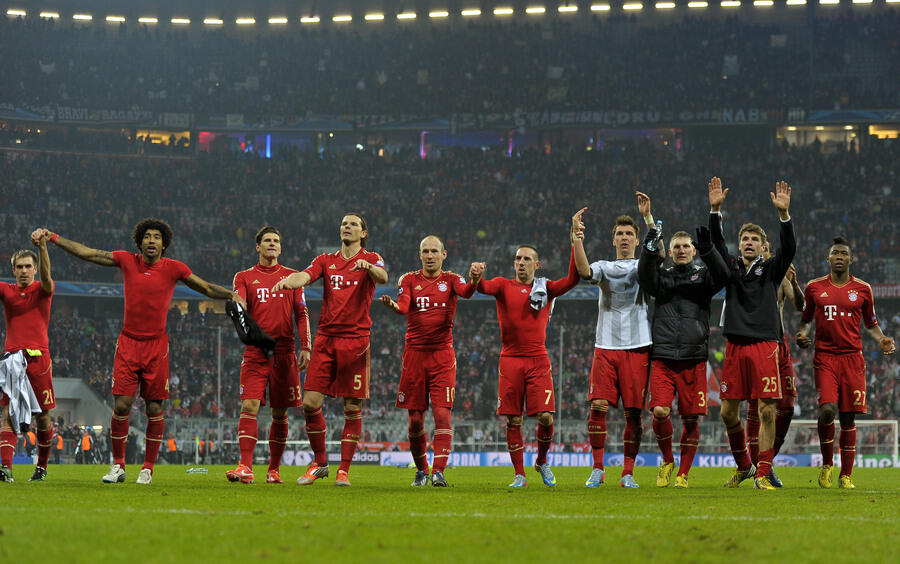 Bayern Munich 2 – Juventus 0
German winning machine restored to full power and ready to go distance (James Lawton, Independent) Bayern march on beyond any slight evidence that they might be a team who once again have reached the limits of their ambition.
They have a formidable record in the later stages of the great competition but it is one with a tendency to run out of oxygen. They have gone 12 years since winning their last European title and for all their virtues they have been in danger of qualifying as the nearly men. Superior inhabitants of such a category, no doubt, but still weighed down by the possibility.
Thomas Müller seals impressive win for Bayern Munich over Juventus (Barney Ronay, Guardian) Bayern Munich, those edgiest of all-conquering Euro-giants, may yet wilt again in the Champions League. But not just yet, it seems, after a dominant first-leg display from Jupp Heynckes's wonderfully mobile and muscular team brought a 2-0 defeat – as close to a 2-0 thrashing as one is likely to see at this stage – of a disappointing Juventus. This was a hotly anticipated meeting of the trophy clubs of Italy and Germany but by the end goals from David Alaba and Thomas Müller barely did justice to the host's superiority.
Is Tevez Going To Jail?
Manchester City striker Carlos Tévez facing threat of six months in jail for driving while disqualified (Mark gden, Telegraph) Carlos Tévez could be given up to six months in prison when he attends Macclesfield Magistrates' Court today after being charged with driving while disqualified and without insurance last month… After Everton goalkeeper Jan Mucha was ordered to undertake 250 hours of community service for driving while disqualified last month, it is anticipated that Tévez will avoid a custodial sentence, but magistrates would be within their power to hand down a six-month prison sentence should the 29-year-old be found guilty.
Going Down
Battle to beat the drop – Alan Smith predicts how the relegation battle will unfold (Alan Smith, Telegraph) Sunderland Of all the sides scrapping for their lives, this one must go down as the hardest to gauge now that the combustible Paolo Di Canio has taken over. Can the Italian inspire a group of players shorn of confidence and belief? Looking at their fixtures, Di Canio might have to be patient. 19th
Real Madrid: Enemy Of The State?
Exclusive: Real Madrid at centre of illegal state aid investigation (Sam Wallace, Independent) Real Madrid are the subject of a European Commission investigation following allegations they have received illegal state aid, the decision on which is overdue and will be of great interest to the likes of Manchester City and Chelsea, under pressure to conform to Uefa Financial Fair Play regulations. The Independent has learn that the EC competition office, run by the Spaniard Joaquin Almunia, has delayed its decision on the case. It is alleged that Real and Madrid City Council agreed a favourable deal for land around the Bernabeu stadium which is to be redeveloped into a lucrative new shopping mall and hotel complex.
State aid for Madrid's Bernabeu stadium? It's all about the Real estate (Sam Wallace, Independent) The story of how Real came to be investigated by the European Commission after allegations of state aid goes to the heart of the club's ambitions. The new shopping mall and hotel complex, as well as the naming rights associated with the roof, are part of the plan to keep Real, with an annual revenue of €512m (£434), as the highest-earning club in the world. Last year the Uefa president, Michel Platini, and the EC competition commissioner, Joaquin Almunia, issued a robust joint-statement condemning state aid for football clubs. In December 2011, the commission had begun investigating the allegation that Madrid City Council had overestimated its debt to the football club in order to enable the transfer of the land Real needed to build the new shopping mall, hotel and stadium roof.
The Di Canio Debate, Day Three
Paolo Di Canio hasn't told us anything about his real views – but he's revealed plenty about ours (Jonathan Liew, Telegraph) Let us assume, first of all, that Paolo Di Canio is a fascist. It's a fairly safe bet. Never mind one translated quote from eight years ago. Never mind a couple of ghostwritten passages in his autobiography. The man's got a Mussolini tattoo on his arm, for heaven's sake. You don't get a Mussolini tattoo unless you think he was a pretty neat sort of guy. There are people who adore Mussolini, who bought the Duce soap holder and sent off for the set of six Duce place mats, and they don't have Mussolini tattoos. So the new Sunderland manager is almost certainly a fascist. Next question: so what?
Pressure mounts on Sunderland and Paolo Di Canio with calls for clarification on fascist views (Mark Ogden, Telegraph) Sunderland were under increasing political pressure on Tuesday night to review their decision to appoint Paolo Di Canio as manager following the Italian's refusal to clarify his controversial views on fascism.
If new Sunderland boss Di Canio was losing in training he'd just walk off (Jamie Redknapp, Mail) Di Canio is still box office and it's a delicious prospect to imagine Jose Mourinho (with Chelsea) and Di Canio sharing a touchline next season. I'm sure the team in the Sky subscription department will be licking their lips in anticipation. Job done… I'm not sure how long he will last at Sunderland, because he isn't a patient man; he falls in and out of love with people and his new players will soon discover that. He will be hard to control, demanding of Sunderland's players and they will have to adapt to his strict fitness regime.
Why Sunderland boss Paolo Di Canio risks spitting on sacrifices of the true working man (Martin Lipton, Mirror) Di Canio can wriggle all he likes. Sunderland can twist with him. But it was Di Canio, in his ­autobiography, who described Benito Mussolini as a "principled, ethical individual". The same Mussolini who outlawed trades unions, ordered the murder of political opponents, stated "a good beating did not hurt anyone".
England Employ An Army, Apparently
Army to protect England in Brazil (John Wragg, Express) England will have the Brazilian army guarding them on the same Copacabana beach where a woman was gang raped this week. Roy Hodgson has been promised that England will be safe in Rio de Janeiro – regarded as one of the most dangerous cities in the world – for the friendly against Brazil on June 2. An American woman was raped by three men near the hotel England will be using and there are official warnings to tourists, who are told not to take valuables to the beach.
A Word On Manchester United
Forget Man United's FA Cup exit, this season was ALL about regaining the title (David McDonnell, Mirror) Their Treble dream may have evaporated in the space of 27 days, with their respective eliminations from the Champions League and FA Cup. But any sense of despondency and self-recrimination Manchester United may feel at those two setbacks will be soothed by a reminder they have all but secured their prime objective this season – that of winning back the title.
Transfer Lies
Crystal Palace boss wants to be reunited with Stoke midfielder Charlie Adam (Mirror) Crystal Palace boss Ian Holloway wants to sign old boy Charlie Adam – if his Eagles fly to the Premier League.
Heskey agrees to continue Aussie adventure after penning new Jets deal (Mail) Emile Heskey has agreed to extend his stay Down under for another season after signing a new one-year deal with Australian outfit Newcastle Jets.
---
GAMBLING CAN BE ADDICTIVE, PLEASE PLAY RESPONSIBLY