Terry & Drogba argue after incredible 3-3 draw, Spurs find Becks in Harrods & Ronaldinho for Blackburn (!)
Comment & analysis round-up
Quote of the day:Â "It is our own fault because we were not able to maintain concentration to the end. There is a large gap at this moment and we have to beat United here to have a say about the title. The title race is not over yet because we are still improving but, obviously, we need to win against United. Of course I'm disappointed with this result because we used a lot of energy to come back in the second half. We thought we had won then we lost two points right at the last situation." – Carlo Ancelotti.
Runner-up:Â "Beckham is coming here for the money? Don't make me laugh. He probably has enough money to buy any club in the Premier League if he wanted, so how on earth can anyone say his move, if it comes off, is about money? Nonsense. They have to realise David is fabulously rich and if he never earned another penny in his life, it wouldn't matter to him at all. He is a multi, multi, multi, multi, multi-millionaire. It says a lot about him that a boy wants to do that. The best thing about Beckham has to be his attitude. That tells you everything. If you had three months off from your job, you'd probably say, 'This'll do me'. Sit round the pool and have a couple of lagers today, have a kip, turn to the missus and say, 'Give us a couple of hours darling and put some sun cream on me'. Get the headphones on. It's an absolute no-brainer as far as I am concerned. How could you lose, for three months?" – Harry Redknapp.
Sir Alex Ferguson on agents: "When I get annoyed is when managers phone me and say such-and-such player – and I'm talking about players who couldn't lace my reserve‑team players' boots – is asking for £1m a year. That's when it becomes disappointing … the way some agents work a miracle by getting these terms for players who are not stars. At United I think most of my first-team players deserve what they're getting. They're playing in front of 75,000 people every week, they're achieving, successful, good footballers, honest professionals. They produce on the field, they bring people into the grounds, and they deserve it. But there are some players at other clubs who get paid enormous amounts of money and I don't know why."
Today's overview: There is plenty to chew on this Monday morning with Chelsea 3 – Aston Villa 3 the main story.
David Hytner concentrates on the spat at full-time between John Terry and Didier Drogba whilst both Sam Wallace and Henry Winter revel in the excitement offered up by the Premier League. Steven Howard wonders in The Sun what the result will do for Gerard Houllier and Richard Williams hails Emile Heskey.
With Woy still on the brink at Liverpool, Martin Samuel backs the claims of Kenny Dalglish to take over until the end of the season and Jamie Redknapp highlights Joe Cole's winner against Bolton.
The Sun report that Tottenham found Becks in a Harrods sale (Goldenballs met Jamie Redknapp in the London store and expressed a desire to move to White Hart Lane) and both Simon Cass and Sam Wallace wonder if the north London club need the veteran midfielder.
The story of the day centres round Blackburn's reported bid to lure Ronaldinho to Ewood Park and also in the transfers The Sun claim Edin Dzeko is all but a Manchester City player whilst the Daily Mail report Bayern Munich may scupper the move.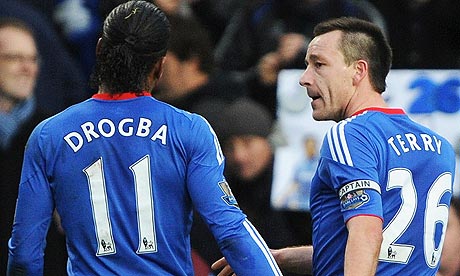 Chelsea drop points and then lay into each other: David Hytner reports "Carlo Ancelotti played down a spat between John Terry and Didier Drogba, two of his senior players at Chelsea, as the defending champions lost further ground in the Premier League title race after a thrilling 3-3 home draw with Aston Villa. Chelsea had rallied from 2-1 down to lead 3-2, courtesy of Terry's last-minute goal, only to switch off in injury-time and allow Ciaran Clark to claim a dramatic but deserved equaliser for the visitors. Drogba argued with Terry as they left the field, with Chelsea struggling to comprehend how they could have conceded such a soft goal. Marc Albrighton, the Villa substitute, was given time to cross and Clark stole in between Terry and Ashley Cole to glance home."
In "five things we learned" from Chelsea-Aston Villa, David Hytner writes "When Aston Villa took the lead at 2-1, the easiest thing for Chelsea's players to do would have been to sense the onset of crisis and go missing, thereby leaving the manager Carlo Ancelotti in the firing line. Their response, though, showed not only pride but loyalty to the Italian. Granted, he would have preferred for them to start the game and play for the bulk of it in the same fashion that they ended it but he cannot have everything at present. When John Terry threaded home for 3-2, the celebrations of the players and manager together told their own story. Importantly, Ancelotti also retains the support of the Chelsea crowd. When Villa's travelling fans informed Ancelotti, with the score at 2-1, that he was 'getting sacked in the morning', the home fans responded with cries of 'Carlo, Carlo'. What a pity for Ancelotti that Ciaran Clark would contrive such a sting in the tail."
Sam Wallace recounts the final few seconds of the match. "It was in the bag at 3-2 to Chelsea just before the fourth official put up the board to announce five minutes of injury time at the end of the match. Didier Drogba had battled his way back from a miserable performance to score the equaliser with six minutes left. Then when Chelsea's Captain Collision scored the third goal it looked like they had nailed that famous win to climb closer to United. That they did not was a testament to a Villa team who looked badly short of anything that might loosely be described as fighting spirit in their defeat to Manchester City last week. But they had it yesterday, in outstanding performances from Brad Friedel, Emile Heskey and Ashley Young, right through to assistant Gary McAllister who spent the aftermath of Villa's celebrations offering to fight a member of the Chelsea staff. It is rare to see a game in which one team wants to win so badly that even in an indifferent run of form, and amid continued setbacks, they score a crucial goal in the last few minutes. But to watch both teams do it was one of those occasional privileges that the Premier League offers up to remind us how much we love it – in spite of all its faults."
Henry Winter also celebrates a fine game: "This was the sort of electric, mistake-riddled game that makes the Premier League drama so intoxicating for the global viewing audience, loving all the thrills, spills and hissy-fits. Even after the final whistle, the spectacle continued with Terry and Didier Drogba arguing and then making up. Again. Terry and Drogba are fast becoming the Taylor and Burton of west London. Terry actually rallied Chelsea well in the second half, but the best displays could be found cloaked in claret and blue. Brad Friedel was exceptional in goal, conceding three goals but saving as many with some remarkable stops."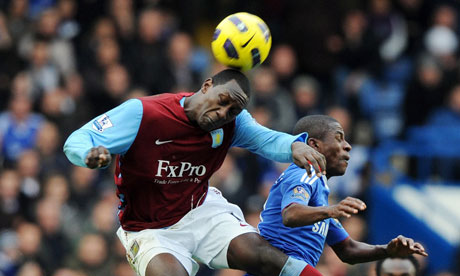 Did Houllier save his skin at the Bridge?: Steven Howard wonders if a dramatic draw was enough for the Frenchman. "Yes, the beleaguered Frenchman, his team and every travelling fan will breathe a sigh of relief after salvaging a draw. But the spectre of the trapdoor is still very much there for a side who led 2-1 until the 84th minute. They are still just two points off the bottom three. They have still managed just five points from a possible 24. And the three goals conceded yesterday make it 22 in the last eight. So it is premature for thoughts that a turning point has arrived for a club that finished sixth in each of the last three seasons and reached the Carling Cup final last February. Yes, Houllier reaped immediate dividends with the return of some key senior players in the sort of side former boss Martin O'Neill was able to send out. With Richard Dunne recalled after his training-ground dispute with Gary McAllister, with Stiliyan Petrov and Nigel Reo-Coker back in midfield and with Emile Heskey, Gabby Agbonlahor and Ashley Young providing energy, pace and physical presence, Villa had a much surer look about them. But Houllier knows that rising to the occasion every now and then is the easiest thing in the world – and the least acceptable. That, above all, consistency is now called for with an immediate league fixture list of Sunderland (h), Birmingham (a), Manchester City (h), Wigan (a) and Manchester Utd (a)."
Richard Williams hails Emile Heskey's performance in the 3-3 draw. "Built like a brute, Heskey is nevertheless a notorious sufferer from fragile confidence and Houllier, not always the most kid-gloved of man-managers, seems to understand how to give the big fellow the reassurance he needs in order to perform at his best. Just over a week away from his 33rd birthday, Heskey was as influential as anyone on the pitch, providing an invaluable point of reference for the younger players around him. On this occasion Gabriel Agbonlahor and Ashley Young, a couple of habitual underachievers, responded eagerly."
Woy still on the brink: Phil Thomas: "Liverpool's last-gasp win over Bolton will NOT be enough to save Roy Hodgson's skin. Kop legend Kenny Dalglish flies home today from a Dubai holiday with fans backing him to take over as caretaker. American owners Fenway Sports Group had decided to chop Hodgson as soon as they had found the right replacement. Their plan was to hold fire until they could appoint someone on a permanent basis – and that remains their main ambition. But now they are prepared to install a caretaker to see out the rest of the season if results fail to show a sharp upturn. Dalglish, who has an ambassadorial role at Anfield, is the fans' choice."
Martin Samuel backs Kenny Dalglish for the Liverpool job. "Give it to Kenny Dalglish. There really is no alternative. Despite the fillip of Saturday's late win over Bolton Wanderers, now that we know Roy Hodgson is approaching journey's end at Liverpool, the idea of landing another sap with what is fast becoming the impossible job is utterly self-defeating. New England Sports Ventures said they would listen to the fans and the fans have spoken: they want Dalglish. The chants have become a petition and a 3,000-word treatise setting out the reasons. Much of it could have been written before a ball had even been kicked this season. Dalglish was always the fans' first choice but, unlike John Henry and NESV, the previous owners were not hostage to well-meaning social contracts. And therein lies the problem. What Liverpool need is the third way."
Jamie Redknapp praises Joe Cole for his winning goal against Bolton. "Joe Cole owed Liverpool that goal, but sometimes it can take a lucky break like that to kick-start your career. Joe will admit he hasn't delivered the goods at Anfield. He's a better player than he has shown. Now he needs to deliver his best form. Both Liverpool goals included terrific passes by Steven Gerrard, whose range of passing is the best in the league."
Spurs pick Becks in Harrods sale: Gordon Smart and Tom Wells get excited about how Spurs got their man. "David Beckham's  transfer talks with Spurs began after a chance meeting in HARRODS. The England legend was Christmas shopping in the top people's store when he bumped into old footie pal Jamie Redknapp, The Sun can reveal. And Becks, 35, told Jamie he was desperate to play for his dad HARRY at Tottenham. Days later, the two camps began negotiations and former Three Lions captain Beckham could now complete an amazing three-month loan switch from Los Angeles Galaxy to the North London club. Last night Spurs manager Harry confirmed the meeting at the store in London's Knightsbridge."
Simon Cass asks if Tottenham really need Goldenballs. "Why upset the apple cart by signing a player for two or three months when his arrival will see the gaze of the world's media — sporting and otherwise — swing in the direction of Tottenham? The 'Beckham Effect' is already beginning to be felt. After fielding questions about keeping a clean sheet against Fulham, Michael Dawson was asked about his thoughts on sharing a dressing room with the former England captain."
Sam Wallace also wonders about Becks at White Hart Lane. "When a player is reaching the end of his career, when he struggles to do the things he once did well, the compliment that tends to get lavished on him – in the absence of much else – is that he is "a good influence on the dressing room". And so it goes with David Beckham's putative move to Tottenham. Once a good player in a great Manchester United team, now four months from his 36th birthday, Beckham's potential positive effect on the Spurs squad is cited as the key reason for them signing him. Yet Spurs are fourth in the table, in the knockout round of the Champions League and the most entertaining team in the country. Just a hunch, but their squad's spirit looks fine to me."
Blackburn's failed bid for Ronaldino: Martin Blackburn has the lowdown in The Sun: "Blackburn were last night at the centre of a ludicrous move for Brazil superstar Ronaldinho. The fiasco started when Rovers owners Venky's revealed on their Facebook site yesterday morning they had offered the AC Milan ace £6million a year. And the bizarre saga developed a few hours later as the Indian poultry giants also tweeted an agreement was a possibility. But the Lancashire club's hopes of a sensational swoop soon fell flat. And in a dramatic U-turn, Venky's co-owner Venkatesh Rao admitted it was unlikely they would be sealing a deal for the 30-year-old. Venky's Facebook post had been taken down by lunchtime as it became clear the player was heading home to Brazil."
The Guardian intimate that the deal is still possible. "Blackburn Rovers have made an audacious bid to sign Ronaldinho from Milan. The plan is the brainchild of Balaji Rao, a member of the family who run Venky's, the Indian chicken company which recently bought the Lancashire club. Ronaldinho has been given permission by Milan to find a new club and was widely believed to be heading back to Brazil to play for Gremio. But his brother and agent, Roberto de Assis, revealed to he Daily Mirror that Blackburn and another unnamed Premier League club have been in contact with him about signing the Brazilian World Cup winner. 'Blackburn have contacted us. There is also other interest in England but this is confidential,' said De Assis. Venky's leaked news of its interest on its website briefly yesterday before removing it. However, sources close to Rovers reveal the move has been on for the past month."
Dzeko heading to City: Martin Blackburn reports "Manchester City have agreed a £27million cut-price fee with Wolfsburg for striker Edin Dzeko. And they hope the highly-rated Bosnian hitman will be their player by the end of this week. Representatives from Eastlands thrashed out a deal with Steve McClaren's struggling Bundesliga club over the weekend. Now all that remains is to finalise personal terms and go through the small print with Dzeko. He is likely to be offered a five-year deal worth around £100,000 a week and City do not expect any stumbling blocks."
The Daily Mail report that Bayern Munich may scupper the move. "Bayern Munich are making a last-ditch bid to snatch Edin Dzeko from the jaws of Manchester City. City remain hopeful of signing the £30million-rated Bosnia international after chairman Khaldoon Al Mubarak stepped into negotiations with City's initial wage offer short of Dzeko's demands. Yet Bayern believe they have a strong chance of hijacking the deal."
Transfer gossip: The Daily Mirror have a host of stories. Liverpool want Preston starlet Adam Barton, Everton are preparing a move for Federico Macheda, Spurs want 29 million pounds for Robbie Keane and David Bentley. Nottingham Forest want to sign Jay Emmanuel Thomas on loan from Arsenal and Avram Grant is poised to return to Portsmouth for Liam Lawrence.
Smut: The Sun have news on Ashley Cole's state of mind. "Cheryl Cole jetted off with her dancer pal hours after she and ex ASHLEY swapped Christmas gifts.  But Chelsea star Ash was left "close to tears" as Cheryl and her hunky dancer pal DEREK HOUGH went to a New Year's Eve bash in South Africa together, The Sun can reveal. The soccer love rat was shattered as snaps of the pair confirmed their deepening relationship."
The Daily Mail have pictures of Ronaldo looking chubby and Wayne Bridge's new girfriend.
Best football betting tips & free bet offers
Click here for more Premier League betting tips
---