"Team Terry" begin fightback as Perroncel is accused of a second affair & Matt Hughes argues "the real fear for Bridge is that retiring would simply make Capello's decision easier"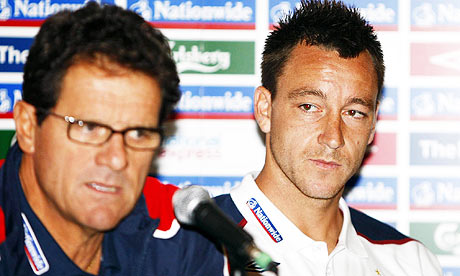 Comment & analysis round-up
Quote of the day: "I know everything. I can't say anything at the moment but I will be back in London on Thursday." – Fabio Capello.
Runner-up: "We simply can't afford [Robbie] Keane. Of course, we'd have liked him But it would have worked out at £105,000 a week, as well as a transfer fee. Mido doesn't want to be known as a 'has-been' of English football, so he is willing to play for a nominal fee, just £1,000-a-week. He is a rich boy and told us he doesn't need the money, but he wants to prove something in English football. He is desperate to show people here what he can do." – West Ham co-owner David Sullivan.
Today's overview: For the first time since John Terry's was exposed as a love-rat for doing the dirty with Wayne Bridge's missus, the papers appear to have been attacked by JT's PR team as the long road to redemption begins for the Chelsea, and still England, captain.
Tom Bryant and Jeremy Armstrong kick off the smear campaign against Ms. Perroncel, delivering the smutty news that "John Terry's ex-lover Vanessa Perroncel had a fling with ANOTHER Premier League star, the Mirror can reveal. The French lingerie model had a secret romance with a second footballer – a household name – during her on-off affair with the England captain. The player involved now fears he will be the next to be exposed."
Sowing the seeds of a potential comeback, Dominic Fifield makes sure Guardian readers know that "Capello and Baldini are believed to be deeply unimpressed with Terry's ­latest public indiscretions but want to hear from him and Bridge before choosing whether to strip the Chelsea defender of the captaincy."
With no firm decision to depose Terry yet reached, Owen Gibson plays a smoke and mirror trick by changing the subject away from specifics of Terry's affair to the wider (and arguably unrelated) topic of who looks after modern footballers. "Most Premier League clubs now have experienced PR operators to handle their reputation, but when it comes their ­private affairs it can be a different story… Some believe his advisers must shoulder some of the blame for failing to prevent Terry ­making a series of blunders."
Reverting back to football reasoning, Kevin McCarra points out the callous but blinding truth, that Terry may be able to hold onto the England armband because Wayne Bridge is out the international picture. "Cruel as it sounds, some will refuse to dwell on Bridge's feelings. It would take an injury to Ashley Cole before the City defender was regarded as critical to England's hopes. The subject of Terry's conduct will not necessarily cause anguish in a hard-bitten group whose desire to excel at the World Cup finals must take precedence."
Matt Hughes also refers to Bridge's weak standing in the overall England set-up. "The real fear for Bridge is that retiring would simply make Capello's decision easier and thereby strengthen Terry's position. Despite being named in all the England manager's squads over the past two years when fit for selection, Bridge is not guaranteed to go to the World Cup because his form for City has been patchy and he has missed the past eight weeks with a knee injury."
The backlash against Terry still continues though in many quarters, with Henry Winter making the case for the FA, and not only Capello, to interject into the episode. "The FA's tactics over Terry are patently wrong. He is not just an England player. By virtue of one small strip of elasticated material emblazoned with Three Lions, Terry is a high-profile representative of the FA and also the country. His conduct could compromise FA commercial deals. His behaviour has certainly damaged values espoused in the FA's Vision. This is a decision for the FA as well as Capello."
Taking a different line, James Lawton stops just short of labelling Capello a hypocrite should the Italian not remove Terry as captain. "You cannot campaign so hard for more disciplined behaviour and then tolerate an offence against the unity and trust of the dressing room that makes an errant phone call or a tardy arrival in the canteen seem utterly inconsequential."
Richard Williams opts to focus on who who replace Terry as captain. "It comes as something of a shock to realise that, of the very small number of players answering those criteria, Wayne Rooney is the outstanding candidate."
One of the daftest lines adopted to suggest Terry will lose his England captaincy is voiced by Oliver Kay, who gassed "Terry is alleged to have got Perroncel, a lingerie model, pregnant and to have arranged for an abortion — behaviour that is likely to appal Capello, a devout Catholic."
Yet the dumbest article of the day comes from Ian Wright, who seems to have watched far too much Big Brother when suggesting the issue of Terry's captaincy "should not be left to the Italian [Capello] to have the sole say. I reckon all of his squad, including Terry and Bridge, should vote on the saga. The players should be locked in a room. Looking his colleagues deep in their eyes, Terry should then explain why he deserves to continue being their team-mate and captain… some of his international team-mates may decide they do not want to be led by, or play with, a man who has behaved in such a way. That is why it should be put to the vote. I know some of you will think this is player power gone bonkers. Yet we need to get all of this baggage out of the way before we go to South Africa."
From one numpty to another, Robbie Savage challenges Wrighty's opinion head-on bleating "if John Terry remains captain it won't make the slightest bit of difference to how England play in the World Cup… As a skipper you'll never have 100 per cent of your team-mates completely on your side all the time. Some will be your pals. Some might not like you full stop. Some might even hate you… But the minute you cross that white line it is all forgotten. You play together, as a team."
So wasn't transfer deadline day a complete non-event!
Piss-taker Giles Smith reported on how Sky Sports News performed on Monday. "'Hotting up' was surely only one way of referring to an afternoon on which Sunderland confirmed that they were loaning Nyron Nosworthy to Sheffield United. This was the longest day on record for Sky's men on the ground, many of them up to their ankles in snow but with worthwhile stories barely covering their shoes."
Attaching some figures to the overall transfer window, Paul Kelso announced "gross spending in the past four weeks across all four divisions in England was about £50 million, the lowest figure since the first year that two-window system was introduced in 2003, when £40 million was spent."
Looking to draw conclusions on an unexciting transfer window at large, David Conn chimed "the relative parsimony of this January's spending does not mean that Premier League clubs are in financial meltdown, although, clearly, the climate has turned chilly… The Premier League clubs, mostly, seem to have suddenly realised they cannot keep borrowing and spending, to fuel rampant transfer inflation."
The fans with the biggest reason to cheer are found north of the boarder after Robbie Keane left Spurs to join Celtic on a 6-month loan deal, with Ewan Murray detailing that Dermot Desmond, the Scottish club's majority shareholder, is funding his
£68,000-a-week basic salary after Tottenham apparently waived a £1m loan fee.
Looking more closely at the Keane deal, Gary Jacob expresses concern over the potential pitfalls for Spurs. "From having four experienced forwards at the start of the season, Spurs could have a problem if either of their first-choice pairing is injured. Peter Crouch and Jermain Defoe will lead the line, but there is a question mark against their back-ups. Roman Pavlyuchenko is without a league goal this season and out of favour, and Eidur Gudjohnsen, the recent loan signing, operates these days primarily as an attacking midfield player."
Fulham had a busy-ish day, the Guardian summarising how Nicky Shorey (Aston Villa), Stefano Okaka (Roma) and Christopher Buchtmann (Liverpool) all arrived at Craven Cottage while Diomansy Kamara left for Celtic on loan.
The Guardian also wrapped up the dealings from Upton Park with West Ham bringing strikers Benni McCarthy, Mido and Ilan, while heading to the south coast Owen Gibson scribbled "Portsmouth's short-term financial concerns were eased, if only slightly, last night by the sale of their promising young goalkeeper Asmir Begovic to Stoke City for £3.25m in a move that re-establishes David James as first choice at Fratton Park."
Sid Lowe reports on a mixed day for Manchester City, as they "failed in last-minute efforts to sign the Real Madrid midfielder Fernando Gago in a deal worth a potential €18m (£15.7m)" while capturing "Adam Johnson from Middlesbrough for about £7m." James Ducker details other signings who the Citizens missed out on, including "the collapse of a bid to buy McDonald Mariga from Parma… City were also keen to sign Jerome Boateng, the highly rated Hamburg defender, but did not submit a formal bid after it became clear that he had no intention of leaving the German club in January."
Injecting some much needed comment, Frank Wiechula criticises Arsene Wenger's inability to spend. "Arsenal's attacking options looked limited, insipid – and Wenger's insistence on leaving his wallet untouched seemed still more baffling… A heavy burden falls on Cesc Fabregas and Andrey Arshavin not only to create goals, but to score them. Between them they have scored more than a third – Fabregas has 14, Arshavin nine. Both must wonder why their manager refused to open the coffers to secure proven striking talents such as Real Madrid's, now Hamburg's, Ruud van Nistelrooy, AC Milan's Klaas-Jan Huntelaar, or even their long-term Bordeaux target Marouane Chamakh."
Lastly, Sam Wallace makes the case that the time is ripe for Nani to shine at Old Trafford. "It has taken Nani two and a half seasons at United to produce a definitive performance against a big team, although that alone… does not dictate that he is destined to become one of United's untouchables. For the first time since he joined, however, that £17.3m transfer fee, including add-ons, looks like a safe investment. It is too easy to say that Nani lived in the shadow of his compatriot Ronaldo who was already an established star when the former arrived in 2007, but without him there are now no excuses for not stepping up into the first team. He also does not have to live with being perceived as the sidekick any longer."
---
GAMBLING CAN BE ADDICTIVE, PLEASE PLAY RESPONSIBLY