Sunday Sun & Observer say Thiago Alcantara likely to join Manchester United
Quote of the day: "It is always good when good players come in. I don't worry about a specific player. And it is certainly not a problem. I am strong enough and I have qualities. And when good players come in, I will play with good players. Every season players come in and players go. But I think it is good news if top players come in. The hope is that this season Arsenal will be at the top of the league. English football, thankfully, is not like Spain where you only have two teams — Barcelona and Real Madrid — who fight at the top. In the Premier League you have five, six, even seven top, top teams. It is very difficult but I know that Arsenal are one of those top teams who will be involved. You don't know how the season will work out. A few of the other teams all have new managers so it is difficult to say. But they will be strong and equally, Arsenal will be strong." – Lukas Podolski.
Thiago likely to join United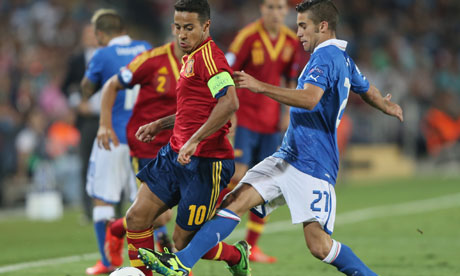 Barcelona's Thiago Alcântara likely to join Manchester United (Jamie Jackson, Observer) Thiago Alcântara has a "good chance" of signing for Manchester United this week for about £17m on a five-year deal, though whether David Moyes can complete the transfer of the Barcelona midfielder before the club fly out on their three-week pre-season tour on Wednesday is unlikely. United appeared to have lost out on Thiago after Barcelona offered the Spain international assurances that he would receive regular game time. But according to a highly placed source it is understood that the chances of Thiago choosing United have been greatly enhanced, with the 22-year-old set to receive much-improved terms on his current £30,000-a-week contract. If Thiago does decide on United he would be Moyes's first major signing since replacing Sir Alex Ferguson, and be a player who would strengthen the manager's midfield options while adding a dimension to the side's style under the Scot.
United close on Thiago (Geoff Sweet, Sunday Sun) Thiago Alcantara moved a step closer to Manchester United last night. Sources close to the Spanish Under-21 midfielder say a five-year deal worth an initial £17.5 million are 'well advanced' and that "only little details remain to close the operation". A few days ago Thiago was included in a new picture modelling the new Barca home and away kits. But last night he'd been quietly cropped from the shot suggesting his days in La Liga are over. And his father Mazinho, a World Cup winner with Brazil in 1994, has put his Barcelona restaurant 'Campechano' on the market, ahead of an imminent move to England.
Arsenal & Chelsea eye Wayne Rooney
Manchester United stars keen for end to Wayne Rooney sideshow as Arsenal and Chelsea keep watch (Matt Law, Sunday Mirror) Manchester United stars have had enough of the Wayne Rooney sideshow. Chelsea and Arsenal remain ­convinced Rooney can be prised out of Old Trafford this summer, despite new manager David Moyes insisting the striker will not be sold. Moyes has met with Rooney, but would not ­reveal whether the 27-year-old striker had told him he wants to stay at United. With only two years left on Rooney's United ­contract, Chelsea boss Jose Mourinho and Arsenal manager ­Arsene Wenger are refusing to give up the chase. Sunday Mirror Sport can also reveal ­Arsenal and Chelsea have made enquiries to find out whether Liverpool's wantaway star Luis Suarez would consider moving within the Premier League. But Real Madrid remain hot favourites to sign Suarez after he insisted he wants to leave England.
New Arsenal contract for Wenger?
Arsenal begin talks with Arsene Wenger over new contract as board look to secure boss's long-term future (Steve Stammers, Sunday Mirror) Arsenal have opened talks with manager Arsene Wenger about a new deal. Negotiations are still at the preliminary stage but the club have made it clear to Wenger they want him to stay. And the feedback from Wenger is positive. Nothing will be decided in the next month as ­Arsenal prepare for the new season. They leave this week on a lucrative tour to the Far East which takes in matches in Japan and Vietnam. And Wenger is working to bring in new signings to ­improve his squad and make them capable of ­winning honours after an eight-year drought.
Liverpool want Xabi Alonso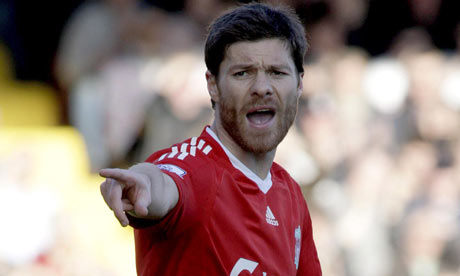 Liverpool's over-30s policy could scupper move for £10m Alonso… but Rodgers may bend the rules to land former hero (Graeme Yorke, Mail on Sunday) Liverpool manager Brendan Rodgers will try to find out from club owner John W Henry if he is prepared to invest in an over-30s player after missing out on top target Henrikh Mkhitaryan who is joining Borussia Dortmund from Shakhtar Donetsk. Rodgers is interested in Real Madrid midfielder Xabi Alonso who is still revered on Merseyside but £10million for a 31-year-old is against Henry's model.
Man City set to sign Negredo
Pellegrini set to clinch £20m signing of Negredo as Man City miss out on Cavani (Joe Bernstein, Mail on Sunday) Alvaro Negredo is expected to complete his £20million move to Manchester City this week. The 27-year-old Sevilla striker was on the verge of joining Atletico Madrid but the prospect of playing for Manuel Pellegrini at City is said to have convinced Negredo to make the switch to the Premier League.
Spurs plan Benteke bid
We'll Tek our time on Chris (Charlie Wyett, Sunday Sun) Spurs plan to get Christian Benteke for £20million — by making a raid at the end of the transfer window. Benteke is a major target for Spurs but chairman Daniel Levy will try to get the Belgian star on the cheap. Aston Villa, who signed the striker for £7m, insist they do not want to sell and it would take an offer of more than £30m to tempt them.
Why you need a VPN?
Cut chords:
Watch everything (Netflix, BBC iPlayer, Hulu) online using a VPN.
Unlock geoblocking:
A VPN gives you access to the best content from anywhere in the world.
Privacy & security:
A VPN keeps your information private, activity encrypted & data anonymous.
Just $6.67 a month + 3 months free!
Best football betting tips & free bet offers
Click here for more Premier League betting tips
---