Sunday Lies: Man City want to swap Adebayor-Ireland for Gerrard-Torres, Man United target Suarez, Mandanda, Mori, Jagielka, Borriello & Diarra while Chelsea eye Kaka, Aguero, Hazard & Modric. Oh, and Barca want Cesc, Spurs track Yossi & Rovers hunt Guti
Comment & analysis round-up
Quote of the day: "There's some evidence that the Spanish football authorities are trying to identify the referees…and pay them. If Spain drop out, because Spain are looking for help from the Russians to help bribe the referees in the World Cup, their votes may then switch to Russia." – Lord Triesman.
Runner-up: "I can't say how bad the injury is at the moment until I've had the scan but I just hope it doesn't mean that I will miss the World Cup Finals. As it stands there is time on my side and hopefully the injury is not too bad but I just don't know quite what is wrong with it. In that situation you have to accept things if the player goes for the ball but I didn't think that was the case. I think we went for the leg. It should be up to the referee to protect players in that situation. Will I still be at Chelsea next season? I don't know. We'll have to see. I'll have to speak to Chelsea about that." – Michael Ballack.
Today's overview: Aside from the small matter of the Football League play-offs, the English football season has gone on summer vacation after Chelsea won the FA Cup final, leaving the fourth estate free to do what they love to do – spin a host of transfer crap and try and sell millions of Sunday papers.
Lies, Lies & More Lies: The News of the World take the biscuit as the champions gossipers, followed quickly by The People, The Star and The Mirror, as the red-tops boasts a ridiculously long series of stories of which it would be no surprise if nothing ever materialises.
In an amazing tale of chutzpah in the NOTW we learn that "Manchester City have lined up Emmanuel Adebayor and Stephen Ireland as bait in an £80m package for Steven Gerrard and Fernando Torres." The Citizens also have a back-up plan according to Simon Mullock, writing "City will raid Real Madrid for striker Gonzalo Higuain if they fail to land Liverpool star Fernando Torres."
Also difficult to take seriously, Neil Ashton pukes "Sir Alex Ferguson has added Ajax sensation Luis Suarez to his shortlist of strikers," while Dan King spreads the rumour that Marseille goalie Steve Mandanda is also on the Old Trafford radar. The lies spread to The Star where Steve Morgan hurls "Manchester United are eyeing up a move for Argentine wonderkid Funes Mori," while Simon Mullock gets in on the act in The Mirror scrawling "Manchester United and Arsenal are ­battling to sign Everton central defender Phil Jagielka."
If Manchester United hadn't been linked with enough players, Simon Mullock chunders even more never-gonna-happen targets for the Red Devils. "Sir Alex Ferguson is ­lining up a £36million ­double swoop for AC Milan striker Marco Borriello and Real Madrid midfielder Lassana Diarra."
Slightly more believable after his disappointing season in La Liga, Cheslea are rumoured to be eyeing Kaka. According to Andy Dunn, "Chelsea would probably be willing to go up only to around the £40million mark. Cheekily, they might even propose some type of loan deal, where they pay Real rent for the player and his extravagant wages." Dan King then expands the list of Blues targets, claiming Sergio Aguero and Eden Hazard are also on the Pensioners shopping list, while the Daily Mail's Rob Draper reports that Luka Modric is a £30million target for Chelsea too.
After the Cesc-to-Barca story reared its ugly head at the end of last week, Neil Ashton pukes the ridiculous story that "Barcelona have made it clear it's now or never for Cesc Fabregas as they prepare to step up their pursuit of the midfielder." Rob Draper pours more fuel on the Fabregas fire adding "Cesc Fabregas seems likely to request a meeting with Arsene Wenger in the next fortnight to tell him he wants the leave the club for Barcelona."
Heading to the other side of north London we learn in the NOTW that "Robbie Keane will NOT be joining either Wolves or Sunderland this summer," while The Star invent the story that "David James has issued a come-and-get-me plea to Tottenham boss Harry Redknapp." The Lilywhites are also rumoured to be prepared to splash £6million on Manchester City reject Micah Richards.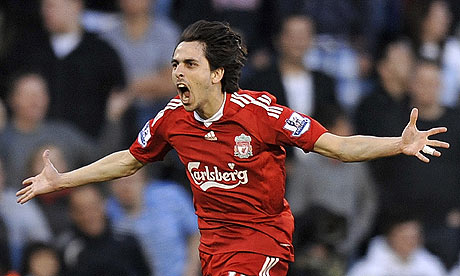 Moving to Merseyside, both Javier Mascherano and Yossi Benayoun have moves away from Liverpool  talked up. The Israeli international in particular appears to have a host of potential suitors, The People linking Spurs with a £5million bid for Yossi as "Roma are keen to sign him, while three sides in Spain are also interested."
Dropping down to some of the Premier League's less sexy clubs, Everton are linked with Blackpool's Charlie Adam while the Toffees are also locked in a battle with Fulham for Nicky Maynard. Everton, known for living on a shoestring budget, apparently have more shopping to do too as Aidan McGee farts "Hatem Ben Afra is an ambitious £8million summer target for Everton," while The People go about explaining how Everton plan to fund their summer activities. "Everton boss David Moyes will offload Nigerian pair Yakubu and Joseph Yobo to raise cash for a star striker… If Moyes can get the pair off the payroll it will make it easier to offer tempting terms to Bellamy or any other leading marksman who comes on the market."
Elsewhere, The People chime in with news that "Blackburn boss Sam Allardyce is plotting an amazing move for Real Madrid legend Guti – with the help of Michel Salgado," Portsmouth defender Marc Wilson is wanted by West Brom, Sunderland and Newcastle, and Wolves are poised to agree a £2.5million deal for Anderlecht midfielder Jelle van Damme.
And there is more.
The Mirror announce that Birmingham are set to sign Kris Boyd and that Sunderland want Hamburg defender Guy Demel. The Daily Express spew news that "Aston Villa have joined the chase to sign Leeds United hitman Jermaine Beckford." And The Mail on Sunday claim "German club Schalke 04 have already expressed interest in £6m [Robert] Green and West Ham have responded by making a £1m offer for Crystal Palace's highly-rated Argentine goalkeeper Julian Speroni."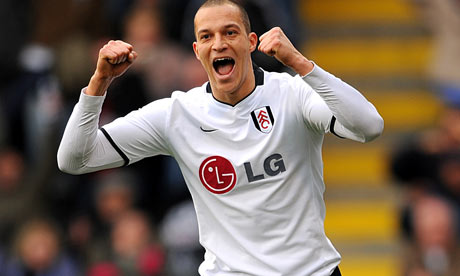 David Kidd rounds off the domestic gossip with a long list of unsubstantiated rumours including that Fulham and Aston Villa are preparing moves for Bobby Zamora (the Midlanders proposing a swap deal involving Nicky Shorey & Steve Sidwell) while the Villains are also tracking David Bentley along with Everton. Lastly, West Ham are rumoured to want Frederic Piquionne.
Managers in Demand: Not only are player transfers touted this weekend, the managerial merry-go-round spins into life with Roy Hodgson one of the prized-assests.
The People report "Fulham are ready to offer Roy Hodgson a major pay rise – to fend off interest from Italy's three biggest clubs… The Fulham chief's representatives know their man is in a position of huge strength with AC Milan and Juventus looking for new managers, while Inter Milan are also likely to have a vacancy with Jose Mourinho heading to Real Madrid after next week's Champions League final."
Talking up his story as the surest sure-thing, Paul Hetherington claims "Avram Grant will be named the new manager of West Ham this week." In a separate article, Hetherington regurgitates the old chestnut that "Liverpool have placed a massive £10million transfer fee on manager Rafa Benitez."
Lord Triesman, Bribes & the Affair: The Mail on Sunday's Ian Gallagher has the smutty scoop of the weekend as Lord Triesman – the Football Association's chairman – has his reputation torn to shreds amid rumours of an affair and bribery scandal.
Gallagher: "The 66-year-old Labour peer suggested that Spain may withdraw its bid to stage the 2018 finals if Russia, which also wants to host the event, helps it to bribe referees in next month's World Cup tournament in South Africa… Lord Triesman made the corruption claims to Melissa Jacobs, a civil servant he employed as a private secretary when he was a Minister at the Department for Innovation, Universities and Skills… She says their relationship became intimate, but she ended it after growing increasingly 'uncomfortable' about dating a married man."
Looking to turn a mole-hill into a raging Icelandic volcano, Patrick Collins does a poor job of scaremongering Britons into believing that Triesman's revelations have plunged England's 2018 World Cup bid into crisis. "At the close of this extraordinary week, the sporting nation has been foolishly humiliated, England's World Cup bid hangs in the balance and the chairman of the Football Association is coming under intense pressure to resign. These are the consequences of Lord Triesman's calamitous indiscretion… The tragedy is that England have the best bid, for the sport at large and the English game in particular. We should bring it off with style and flair and a love for the game which is unmatched anywhere… The FA are once again plunged into confusion. Triesman's enemies are rubbing their hands. And English football is paying a terrible price."
The FA Cup Final: Steve Tongue summerises the sentiment that Portsmouth could easily have claimed one of the greatest upsets in FA Cup history. "It could not be said that Portsmouth were unlucky; not when the crossbar and post spared them an astonishing five times in the first half alone. Yet it was still possible that having somehow survived that barrage, the 12-1 outsiders could have taken the lead twice – the second occasion when Kevin-Prince Boateng's penalty was saved – and clung on for what would have been one of the most remarkable wins in the history of the competition."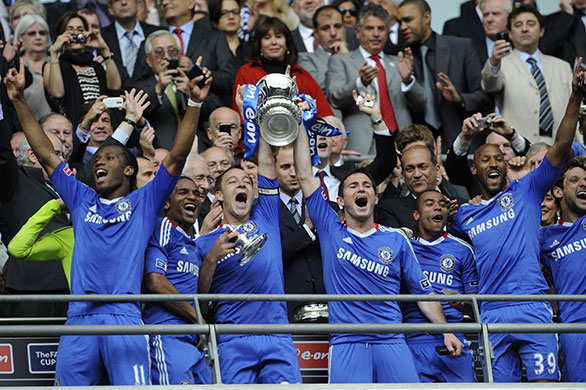 Glenn Moore wonders if Boateng has the wherewithal to recover from his FA Cup disappointment. "It is to be hoped he comes back as bravely from yesterday's failure. It will not be easy; he was inconsolable at the end, and the knowledge that he could have put Portsmouth on the way to a barely believable success will never leave him. But he will almost certainly be at a new club next season, which will help."
Changing tracks, Henry Winter sings the praises of John Terry. "Despite the ravages the game has played on his body, despite all the injuries he has suffered down the years, requiring injections in the past, Terry clearly believes he is at his peak… Terry's DNA echoes the sentiments of one of Pompey's many banners that read "you'll never break our spirit''. Despite all this season's travails, Terry has never flinched. His spirit is strong."
The excellent David James has the final say in his column for the Observer. "The first half was surreal – each time Chelsea hit the post I could not help but grin. At half-time Petr Cech and I walked down the tunnel together and he said to me: "What have you done to that goal?" Like a fool, I said: "You'll find out in the second half." Unfortunately, they did, as it seemed to continue its charmed existence to their good fortune. I can't say that the penalty save turned the game but it kept them at parity and it wasn't long after that they scored."
The Thugs & Football: After several weeks in which football violence has been prevalent, Simon Turnbull crashes the myth that English football has solved it's hooligan problem. "'Fears that hooliganism is returning to the English game have risen following a series of unsavoury incidents,' one national newspaper website reported. It has, in fact, never gone away. In general terms, it has become less high-profile than it was in the bad old days of open conflict on terraces in the 1970s and 1980s – with notable exceptions such as the predictable all-out rumble that surrounded the Carling Cup tie between West Ham and Millwall last August. In some ways, however, it has become more ingrained."
The Jose Mourinho Exclusive: Rounding off the Sundays, Duncan Castles has an exclusive interview with the Special One.
Mourinho: " When I read some comments from some, I don't want to say stupid people… For example, I read a comment from one of the best basketball players in the NBA, Steve Nash. He was saying that Inter could play that game with 10 goalkeepers. Fortunately, he plays basketball. He understands nothing about football. A football team is made of balance — I don't believe in a crazy attacking team, I don't believe in a crazy defensive team. My Porto had balance, my Chelsea had balance, and we have balance in this team. Football is made about balance."
---
GAMBLING CAN BE ADDICTIVE, PLEASE PLAY RESPONSIBLY