"Such is the crackpot, knee-jerk, short-termism that reigns at the Bernabeu that no one would be surprised if voices inside the club did not start calling for Louis van Gaal to be installed as Real's new manager should he get the better of Mourinho" – Pete Jenson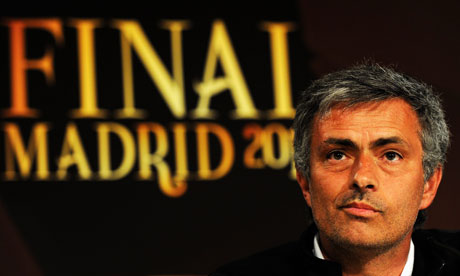 Comment & analysis round-up
Quote of the day: "All this about Madrid is not a problem for me. If you're involved in a Champions League final, you have to focus on that. It's such a beautiful thing you have to concentrate on it. The Champions League is the El Dorado of football. I will wake up thinking about winning the Champions League. My heartbeat will beat a bit faster, my body temperature will go up a little bit. But we have to work, prepare the match and get to the stadium. During the match I'll feel like I'm in my natural habitat. It's the most important match for Inter for 45 years. This is the last match of the season and it can crown us with the most important trophy in football. Forty-five years is a long time, and most of the supporters were not alive. I don't think it's a big responsibility for us, but I can imagine if we won, it would be something special for a special club, a special president and special supporters." – Jose Mourinho.
Runner-up: "I don't give a monkey's about what happens in that game. This is a massive game for us – this is life-changing. I don't think winning the Champions League will change José Mourinho's life – he has already done it. This will change my players' lives. It will change the face of this club for ever. If we get £90 million… it is obscene me even saying it when people are starving in the world. And yet that is the world we live in and that is where football is… What would it actually mean to this town? It would mean business. Loads and loads of business. Lots and lots of people coming to watch their team in our ground, staying the weekend here and spending loads and loads of money. I don't think promotion affects Cardiff that much. My lads have made a huge difference to this area already. We have raised an awful lot of money for Brian House, a hospice charity here. We went in and met all the people there who aren't as fortunate as us, gave up Christmases to go and stand in a shopping mall. Some of us dressed up as women. Not me. I was a penguin." – Ian Holloway.
Today's overview: The crescendo to a long and hard 2009/10 European football season comes to a head this Saturday as, in Britain, Blackpool take on Cardiff in the Championship play-off final, while more globally all eyes will be fixed on Bayern Munich-Inter Milan in the Champions League final in Madrid. Oh, and then there is the small matter of Barcelona trying to snare Cesc Fabregas…
Bayern vs Inter: Beginning the pre-match analysis, Kevin McCarra homes in on the talents of Bayern boss Louis van Gaal. "He has achieved too much for this to be written off as an affectation. The 58-year-old has had to endure. He took Ajax to a Champions League triumph in 1995, but lasted an ignominiously brief six months in his second stint with Barcelona; and he could not steer Holland to the 2002 World Cup. In short, his durability has been proven."
In a sideways article, Barney Ronay rants against all things Barca. "Perhaps the most annoying thing is that so many players now feel bound to emote that it is "their dream" to play for them. It makes you wonder why Barcelona don't just franchise themselves in every country, a global Barcelona brand that might finally turn the world an annihilating shade of Barcelona; and where they can all play each other endlessly, untouchably good and pure. While the rest of us, Fábregas-less, are left to get on with our everyday bad football with its scruffiness and spikiness and enduring imperfections."
Turning to Inter, Matt Hughes reflects how the pre-match conversation has been hijacked by news of the Special One becoming the next Galacticos. "José Mourinho has paved the way for a move from Inter Milan to Real Madrid after tonight's Champions League final against Bayern Munich. In the pre-match press conference at the Bernabéu last night, Mourinho indicated that he is preparing for the next stage of his managerial career."
Slyly, Pete Jenson mocks Real Madrid by arguing "such is the crackpot, knee-jerk, short-termism that reigns at the Bernabeu that no one would be surprised if voices inside the club did not start calling for Louis van Gaal to be installed as Real's new manager should he get the better of Mourinho tonight, but it seems nothing can now stop the Portuguese's arrival at what Madrid fans refer to as 'The White House.'"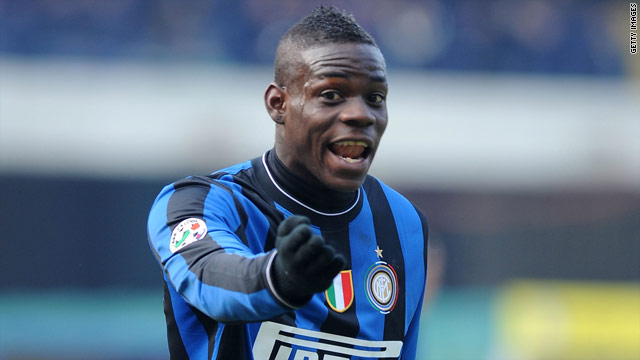 Ian Chadbrand is found speeding off on a tangent as he asks "Can Mario Balotelli change the face of Italian game?" "What a story, what a cause for celebration in the new, more ethnically diverse Italy if the 19-year-old striker, the nation's first born-and-bred black footballing superstar, could deliver the perfect final riposte to the racists who have routinely assailed him from the stands in a country still struggling to come to grips with multiculturalism… Only with Balotelli, it's not that black and white. How much, many ask, is he the victim of racism and how much the victim of his own volatile, petulant, provocative personality? Which then begs the question: how much has that feisty persona been shaped by having to endure the sort of dog's abuse no one should have to take?"
In a classic pre-match preview, Steve Tongue looks at the main tactical issues ahead of kick-off. "The Germans must quell Wesley Sneijder, who was outstanding against Chelsea, which may persuade Mourinho to use the same formation, keeping Samuel Eto'o and Goran Pandev wide. Bayern will be without the suspended Franck Ribery, despite appealing to the Court of Arbitration, so Turkey's Hamit Altintop is a likely starter, with Arjen Robben on the other flank hoping to reprise one of the stunning goals that helped Bayern reach this stage."
Finally on the Champions League final, Oliver Butler investigates why the showpiece has been moved to a Saturday. "Uefa — which expects a global television audience of 170 million, up from 145 million in 2009 — argues that an evening kick-off is part of the DNA of the competition… The revenues generated have risen more than tenfold since Team Marketing took charge and Uefa is expected to earn about €1 billion this season, three quarters of which goes to the clubs. Both finalists have earned €22 million so far this season and are competing for a further €9 million. And that does not include gate receipts and other incidental benefits. MasterCard reckons that the winning team will earn about €120 million in total."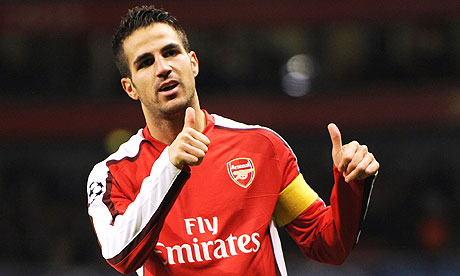 Courting Cesc: After several days of speculation and fervor across the backpages, Arsenal appear ready to show their hand in the negotiation with Barcelona for Cesc Fabregas.
According to David Hytner, "Arsenal's answer is certain to be "No". Wenger will not sanction the deal that Barcelona want – any offer from the Catalan club would have to be of record-breaking proportions for Wenger even to consider it and he retains the hope that Fábregas can be talked round. Hill-Wood has now gone on record with Arsenal's stance and he expressed confidence that Fábregas, the captain and midfield talisman, would remain an Arsenal player next season."
The £90m Final: Switching focus, Cardiff take on Blackpool in the Championship play-off final with neutrals appearing to backing the Tangerines to win.
Looking at the Seasiders' rags to riches story was Tom Dart. "Blackpool have a wealthy benefactor, Valeri Belokon, the Latvian businessman, but they have not been bankrolled like Wigan or Fulham. The £500,000 spent to buy Charlie Adam last summer is the record signing; the wage bill of about £4.8 million is less than John Terry's annual salary; the team are mostly career lower-leaguers."
Rory Smith considers what life would be like if Blackpool reach the Premier League. "The Premier League, of course, is a world apart from the old First Division. If Blackpool go up, they may not know what has hit them. Dozens of cosseted multi-millionaires will not know what to make of the bijou Bloomfield Road, with its temporary stand and patchwork pitch, which houses a team whose players still wash their own kit and clean their own boots. And the polished sophisticates, the Roberto Mancinis and Carlo Ancelottis, who will lead their teams there, may not know what to make of Holloway, the stream-of-consciousness beat-philosopher, part Alan Partridge, part Bristolian Confucius, who will greet them."
Redressing the balance, Gary Jacob traces how the future is set to be life-changing for Cardiff. "Whatever the result of today's Coca-Cola Championship play-off final, Cardiff City will be changed immeasurably next week. A new Malaysian owner, financial stability and possible promotion to the top flight for the first time in nearly 50 years are the ingredients that could help to put their flirtations with insolvency behind them."
Three Lions & the World Cup: Oliver Kay reports on a possible rejigging of England's attacking game-plan for the World Cup. "The manager is giving serious thought to deploying Wayne Rooney as a lone striker, with Steven Gerrard in a free role behind the Manchester United forward. At yesterday's training session in Irdning, Capello took an extended look at a 4-2-3-1 formation, with Rooney supported by Gerrard, Theo Walcott on the right wing and Aaron Lennon on the left. James Milner looks an increasingly likely starter in midfield."
Henry Winter rejoices in the thought of Gerrard being deployed behind Rooney for England. "Harnessing Gerrard and Rooney  so closely together may just be a Plan B for Capello, for deployment if the Heskey-Rooney partnership fails, but the fact that the Italian is actively examining it is an occasion for celebration… Capello acknowledged that he now saw Gerrard as "another striker", echoing his usually productive axis with Fernando Torres at Liverpool. Playing in the centre liberates Gerrard, who particularly enjoys working close to Rooney."
Looking further afield, the Telegraph report "Argentina superstar Lionel Messi handed coach Diego Maradona a World Cup scare on Friday when he injured his right knee in a training match. Barcelona star Messi immediately left the practice session, but the seriousness of the injury was played down by officials." And its a similar story for the Dutch as the Daily Mail announce "Holland forward Ryan Babel has reportedly been injured at the national team's pre-World Cup camp in Austria."
Op-eds: In a standalone article, surly Scot Patrick Barclay bemoans the lack of team-building in today's modern football. "Today most managers have to build in haste, and it shows… Only a very few clubs can afford to build a team out of them today and, of course, the most glorious example is that of Barcelona, who have the twin hold of money and cultural identity over their players… By and large the game is too much about compromise and cobbling because everyone and his agent forever seems in a rush to better himself."
Saturday Gossip: Henry the Hammer?
Getting to grips with the state of West Ham's finances becomes all the more difficult this Saturday as the Guardian detail "West Ham have made a bid to sign Barcelona striker Thierry Henry in a move which would see the Frenchman become the highest-paid player in their history. West Ham joint chairman David Sullivan has revealed he wants to sign the former Arsenal striker and is willing to offer him a two-year deal worth around £75,000 a week, more than £7.5m in total."
Rod Gilmour shoots down the Hammers' hopes scribbling "Telegraph Sport understands that Henry will leave the Nou Camp for New York after reports this week said that the Frenchman would make the move across the Atlantic after the World Cup."
Staying at Upton Park, Simon Cass barks "Avram Grant has rejected Roman Abramovich's invitation to return to Chelsea despite being offered more money than he stands to earn as manager of West Ham. Grant has snubbed the director of football role he occupied at Stamford Bridge before replacing Jose Mourinho as manager in September 2007." And on the subject of managers-on-the-move, Guillem Balague claims "Rafa Benitez is staying at Liverpool. After weeks of speculation about his future friends say he wants to remain on Merseyside 'if he is allowed.'"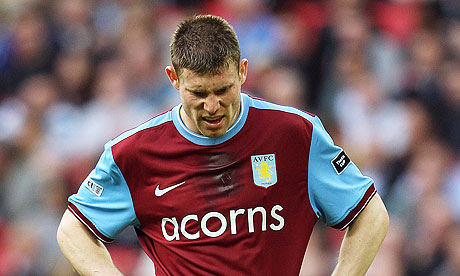 The future of James Milner continues to be up in the clouds. Stuart James reports "Aston Villa will hold preliminary talks with James Milner and his agent before the World Cup to establish whether the England international wants to stay with the club. Villa intend to use the meeting to outline their plans as they seek to persuade the midfielder to agree a new contract and resist a lucrative move to Manchester City."
David Anderson spices up the Milner-City story farting "Manchester City will offer £20million plus a choice of players to lure James Milner from Aston Villa… England internationals Micah Richards and Shaun Wright Phillips, under-21 star Nedum Onuoha and Stephen Ireland will be offered on top of the cash to tempt O'Neill to give up the fight for his prized player."
After Marouane Chamakh joined Arsenal on Friday, Russell Kempson looks at the Gunners' remaining targets. "Wenger is expected to make several additions to his squad this summer. Mikel Arteta, the Everton midfield player, and Felipe Melo, Juventus's Brazil playmaker, have been linked to Arsenal as has Joe Cole, the out-of-contract Chelsea midfield player." Simon Cass contributes news that "Arsenal have rejected the chance to sign Ajax goalkeeper Maarten Stekelenburg."
Rory Smith reports that "Milan Jovanovic insists he has no reservations about turning down some of Europe's biggest clubs to join Liverpool on a Bosman free transfer, despite the doubts surrounding the futures of manager Rafael Benítez and several key players."
The Daily Mail spew "Tottenham have scheduled talks with Luka Modric as they attempt to keep him from the clutches of Manchester United and Chelsea… Meanwhile, Manchester City have made fresh inquiries to Palermo over Tottenham target Edinson Cavani." Staying in the pseudo-tabloid we learn Manchester City's Martin Petrov is a target for West Ham, Everton, Celtic and Aston Villa.
Elsewhere, Neil McLeman crashes in with news that "Yaya Toure wants to move to Chelsea despite the lure of joining his brother Kolo at Manchester City," Mauro Galluzzo adds "Barcelona have rejected a £17m offer from Chelsea for Yaya Toure," while north of the border Stephen McGowen scrawls "Celtic forward Aiden McGeady is shock £9m target for Spartak Moscow."
---
GAMBLING CAN BE ADDICTIVE, PLEASE PLAY RESPONSIBLY