"Such are Liverpool's travails at present that beating them, even at Anfield, even having conceded the first goal, is no longer the mark of a top-class team" – Oliver Kay
Comment & analysis round-up
Quote of the day: "The boss screamed. He was really disappointed with us in the first half. I've never seen him like that before. He said we didn't deserve to wear the Arsenal shirt and he was right because we really weren't good, we weren't up for it. But that gave us a boost and the second half was one of the best second halves we have played this season." – Cesc Fabregas.
Runner-up: "We know that the only way to reduce the gap is to win our games. The target is the same: the top four. We have to keep going and try to improve and win our games and if we play at the same level as we did in the first half we can win games." – Rafa Benitez.
Today's overview: Liverpool fans need to reach for their crash-helmets again this Monday as the Merseysiders take a beating across the backpages.
Beginning with positives, Andy Hunter showers praise on Andrei Arshavin. "The Russian received one split-second opportunity to put an instinctive football brain to work and Liverpool were tormented again. 'That's why you're Channel Five,' taunted the Arsenal faithful. Without a player of Arshavin's ingenuity, Liverpool had no response."
Matt Hughes chooses to celebrate Arsene Wenger's role in Sunday's win. "To win away to Liverpool in the midst of an injury crisis and without a recognised centre forward in the starting line-up… justified the Arsenal manager's philosophy of attacking football, supporting his stubborn insistence that brains can triumph over brawn. Above all, it was a victory for belief."
For some though, Arsenal's win had less to do with the North Londoners' qualities, but more to do with Liverpool's failings.
Sam Wallace spluttered, "somehow [Liverpool] lost to an Arsenal team without a recognisable centre-forward who were so poor in the first half that even Arsène Wenger conspired to lose his temper at half-time." And taking on the Scrooge role in its full glory, Oliver Kay tore into the Liverpudlians. "Such are Liverpool's travails at present that beating them, even at Anfield, even having conceded the first goal, is no longer the mark of a top-class team. It would be tempting to ascribe yesterday's turnaround to a new-found sense of belief among Arsenal's youngsters, just as it is tempting to put it down to Wenger's powers of motivation, with Cesc Fà bregas, the captain, saying that he had never seen his manager so angry as he was at half-time. Tempting, but, ultimately, misleading. The reality here is that Liverpool, for the umpteenth time this season, collapsed under the pressure that is coming from within, rather than the pressure applied by their opponents."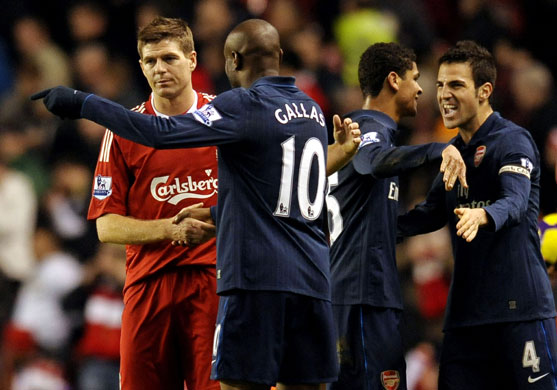 Richard Williams failed to mince his words when assessing Liverpool's loss to Arsenal. "For Benítez the most worrying aspect of defeat by Arsenal was that the emotional energy ran out at half-time… They were, in short, a colourless travesty of what their supporters have come to expect from players wearing the red shirts – not for lack of effort but through a draining away of collective composure." Also happy to kick the Scousers were they're down, James Lawton coughed "if this was indeed the best of Liverpool, if [Benitez] was able to field his strongest team, give or take the mysterious continuing bench-warming of £20m Alberto Aquilani, where does it leave a club drifting remorselessly away from its old place among the elite of English and European football?… For the greatest winners in the history of English football it is increasingly hard not to believe that time has already run out."
Talking tactics, David Pleat criticised Benitez's Mascherano-Aquilani substitution. "Once his side had been overhauled, Benitez introduced Alberto Aquilani, a deep-lying creator, for Javier Mascherano, an interceptor, but his team had long since lost sight of pass and move. They clearly needed only one holding midfielder, not two, and Benitez really must take advice on this. He is negating his team's creativity."
So, are Liverpool still a member of the Top Four club?
Refusing to count any chickens is Kevin McCarra. "It would be unwise for anyone at the club to assume they will qualify for next season's Champions League as a matter of course. This game may be remembered most by the home fans for a factor that was absent. There was no fightback of any sort. The match petered out and Liverpool seemed so resigned to defeat that it would merely have inconvenienced the crowd's travel plans if the referee had decided on a half-an-hour's stoppage time instead of four minutes." Henry Winter drew similar conclusions writing "as Arsenal celebrated, Benitez knew he could hardly complain. Second half, second best. As Arsenal headed home, the feeling persisted that Liverpool's hopes of finishing fourth might have headed south."
Alan Hansen is also beginning to prepare himself for the worst. "Failing to qualify for the Champions League does not equate to meltdown, but it does represent a dangerous road. They can still make it into next year's competition through finishing high enough in the league, but not if they keep being beaten like this. We have seen too much of this type of performance from Liverpool during the season. The better moments, like the first half and a great win over Manchester United, have been too few and far between."
Heaping more woes on Liverpool, Rory Smith details how "the concern now is that this will be the epitaph of their season. Rafael Benítez's side lie 13 points from Chelsea, the league leaders, and five behind Aston Villa, in the fourth Champions League slot. They are 10 away from the relegation zone. The numbers tell the story."
And there's more as Martin Samuel is the last to rip in the Reds. "A team who have won three matches in 15 can no longer be said to be experiencing a blip. The 2-0 win over Manchester United in October: that was the blip. That was the result that is still hard to explain. Liverpool have lost more matches in the Premier League than Stoke City this season and have the same number of points as Birmingham City. So statistically, there was nothing in the least surprising in defeat by a weakened Arsenal team yesterday. Liverpool are living off a name, a reputation for invincibility, particularly in the big games at Anfield. They surrendered that in the Champions League this season, and now in the domestic championship, too."
Like a dog to a bone, The Sun's hack Steven Howard is the only scribe to adopt the "Benitez must go" mantra. "It was more a case of Liverpool lowering theirs, achieving what many thought was impossible by playing as badly as Arsenal in the first half.  For this, only one man is to blame. The man who brought most of the players to the club and has managed the side for the last five years. The Kop may have so far refused to point the finger at Benitez. But their silence yesterday spoke volumes. 'Adios, amigo' cannot be too far from their lips."
TV watcher Martin Kelner delivers his verdict on the quality of the show "You're On Sky Sports." "I catch "YOSS" about once every six months and stick it out for maybe 20 minutes, so it is probably unfair to offer too muscular an opinion. But I always seem to be listening to the same caller, mumbling his way through an argument which can best be summed up as "Rafael Benítez must go". Not that football phone-ins of any sort are natural destinations for intellectual rigour, but this one makes Alan Green's programme on Radio 5 Live sound like the Moral Maze."
Gabriele Marcotti turns his attention to the FIFA international tournament which nobody cares about. "It's easy to lampoon the Club World Cup as a pointless, Sepp Blatter-inspired, tinpot tournament. It's a nuisance, because it does not suit our Eurocentrism, coming as it does in early December, when it interferes with league football… The real issue is what went wrong with the Club World Cup and what can be done to fix it."
Praise for Aston Villa continues into the start of the week, as James Ducker flags up the "Villa quartet." "No one is saying that Gabriel Agbonlahor, Ashley Young, James Milner and Stewart Downing will make an impact at Villa as telling as that of Beckham and company at Old Trafford, but just as Alex Ferguson's excitement at his "fledgelings" was shared by England managers, so Fabio Capello must hope that Martin O'Neill can continue to cultivate the burgeoning young English talents in his squad."
Stan Collymore then chips in with his expert advise for Villa to spend, spend, spend. "I hope now Aston Villa's players get the respect they deserve and O'Neill gets the absolute 100 per cent backing of fans and owner Randy Lerner. The best teams in the country have shown you need to spend when you are on top and spend when you are winning. So I hope US billionaire Lerner gives O'Neill some serious dough to play with in January."
Over to the transfers, where we start with Celtic's attempts to rejuvenate their squad. John Greechan claims "Norway midfielder Morten Gamst Pedersen has been linked with a January move to Parkhead," while the Daily Mail report "South Korea midfielder Ki Sung Yueng has signed a four-year contract with Celtic, the club have confirmed."
It a rumour which first surfaced over a week ago, The Sun claim "Zola is preparing a January swoop for Adriano in an attempt to fire West Ham away from the drop zone." Elsewhere, Alan Nixon scribbles "Fulham boss Roy Hodgson will make a new £3million bid to sign Wigan's Austrian star Paul Scharner in the transfer window," while Nixon also spouts that "Blackburn boss Sam Allardyce set to swoop for former Monaco midfielder [Camel Meriem]."
---