Sturridge's move to Liverpool hits a snag, Sterling Kops new deal & Sir Alex Ferguson lectures Harvard
Comment & analysis round-up
Quote of the day:  "When they told me what I had it was a very tough moment and I thought of my children more than of myself. I felt they needed me still as they were only 14 and 17 years of age. They say I have been very strong. But I don't know if I could have withstood this if I wasn't the one who was ill but instead it was my children or my wife. I went to get the results of my tests and when I entered the doctor's offices I saw my wife Montse, Pep Guardiola and his wife Cris, the Barca doctors.. Seeing so many people I thought 'Hmm, it must be really bad'. But I am a positive person and I immediately told myself, if there is no solution 'bad luck'. If there is, we should get on with it and look for the best team. At the start we thought of having treatment outside of Spain because it was a complicated operation. I asked to speak to Dr Coro Bescos and she assured me she could do it, so I told her 'Done — and there's nothing more to say'. She transmitted so much confidence that I went into surgery like someone goes to a bar to drink a coffee. When I awoke I felt very happy. I had to have radiotherapy and chemo but I was back at work in a couple of weeks and felt very much loved. To avoid putting pressure on the doctor I didn't want anyone from the club nor my closest colleagues to find out until after I had the operation. It was like someone who returns home tired and slumps on the sofa without any strength or desire to do anything until his house is on fire and he grabs everything he can to run away. I've been running since and it's like two or three years have passed. You should never get nervous about anything. What today seems important tomorrow isn't so any more. Nothing is sufficiently important in our work, all that matters is to be well." – Tito Vilanova talks about the first time he was diagnosed with cancer – in an interview given 3 days ago.
Runner-up: "When you win games, it will be easier getting everybody together. We talked about showing character at half-time and the reaction was fantastic. Every competition is important for us. A top side has to try to win and now we are close to Wembley. I was pleased that coming back from Japan, with the jet-lag and without sleeping too much, the players were still fantastic. We are doing well in attack, but we can improve." – Rafa Benitez.
Chelsea hit 5 at Leeds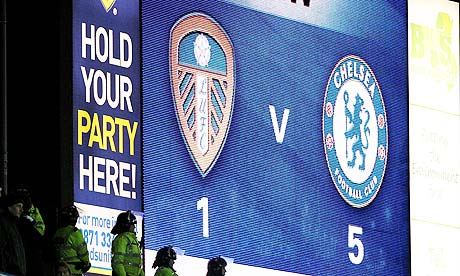 Chelsea shake off jet lag to brush aside Leeds United (Jamie Jackson, Guardian) On a night of steepling wind and rain right out of the pages of The Damned United, Chelsea followed losing the Club World Cup to Corinthians on Sunday by pitching up at Elland Road to end an exhausting 12,000-mile round trip to Japan. Lose here and Rafael Benítez would have overseen Chelsea failure in three cup competitions in only the first eight games of a reign unwanted by many of the Blues congregation. It would have also have brought nearer that inevitable sound of the executioner's song all Chelsea managers hear one day from Roman Abramovich. Whereas the exit from the Champions League was virtually a fait accompli the moment Juventus handed them the 3-0 stuffing that ended Roberto Di Matteo's tenure, a reverse in West Yorkshire would have left only the FA Cup and the Premier League for Chelsea to have a tilt at. As Benítez's gang could be 16 points behind Manchester United when they next kick-off – at 4pm on Sunday, against Aston Villa – the likelihood of reclaiming the championship feels remote so this was a victory required to firm up morale after Sunday's disappointment and to keep them believing in the Spaniard.
Chelsea make class count against Leeds after riding out old foes' storm in Capital One Cup (Sam Wallace, Independent) There was rain and cold and Michael Brown trying to wind up any Chelsea player he could. There was a hostile crowd and a first-half Leeds goal and the whiff of a cup shock. And then last night cold reality came crashing in on Neil Warnock's side goal by goal. The scoreline looked brutal by the time the European champions had finished with their old 1970s adversaries. There is something beguiling about the historic Leeds United v Chelsea rivalry but they have moved too far in opposite directions in the last 10 years for this to be anything but a mismatch once the Premier League side found their A-game on a grim Yorkshire night.
Daniel Sturridge's move to Liverpool hits a snag
Sturridge's £12m Liverpool switch hits skids after row over agents fees (Dominic King, Daily Mail) Daniel Sturridge's £12million move to Liverpool has hit a stumbling block due to a wrangle over agents fees. Liverpool are stamping down on the money they pay agents after recently published figures showed their outlay since 2008-09 has been a staggering £31.3million – only Chelsea (£31.8m) and Manchester City (£39.02m) have paid more in the same period. Liverpool had hoped that Sturridge – who has been told he can leave Chelsea after being left out of their squad for the Club World Cup – would have been in a position to complete a medical on Wednesday so that his switch from Stamford Bridge would be finalised in time for him to be unveiled on January 1.
Raheem Sterling Kops new deal
Gimme five! Raheem Sterling agrees new deal to keep him at Liverpool until 2017 (John Cross, David Maddock, Daily Mirror) Raheem Sterling has pledged his long-term future to Liverpool after agreeing a new five-year contract. But a proposed swoop for Chelsea striker Daniel Sturridge is in the balance after Liverpool decided to get tough with agents. The club has spent £32million on fees to players' representatives in the past four years, and now talks have hit stalemate with several demands from Sturridge's camp leaving Reds manager Brendan Rodgers refusing to commit to the transfer. In contrast, Sterling's signature on a new contract will be a huge boost for Rodgers, who sees the player as central to his plans and one of the best young prospects in the country. Sterling has been in negotiations for weeks and Liverpool stepped up talks after he turned 18 earlier this month, as his last deal had 18 months to run. Liverpool had only initially offered £20,000-a-week but they have now found a compromise with a sliding-scale contract which rises as Sterling grows older.
Will Theo Walcott sign a new Arsenal contract?
High five: Wilshere, Oxlade-Chamberlain, Ramsey, Jenkinson and Gibbs all sign new Arsenal contracts… so what about you, Theo? (Sami Mokbel, Daily Mail) Arsenal's push to keep their best British talent indicates a deliberate shift in Wenger's thinking. After basing his sides around foreign players for years, the manager seems to have had a change of heart after the likes of Robin van Persie, Cesc Fabregas, Samir Nasri and Gael Clichy all left the Emirates Stadium. Speaking after the thumping win at Reading, Wenger said: 'We have a core of good young English players and I hope we will be able to build a team around them and that they can achieve something together.' Another British player who continues to negotiate a new deal at the club is Theo Walcott. The striker rejected a deal worth £75,000 a week in August, and hopes to get closer to £100,000. Walcott joined his team-mates yesterday at two Michelin star restaurant L'Atelier for the team's Christmas party. Fresh after thrashing Reading 5-2 on Monday evening, the players seemed in high spirits as they hit the town in central London.
Sir Alex Ferguson lectures Harvard
Analysing Fergie's master class: Sportsmail takes a closer look at Sir Alex's blueprint for success (Ian Ladyman, Daily Mail) On player power. Sir Alex Ferguson: Some English clubs have changed managers so many times that it creates power for the players in the dressing room. That is very dangerous. Football management in the end is all about the players. You think you are a better player than they are, and they think they are a better manager than you are.
Sir Alex Ferguson went to Harvard to learn as well as teach (Jim White, Daily Telegraph) I tell them that hard work is a talent, too," Ferguson adds in the report. "They need to work harder than anyone else. And if they can no longer bring the discipline that we ask for here at United, they are out. I am only interested in players who really want to play for United, and who, like me, are 'bad losers'." Though he has not written it down, the main management tip Ferguson has is this: clarity. In the brief moments of half time, in the harem-scarem of the technical area, wherever a manager is instructing his players, he has to ensure that he is quickly understood. So what was Ferguson's message to his United squad ahead of this season? He told the writers of the report that: "My motivation to the players will be that we can't let City beat us twice in a row." It is a seductively simple instruction, one anyone could deliver. But then, only one man has 40 years of successful managerial heft to back it up, only one man has the depth of knowledge so succinctly to summarise a nine-month work programme in a single headline. As the rapt audience of America's leading managerial prospects demonstrated: unlike the rest of us, when Fergie talks, everyone listens.
Manchester United's charity dinner
Manchester United stars suited and booted for charity dinner at Old Trafford (Graeme Yorke, Daily Mail) The stars of Manchester United were out in force on Wednesday night for the club's annual gala dinner. Wayne Rooney and Rio Ferdinand fronted the star-studded cast arriving at Old Trafford for the dinner in aid of charity UNICEF. Sir Alex Ferguson however was a notable absentee. The United boss, whose secrets behind his unrivalled success at Old Trafford were in part revealed following an unprecedented study by Harvard University, didn't join his side at the black-tie affair despite his name being mentioned on the official invite.
Balotelli fined
Mario Balotelli determined to build long term future at Manchester City (Jamie Jackson, Guardian) Mario Balotelli is determined to build a long-term future at Manchester City after he decided at the eleventh hour to avert a Premier League tribunal he had brought against the club and accepted a £340,000 fine for ill-discipline. However, Roberto Mancini's staunch support of the striker has left the manager increasingly isolated regarding Balotelli with his immediate coaching staff having reached the point where they are unsure if the player can ever be a reliable asset for the team. It is understood that Balotelli decided not to go through with the tribunal after the Professional Footballers' Association advised him of the potential ramifications for his career at City, despite the probable outcome having been that he would have won the case.
Is Pep Guardiola returning to Barcelona?
No Pep talks: Barca deny Guardiola will return to cover for ill Vilanova (Neil McLeman, Daily Mirror) Barcelona insist Pep Guardiola will NOT return to the Nou Camp while successor Tito Vilanova recovers from surgery. Vilanova, the Spanish giants' current coach, will undergo surgery on a saliva gland on Thursday, before six weeks of ­chemotherapy and ­radiotherapy. Guardiola, who has been linked with Chelsea, Arsenal and both Manchester clubs, is about to return from New York to the Catalan city for Christmas. But Barca say his former assistant Vilanova is hoping to remain in charge while undergoing his treatment.
Tito: I'll fight this for my children (Antony Kastrinakis, Sun) Tito Vilanova has two reasons to beat cancer again — his children Adria and Carlota. In a cruel twist of fate the Barcelona boss' only interview about his first fight with cancer was screened last Sunday — just three days before he was diagnosed with the disease again. He gave the interview back in September — and the only reason Vilanova, 44, spoke about his illness was to help raise funds in a TV charity marathon. Vilanova welled up as he spoke of the agony he faced fearing his son Adria — who plays in Barcelona's famed academy — and daughter Carlota might be left without a dad.
The Champions League draw
Arsenal, Manchester United and Celtic await Champions League fates (David Hytner, Guardian) Arsène Wenger has seen it coming before and at 10.30am on Thursday he will steel himself once again for what a part of him may consider as the brutally inevitable. Barcelona lurk in the Champions League last-16 draw and being paired them would represent the ultimate sanction for his Arsenal team's failure to get through as group winners. A quickening heartbeat, though, will hardly be Wenger's sole preserve. With Chelsea and Manchester City strewn by the wayside after disastrous group-stage campaigns, Manchester United are the Premier League's only other surviving representative in Europe's elite competition and Sir Alex Ferguson might find that his team's seeded status counts for nothing.
Bundesliga trio threaten Manchester United and Arsenal (Paul Hayward, Daily Telegraph) United will not face German opposition in the first knockout round but Ferguson is known to be especially impressed by Dortmund, who were knocked out in last season's group stage and have prioritised Europe this time. Marco Reus, Robert Lewandowski and the centre-backs Mats Hummels and Neven Subotic excelled in an unbeaten group campaign that saw England's champions, Manchester City, fail even to make the Europa League. Bayern Munich are steaming away in the Bundesliga title race but Dortmund would offer daunting opposition to Arsenal or Celtic, who defeated Barcelona in Glasgow. The ignominious counterpoint to Celtic's victory over the world's best team was Chelsea – who beat Barcelona in last season's semi-final – becoming the first defending champions to fall at the group stage.
Special No Mour (Antony Kastrinakis, Sun) If Manchester United are pitted against Jose Mourinho's Real Madrid in today's Champions League draw — FEAR NOT. The former Chelsea boss is Not So Special these days at the Bernabeu. Madrid are engulfed in their worst crisis in recent years and have lost six matches already in this campaign — one more than the whole of last season. Mourinho's famed ability to galvanise a dressing room seems to have fizzled out. The lure of a glitzy Champions League tie will work in Mourinho's favour, as will the pride of stars like Cristiano Ronaldo, but the magic is gone.
Christian Eriksen interview
Christian Eriksen: is Ajax's coveted young playmaker ready to move on? (Stuart James, Guardian) He remembers the days when he spent hours honing his skills in Middelfart, the small Danish town where he grew up "playing a hell of a lot of Football Manager on the computer" and running rings around friends with a ball at his feet. His father, Thomas, coached him from the age of three up until he turned 13, when he joined Odense. Bigger clubs soon took notice. He spent a week with Barcelona, three days with Milan and had two trials with Chelsea, at the age of 14 and 15. Chelsea liked what they saw but not enough to offer Eriksen a contract. "I was not disappointed, for me it was just to see how it goes, it was not really for going [there]," Eriksen says. "It was another world. It was not like Denmark, or like this, where it is open and everyone can come [to training]. Everything was closed and if you are there as a 16-year-old and you have to be so closed, you lose a lot of things. And we thought the football was a little bit more power than what I wanted.
---