Sterling, Caulker & Osman set for 1st England caps, Wenger to ditch the Arsenal back 4 & QPR want Anelka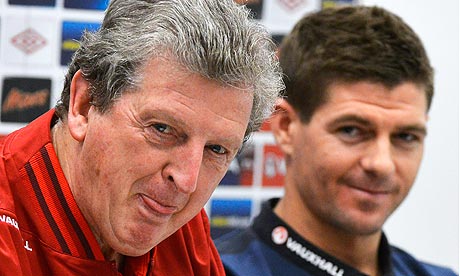 Comment & analysis round-up
Quote of the day: "Every time we play against Steven, the coach always says to be careful because he is the player that makes the difference. But I would like to see Steven in – of course, Liverpool is a big club – but in a big international club. I would like to see it also for England, because it is very exciting when someone goes abroad and shows who he is in another competition. For me, a fantastic player can make a difference in every country wherever he plays. I'm pretty sure that Steven would do that. He is playing in one of the best leagues in the world. He's a fantastic player." – Zlatan Ibrahimovic.
Runner up: "It is very simple for me: to be asked to play for England is a major honour and a major feather in people's caps, I am not interested in people who are deciding whether England is where they want to be or whether they want to be somewhere else. I have spoken to Sterling and Zaha. Both have assured me that they have started with England and that's where they want to end up. I spoke to Zaha before he joined up and explained we were interested in him but only if he was interested in us. I automatically assume that, if someone played for the Under-19s and Under-21s, I would expect him to cycle here to make himself available to play for the senior team and to thank us for the opportunity. It seems fairly obvious to me you'd be happy to accept the call-up and that is where you want to play. Perhaps I am too simple. But he has told me that is what he wants to do." – Roy Hodgson.
Sweden v England
Sterling follows Walcott and Rooney into the record books as Hodgson hands Liverpool winger his England debut aged just 17 (Matt Barlow, Daily Mail) Roy Hodgson is regarded as a football visionary in this corner of Europe so the Swedes will have been surprised to hear this confession from the England manager. 'I've never been a great crystal ball man,' he claimed with a shrug. But his plans for tonight's friendly – albeit enforced by a glut of withdrawals – are all about the future. There is a nod to Brazil at Wembley in February, to Brazil in Rio in June and, more importantly, to Brazil and the World Cup finals of 2014. Three of the starting 11 will win their first caps — Leon Osman, Steven Caulker and Raheem Sterling who, at 17 years and 332 days, will be the third youngest England player since the end of the 19th century.
England's courtship of Wilfried Zaha and Raheem Sterling is just the start (Barney Ronay, Guardian) If there was a grading system for meaningless international friendlies – perhaps starting off at Meaningful Friendly, descending down through the gears of Fairly Meaningless Friendly right down to the far end and those terrible onerous Friendlies of Death in the bleak months when England have just failed to qualify for a tournament – then England's trip to play Sweden in Stockholm on Wednesday would no doubt earn a distinctly middling ranking. It is, though, a first of a kind. With the selections of Raheem Sterling, Carl Jenkinson and Wilfried Zaha, Roy Hodgson has chosen an England squad that contains for the first time three potential debutants who could yet end up playing for another country. Of these three only Jenkinson, who has played for Finland at Under-17 and Under-19 levels, has openly pledged his future to England. Sterling, who is eligible to play for Jamaica, is still uncommitted.
Roy Hodgson ready to play generation game with Leon Osman, 31, and Raheem Sterling, 17 (Henry Winter, Daily Telegraph) After all the talk of passports, birth certificates and Fifa clearance documents, the paperwork that matters most today is the team-sheet. England's starting line-up reveals three debut-makers in Raheem Sterling, Leon Osman and Steven Caulker, all seeking to prove their international credentials. England's starting line-up reveals three debut-makers in Raheem Sterling, Leon Osman and Steven Caulker, all seeking to prove their international credentials.
England set to face a reformed Zlatan Ibrahimovic – a true leader (Marcus Christenson, Guardian) Zlatan as a role model: talk about three words you would never expect to figure in the same sentence. But while the thoughts of that Swedish fan did not quite echo what the Faroe Islands captain had said about Sweden's No10 four days before – he called him "arrogant, dirty and childish" – there is no doubt that Zlatan has matured and turned into a true leader of this Swedish team. It is doubtful whether he will play for more than 45 minutes against England but during that time he will be a constant thorn in their side. He is arguably in the form of his life, having scored 10 goals in his first 10 matches for PSG, and will inspire those around him.
Steven Gerrard set for 100th cap
Steven Gerrard interview: 'Only 11 heroes have played for England, and I'm not one of them' (John Cross, Daily Mirror) Steven Gerrard will lead England out in Stockholm and take a step into the England history books. But Gerrard's magnificent achievement in becoming only the country's sixth centurion will be tempered by a sense of an international career unfulfilled, a string of missed chances which have passed him by over a dozen international years. Despite reaching the 100-cap milestone, his evaluation of his own England career is less than glowing, claiming it would only be worth a "six or seven" out of 10. And captain Gerrard says the ONLY England players who should be remembered as true heroes are the World Cup winners of 1966, admitting that his generation have under-achieved. The Liverpool midfielder said: "They will still always be heroes of mine and heroes of the English public. "In football, the hero and legend status is given out far too easily for me. As far as playing for England goes, there are 11 heroes, the rest haven't really delivered, for me. "How much would I give myself? Six, seven? I have always tried to give my best for England and every time I have played I have given it all I have got.
Gerro at 6's and 7's (Shaun Custis, Sun) Steven Gerrard joins the 100-cap club when he leads out England in Stockholm tonight. But ask him to rate his 12-year international career with a mark out of 10 and he is brutally honest — "six, maybe seven." It sums up the failings of the 'golden generation' of which Gerrard was very much a part. Back in September 2001, England thumped Germany 5-1 in Munich in a World Cup qualifier. Gerrard fired his first goal for the Three Lions from 25 yards and he thought it was the start of something very big indeed. England were going to challenge for the major prizes, win championships and be cheered through the streets. But the glory days never came and for Gerrard, now 32, they may have gone forever.
Steven Gerrard bursting with pride at prospect of joining legends in the 100 caps club (Henry Winter, Daily Telegraph)
Police drop Mark Clattenburg investigation
Mark Clattenburg investigation into alleged comments made to Chelsea players dropped by the police(Paul Kelso, Daily Telegraph) The Metropolitan Police said on Tuesday night that they had dropped their investigation into allegations against Mark Clattenburg on the basis that "no victims have come forward" and there was "no evidence any offence has been committed".
Clattenburg was reported to the Football Association by Chelsea, whose players allege the referee called John Obi Mikel a "monkey", which the referee denies. The FA has asked an independent QC to examine witness statements and is due to announce this week if Clattenburg will be charged, or whether Chelsea themselves will face disciplinary action for their behaviour towards the official.
Defensive changes for Arsenal?
Wenger considers scrapping classic back four in plans to reinforce defence (Sami Mokbel, Daily Mail) Arsene Wenger is considering ditching his trusted 4-3-2-1 formation in an attempt to tighten up Arsenal's leaky defence. The Gunners manager is toying with the idea of playing with five defenders, similar to the formation Roberto Mancini has tried to introduce at Manchester City this season…  When Arsenal's first-choice defenders are fit, the back five would consist of: Bacary Sagna at right wing-back, Laurent Koscielny, Per Mertesacker and Thomas Vermaelen as the three central defenders and Kieran Gibbs as left wing-back.
Menage a trois? Wenger ponders scrapping Arsenal's creaking back four (John Cross, Daily Mirror)
QPR join chase for Nicolas Anelka
Hoops in Nic hunt (Geoff Sweet, Sun) QPR want Nicolas Anelka to fire them away from the relegation zone. Anelka, 33, has not settled at Shanghai Shenhua since leaving Chelsea last season and would prefer another tilt at the Premier League. Former club Liverpool are said to be the striker's preferred destination. But Anelka, who arrived in London yesterday, is reported to earn £250,000 a week in China and the Reds are unlikely to pay anything near that. Where will Pep Guardiola end up?
The Rossoneri move for Pep
AC Milan put Man City and Chelsea on red alert with bid to land Guardiola (Sami Mokbel, Daily Mail)  AC Milan have intensified their attempts to beat Chelsea and Manchester City to Pep Guardiola. Sportsmail understands San Siro officials have made discreet overtures to the former Barcelona manager with regards to becoming their next boss. Current incumbent Massimiliano Allegri is under increasing pressure after a sorry start to their Serie A season and a far from convincing opening to the club's Champions League campaign.
Hailing Dimi Berbatov
Dimitar Berbatov's arrival at Fulham fires sense of style and adventure (David Hytner, Guardian) Dimitar Berbatov has the talent and he knows it yet it is the effortlessness that lifts him to the higher plane of cool. It is not that he does not try, as his detractors froth; rather, that he does not seem to. The Fulham striker is the non-conformist's hero, the player who glides through the blood and thunder of the Premier League on his terms. To him, the cloggers and the 110-percenters are losers. He is all about connoisseur's quality. There is a part of every football fan that loves Berbatov, even those at Tottenham, who felt betrayed when he left them in 2008 to become Manchester United's record signing. And right now, there is no Fulham fan that does not love him dearly. If his purchase for a knockdown £5m from United on transfer deadline day had them dreaming, then the reality so far has been better.
Robin van Persie's parking error
Van Persie's in space but he's offside (Alex West, Sun) Robin van Persie van Persie gets into his car — after leaving it in a disabled space for three days. The Manchester United ace flouted car park rules to leave his flash Audi A5 near the exit. Van Persie, 29, parked in the disabled bay at Manchester Airport last Tuesday before flying off with his team for a Champions League match in Portugal.
---
GAMBLING CAN BE ADDICTIVE, PLEASE PLAY RESPONSIBLY