Spurs praised but Bale dived, doubts that Man United can shift Wayne Rooney, Arsenal chase Sanogo & Luis gets Liverpool pay rise
Comment & analysis round-up
Quote of the day: "He's a great miss. With this result we probably would have asked him to get the yellow card [to serve a ban and wipe his card count] and be ready for the last eight. We're in a good position. Obviously it's not finished and we will miss Gareth because he's been influential in consecutive games, but we hope we can make it without him and go through to the last eight." – Andre Villas-Boas.
Runner-up: "Everyone recognises Rooney's talent, although perhaps there is some frustration that he hasn't quite pushed on and developed in the way people may have thought he was going to. We always back Sir Alex Ferguson's judgment in the end and, if he did decide to let him go, then that's probably the right decision in the best interest of the club… As supporters, though, I don't think many would like to see Rooney go." – Duncan Drasdo, the chief executive of the Manchester United Supporters' Trust.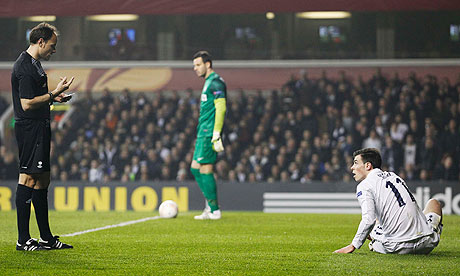 Tottenham 3 – Inter Milan 0
It's Bale the head boy! … But red-hot Spur tarnishes reputation with a blatant dive (Martin Samuel, Mail) Oh, didn't we tell you? He scores with his head now, too. Inter Milan must have thought they had seen the full repertoire from Gareth Bale. Searing pace, lethal low shot, a devastating eye for goal. But that was more than two years ago. This is Bale version 5. This is a player who, in Apple iPhone terms, football nerds would queue through the night to be the first to obtain. Bugs have been ironed out, some glitches fixed, significant upgrades included in the basic package. It is as if Bale has taken the best feature of every Welsh forward in recent memory, and included it in his programming. He is a bit of Ryan Giggs, a bit of Ian Rush, something even of Ron Davies. He is no longer earthbound, or just a winger. Inter Milan did not know what had hit them. Again.
Gareth Bale gives Spurs head start but old foible returns with a fall (Paul Doyle, Guardian) The only other mercy on a grim night for Inter was that Bale showed there is one part of his game that has not improved: he remains a poor simulation of a clever simulator, as demonstrated by his deserved booking in the 14th minute, when he left his leg to collide with Gargano's before tumbling over it in the box. Bale denies he dives, claiming that previous bookings for simulation this season – against Liverpool, Sunderland and Fulham – were instances of him taking evasive action to avoid fouls. Here he sought contact. André Villas-Boas declined to explain: "I don't want to go into that. We have a wonderful player to enjoy and it's ridiculous to go into anything else." Bale will miss the return leg at San Siro. Inter will not miss him.
Untouchable Gareth Bale keeps Spurs bandwagon rolling on but will miss the return after dive (Jack Pitt-Brooke, Independent) On Sunday they beat Arsenal, forever their looming brothers, with a performance of focus and ruthlessness. Last night it was Internazionale, an ever bigger name but an even more flawed team. The three-times European champions were embarrassed by a furious Spurs display of relentless quality and drive, betraying not a touch of the apologetic respect that has crippled Tottenham teams of the past.
Tottenham romp makes Europa League return in Milan almost a formality (Darren Lewis, Mirror) Inter were undone because they came the latest team not to show enough respect to Bale. It defies belief that, aware of Bale's nine goals in his previous eight games for his club, coach Andrea Stramaccioni – like Arsenal boss Arsene Wenger last week – maintained he would not have any special plans for the Welshman. It took just six minutes for Bale to prove the Inter boss wrong.
Wayne Rooney Lies
Get real – Rooney is going nowhere (Steven Howard, Sun) It seems everyone is agreed Alex Ferguson wants Wayne Rooney to move on. And when Ferguson is in this mood, as countless former Manchester United players can testify, there's only one outcome. But there is one slight problem. Where is the Manchester United boss going to move him on to? Manchester City don't want him. Real Madrid and Barcelona don't want him. And former club Everton, so close to his heart, can't afford him. So the options for both Ferguson and Rooney are very limited. And you doubt whether Rooney wants to go anyway. Certainly not abroad.
No easy solutions for Manchester United over Wayne Rooney dilemma (Owen Gibson, Guardian) Few clubs could afford forward's wages in light of new Uefa rules and United will want to recoup £25.6m fee if they decide to sell.
Rooney eyes Barcelona (Jeremy Cross, Star) The disgruntled star has told pals his heart is set on the Nou Camp if Sir Alex Ferguson dumps him at the end of this season… A source told Starsport: "Only time will tell if Wayne leaves United at the end of this season, but if that happens then he would love to go to Barcelona.'
Man United striker's exit depends on rivals Man City selling Edin Dzeko to Dortmund (David McDonnell, Mirror) Edin Dzeko could hold the key to Wayne Rooney's Manchester United exit this summer. Manchester City striker Dzeko is poised to join Borussia Dortmund, with talks ongoing between the two clubs over a £20million deal. Dortmund's capture of Dzeko would leave them free to let star striker Robert Lewandowski join United for a fee of around £18m. That, in turn, would enable Sir Alex Ferguson to jettison Rooney, with United hoping to recoup as much as £35m for the England striker.
City: We don't want Rooney (Martin Blackburn, Sun) Manchester City will NOT make a move for Wayne Rooney this summer. There is a huge doubt over Rooney's Manchester United future with the club ready to listen to offers of £25million for the striker… SunSport can reveal the Premier League champions' big-money targets are Napoli star Edinson Cavani and Atletico Madrid striker Radamel Falcao — not Rooney.
Manchester City, Barcelona and Real Madrid turn their backs on Rooney as escape routes close fast (Chris Wheeler, Mail) Paris Saint-Germain remain a possibility but they are already paying Sweden striker Zlatan Ibrahimovic around £900,000 a week. Even Italy's top clubs would struggle to afford Rooney under the new financial fair play rules. Likewise Bayern Munich, who would not be prepared to meet his wage demands.
United must rush to seal big-money deal for Lewandowski with Bayern unlikely to switch focus to Rooney (Mail) Manchester United will have to spend all the proceeds from selling Wayne Rooney, and more besides, to have any chance of landing Robert Lewandowski as his replacement at the end of this season.
Imagine Rooney wearing Man City colours next season, and Ronaldo back in Man United red (Robbie Savage, Mirror) Rooney would probably command £35million in the transfer market. Take a deep breath and sell him, then ask the Glazers for another £20m on top and you could bring back Ronaldo, or buy Gareth Bale. Do either, and the owners would get their money back in replica shirt sales within weeks.
The Rest Of The Transfer Lies
Dortmund balk at Manchester City's £25m price tag for striker Dzeko (Mail) Edin Dzeko's hopes of a return to the Bundesliga this summer have been dashed by Borussia Dortmund's policy on ages and wages.
Liverpool target Zambrano as Rodgers looks to end centre back problems (Mail) Liverpool have enquired about Eintracht Frankfurt centre back Carlos Zambrano. The Peru international, 23, valued at around £4.5m, can also play right back and defensive midfield.
Arsenal are keen on Auxerre striker Yaya Sanogo, who is out of contract at the end of the season (Mail) The 20-year-old scored seven goals in one week last month, four against Laval and a hat-trick against Tours.
Arsenal line-up bargain summer swoop for Auxerre striker Yaya (Mirror) [Wenger] is keen on 20-year-old Sanogo, as the 6ft 3in marksman is out of contract at the end of the season and currently free to speak to foreign clubs. The Gunners' manager is already understood to have travelled to Paris with scout Gilles Grimandi to hold talks with the player and his representatives.
Chelsea try to nick non-League starlet Carr from under Liverpool noses (Mail) Chelsea have hijacked Liverpool's attempts to land the hottest non-League talent in the country. Sportsmail exclusively revealed on Tuesday how the Anfield club had invited 18-year-old Daniel Carr, who plays for Dulwich Hamlet, for a trial. Carr, who started his career at Reading, was on Merseyside on Thursday, training with the club's academy hoping to impress Reds coaches enough to earn a professional contract. However, the Stamford Bridge club have now made their move to land Carr.
Lambert told his job is safe at Aston Villa even if they go down (Neil Moxley, Mail) Paul Lambert will retain his job as Aston Villa manager next season, irrespective of whether or not the club stays in the Premier League. The Scot has been assured that his position is safe by Villa's power-brokers ahead of two matches in the next eight days that will have a crucial bearing on the outcome of the club's season.
Where there's a Will.. Manchester City target Palace's 'Welsh David Silva' Jonathan Williams (Mirror) Manchester City are poised to make a bid for Crystal Palace midfielder Jonathan Williams. Roberto Mancini is a big fan of Williams and City are ready to test Palace's resolve to keep him with an £8million deal.
Luis Suarez, Getting Paid
Suar's £120k wedge (Phil Thomas, Sun) Luis Suarez has been handed a 50 PER CENT pay boost — taking his wages to £120,000 a week. The Liverpool hitman is the first player to benefit from the club's new incentive-based contracts.
Suarez hits the jackpot! Striker nets £40k PER WEEK pay rise thanks to goal frenzy (Dominic King, Mail) Club owners Fenway Sports Group wanted a bonus-orientated system in all new contracts, having been dismayed by some huge deals handed out by previous regimes.
Luis Suárez's super season at Liverpool sees him cash in as wages rise to around £120,000 a week (Chris Bascombe, Telegraph) Suárez, who is a leading contender for the Player of the Year award this season, can expect further salary hikes the longer he remains on Merseyside without necessarily having to sign another new contract in the near future. That is why Liverpool are relaxed about rivals pursuing him.
A Word On Arsenal
No takeover deal for Gunners (David Woods, Star) Arsenal chairman Peter Hill-Wood last night insisted he was in the dark about a supposed £1.5b Middle-Eastern takeover of the club.
Why Arsenal are now in danger of falling behind Liverpool in the league as well as Spurs (Darren Lewis, Mirror) The Gunners may be higher in the league but Liverpool are the more balanced side. Arsenal may be far better off financially but on the pitch Liverpool have a better defensive record at home. Arsenal have some stellar talents in that front six but why oh why do they not buy a ball winner? In Lucas, Liverpool have the steel to complement the silk in the Reds' side. Arsenal fans will bristle at having to accept it but they are at odds with the direction in which they are headed under Arsene Wenger. Liverpool fans can see what Brendan Rodgers is trying to build at Anfield.
---
GAMBLING CAN BE ADDICTIVE, PLEASE PLAY RESPONSIBLY