Spurs plan to sign Joe Cole and offload Dawson, Bentley & Bent on Sunderland as Chelsea gear up for £100m splash on Pirlo, Ribery & Aguero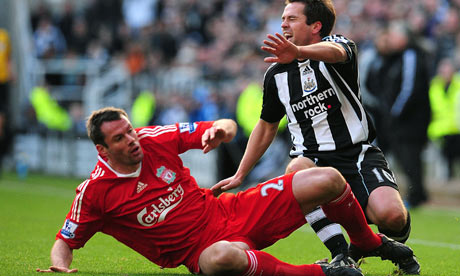 Comment & analysis round-up
Quote of the day: "Signing Owen was a clever piece of business by United and he has started really well in pre-season. In a way I'm pleased he's got a big move to a big club because he came in for a lot of criticism at Newcastle… For me, Michael Owen is still a great player and great role model and I have this feeling he'll be good for United. But he plays for our biggest rivals now so he'll know I won't want him to carry on scoring once the season starts. He's scored a lot of goals in the first few games for United and I hope he scores a few more pre-season because I want him to do well. But as soon as the season starts I hope he has a drought." – Jamie Carragher.
Runner-up: "Would I like to work with Patrick again? I have no personal problem with Patrick at all; I have a huge respect for him. We have a very good relationship. It is a general policy [not to re-sign players] but I never said I would never do it. Usually I don't do it. I am not a big fan because I feel that once the player has gone, he's gone… Patrick is a great player. I have not considered it yet to bring him back; it is a possibility that I have to think about. First of all, it is not sure that he will decide to join us if I decide to try to make him come. So there is a lot of thinking to be done." – Arsene Wenger.
Today's overview: Could this be the left-wing solution that Spurs fans have been craving for seasons?
According to David Hytner, happy 'Arry is ready to splash the cash once more by "exploring the possibility of bringing Joe Cole to Tottenham Hotspur" while Spurs are also in the market for Sebastien Bassong and Klaas-Jan Huntelaar. On the move for the Chelsea midfielder, John Cross adds that "Redknapp has launched a £10million raid for Chelsea midfielder Joe Cole… Redknapp believes he may be able to lure Cole with the guarantee of regular football in a World Cup year where he faces a fight for his place."
Elsewhere, James Ducker continues the endless speculation of potential transfer to White Hart Lane jotting down how Spurs "have held talks with Moussa Sissoko's advisers after signing Patrick Vieira from Inter Milan became increasingly unlikely… Tottenham have also made an approach for Sandro, a holding midfield player who plays for Internacional in Brazil."
Looking to balance his squad, the feeder-club relationship between Spurs and Sunderland appears to be as strong as ever. The Independent report how the Lillywhites may be about to offload players to Sunderland. "Sunderland are reportedly preparing a £16m bid for Tottenham duo Michael Dawson and David Bentley." While on Darren Bent's move to the Stadium of Light the Daily Mail toot that the striker is on the verge of a £15 move to Wearside.
With Joe Cole potentially walking out on the Blues, the need for the allusive marquee signings appears to be intensifying even further for the Pensioners. Matt Hughes details Chelsea's latest efforts "to make an improved bid for Andrea Pirlo later this week… Chelsea had been planning to save all their transfer funds to pay for a late move for Franck Ribery, although given the futility of entering into a bidding war with Real Madrid and Manchester United, they may choose to pay up for Pirlo."
The Daily Mail's Matt Barlow then tries to steal all the headlines over Chelsea's potential new recruits by barfing "Roman Abramovich plans £100m Chelsea spending spree for Andrea Pirlo, Franck Ribery and Sergio Aguero."
With the Gunners having played Rangers off the park in the Emirates Cup, talk has turned to young Jack Wilshere and his potential impact on the Arsenal team this season.
For David Hytner, "Jack Wilshere's precocity may make Arsene Wenger think twice about Vieira," while Russell Kempson hypes up the teenager even further by noting that "before the new campaign has even started, Jack Wilshere, the Arsenal tyro, has been elevated to the status of a possible candidate to play in South Africa next year."
Jeremy Wilson continues to talk up Wilshere as England's next superstar. "Just how good can Jack Wilshere become? On the evidence of man-of-the-match displays in games on both Saturday and Sunday of the Emirates Cup, the possibilities are considerable." Rounding off the Wilshere hullabaloo, Sam Wallace argues that the 17-year-old "deserves his comparisons to an early Paul Gascoigne."
Taking his first stab at predicting how the Champions League will pan out, Patrick Barclay labels Real Madrid as the team to beat. "Alonso is the key. If he can dominate the area in front of the back four with Lassana Diarra, as he did with Javier Mascherano for Liverpool, Real will have back the relative solidity Pérez foolishly squandered when he sold Claude Makelele to Chelsea in 2003."
With Alonso on the verge of joining Los Blancos, Oliver Kay details how "reports in Italy last night claimed that a bid of £17.9 million had been registered with Roma for Aquilani" by Liverpool. Alonso's arrival has also coincided with a trimming of the Real squad, Rory Smith tracing how "Real this weekend sold Gabriel Heinze to Marseille and on Sunday agreed a £15 million fee with Inter Milan for the sale of Wesley Sneijder, the Dutch international, while his compatriot Rafael van der Vaart has also revealed that he will not stay at the club."
Oliver Kay trumpets how Michael Owen is forcing himself back into the England reckoning in The Times, while lowering the conversatioin surrounding Little Mickey the Mirror fart "Owen has celebrated his move to Manchester United by splashing out £170,000 on the latest Ferrari supercar."
We end off with the rest of the transfer nonsense filling up the back-pages of the tabloids.
The Daily Mail, the champions of nameless articles that predict transfers that never appear to happen, now boast that Aston Villa "want to snatch Real Madrid's £16m-rated Dutch playmaker Wesley Sneijder from Inter Milan's grasp." Keeping with the Midlanders, The Sun print that "Martin O'Neill is set to raid Newcastle with a £3million bid for Habib Beye."
In other news, "Wolves are weighing up a bid for towering Rapid Vienna striker Stefan Maierhofer," and "Manchester United are set to approach Valencia for Spain international David Villa." While looking to nip the David Villa story in the bud, Carl Long notes how "Valencia boss Unai Emery has told Liverpool David Villa is 'priceless' – and insists his star striker is going nowhere."
Staying with forwards, Jeremy Cross claims "that Sam Allardyce has urged Blackburn Rovers to tie up a double £11million deal for strikers Benjani and Nikola Kalinic this week," and the Mirror publish that "Portsmouth boss Paul Hart will step up his attempts to sign Mark Viduka and Amr Zaki – after being left with only 12 fit outfield players."
---