"[South African organiser Danny] Jordaan was among those who visited Angola on behalf of the CAF in 2006 and pronounced it suitable, with special reference to security" – Martin Samuel
Comment & analysis round-up
Quote of the day: "We have ordered a three-day mourning. The players are leaving with the bodies of their fallen brothers and we've asked the Confederation of African Football to find an arrangement so we can catch up with the competition later." – Togolese sports minister, Christophe Tchao.
Runner-up: "I don't think the world has ever asked one country to take responsibility for what happens in another country. Fortunately, the majority of the world is not influenced by a warped understanding of the African continent. If there is a war in Kosovo and a World Cup in Germany, no one asks if the World Cup can go on in Germany, everyone understands the war in Kosovo is a war in Kosovo. The world must be balanced and must not apply different standards when it comes to the African continent. Our World Cup is secure and we are confident, because we have employed a lot of resources to safeguard the event in our country… Why are people suddenly applying double standards? When there are ­terrorist attacks in Europe, do we hear about the 2012 Olympics being under threat? No. Angola and South Africa are two separate geographical areas, two separate countries. Besides, the African Nations Cup is not the World Cup. We cannot be called to account for the security arrangements of Angola, which is far removed from South Africa." – Danny Jordaan.
Today's overview: The Togolese gun attack remains at the forefront of the football commentary this Monday, and fear is beginning to spread for the 2010 World Cup.
Poetically summing up the mood, Russell Kempson wrote "what had been hailed as a warm-up for the 2010 World Cup finals in South Africa, proof positive that the continent was ready to stage the big show, had exploded in a hail of machinegun bullets."
Detailing the depressing reality, Paul Hayward believes the terrorist are winning the hijack the sports arena. "With the assault on Emmanuel Adebayor and his team as they drove to the Africa Cup of Nations we hear again the rat-a-tat-tat of the attack on Sri Lanka's cricketers in Pakistan. Did the Cabinda rebels take that as a template? In both cases the authors of the ambush can claim it as a success, in gunmen's terms. In Pakistan and now Angola, five months before an historic World Cup, an unremovable seed of apprehension has been planted in the minds of all sportsmen and women boarding the steps of buses with their ipods and washbags."
Turning to Friday's incident itself, Martin Samuel felt compelled to rant against the initial Angolan reaction in which it was it argued that the Togo team should have flown, as well as the South African approach to brush off any concerns for the World Cup.
Samuel: "The outrageously glib first reaction of the Confederation of African Football to a wholly avoidable tragedy, for which they are culpable, was to question why the Togo team travelled to Cabinda by road, rather than air… He is correct that the two bear no comparison because South Africa does not have a terrorism problem — it has a crime problem — but Jordaan was among those who visited Angola on behalf of the CAF in 2006 and pronounced it suitable, with special reference to security. That is what these guys do. They travel the world blithely announcing that everything is coming up roses, usually from a suite at the only five-star hotel in town. They are then picked up from the door, and delivered to another one at the airport, before departing, first class."
Jeremy Wilson was at the opening match of the African Cup of Nations on Sunday night, and the scribe couldn't help but table his thoughts on the opening ceremony of the tournament. "Taken with the dancing throngs in their red and black garb who packed the long, long road out to the stadium, it was almost possible to believe that this could somehow become again a tournament about football. Perhaps the aspect of Angola that has been showcased most of all has been their resilience; this was a crowd seemingly determined to put to one side Friday's atrocity, something in which CAF and the Angolan authorities are seemingly all too keen to co-operate. Dos Santos [Angola president] expressed his sympathy in his opening address, and there was a poorly observed two-minutes' silence – but Togo's captain Emmanuel Adebayor, their coach Hubert Velud, and their prime minister Gilbert Houngbo have all condemned CAF's apparent lack of action or even interest."
Alan Hansen used his weekly column in the Telegraph to support Togo's exit from the tournament. "If I was in that situation, I would want to come home straightaway. What happened in Angola was more than an incident. There were fatalities and no football tournament is worth that." Countering, Steven Howard informed his readers in The Sun that "Togo should've stayed there." "If it had been up to them, Togo would have stayed and done what they believed was their duty. To fight on, not give way to the forces of terrorism."
It is left to the tabloids to turn the tragedy into something out of the movies, with the Daily Mail splashing with "Michael Essien flies into the death zone: Chelsea star must play in Africa Cup of Nations, say Ghana." Slightly more sobering, Darren Lewis informed his Mirror readers that "Adebayor claims Drogba and co want out of African Nations Cup."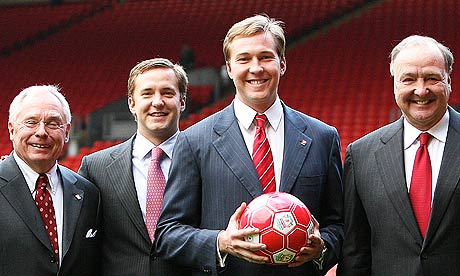 Liverpool fans, seething after Tom Hicks Jr's foul-mouthed email towards a supporter went public at the weekend, are now set to try and remove the director from the Anfield board. In fact, according to Tony Barrett, the Spirit of Shankly group "was also heavily critical of the Liverpool hierarchy for remaining silent on the matter. On several occasions yesterday The Times sought a reaction from Liverpool, but to no avail. Freud Communications, the London-based PR firm employed by the Hicks family, also failed to offer any comment on the matter."
Yet, Andy Hunter noted "it is understood Hicks Jr views his apology as the end of the matter and has no intention of resigning although, but with the owners searching for new investors as part of efforts to reduce the club debt, the spat comes at a delicate time for Hicks and Gillett."
The latest malaise on Merseyside was thumbed over by Oliver Kay. "'Blow me, ****face. Go to hell. I'm sick of you.' As an epitaph to the calamitous Hicks-Gillett regime at Liverpool, the ten-word e-mail sent by Tom Hicks Jr at 4am on Saturday, in response to a polite message from a concerned supporter, ticked just about every box. Brash, arrogant, offensive, crass, uncouth, contemptuous and hopelessly naive, it was the defining moment of almost three years of blundering, back-biting and broken promises at Anfield."
Moving across the M62 to Manchester, Ian Ladyman wonders whether Alex Ferguson killed Michael Owen's World Cup dream. "On a cold night, against a tiring Birmingham defence, Owen would have backed himself to find a goal. But instead Ferguson opted to send on Ryan Giggs and then, astonishingly, the untried Senegal forward Mame Biram Diouf… If Ferguson would rather send on a promising youngster recently signed from Molde in Norway ahead of one of England's most accomplished goalscorers then what message does that send out?"
The takeover of West Ham inches ever closer, with Stuart James tracing how today is a potentially pivotal day for the East London club. "The ownership saga at West Ham United is expected to become clearer after today, when representatives of the consortium of five banks that have loaned money to the Premier League club meet prospective buyers to establish their credentials."
Changing tracks, Patrick Barclay tries to be all too clever in attempting to poke fun at those who call for a winter break in English football. "If you had a pound for every time someone — a manager, foreign or indigenous; a player, past or present; or a general pundit — had asserted that a winter break would help England to win the World Cup, you'd be able to buy your own snow plough. And now that we have been granted a winter break? Everyone says that suddenly Fabio Capello has less chance of success in South Africa this summer."
Gabriele Marcotti wonders how much longer Barcelona coach Pep Guardiola can stay in his job. "Money is secondary. The bigger concern is burnout. And, precisely because he is, first and foremost, a Barcelona fan, he knows the history of the club and what it can do to managers. Especially Catalan ones. If he lasts the season, he will be Barcelona's longest-serving Catalan coach in 40 years. For a club so steeped in their regional identity, it is a remarkable statistic."
Onto the transfers, where a couple of deals have actually be reported as being closed.
According to the Daily Mail, Fulham have agreed a six-month loan deal with Roma for striker Stefano Okaka. Next, Mark Wilson announced "Celtic last night sealed the £1.5million signing of AIK Stockholm defender Jos Hooiveld after the Dutch centre-back agreed a contract until the summer of 2013."
The Times' Gary Jacob wraps up his rumours which include Stoke's pursuit of Ruud van Nistlerooy and West Ham's targetting of Portugal striker Nuno Gomes, while Roman Pavlyuchenko has been linked with a move to Galatasaray. Also splurging out with a couple of pieces of gossip was Pat Sheenan, who first linked Liverpool with a loan move for Nedum Onuoha before claiming "Everton are ready with a cheeky approach to sign Matt Derbyshire from Greek club Olympiakos."
Almost laughable if it wasn't so sad, the Daily Mail today claim "Portsmouth have told Manchester City and Sunderland they want £14 million for defender Younes Kaboul." The Daily Mail also cough up the news that "Kevin Kuranyi last night turned down a £3.5million move to Sunderland."
Alan Nixon for once presents a believable and sensible transfer story, writing "Bolton boss Owen Coyle wants Manchester City's Slovakia World Cup star Vladimir Weiss to be his first signing in his new job." The hack then quickly descends into the unlikely scoops, farting "Sunderland boss Steve Bruce is ready to swoop for Paraguayan striker Salvador Cabanas… Bruce has made a shock inquiry for Wigan keeper Chris Kirkland." Lastly, Nixon crashes in with news that "Wolves boss Mick McCarthy wants to sign midfielder Jamie O'Hara from Tottenham – but will need a Premier League ruling to do the deal."
In the manager-merry-go-round, The Sun's Ian McGarry bleats "Burnley have made Paul Ince a shock candidate to become their new boss." Alan Nixon surveys the other candidates, scribbling "Burnley are still chasing Leeds United's Simon Grayson and have spoken to out-of-work Brian Laws about the vacancy. The pair had been on their list before they found Coyle two years ago. Paul Jewell is also available but has not been contacted despite being backed in the betting."
---
GAMBLING CAN BE ADDICTIVE, PLEASE PLAY RESPONSIBLY