"Sooner or later [Arsenal manager Arsene] Wenger has to take responsibility for the goalkeeping situation" – Amy Lawrence
Comment & analysis round-up
Quote of the day: "First of all, it was an accidental back-pass. The ball hit Sol and it was not on purpose. It has to be intentional to be a free-kick, so it's difficult to understand why the referee interpreted it this way. Then, for an indirect free-kick, if you award it five metres from goal and then allow a team to take it quickly, how can you defend that? It's better than a penalty. You cannot defend that. It was a massive mistake. It's laughable. Has he ever played football? I don't know. If you cannot build a wall then you cannot ever defend an indirect free-kick. You go from a situation where there is no free-kick, to one taken quickly where they is no chance to defend or organise. The referee gave them a goal. It's ­difficult to understand, but maybe I'm not ­intelligent enough… It is difficult to swallow a defeat like that. The goals we conceded were difficult to imagine in a Champions League game." – Arsene Wenger.
Runner-up: "The goals were schoolboy goals to give away. When you let in goals like that, I'm sorry, you cannot go anywhere. What can you do? I have no complaints about the second goal – I'd have done the same, myself – but after that we did not stand up to them. Sometimes we're not strong enough to lift ourselves. We were too soft." – Cesc Fabregas.
Today's overview: Advise for Arsenal goalie Lukasz Fabianski – don't read the backpages this Thursday. The Pole who failed so badly in Porto has been let off the hook by no-one as the fourth estate pick apart the keeper's horror show.
Commenting generally that "this was a horrible occasion for Fabianski," Dominic Fifield examined both Porto goals noting how the first was "a concession that defied belief" while for the second "the Pole, panicked again, [and] inexplicably and illegally gathered the back-pass just inside the penalty area."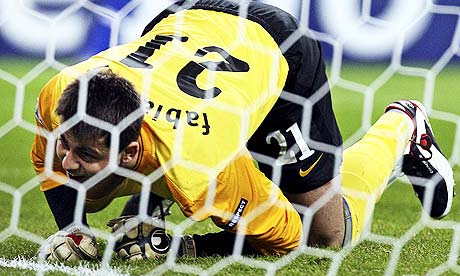 Ratcheting up the levels of criticism, Amy Lawrence went directly for Fabianski's jugular. "Out of his depth and a standing target for criticism, the Pole endured another catastrophic outing… Public humiliation is a terrible thing to bear. Arsenal's second-choice goalkeeper, 24 and a full international, is of an age when he should be beyond such wobbles. Sooner or later Wenger has to take responsibility for the goalkeeping situation. Both Manuel Almunia and Fabianski have felt crushed by what is expected of them this season and this has manifested itself in mistake after mistake… It is hard to envisage Fabianski coping with another high-profile game in the near future."
The idea that Fabianski is now finished at the Emirates is continued by Rob Kelly. "His performance in Porto could spell the end of his Arsenal career. At some point there must be a tipping point for any player, and if Fabianski cannot handle playing in big matches then he should not be playing for a club that are aiming to compete for the biggest prizes… Rather than continually looking for the cut-price option, Wenger must be prepared to part with serious money for a top-class goalkeeper or he will not end his side's trophy drought."
Turning to Arsene Wenger's complaint's over Porto's second goal, Jeremy Wilson tries to debunk the Professor's arguement and again Fabianski is the fall-guy. "Even if Campbell's back-pass had been involuntary, there was still no reason for Fabianski to pick the ball up and risk conceding a free kick inside his own penalty area. He also helped Porto by handing the ball to Hansson."
Looking at the slightly wider picture, Oliver Kay fears for the precedent set by Arsenal's performance in Porto. "What will haunt Fabianski and Arsenal is the nature of the goals they conceded on a night when they did almost everything else right. Cesc FÃ bregas called it schoolboy defending and he was right, but this is becoming a sadly familiar story for Arsenal when it comes to the biggest games, the ones that distinguish winners from also-rans."
Also looking to draw wider conclusions than simply pointing out Fabianski's faults, Martin Samuel gets a little too carried away farting "where have all the good goalkeepers gone? True, Fabianski cannot be made to shoulder responsibility for what would appear to be a global dearth of talent in this specialist area, but his failure to guard Arsenal's goal with any conviction did seem to reflect a very modern malaise… The truth is, truly great goalkeepers worldwide are down to the fingers of one hand."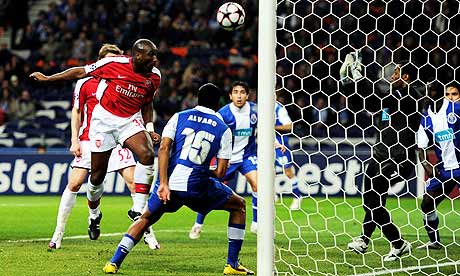 What about Sol Campbell's unpredictable scoring return to the Champions League.
Unable to skate over the issue, Jeremy Wilson applauded the centre-half's return to the big stage. "Despite his goal, Campbell also experienced his share of jittery moments. He was out-paced in the opening seconds by Falcao and gifted Hulk an excellent early opportunity with a mistimed clearance. He did improve, however, as the match progressed and just his sheer physical presence ensured that Arsenal carried an enhanced threat at set-pieces. In the absence of William Gallas, Campbell's performance was one positive for Wenger."
Mark Fleming continued to proportional positive appraisal for Sol Campbell's performance. "Campbell's performance last night was not a perfect one but considering he started the season playing for Notts County in League Two, it was a remarkable display by the veteran and one that fully justified Wenger's decision to give him the chance to resurrect his Arsenal career."
Turning to the second Champions League match on Wednesday, and Chelsea's worst referee nemesis Tom Henning Ovrebro also comes under a barrage of criticism for a poor performance in the Bayern Munich-Fiorentina game.
The Guardian flagged two refereeing errors in the match noting "Ovrebro then assisted the home side by showing an inexplicable red card at Gobbi for merely obstructing Robben. But the worst error on the part of the officials was still to come. As the game looked to be heading for a draw, Ovrebro allowed Klose's headed goal in the last minute to stand despite the fact the Germany international was at least two yards offside when he received the ball from Ivica Olic."
Reflecting on Manchester United's win in the San Siro, and Kevin McCarra is at pains to stress that the Red Devils are far from the complete package. "We are still far from witnessing any benefit to United's relative retreat from the transfer market and the squad appears patchy. If it goes on functioning without major overhaul it will be because the habit of victory lingers, experience is just about outweighing infirmity and the manager knows precisely what is needed on the pitch… Tougher days lie ahead for United against better opponents."
Keeping on a negative Manchester United footing, James Ducker tears into forgotten man Dimitar Berbatov. "Either Ferguson does not have enough faith in Berbatov when it comes to the biggest occasions or, more likely, he believes the forward slows United down against the best opposition, when pace and fluidity of movement are vital, and that his inclusion would represent a risk. Beyond that, Berbatov and Rooney have never looked a natural fit up front."
What's a million pounds between friends?
According to Pat Sheenan in The Sun, "Alan Curbishley can start looking for a new job – after finally pocketing a £2.5million payoff from West Ham." Yet according to The Star, "West Ham yesterday agreed a £1.6m settlement with former boss Alan ­Curbishley."
In the transfer news, Andy Hunter details how Steven Pienaar is ready to commit to Everton. "Bayern Munich and Manchester City are just two of the clubs reportedly interested in the midfielder… however [Pienaar] insists a new deal at Everton remains possible after his career was revitalised on Merseyside." The Bavarian giants however have already lined up a second midfield target, as the Daily Mail chug "Bayern Munich have joined the race for highly coveted Serbia winger Milos Krasic."
The Independent dip their toes into the world of gossip-mongering as the broadsheet reports "Brazil international Maicon could leave Internazionale at the end of the season, according to his agent, with Manchester City his likely destination."
Alan Nixon blows a story completely out of proportion barking "Arsenal boss Arsene Wenger faces a sickening blow – with the loss of star French striker Gilles Sunu to Bordeaux for a pittance."
Finally, in the dumb-down article of the day, Andrew Dillon tells the story of how Shakhtar Donetsk were banned from Harrods. "Fulham have scored a massive own goal before tonight's Europa League tie with Shakhtar Donetsk.  The Ukraine giants are furious at being BANNED from Harrods after being mistaken for a bunch of CHAVS and HOODIES.  Around 25 players and staff from were denied entry to London's exclusive store – which is owned by Fulham chairman Mohamed Fayed."
---