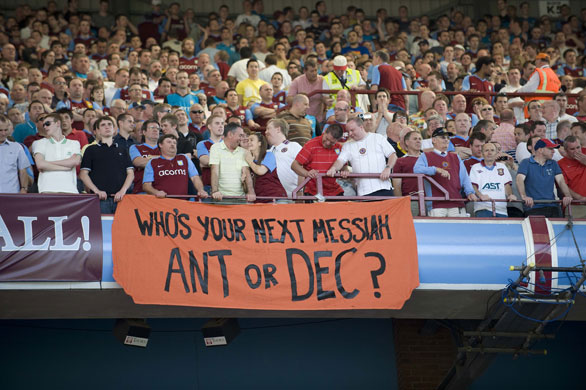 Comment & analysis round-up
Quote of the day: "The simple fact of the matter is that inside the dressing room it hasn't been good enough. I include myself in that, Joe [Kinnear], Chris [Hughton], Kevin [Keegan] and Mike [Ashley]. We have not been relegated today. We have been relegated over the whole season because we haven't been good enough. We haven't given those magnificent supporters enough to shout about. We have let them down. It's a football club I love. You've seen what it means to our fans. I am hurting. I am raw inside. But the simple fact is that big mistakes have been made and we're now paying the price for that… It's not just about today. It's gone on this season, last season, four ­seasons ago. It's the culmination of ­everything. Decisions need to be made sooner or later whoever it is [in charge] because, forgive the expression, but every day that goes by another room is burned down and ­everyone gets a head start on the football club. I'll give my opinion and it's up to [Ashley and Llambias] where they want to go." – Alan Shearer.

Runner-up: "It's the best day of my career, as a player, coach and manager. It is even better than beating Bristol City at Wembley to win promotion last season, by a long way. The tension was unbearable… It's mixed emotions because we have lost the game but we have stayed up and it's not about this game. It's about 38 games and challenges and we have responded well to a lot of those. We've got here through guts, determination and belief, all the things that have been questioned, and I enjoyed that celebration at the end and seeing all the fans staying behind to celebrate. You can't please everyone and there's always a minority who criticise but I'd say 99.9% have accepted how we have done it." – Phil Brown.
Today's overview: The papers make tough reading for Newcastle fans, who today wake up knowing that next season they will be playing Championship football.
Sympathy is in short-supply for the Magpies, Paul Hayward barking that "among the myths exposed by the latest manager's spirited attempt to break the fall is that Newcastle can always fall back on 'passion.' With a few honourable exceptions, there was precious little of that in a side that won seven of their 38 matches and performed like strangers in the night." Matt Dickinson reaches similar conclusions lambasting Newcastle as "a cliche made up of shocking mismanagement, overpaid players and bare-chested supporters still cheering them all the way to relegation. All the while, praying for a Messiah-inspired miracle that was never going to happen."
Henry Winter sarcastically wrote "there's nothing like going down fighting – and this was nothing like going down fighting." Jim White added his voice to the chorus, saying "Newcastle's woeful season did what the club's loyal supporters had long feared: it petered out." Sam Wallace twisted the knife shouting "the Toon are doon. And no amount of weeping chubby Geordies or stony-faced stoicism from Alan Shearer can deflect from the fact that in their final, crucial hour yesterday Newcastle United were utterly, inexcusably, hopeless." While lastly Martin Samuel wrote "the nowhere men of Newcastle were beyond redemption, beyond the reach of local heroes and saviours empowered by tired old myths from an era that matters less with each passing campaign."
Suggesting that things could get worse for the Toon before they get better, Owen Gibson notes "fans of Newcastle will now spend the close season mugging up on the routes to Scunthorpe and Blackpool. Famous names that have gone down to the second tier only to fall even further – Leeds United, Sheffield Wednesday, Southampton and Norwich among them – will haunt their thoughts."
David Pleat's analysis of Newcastle's defeat at Aston Villa is summed up by his observation that "[Brad] Friedel had no worrying moments in the second half." Following suit, Oliver Kay penned "there was no great drama, no agonising twist of fate, merely a meek acceptance that their time was up and a quiet refusal of the lifeline that had been offered by events on Humberside."
So what next for Newcastle? According to Oliver Kay, "Shearer's recommended changes will include selling big earners such as Fabricio Coloccini, Joey Barton, Alan Smith and Obafemi Martins as well as the departure on a free transfer of Michael Owen, whose £115,000-a-week contract expires on June 30."
Newcastle's silver lining is that they are not Boro, of whom Gary Jacob wrote "to be relegated is one thing, to go down with a whimper is another… No leader, no spine, no confidence and only 1,200 travelled to witness it."
Through the failed prism of Newcastle, Patrick Barclay salutes the achievement of Fulham and Everton. "Management involves taking pains and playing percentages and this is reflected in the consistency of Fulham and Everton. They seldom carry passengers and starkly expose the folly of the star system that induced Newcastle to waste so much money on Michael Owen."
The fifth estate continued their seemingly biased love-affair for the Clarets ahead of the Championship playoff final. Tom Dart eulogises over why Burnley are special, writing "they are still local, still little and still connected to their community, still embracing the sort of working-class credentials that other clubs try to suppress." An almost magical spin is put on Burnley by Oliver Kay, adding how "Turf Moor [is] a place where raw passion meets self-deprecating humour and occasional surrealism."
It was left to Rory Smith to write of the Blades. "United do not tug at the heartstrings quite so poignantly [as Burnley], but they have their own narrative. It is one of regret and revenge, of wrongs to be righted, not dreams to be realised."
Heading to Germany, Gabrielle Marcotti reviews the season that was in the Bundesliga. "The Bundesliga offered up myriad compelling storylines this year: from tiny Hoffenheim's impressive rise – and stunning collapse, although they did finish a creditable seventh – to Hertha Berlin's unlikely title run;from Jurgen Klinsmann's sacking at Bayern to Magath announcing in April that he would leave Wolfsburg at the end of the season, come what may."
The transfer rumours flow this Monday, with the Daily Mail jam-packed with a host of stories and speculation.
First, the Daily Mail claims that "Real Madrid will step up their attempts to seal an £18m transfer for Xabi Alonso this week after his agent told Liverpool the Spain midfielder wants to leave Anfield." Elsewhere in the Daily Mail we learn that "Wolves hope to pip Birmingham to sign Manchester City goalkeeper Joe Hart on loan for next season."
Now a free agent, "Sol Campbell has been offered a three year deal to finish his career in Switzerland with Basle," according to the Daily Mail. While, heading into Fratton Park, the Mail claim "South Africa captain Aaron Mokoena, 28, has confirmed he has agreed a three-year deal at Portsmouth." Lastly, the tabloid prints that "Fulham are poised to move to sign the £4.5m-rated winger Chris Brunt from relegated West Bromwich Albion."
With Ricky Sbragia quitting Sunderland yesterday, Alan Nixon lists the potential targets to take over the hot seat. "Frank Rijkaard, Martin Jol and Slaven Bilic have all been linked with the job but Sunderland could be ready to make a move for Celtic boss Gordon Strachan in the next few days." Alan Nixon continues to peddle the rumours writing "Andy Van Der Meyde is trying to grab a Premier League lifeline with Blackburn after being shown the door by Everton."
---