Sir Alex Ferguson has lost the plot, Liverpool are up for sale for £600m & Manchester City plan £50m bid for Fabregas
Comment & analysis round-up
Quote of the day: "It was horrendous. James Milner is lucky his career is intact. It's an horrendous challenge — a straight red card — and the ref is in front of it! James is very sore and we think he got away with it. His leg was in the air, which helps, but when you see the challenge his knee bends out. Our doctor says James is very, very lucky. It was a desperately poor challenge and should have resulted in a red card. It was an obvious red card. You don't need four replays to see that. There are tackles where there is tussling either way but this was incontestable. Our penalty [claim] was also clear cut. Five weeks ago the ref bottled it completely. It's maddening. These are game-changing decisions." – Martin O'Neill on John Terry's challenge on James Milner.
Runner-up:Â "I don't feel close to footballers. Sometimes when I see certain things I'm ashamed to be a footballer. I don't go to nightclubs, I don't go to lounge bars, I don't spend my days shopping. That doesn't interest me. I spend a lot of time with my children at home. That's where I feel good… I don't know how to be on the pitch as a tourist. Some lads do that but I can't. When I play, I play for real. I never pretend. I know I get carried away by emotion. I have always been like that. I don't give a toss whether that pleases people or not. I do my thing. What counts for me is the respect of my family, people who know me, my manager and my team-mates. Wayne Rooney is more effective in front of goal than me, but I love the guy. If you go to war you prefer to have Rooney on your side. It's the same with Roy Keane – a legend. I'd be happy to be a quarter of the player he was. Like him, I can't bear matches passing me by." – Craig Bellamy.
Transfer gossip quote of the day:Â "I cannot guarantee that we won't have to sell a big player." – Rafa Benitez.
Today's overview: Both of yesterday's big games (Real Madrid-Barcelona & Aston Villa-Chelsea) are chewed over and there are features on today's FA Cup semi-final. Manchester United's future after their Champions League failure is also analysed and Liverpool feature heavily as the club's American owners seem to have received their cash injection, are now ready to sell the club, and big names could be leaving Anfield. Elsewhere, Roy Hodgson and Fulham are hailed and there is a mountain of never-gonna-happen transfer tosh.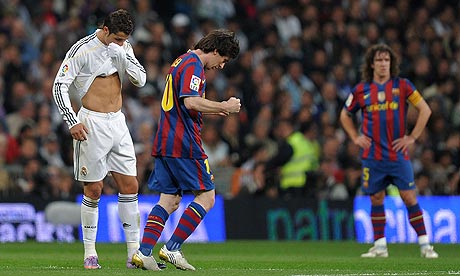 The Clasico: The always excellent Sid Lowe reports "This time Lionel Messi scored only once and it was not a particularly special goal, yet it could prove as significant as the four against Arsenal. The architect of Barcelona's victory was the peerless Xavi Hernández but it was Messi's 40th goal of a spectacular season that set Barcelona on the way to victory in the match that was declared the title decider. Real Madrid's 14-game winning run at the Bernabéu came to an end and the feeling as disappointed fans left early was that so too did their chances of winning the league."
Ian Hawkey sums up what the defeat means for Los Blancos. "What Madrid will do is count down the season's remaining weeks stuck between hoping Barcelona lose to Jose Mourinho's Inter Milan in the semi-final of the Champions League and so do not reach — and perhaps win — a final at the Bernabeu, and wondering if involvement by Barça in Europe might just cause them to let slip four points in La Liga. A clamour for Mourinho to replace Madrid's coach, Manuel Pellegrini, will rise up from this morning."
Hugh McIlvanney waxes lyrical over Lionel Messi. "At barely 5ft 7ins and nearer 10.5 than 11st, he reminds us that another beauty of football is its granting of sporting magnificence to seemingly ordinary Joes. Recognition of the current Barcelona team as Europe's best drives home that truth, since the two players who would be considered their most distinguished after Messi, the midfield masters Xavi Hernandez and Andres Iniesta, are also unimpressive in their physical appearance, if never in the inexhaustible energy of their movement. All three men, and the club style they incarnate so thrillingly, represent a healthy rebuttal of the torrents of foolish talk about how increased athleticism and pace have so transformed football that the skills associated with the greatest players of distant decades cannot be invoked for purposes of comparison."
With Manchester City destined to be linked with Lionel Messi at some point, it may prove wise to heed the words of Jonas Gutierrez: "He asks me about England, but he said he's not going to come because he's at a big club. It would be difficult for him to leave Barcelona.think he is going to finish his career there – he's always said that. In Spain, they talk the same language and he's been there since he was very young."
Aston Villa-Chelsea: Stuart James gets the ball rolling with a sober analysis of where Aston Villa were caught short at Wembley yesterday. "Whether O'Neill can pick his players up for the final four weeks of the season remains to be seen. The Villa manager was unable to think that far ahead when he was wiping the floor with Wembley officials, but there is a sense that only a top-four finish and a place in the Champions League qualifying round will make up for the torment that the Northern Irishman and his players have suffered at Wembley this season at the hands of referees."
Chris Bascombe fears for O'Neill and Villa. "This is yet another season which has promised much for Villa until the defining fixtures exposed their limitations. A little like yesterday's game, Villa have looked the part in the early stages only to timidly crumble in the last quarter. O'Neill has earned praise for making Villa more competitive. Wherever he's gone he's improved his clubs. At Villa Park he's offered the tantalisingly prospect of silverware and Champions League football. But, in many respects, that will make him and his fans feel even worse."
Henry Winter praises James Milner for his performance yesterday. "When Milner performs like this, threatening from central midfield as well as covering back, he looks first XI material for Capello, let alone a squad member. He was comfortably man of the match whatever the sponsors' bizarre choice of Didier Drogba… Milner, commendably, never gave up the claret-and-blue cause, even making light of Terry's shocking challenge. His FA Cup dream lies in tatters but fortunately his knee doesn't. Milner's World Cup dream lives on."
Portsmouth-Tottenham: Peter Crouch gives his thoughts to the Sunday Times: ""Chelsea have [Roman] Abramovich and I thought, it's obviously not that much but somebody was funding it and it was being taken care of. When I sign for a club I don't go through the books, I just assumed it was being run properly. But obviously it appears it wasn't, that's why they're in the trouble they are."
As ever, Ledley King is doubtful to play in today's FA Cup semi-final but he will be cheered up by a report in the Sunday Mirror: "Fabio Capello wants to take Ledley King to the World Cup. The England boss knows the injury-plagued Spurs star needs to be nursed ­between matches but has asked his medical staff to keep tabs on the defender." The NOTW and a number of other Sunday papers have interviews with Avram Grant: "I feel like I am fighting for people who are victims of circumstances beyond their control."
Champions League failure. After a week in which both Manchester United and Arsenal were knocked out the premier competition in Europe, analysis continues over the state of English football. Jonathan Northcroft: "English clubs can move on now because this season's Champions League exposed the lies they told themselves. Chelsea, after exiting at his hands, can no longer pretend it was okay to sack Mourinho. Liverpool, thoroughly embarrassed, chirp no more about a return to the glory days being just round the corner. Arsenal, after meeting Barça, were left a little less in love with their own football and a bit more fixed on what it takes to be a top team. Arsène Wenger even said he might spend. And United can put away fantasies that they don't actually miss Ronaldo or, having been willing to play him with only one good leg, that they aren't over-reliant on Wayne Rooney."
Manchester United: Neil Ashton brings some interesting news from Old Trafford. "Sir Alex Ferguson maintains it was a first class performance and yet his players fear he has a blind spot when it comes to Wayne Rooney. Manchester United's manager is noted for sounding out his senior stars, calling mini-conferences before he makes the big decisions. Gary Neville, Ryan Giggs, Paul Scholes and Rio Ferdinand are often asked their opinion, brought into the manager's inner circle to talk team shape and tactics. Not this time. This one was down to manager and player, plotting his return to the team for the Champions League quarter-final tie after he came through a secret training session."
Simon Turnbull in the Independent on Sunday argues that Ferguson has lost the plot. "There were other questions of judgement left hanging in the Mancunian air as United went out. Chief among them was: why had the European champions of 2008, the beaten finalists of 2009, been left with such a dearth of striking options when it came to the business end of this season's competition? Why, after two seasons at Old Trafford, had Dimitar Berbatov not come up to £30.75m scratch? What had happened to the £80m gleaned from the sale of Cristiano Ronaldo?"
Gary Lineker also fears for Ferguson and Manchester United. "It is not just up front that Ferguson will want to strengthen. Across the team, you notice ageing players from Gary Neville at the back to Paul Scholes and Ryan Giggs in midfield. If you were a United fan, you would be concerned. You know there is nobody better to put it right if Ferguson is given the financial tools. But you do worry what will happen if the money isn't there for him."
Liverpool: After reaching the Europa League semi-finals, there is more good news for Liverpool fans this morning. Dominic O'Connell: "Barclays is to make a shock intervention at Liverpool FC, backing a £300m refinancing that will lead to the sale of the club. The bank is this weekend finalising a deal that will see it displace the club's current lenders, provide additional funds to Rafa Benitez, the manager, and install as chairman Martin Broughton of British Airways. Barclays Capital has been hired to find a buyer. The move will dispel fears of a meltdown at Liverpool."
Simon Mullock takes the Barclays angle one step further. "Liverpool is for sale – for £600 million. American millionaires George Gillett and Tom Hicks have instructed Barclays Capital to find a buyer. The Anfield fans who have campaigned to drive the Yanks out are on the brink of a memorable triumph."
The lead story in The Sunday Times reads like the latest pronouncement from Tuttosport, the Turin based newspaper with a detachment from the reality that Juventus have had an even more shocking season than Liverpool. Duncan Castles: "Juventus have stepped up their attempt to poach the Liverpool manager, Rafael Benitez, by proposing to take two of his best players, Fernando Torres and Javier Mascherano, to Italy with him. The Serie A club believe they can capitalise on the uncertainty over the future of Liverpool and the manager to instigate a radical overhaul of their own."
Duncan White in the Telegraph casts a bleak future for the Merseyside giants. "It is their time at the top that Liverpool have wasted. While City are their likeliest usurpers, Liverpool's future is more bleakly reflected in the mirror of the outsiders for fourth place, Tottenham, who face Arsenal in the North London derby on Wednesday, have taken notice of how their neighbours have developed a viable European superclub and have begun to follow their example. While Liverpool have been paralysed by debt, Spurs have started work on a new training ground and have ambitious plans for a new stadium that could help drive the kind of corporate client revenue that is making Arsenal so rich. In the next decade, unless the trajectories of the various clubs are radically altered, Liverpool could find themselves on the outside of a new big five, looking enviously in."
Toff Piers Morgan adds his two penneth on the troubles at Anfield. "I tipped Liverpool to win the Premier League at the start of this season, but Torres was absolutely right in his analysis of why they won't. They sold some brilliant players in the summer (Alonso, Arbeloa, Hyypia) and replaced them with lesser mortals. Add a few key injuries (to be fair, I did say that my prediction would come true only if Torres and Gerrard were fit for the whole campaign), and the closest they've been to the races is Aintree this week. And for a man who has spent as much money as Benitez, at a club as big as Liverpool, this is just not good enough. It doesn't matter if they win the Europa League, because nobody cares. If they don't qualify for the Champions League, then Benitez should be fired, and Senor Torres should come and play for the team he confesses that he loves to watch — Arsenal. I'm sure we can fit him in when Bendtner and Eduardo aren't available.
Fulham: Paul Hayward is full of praise for the Cottagers: "Eleven months after he led them to their highest ever league finish (seventh place), Hodgson has coached Zamora to the edge of a World Cup spot with England and sculpted European semi-finalists from a squad of vastly improved nearly-men. Danny Murphy was nearly a top-six midfielder, Paul Konchesky was nearly a top-half left-back, Damien Duff was nearly the wizard he used to be at Blackburn and Chelsea, Zamora was nearly, but not quite, good enough to be the main goal-getter in a top-10 Premier League side.
Paul Ince also praises his old boss Roy Hodgson. "You don't beat the likes of Shakhtar Donetsk, Juventus and Wolfsburg by a fluke. You win because you're a confident unit completely comfortable with the manager's system and tactics, and you believe in yourselves. Fulham are at the same stage of the Europa League as Liverpool without spending a fraction of Anfield's budget. That says it all."
Miscellaneous: Jamie Jackson in The Observer bigs up the Bundesliga. "In Germany the fan is king. The Bundesliga has the lowest ticket prices and the highest average attendance of Europe's five major leagues. At Borussia Dortmund their giant stand holds 26,000 and costs little more than £10 for admission. Clubs limit the number of season tickets to ensure everyone has a chance to see the games, and the away team has the right to 10% of the available capacity. Match tickets double as free rail passes with supporters travelling in a relaxed atmosphere in which they can sing, drink beer to wash down their sausages, and are generally treated as desirables: a philosophy English fans can only dream of."
Also in The Guardian, Louise Taylor conducts a Big Interview with legendary Manchester City keeper Bert Trautmann. "Bert Trautmann begins looking a little bored when the broken neck is mentioned. After spending almost an hour discussing Nazism, the horror of war, antisemitism and failed relationships with impressive and sometimes chilling candour, the former Manchester City goalkeeper's still bright-blue eyes finally start glazing over."
Marcus Hahnemann is featured in the IOS. "On the pitch, Hahnemann is no Higuita, Grobbelaar or Campos, favouring rigorous professionalism over acrobatics, clowning and garish colours. Away from it, though, he is the player who often undertakes a 10-mile round trip to training by mountain bike (after feeding the hens and walking his Labrador); who owns 'at least nine' vehicles here and in the US, including the Volkswagen he had in school, a gargantuan Excursion SUV, a Porsche and a Dodge truck; who goes deer stalking in Berkshire and hunts with guns "back home"; and who enjoys a mixed marriage, Amanda being a Democrat who was "for change" and voted for Barack Obama – he is a Republican who did not."
Transfer gossip: Its Sunday so the tabloids roll out the most outlandish rumours possible. The News of the World look to smash their rivals out the water with the outlandish claim that "Manchester City are preparing to break the British transfer record with a sensational bid for Cesc Fabregas. City's move for the Arsenal midfielder was authorised by owner Sheikh Mansour during a meeting with key personnel this week. Although their swoop for Fabregas is dependent on a top-four finish, they plan to start the bidding at £50m in an attempt to see off Barcelona."
The NOTW don't stop there though, the Sunday tabloid goes transfer gossip crazy, saying Tottenham are after Roque Santa Cruz, Douglas Costa still wants a move to Manchester United, Birmingham will not sign Chucho Benitez permanently and Tal Ben Haim is open to a move to Blackburn. The red top continues with Liverpool's summer full-back cull, Manchester United and Arsenal to fight over Sebastien Frey and the Gunners are lining up Colombian defender Cristian Zapata.
As ever on a Sunday, The People don't like to be left behind on the transfer gossip front. Alan Nixon "reports": "Roman Abramovich has plunged Chelsea's summer signing plans into chaos – by refusing to discuss ANY deals until the end of May. And the Russian billionaire, furious over the money Blues have been paying in fees and wages, has made it clear that he will NOT be splashing out fortunes in the transfer market this summer. The first sign of Abramovich's new mood is his decision to shelve all contract talks, shrouding Joe Cole's Chelsea future in doubt. Abramovich does not want to discuss budgets or wages until he sees how the rest of the season pans out – a hard-line approach that has left Carlo Ancelotti and Chelsea transfer negotiators totally in the dark."
---