'Shock aye the Nou' after Celtic beat Barca, is JT now a Chelsea backbencher, Pep up for Man City & Arsenal target Taarabt
Comment & analysis round-up
Quote of the day: "This is the best moment of my life.  It will take a couple of hours for this result to sink in. I just saw Victor Valdes and put it in the corner. I couldn't believe it. We'll look back on this and say 'Wow, we've beaten Barcelona in the Champions League'. It does not get better than that. The crowd were like a 12th man. I've never heard anything like it, the place was rocking." – Tony Watt.
Another quote of the day: "This is up there with anything I have done in my life. As a player I won things, had a special 10 years under Martin O'Neill [at Leicester and Celtic] and played in some great teams, beating Manchester United and getting to the last 16 of the Champions League. As a manager, I don't know if I will top this; I hope I do, because I am still young and am still learning. But this is up there with anything I have achieved, not just in my football career but in my life." – Neil Lennon.
Runner-up: "I'm not going to comment on the private conversation with my players. But it's not easy to tell a player that he's not starting the game. JT is a fantastic player for this club, for our team. He's got many qualities and I'm very happy that he's back available for us after the ban. But considering the last four weeks in his professional life, he's had one competitive game, and I thought we needed players who were 100 per fit match fit for a game like this. I'm very glad that he's back with us now and is available because we will certainly need him." – Roberto Di Matteo.
Celtic 2 – Barcelona 1
Shock aye the Nou! Wanyama and Watt help Celtic stun Barcelona…and everyone else (Mirror)
Wanyama and Watt sink Barca to celebrate Bhoys' 125th birthday in style (Michael Walker, Mail) Defeating Barcelona, Lionel Messi and all, is such a glorious achievement in itself that it was almost lost at a euphoric Celtic Park that Neil Lennon's side were under strength – and that they are now on the verge of the last 16. Just one more point might be enough and Celtic go to Benfica next.
This result will go down in history, says Lennon (Independent) No one did more than Fraser Forster to rewrite history, a 6ft 7in piece of Geordie rock at the heart of Celtic glory, a man who did not take up goalkeeping until he was 13, who refused to let his side lose their dream. He was immense, and as Lennon humbly admitted afterwards, he had to be. There is a danger that people get bored of Barcelona's statistics, but they are crucial to their unique place in footballing history. Twenty three shots on target, 76 per cent possession, away from home. Twice they struck the frame of Forster's goal in the first half, first through Messi and then through Alexis Sanchez. After Victor Wanyama had the temerity to head Celtic ahead in the 21st minute, a moment that rocked Celtic Park, Forster was peppered. His second-half display was colossal.
First Barcelona and now New Zealand – Scotland has been gifted a sporting week to savour (Oliver Brown, Telegraph) While Tito Vilanova and his Catalan brigade inspire awe and genuflection wherever they travel, even they must defer to the guests from New Zealand within this dwindling aristocracy. Not even the zephyr-like movement of Andrés Iniesta illuminates the shortening days quite like the spectacle of Richie McCaw in full bloodthirsty haka pose. Not even the red, blue and gold of the blaugrana exert quite the same emotional pull as that black jersey and the little silver fern that adorns it. For sheer romanticism — a strange by-product, perhaps, of their raw belligerence — the All Blacks stand alone.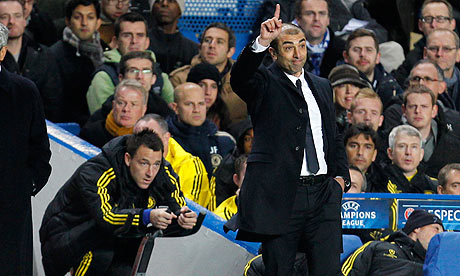 Chelsea 3 – Shakhtar 2
Beginning of the end for Terry as Chelsea captain is left on bench for Shakhtar tie (Neil Ashton, Mail) John Terry was on his bike on Wednesday night, warming up on the sidelines and saddled with a substitute's jacket. The official line is that Terry was not match fit. Unofficially, the wheel is turning towards a new central defensive pairing. Change is on the way at Chelsea, with contract wrangles, age and injuries convenient excuses to dilute dressing-room influence… Once he was first choice. Now he is the first-choice replacement for the David Luiz-Gary Cahill axis at the heart of Chelsea's defence.
Axing John a Terry-ble risk for Chelsea boss Di Matteo (Paul Brown, Star) Roberto Di Matteo may be about to find out who really runs Chelsea. Is it the Blues boss? Is it John Terry? Or is it Roman Abramovich? Di Matteo's shock decision to leave Terry on the bench for this match was either brave or stupid – because calls like that can cost a manager his job… Will Terry stand for such treatment? Time will tell. But it looks like the ­beginning of the end for one of them.
Confidence trick: Torres scored against Shakhtar but will he ever win another Golden Boot? (Ollie Holt, Mirror) Chelsea are playing a more open brand of football this season which means they are more vulnerable defensively and that they need to be more ruthless up front. Torres is not providing that ruthlessness. Not yet. He may be vulnerable if Chelsea decide to make a move in the January transfer window… He has still only scored four goals in 19 Champions League appearances. He is not the prolific scorer Chelsea thought they had bought when they paid £50m for him in January last year.
Resolute Chelsea overcome shock of the new (James Lawton, Independent) Chelsea, it is true, had moments when they exerted impressively their right to call themselves champions of Europe. The touch and vision of Juan Mata and Eden Hazard had already been notable before that other member of this talented trinity, Oscar, pushed Chelsea back into the lead with a piece of sumptuous authority after Shakhtar's eccentric goalkeeper Andrei Pyatov had left his line unprotected. But then in so many ways it was a journey back to the Etihad Stadium 24 hours earlier, when such expensive City performers as Yaya Touré and Sergio Arguero were required to keep their team alive against the lovely spontaneity of young Ajax. Last night it was the team from the hard old coal and steel town of Donetsk who at times superbly represented Europe's new wave. With Ajax and Borussia Dortmund, Shakhtar have elected themselves to a school of football which is giving more than a glimpse of the possibility of a time when the power commanded by sheer resources is to some degree at least countered by the force of intelligence and well educated craft.
Braga 1 – Manchester United 3
United stumble through dark to 'surprising' victory (Independent) United looked like a side playing in the dark long before the electricity failed, the stadium was plunged into darkness and the players departed to the dressing room for ten minutes, just before the hour. Ferguson said something which let there be light and those fabled powers of United recovery came into play yet again, but the sight of Phelan, discussing the game in the shadows late last night when the press room energy supply failed and the interpreter failed to show, summed up the whole occasion.
Mancini Out, Guardiola In?
Pep up for City (Sun) Pep Guardiola has turned up the heat on Roberto Mancini by opening the door for a summer switch to Manchester City… His agent Jose Maria Orobitg played down an imminent switch to AC Milan by saying: "The doors are open for them, just like they are open for Manchester City, Chelsea and so on. Pep will listen to offers and then he will evaluate them. But so far we haven't talked about Milan because Guardiola won't be coaching until next season."
Mancini faces crunch talks to convince City he is the right man (Mirror) Although Mancini's position is not under immediate threat, City's dismal Champions League campaign has put the Italian's future under fresh scrutiny… With City facing another early Champions League exit, the spectre of former Barca boss Pep Guardiola – currently out of work – is looming large over Mancini.
Roberto Mancini's outburst will not have helped his long-term prospects (Daniel Taylor, Guardian) Two things are certain. One is that Ferran Soriano, City's recently appointed chief executive, and the new director of football, Txiki Begiristain, prefer a manager to act with good grace rather than getting involved in the kind of outbursts we have seen from Mancini over the last week. The very reason Barcelona, under the Soriano-Begiristain regime, turned down José Mourinho and appointed Guardiola in 2008 was because they did not want someone who would create controversy. Mourinho generated "media conflict almost permanently" and was "a potential source of conflict within the club," to quote Soriano. The second is that there is very little appetite for change among the club's supporters. "Criticising Mancini after what he has achieved in such a short space of time smacks of a callousness that only football can eke out of normal people," as Simon Curtis puts it on his Down the Kippax Steps website.
Arsenal
I want to play up top, says Podolski as Arsenal star hits out at Wenger selection policy (Sami Mokbel, Mail) Lukas Podolski has joined Theo Walcott in voicing his unhappiness at being played out of position at Arsenal… "I'd rather play as a central attacker," said the former Bayern Munich forward. 'On the left I have to do a lot of defensive work, constantly running up and down. I am not a classical winger."
Hodgson ready to disobey Wenger and pick Arsenal's Wilshere for Sweden clash (Mail) Roy Hodgson is set to defy Arsene Wenger on Thursday by naming Jack Wilshere in his squad to face Sweden next Wednesday. The Arsenal midfielder has played only three first-team games since returning from 15 months out with ankle, foot and knee problems.
Tottenham: The Battle Over The Term 'Yids' 
Don't you dare call our fans racist: Spurs defy black lawyers on 'Y-word' chants (Mail) Tottenham have issued an impassioned defence of their fans' right to use the term 'Yid' in their matchday chants. Peter Herbert, chairman of the Society of Black Lawyers, described the north London club's attitude as being '40 years out of date', and said that if such chants continue they would ask the police to bring a prosecution for racism.
We CAN use the Y word (Paul Jiggins, Sun) Tottenham said: "Our guiding principle in respect of the 'Y-word' is based on the law itself. The distinguishing factor is the intent with which it is used — if it is used with the deliberate intention to cause offence. Our fans adopted the chant as a defence mechanism in order to own the term and thereby deflect anti-Semitic abuse. Real anti-Semitic abuse, such as hissing to simulate gas chambers, is the real evil."
Transfer Lies 
Adel do nicely: Arsenal line up QPR forward Taarabt if Zaha bid fails (Mirror) If a £7million bid for the Crystal Palace winger won't do then the Gunners could turn their attention to the Moroccan.
Mancini ramps up De Rossi pursuit as City boss wants Begiristain to sign midfielder in January (Mail) Roberto Mancini will ask Manchester City director of football Txiki Begiristain to sign Roma midfielder Daniele De Rossi in January… Roma would want in excess of £20million and the player would expect to be paid around £100,000- a-week.
Villa eye January swoop for Ba after watching Porto defender in Champions League action (Mail) Aston Villa scouts watched Porto defender Abdoulaye Ba play against Dynamo Kiev on Tuesday night. The Senegal international, 21, is available on loan in January.
Wigan insist they are under no pressure to sell Al-Habsi to Liverpool (Mirror) Al-Habsi has been linked with Liverpool because of Pepe Reina's dip in form and Martinez says he does not have to cash in on his highly-rated goalkeeper to balance the books.
Liverpool ready to steal long-term Manchester United target Filip Djuricic (Star) Liverpool are aiming to steal Heerenveen star Filip Djuricic from under the noses of Manchester United… Anfield chiefs hope that a bid of around £4m could be enough to land the talented youngster, whose ability to also play as a second striker will strengthen the Reds depleted forward-line.
Everton tracking St Pat's winger Chris Forrester (Mirror) He was scouted by Sunderland in recent weeks and now the Toffees have been alerted.
Chelsea close in on £5m Fluminese defender Wallace (Mirror) The European Champions moved for a 40 percent stake in the Fluminese right-back two years ago after Deco moved there on a free transfer. Now the Blues want to tie the defender to a long-term deal to ward off interest from Manchester City, Juventus and Napoli.
Chelsea are ready to buy right-back Wallace, 18, from Fluminense for £4.75million (Sun)
---
GAMBLING CAN BE ADDICTIVE, PLEASE PLAY RESPONSIBLY