"Shearer has to succeed or the next stop is Paul Gascoigne and beyond that Sting, Cheryl Cole, Ant and Dec or maybe Sid the Sexist from Viz comic" – Martin Samuel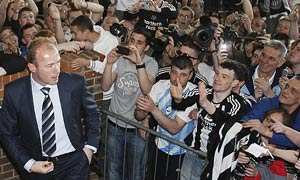 Comment & analysis round-up
Quote of the day: "I'm definitely only here for eight weeks and that's all I'm concentrating on, it would hurt and devastate me if the club were playing in the Championship. We are third-bottom of the league. Whether that is because of bad luck, bad play, low confidence, poor refereeing decisions… it doesn't matter, it is history. We have a massive fight on our hands in difficult circumstances. We've got injuries but we will face it head on and give it a right good go." – Alan Shearer.
Runner-up: "I can honestly say that in all my time in football I have never worked with someone as unprofessional. In [Amr] Zaki's case it really defies belief from a player who is on loan and trying to earn himself a long-term contract. I really am at the end of my tether with him… Before this latest incident, Zaki had already been fined considerably more than the average person in Britain earns in a year and he will now face another heavy fine. This is the fourth time he has not reported back on time from international training… Zaki's behaviour has shown total disrespect to the club who pays him a very good wage and, equally as importantly, to the fans who sing his name from the stands." – Steve Bruce.
Today's overview: Newcastle bashing and advice for Alan Shearer is the order of the day as reaction continues to pour in on the Premier League's latest managerial appointment. A number of pundits analyse England's win over the Ukraine with Patrick Barclay in particular getting way to giddy over England's hopes in South Africa. The standout article of the day and a must-read comes from Marcela Mora y Araujo who looks in-depth at Argentina's shock 6-1 defeat to Bolivia.
The Newcastle bashing continues with Matthew Syed in The Times. "Forget religious fanaticism – if you want to get a feel for the power of blind faith, get up to the North East, stick on a black-and-white shirt and mingle. The reality, of course, is that nobody has the faintest idea how Shearer will cope with the exacting demands of club management, since he has never managed so much as a boys' brigade team. Agnosticism is the only tenable position to take regarding his ambition to keep Newcastle in the Barclays Premier League – they are two points below the safety zone with eight matches to play – but mention that around Newcastle and people think that you are part of some London-based media conspiracy."
Martin Samuel (Daily Mail) also has a warning for Newcastle and Shearer. "What is also true is that the club is fast exhausting local heroes to ride to their rescue. Shearer has to succeed or the next stop is Paul Gascoigne and beyond that Sting, Cheryl Cole, Ant and Dec or maybe Sid the Sexist from Viz comic.  If the supporter turn-out for Shearer was a little muted in comparison to previous years, it is only because there is little point in dashing to catch this Messiah when, at Newcastle, there is invariably another one along in a minute." Tim Rich (Guardian) adds to this line of argument: "Should Shearer fail, the players will not suffer unduly – even Mark Viduka will be offered a contract by someone. But for everyone else at Newcastle United, Alan Shearer is their last, best and only hope."
Matt Dickinson looks at what it means for English football, that Alan Shearer has jumped straight into a big job. "Perhaps Shearer will prove a rare exception in the list of English players who have jumped in at the deep end and promptly sunk, but, either way, the development of coaches in this country remains an embarrassment. And the problem is perpetuated by the appointment of Shearer. Not because he has declined throughout the past three years to take the Uefa Pro Licence, although that is troubling enough. The FA approached him last year about sitting it, but he said that he was too busy with television commitments."
Henry Winter hands out some advice to Al in the Telegraph. "There is one thing that can always be said about Newcastle's latest manager, that gives hope for the remaining eight games. As Euro 96 showed, Shearer will always give it his best shot." Also in the Daily Telegraph, Jim White argues "only passion can save Newcastle – and only Alan Shearer can deliver it."
George Caulkin (The Times) sees a "fresh dawn" at Newcastle's training yesterday, Shearer's first in charge. "With legs slightly apart, index finger resting on his cheek and the letters AS emblazoned on his white sweatshirt – smart work by the club's official embroiderer – Alan Shearer stood on the touchline of Newcastle United's training pitch. He has a piercing, unforgiving stare, but if looks can thrill, then they certainly did; in front of him, sullen footballers looked invigorated, chasing every ball, every tackle."
Steven Howard in The Sun "hopes Newcastle's latest Messiah is better than the old one." "Realistically, how can a squad which has only won six league games all season and been depleted by both injury and the exit of their best players, possibly hope to rise to the challenge within the space of three days? Yes, St James' Park will be the same sort of madhouse tomorrow it was when Keegan started the Second Coming — with a goalless draw against Bolton. So forget about Messiah. Forget about Prodigal Son. What Newcastle need right now is a Miracle Worker."
The lead story in The Sun is how Shearer is "brut-al," listing the rules laid down at Newcastle under their new boss. "And new boss Shearer proved it by hitting his players with a series of strict rules. He: BANNED all nights out on the Toon after games. TOLD his squad they must stay behind after training and eat lunch together as a team. CHALLENGED anyone to say if they do not like the new regime — and said they can go if they are unhappy."
Patrick Barclay continues to be outrageously positive about England, arguing that "only Spain can deny England global supremacy." "Argentina will not recover in 15 months, even if Maradona goes.  So that is one opponent fewer to fear. We saw in Seville in February that England cannot yet match Spain's European champions, but scan the horizon and little else demands more than respect. Even Brazil, though their qualification campaign is back on an even keel."
James Lawton (Independent) is not quite as positive as Barclay. "If England are to cover that last vital ground they must separate themselves from the fiction that sometimes a win can bury every sin. If it is not accompanied by genuine performance, it can never do more than buy a little time. Capello, reassuringly, is unlikely to squander the gift that came to him on Wednesday night." Kevin McCarra adds to this line of argument, describing England as a "work in progress."
Analysing "crazy" Wayne Rooney, Martin Samuel suggests this is how Fabio Capello wants his striker to play like. "This is what Fabio Capello will do about Wayne Rooney the next time England meet  up. Nothing. Nothing different, anyway. Nothing that takes him to task for his tackle on Alexander Aliev of Ukraine, nothing that makes him feel that he must change the way he plays for England, nothing that will risk harnessing the spectacular, free talent that his coach (and a growing band of  disciples) feel may win England the World Cup in South Africa."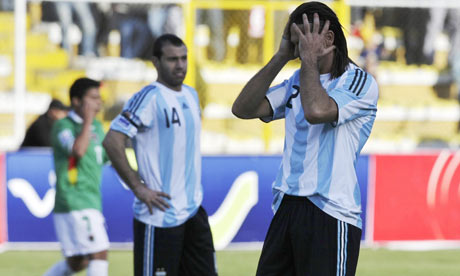 The standout article on the international games comes from Marcela Mora y Araujo in The Guardian who analyses Argentina's 6-1 defeat in Bolivia. "During Wednesday's game, we saw the slow and painfully drawn-out demise of an Argentina side in which the vulnerabilities we have all been fearing overrode the potential brilliance of the superstars. Gabriel Heinze and Zanetti – is it time to look for fresh blood in defence? Emiliano Papa? Is that the best the nation has to offer? Many observers pondered the huge 'if only' that might have redressed at least to some degree the blatant lack of a conductor on the pitch. Someone to dictate the rhythm, to bring a sense of order to the lost and confused. The name that has come up more than once in the few hours and thousands of words since is obviously none other than Juan Román Riquelme."
The Sun claim that after his sacking by Mexico, Svennis is looking for a return to the Premier League. "His agent Athole Still said: 'A Premier League club would be his first choice.'"
The main thread of transfer gossip this morning is that "Barcelona president Joan Laporta has confirmed he wants to nab Arsenal superstar Cesc Fabregas. Laporta is ready to offer around £45million to tempt Arsenal into selling their captain." In other news on Arsenal, Arsene Wenger has committed himself to the club until 2011 at least. Other news of interest this morning, reported by Matt Scott, is that "Blatter's 6+5 is gaining momentum."
Finally, with Luton heading out of the Football League, Ian Burrell features the upcoming Johnstone's Paint Trophy on Sunday. "This cruel paradox, half a century since the Hatters first made it to Wembley to contest the FA Cup final with Nottingham Forest, means the Johnstone's Paint Trophy final against Scunthorpe United amounts to a glorious afternoon's diversion from the more serious business of Luton's increasingly desperate struggle to maintain their 89-year-old League status."
---