Serbia's £65k racism fine, could coach Thierry save Arsenal, Chelsea line up bids for £15m Theo & £200k-a-week Falcao
Comment & analysis round-up
Quote of the day: "Whether I like it or not, the club are quite happy to finish in the top four. They have been doing that for the last 15 or 16 years. That seems to be the objective. Let's be honest, they are not serious challengers for the Premier League. So finishing in the top four, I think the club are quite happy with that. I don't think Arsenal are ever going to compete with Manchester City, Chelsea and Manchester United. I thought they could have competed with United because they don't spend the money the other two do. But Arsenal are not going to compete with them either. They have got a structure at the club on transfers and wages. They are very strict on those. They have more or less said to fans that is the way they are going to run the club. They can still pick up cups and qualify for Europe. But will they win the Premier League title again? I can't see it." – George Graham.
Runner-up: "There have been no talks about anything and the ball is in Chelsea's court. I've had a great, great time here but maybe things don't last for ever — even though I want it to. I'm a Chelsea player but at the minute nothing else has been said and, as far as I know, nothing is planned. I can't predict anything but I feel I have two or three years left in me at the top level. It is not for me to decide on this one though, it's up to the club. Whatever happens, I have had a great time at Chelsea. I am determined to play a few more years and see what pans out in the near future." – Frank Lampard.
Serbian Racism = £65,000 fine
Serbia receive paltry fine for racist fans (Paul Jiggins, Sun) UEFA have been branded "an embarrassment" for not coming down hard enough on Serbia's racists. The Serbian FA was fined just £65,000 for the shameful behaviour of their fans, players and coaches during the night of shame in Krusevac. But there was no direct mention of the racist chants Serbian fans aimed at England players before, during and after their Under-21 play-off in October.
Ferdy fumes at fine farce (Sun) Rio and Anton Ferdinand slammed UEFA after Serbia copped a paltry £65,000 fine for their violent racism shame. Manchester United star Rio tweeted: "UEFA not serious at all on racism. Fines do not work at all. They have zero impact on federations/clubs/fans/players. UEFA need to talk to this generation… they don't seem to be up to date on this issue. Harsh punishments needed as a deterrent #simple."
Uefa's cowardly reaction against Serbian racists takes European game several steps backwards (Henry Winter, Telegraph) It's unbelievable. It's scarcely credible. It's the 21st century yet dear old blinkered, blazered Uefa is at it again, failing to fight the fires fanned by the racist Serbs. Again. There are good, diligent, conscientious souls within Uefa but the organisation's cowardly reaction towards the serial bigotry of the Serbs shames all at Nyon. This embarrassment has gone on too long.
England U21 stars Ince and Caulker banned by UEFA after racism storm… with Serbia fined £65k (£15k less than Bendtner's pants punishment) (Mail) The FA reacted with anger and disbelief after UEFA showed bewildering leniency towards Serbia for the racist abuse suffered by young England stars. Serbia's governing body was fined just £65,900 – less than Nicklas Bendtner paid for displaying sponsored underpants – and ordered to play one Under 21 game behind closed doors.
Why UEFA's punishment of Serbia tells racists in football they really have nothing to fear (Ollie Holt, Mirror) Here's the most depressing thing about the punishment of Serbia. It was so, so familiar. So, so predictable. Everyone knew what was coming, because everyone knows UEFA don't take racism seriously… Nobody learns anything. Nobody is forced to confront anything. And the problem festers and festers, until the next time. And there will be a next time and it will be soon. Because the message UEFA has just sent out, ­unwittingly or not, is that racists in football really have little to fear.
Uefa misses open goal in response to Serbian football's racism (Owen Gibson, Guardian) Respect campaigns, workshops and symposiums are all very well but that actions speak louder than words. Despite Uefa resolving in 2005 that tackling racism was its "top priority" and promising a "zero-tolerance approach", it has levied a series of derisory fines against a litany of offenders.
Bendtner's pants – €100,000. Serbian 'improper conduct' – €80,000. Uefa credibility – totally spent (Sam Wallace, Independent) Read through the charge sheet that Uefa produced for the Serbian Football Association and there is not one mention of racism or racially aggravated language. "Improper conduct" is the bloodless phrase that the European governing body choose to use when the world is crying out for them to just damn well call racism, racism.
Racism In England = Get Off Scott Free
Chelsea fan accused of aiming alleged 'monkey' taunt at Welbeck will face no further action as CPS claim there is 'insufficient evidence' (Mail) No action will be taken against a Chelsea fan arrested on suspicion of racist behaviour, say the Crown Prosecution Service. However, Gavin Kirkham could still be banned from Stamford Bridge because, as he is not a member or season ticket holder, he should not have been in that part of the ground for the Capital One Cup win over Manchester United. Photographs showed the 28-year-old appearing to make a monkey gesture at United striker Danny Welbeck at the fourth-round tie on October 31.
Chelsea At The Club World Cup
Benitez moves up in the world! Blues reach final after Rafa pulls off Luiz masterstroke (Martin Samuel, Mail) Benitez made one change to accommodate Monterrey's strength at playing between the lines and it won the game. David Luiz, in a midfield role, was a revelation. The knot of travelling Chelsea fans still expressed their contempt for their interim manager but neutrals are increasingly impressed. Without doubt, Chelsea's defence is tighter, undeniably, Fernando Torres is scoring again and Benitez's deployment of Luiz was a masterstroke.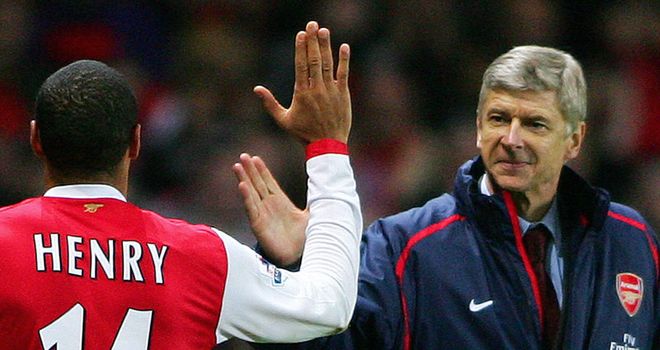 Crisis Arsenal: Solution Henry?
Wenger out, Henry in? Usmanov wants Gunners hero on coaching staff as Real eye Arsene (Mirror) Billionaire Alisher Usmanov has stirred up more trouble for Arsene Wenger by claiming Thierry Henry should join Arsenal's coaching staff. Arsenal shareholder Usmanov, who owns a 29 per cent stake in the club, says Henry has a "more important role" than just to return as a player and his comments are likely to be popular among fans.
Arsène Wenger needs Thierry Henry in support, says Alisher Usmanov (Guardian) Henry has known Usmanov for several years and he sometimes socialises with him, which could lead to raised eyebrows, given Usmanov's status as the bitter rival of Kroenke, the chief executive Ivan Gazidis and the club's other directors. But Henry has a connection to Usmanov through his agent Darren Dein, who is the son of David, the former Arsenal vice-chairman.
Barry's Backchat
Gareth Banny (Sun) Manchester City ave written a furious letter to the FA over Gareth Barry's suspension for swearing at referee Mark Clattenburg. The England midfielder was slapped with a one-match ban and fined £8,000 for his outburst. It means he is out of tomorrow's Newcastle trip but City are angry that their man has been clobbered for something most players get away with every week.
Michael Owen
Owen's on £7k a minute (Sun) Stoke have paid Michael Owen a staggering £7,000 a MINUTE to play. The crocked striker is on £25,000 a week. But he has played only 53 minutes since signing in September and his latest comeback has been put back until after the busy Christmas fixture schedule, ruining his 33rd birthday today. Owen's pro-rata pay works out THREE TIMES what Yaya Toure has earned per first-team minute at Manchester City… and he is on £220,000 a week.
Transfer Lies
Rafa's after £15m Theo (Sun) Chelsea have emerged as shock favourites to land Theo Walcott from Arsenal. Blues boss Rafa Benitez is confident of getting his man as the £15million-rated winger would not have to uproot from London. Liverpool are long-term admirers and both Manchester clubs are keen.
Chelsea ramp up pressure on Arsenal to sell Walcott as Blues rival United and Liverpool for winger (Mail) Chelsea are ready to challenge Manchester United and Liverpool for Theo Walcott. It is looking likely that Arsenal will sell the winger in January and that would put Chelsea in a strong position. United want to sell Nani to make room for Walcott – Roma are interested in the Portuguese winger – while Liverpool want Walcott for free in the summer. They thought Arsenal would not sell in January and have earmarked most of their January budget for Chelsea's Daniel Sturridge and Blackpool's Thomas Ince.
Chelsea ready to pay Falcao £200,000-a-week to spearhead Roman's empire (Mail) Chelsea owner Roman Abramovich is prepared to make Radamel Falcao the club's top earner by offering the striker a staggering £10million-a-year contract.
Frank left feelin' blue (Sun) MLS title-winners LA Galaxy have been heavily linked with a move for Lamps, while French side Paris St Germain are also interested in him and Blues left-back Ashley Cole.
Utd, Arsenal in Stroot pursuit (Sun) Man United and Arsenal are battling to capture PSV Eindhoven's £17million-rated midfielder Kevin Strootman. The 22-year-old Holland international has emerged as one of the most exciting young prospects in Dutch football over the past two seasons.
Fulham boss Jol keen on reunion with Dutch goalkeeper Stekelenburg (Mail) Fulham manager Martin Jol is after Roma's keeper Maarten Stekelenburg for a January move to Craven Cottage.
Gran plans (Sun) Liverpool and Tottenham both want Sweden defender Andreas Granqvist. Both clubs have been watching the £5million-rated Genoa centre-back, 27.
Xavi on the verge of new contract to see out his career at the Nou Camp (Mail) Barcelona midfielder Xavi is close to an agreement on a new contract that will mean he ends his playing career at the La Liga club he joined more than 20 years ago, the Spain international said on Thursday.
Newcastle use French connection in bid to land Toulouse midfielder Sissoko (Mail) Newcastle are hopeful of agreeing a deal with Toulouse's France midfielder Moussa Sissoko next month.
Fiorentina looking to take advantage of QPR plight with £5.6m Esteban Granero bid (Independent) The 25-year-old was one of QPR's marquee signings last summer and is believed to have a £5.5m release clause which can be triggered if Rangers are relegated this season.
Why you need a VPN?
Cut chords:
Watch everything (Netflix, BBC iPlayer, Hulu) online using a VPN.
Unlock geoblocking:
A VPN gives you access to the best content from anywhere in the world.
Privacy & security:
A VPN keeps your information private, activity encrypted & data anonymous.
Just $6.67 a month + 3 months free!
Best football betting tips & free bet offers
Click here for more Premier League betting tips
---