Scholes, Giggs & Rio to leave Old Trafford, Man United-Real is Jose's job interview & Newcastle agree Remy bid
Comment & analysis round-up
Quote of the day: "It's the tie that everyone wanted to see – but that nobody wanted to see, they wanted to save it for later in the competition. If history has anything in our favour our one [aggregate] victory over Real Madrid in this competition was in the year we won the final at Wembley [in 1968]." – Manchester United's club secretary, John Alexander.
Runner-up: "I am happy to pay Theo the money he deserves. I believe the board will follow my recommendation if it is possible. We have a wage bill that has to be respected. When the cost is higher than expected, I ask the board to do it and most of the time they follow my demands. But I feel as well that I bought him at 17 years of age and spent a lot of money on him. I am a big supporter and I believe he is happy here. He has always looked to me like he is an Arsenal man." – Arsene Wenger.
Scholes Retires… Again (Giggs & Rio Leaving Too?)
It's Paul over (Sun) Paul Scholes will quit football next summer — and this time there is no coming back. The Manchester United legend, 38, has told people close to him this is definitely his final season.
End of an era! Scholes, Giggs and Ferdinand heading for Manchester United exit (Mail) Paul Scholes plans to retire once and for all at the end of this season as Manchester United manager Sir Alex Ferguson prepares for another summer shake-up at Old Trafford. United midfielder Scholes has told friends that he intends to bow out in May and that this time he will not be back. Ferguson is also facing up to the probability that another veteran, Ryan Giggs, will leave his one and only club this summer, and the manager is aware that defender Rio Ferdinand has yet to indicate publicly whether he wishes to extend his contract.
Very Early CL Preview: United v Real
Manchester United versus Real Madrid has emotional weight of a final (Richard Williams, Guardian) United versus Real is a tie whose history goes back almost to the dawn of the competition – to a Madrid victory over Matt Busby's team in the 1957 semi-final, in fact, when Duncan Edwards, Dennis Viollet and Roger Byrne competed against Di Stefáno, Gento and Raymond Kopa – and whose appeal transcends loyalties: few neutrals could remain unmoved by the prospect of the matches to come, first at the Bernabéu on 13 February and then at Old Trafford on 5 March.
Ronaldo's Real will not relish Manchester United due (Michael Cox, Guardian) José Mourinho returns to the scene of his touchline sprint when Porto coach in 2004, while Cristiano Ronaldo will receive a great ovation from the Manchester United fans – but Real are currently underperforming in La Liga, and won't relish this encounter. The obvious pre-match debate will concern how United stop Ronaldo – he started as a right-winger and was used in a variety of roles in his final seasons in England, but now plays from the left and cuts in on to his right foot to devastating effect. Rafael da Silva will have the toughest test of his career so far.
Bring it Ron (Sun) Manchester United were last night warned: Cristiano Ronaldo will dump you out of the Champions League. Alex Ferguson's men face Ronaldo's Real Madrid in the last 16 after yesterday's draw here. And Bernabeu legend Emilio Butragueno predicts the United old boy will come back to haunt them. Real director Butragueno said: "It will be a special game for Cristiano. He will go back to what was his home for a long time. It will be a match he will never forget. We hope he will have a great game and helps us to go through."
Mourinho's Real chaos gives Ferguson a lift for Champions League showdown (Mail) Manchester United will hope to take advantage of chaos at Real Madrid after being drawn against the Spanish giants in the last 16 of the Champions League. On a day when Arsenal found themselves facing last season's beaten finalists Bayern Munich, it emerged that Jose Mourinho's relationship with his Bernabeu employers is at an all-time low… Sportsmail can reveal that Mourinho's tenure at the Bernabeu is looking shakier with each passing game and that this week he had another in a series  of rows with the Madrid board.
Dress rehearsal: Mourinho will use Champions League clash to show he can succeed Fergie (Mirror) Mourinho's fractious marriage with Real is headed for divorce in June and the Special One is pining for a return to the Premier League. He has his heart set on the two Manchesters and having shown the City hierarchy what he can do by dumping Roberto Mancini's side out of the Champions League, now he has the chance to impress the Old Trafford suits in their suites.
Real Madrid's visit to Manchester United and Old Trafford may be more than just a cup tie for Jose Mourinho (Paul Hayward, Telegraph) Publicly, Mourinho would think it abhorrent to have to impress a board of directors by knocking their team out of a competition. His ego would not submit to a beauty parade. United, though, would offer the smoothest return to the Premier League when his voyage across Italy and Spain is over. Some senior figures at Old Trafford are set against Mourinho as Ferguson's successor, citing his appetite for chaos and lack of interest in youth development. But it would be impossible to discount him were United to make a purely pragmatic, trophy-based decision about who to hire next.
Jose Mourinho's Real face fixture crisis with Manchester United Champions League game three days after Clasico (Telegraph) Jose Mourinho has always fought hard to make sure his players are given maximum time to prepare for big Champions League matches but he is unlikely to have much joy rearranging the league game that precedes his team's second leg against Manchester United – Barcelona are the rivals.
Very Early CL Preview: Celtic v Juventus
Scott Brown out to nullify his hero Andrea Pirlo as Celtic land tough Juventus test (Independent) Last season, the 33-year-old Pirlo inspired the Turin side to their first Serie A title since their demotion following a match-fixing scandal. Pirlo then shone at Euro 2012 as Italy reached the final in impressive fashion before coming unstuck against Spain. Brown said: "In my position he's probably the one that I would say I would most like to be, but it's going to be me against him and I want to be coming out the winner at the end of that. It's been good playing against him and I learned a lot. He's their main player week in week out. He's the one that makes them tick. He's the one that threads the through balls and gets on the ball to start off the moves. He's the one that we are going to really have to watch out for."
Very Early EL Preview: Newcastle v Metalist
Toon race hell (Sun) Newcastle's players have been told they will be protected by a ring of steel to fight the threat of racism in Ukraine… Footage of fans launching a sickening race-hate attack on Indian students during a Metalist home game sparked outrage in the summer. Olivier Bernard has revealed how he and Newcastle's other black players were subjected to monkey chants and other vile racist abuse before a Champions League tie against Dynamo Kiev a decade ago. And the French anti-racism campaigner fears the situation has not improved after telling Alan Pardew's squad to expect protection 'fit for a president'.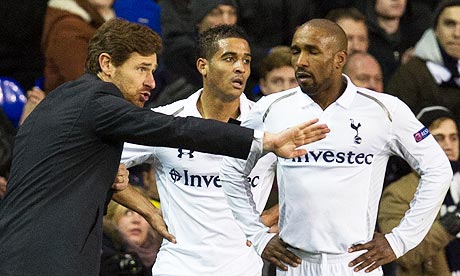 AVB's Tottenham
André Villas-Boas is a master of communication but not of translation (Billy Melo Araujo, Guardian) Herein lies a main difference between Villas-Boas and Mourinho: Villas-Boas probably has a wider grasp of English vocabulary but Mourinho has a stronger mastery of the English language in its cultural context, meaning that he was better able to use the media to his advantage. More importantly, Mourinho seems acutely aware at all times of the importance of projecting an image of himself that is tailored to his particular audience. His press conferences may seem hectic, off-the-cuff events, but the suspicion is that every word is measured and thought through.
Andre Villas-Boas: Europa League tie against Lyons will be dress rehearsal for Champions League (Independent) Andre Villas-Boas hardly knew whether to laugh or cry when his Tottenham Hotspur side was drawn with Lyons in the last 32 of the Europa League yesterday, describing the tie as both "tremendous" and "one of the worst you could get". Spurs are desperate to return to the Champions League and so there is a thrill at the prospect of playing a team who recently won seven straight French titles. Villas-Boas agreed it would be a "Champions League dress rehearsal".
Why Aston Villa fans can now look forward to a happy New Year (Brendan McLoughlin, Mirror) Having lost just two of their last 12 matches – against the two Manchester clubs – you sense Villa are slowly but surely turning the corner. Worries about Villa's lack of goals have been cast aside in their last two matches and Andreas Weimann's strike at Anfield – a goal of the month contender which rounded off a super-slick passing move culminating in a cunning Christian Benteke backheel – was testament to the attacking ethos Lambert has been keen to cultivate. It is worth noting the the age of Lambert's team – on Saturday it averaged 23 and only 28-year-olds Brad Guzan and Brett Holman kept it as high as that. And, at a time when vast sums are being bandied around for young talent despite the onset of Financial Fair Play, the fact they are doing it two with so much homegrown talent makes it all the more impressive.
Transfer Lies
It's Eze pickings for United (Sun) Manchester United Want Benfica star Ezequiel Garay to beef up their shaky defence. The club are ready to bid £15million for the Argentina centre-back at the end of the season.
Newcastle agree £10m Remy deal.. as Ba prepares to leave (Mirror) Newcastle boss Alan Pardew has agreed a £10m deal for Loic Remy – paving the way for Demba Ba to leave next month. Marseille striker Remy, 25, is poised to move in January in a deal which could involve Sylvain Marveaux going the other way… Newcastle have moved in because they are set to lose Ba who has a £7m contract buy-out clause, with Arsenal among the interested clubs.
Liverpool consider options after having Tom Ince bid rejected (Mirror) Brendan Rodgers will consider his options after Liverpool had a bid for Tom Ince turned down. Blackpool yesterday rejected an offer for the Reds for the 20-year-old winger, which they claimed was below their valuation.
Paolo Guerrero will cost Blues £30m (Star) Chelsea have been told to cough up £30m if they want to sign Corinthians striker Paolo Guerrero next month… Chelsea's first signing of the January window could be French goalkeeper Mickael Landreau, who is a free agent after leaving Lille earlier this month.
I Will not give up on Blues (Sun) Willian, 24, is still hopeful of joining Chelsea next month despite Shakhtar Donetsk blocking a £20million move last summer.
Sant's bid just pants (Sun) Arsenal have turned down a £2.5million bid from Galatasaray for flop Andre Santos… Marouane Chamakh could also be off, with former club Bordeaux interested.
Give us a Kalou: QPR ask to take former Chelsea striker on loan (Mirror) QPR have enquired about taking former Chelsea forward Salomon Kalou on loan.
Tottenham prepared to let Cudicini leave for LA Galaxy (Mirror) Tottenham are ready to let veteran Italian Carlo Cudicini quit for LA Galaxy – and cut their payroll for keepers.
Diego Maradona on the brink of becoming coach of Iraqi national side (Telegraph) Diego Maradona is on the brink of becoming coach of Iraq and wants to take the country to the 2014 World Cup finals in Brazil, Argentine agent Hernan Tofoni said on Thursday.
---
GAMBLING CAN BE ADDICTIVE, PLEASE PLAY RESPONSIBLY