"Say what you like about Terry's morals but, 23 minutes into the game with England trailing to Egypt, did anyone care who he sleeps with?" – Matt Dickinson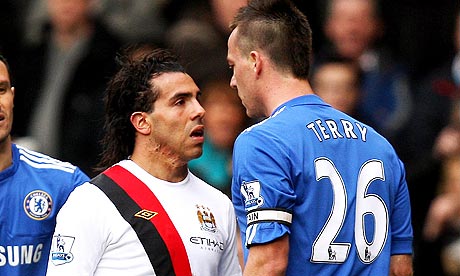 Comment & analysis round-up
Quote of the day: "I don't think you can do that with the wife of another player. Terry has no moral code for what he did to Bridge. In my neighbourhood, if you do that, you lose your legs or more — you don't survive." – Carlos Tevez.
Runner-up: "[Red Knight] Keith Harris will go anywhere there is publicity and we accept that; it's his modus operandi. But if you look at his track record in football it is nothing to write home about… They have their own views and they are sensible, intelligent people. But the structure we have in place today, we can live with it. Our financial results and our financial projections demonstrate that… The [Glazer] family aren't sellers. There has been no indication to me they want to sell. The Red Knights can come with a proposal but they won't sell the asset. It won't go anywhere." – Manchester United chief executive David Gill.
Today's overview: So what did we learn from England's 3-1 victory over Egypt? Well, apparently the fourth estate were all watching different games!
According to Kevin McCarra, "[Capello] would have been disappointed by Jermain Defoe, whose first start for his country since November 2008 ended at the interval when he was replaced by Crouch… The inclusion of the West Ham goalkeeper [Robert Green] suggested that Joe Hart, on loan from Manchester City to Birmingham, has no prospect of becoming first-choice as England's goalkeeper until after the World Cup finals."
Staying with the Three Lions rearguard, Paul Hayward believes that John Terry is on the road to redemption. "The demonisation of John Terry has reached the stage where people are heckling him without knowing quite why… What we have here is disapproval as a kind of new Mexican wave… The point remains: Terry is the best stopper in the English game. After the interval the ex-captain was more vocal and demonstrative than the stand-in, but when Gerrard was withdrawn the armband passed under JT's nose to Wayne Rooney, then Gareth Barry. Another few weeks of shame and then a weird kind of sympathy will kick in."
Martin Samuel continued the support for JT. "England cannot afford to be without John Terry in South Africa, nor the absent bogeyman Ashley Cole. The reality is that for all the fine sermons, even those from Fabio Capello, English football needs its rotters. Terry is the last central defender of international pedigree left standing, while Cole is so far ahead of those who would lay claim to his place that it is like watching a different grade of the sport."
Adding to the sense that the tide is turning for Terry, Matt Hughes commented that "Terry's name was booed when the teams were announced before kick-off, but the jeers were drowned out by cheers during the match, to the delight of the England manager." And Matt Dickinson threw his weight behind Mr. Chelsea, scrawling "so how long did the booing of John Terry last at Wembley last night? About as long as it took for the crowd to realise that he was the best English defender on the pitch. Say what you like about Terry's morals but, 23 minutes into the game with England trailing to Egypt, did anyone care who he sleeps with?"
So John Terry was England's best defender, hey? Not according to the Telegraph's Jeremy Wilson who gave JT a modest 6/10 while Leighton Baines stole the plaudits with a 7/10 in the match ratings.
Fellow Telegraph hack Jason Burt then explains how the Evertonian left-back starred at Wembley. "Crouch will take the headlines but, as Capello reviews the DVD of this encounter, there will also be an assurance, a pleasure in the performance of Wednesday night's new boy: Leighton Baines… It was an assured debut. One in which he resisted the temptation to attack too much, to catch the eye but exposing the defence. He played for the team. And Capello will appreciate that all the more."
The fourth estate though were hardly uniform in their appraisal of Baines' performance, and Steve Tongue argued that the Toffee failed to make an impact. "Leighton Baines was given more of a chance than Stephen Warnock and did not make the most of it. They appear to be the two contenders but there is still all to play for."
Turning to England's right-wing, Richard Williams was left rather unimpressed by Theo Walcott. "One of the problems of playing Walcott on the wing is that, unlike Lennon or any specialist in the role, he has no tricks – and, bizarrely, in three years under Wenger, playing almost invariably on the flank, he does not seem to have picked up any." Walcott's learning difficulties were also flagged up by Alan Smith. "During the four years he has been exposed to the Premier League at Arsenal, Walcott doesn't appear to have learned very much. At worst, he resembles an eager schoolboy with little understanding of the game. At best, he looks like a thrilling prospect who just needs to lose one or two rough edges. "
Staying with England's midfielders, and Kevin Gardside was critical of stand-in captain Steven Gerrard. "Gerrard does not roam Wembley as he does Anfield. In Liverpool even Fernando Torres defers to Stevie G. With a red shirt on his back Gerrard has a body of work behind him that few in his position can match. Somewhere south of the Watford gap, the mojo deserts him. The Gerrard that turns up for England is often an inhibited ghost of the Anfield marauder, playing within himself."
Sam Wallace also picked up on an off-night for Stevie G. "With Frank Lampard and Barry in the centre of an orthodox 4-4-2 formation, the only place for Gerrard to go is the left wing, or worse yet the no man's land that is neither central midfield nor the left wing. At times last night he did not seem to know where he was supposed to be and you could see from his demeanour that he did not like it."
Finally we focus on England's strikers.
Oliver Kay wonders what Il Capo learned from last night's victory. "In some ways, nothing that he did not know. He knows that, if it is goals that he wants, Crouch, whose England goalscoring record stands at an impressive 20 in 37 appearances (18 starts, 19 as substitute), is in a different league to Heskey. So is Jermain Defoe, who started last night's game and might feasibly have scored twice before making way for Crouch. But if the World Cup were to start tomorrow, it would surprise nobody if Capello turned once more to the oft-maligned Heskey alongside Wayne Rooney."
For Glenn Moore, the Rooney-Defoe partnership doesn't really hit the high notes for England. "The problem with partnering Rooney with Jermain Defoe is that their lack of stature demands more accurate passing than England can consistently provide. The arrival of Peter Crouch, who has always had an extraordinary capacity to make loose passes look good ones with those telescopic legs, gave England an outlet. With Rooney less isolated they also looked more coherent."
Swimming against the tide, Spurs boss Harry Redknapp arguably reveals his lack of tactical nous by claiming England should persist with two diddy-men up top. "Even though 6ft 7in Crouch came on and scored twice, it doesn't mean you must stick with a big man, little man combination. We would get very predictable pretty quickly if we did. Against Egypt, it was an experimental match with a patched-up team.  At Tottenham, I played Defoe and Robbie Keane together lots – not exactly two giants – and it worked.  It just means you have to pass well. You can't just rely on high balls into the box – the sort that international class defenders will swat away all day long."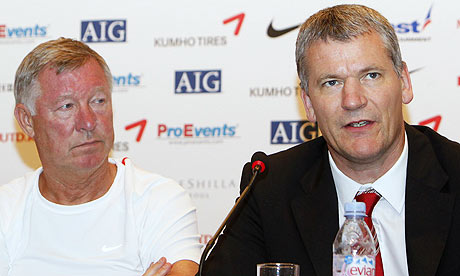 Its day three of the Glazers versus the Red Knights in the papers, and the Americans appears to be suring up their position.
Matt Scott reports that "Manchester United's chief executive, David Gill, said tonight he is "confident" that the club's beleaguered American owners, the Glazer family, retain the support of Sir Alex Ferguson, the manager who has won 26 trophies in 24 years at Old Trafford." That said, valuations on Manchester United appear to be reaching a consensus, with Steve Tongue detailing that "the Glazers have valued the club at £1.2billion and Forbes.com's annual report suggests an even higher figure of £1.25bn, making United the biggest sports club in the world. The Red Knights have admitted they will need to find at least £1bn to make an offer and United appear confident that they will not do so."
Injecting the tabloid twaddle, Richard Jolly farted the story of the banned Manchester United fan. "Manchester United have been accused of behaving like a communist dictatorship after barring a fan wearing a green-and-gold scarf from appearing on the club' s in-house television station. Lifelong supporter Steve Tilzey was thrown off the show Red Cafe on MUTV when he refused to take off the scarf, a symbol of the protests against the Glazer family's ownership."
In a sideways article from Gabriele Marcotti, the scribe proposes a change to the offside rule. "It would be interesting to see offside abolished in the middle third of the pitch. Doing so would prevent teams from obsessively playing the offisde trap and squeezing the midfield which, in turn, would create space and open up the game… The other plus of doing so, of course, is that linesmen would have less of the pitch to patrol and therefore would be less likely to make mistakes."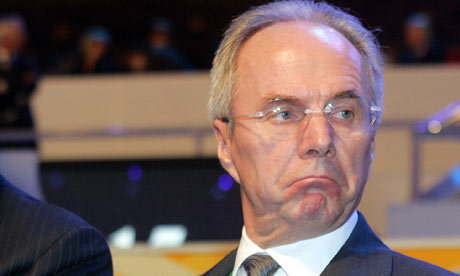 The rumour mill refuses to shut up this Thursday, beginning with the managerial merry-go-round where The Telegraph report that Guus Hiddink and Sven-Goran Eriksson are both in the running for the vacant Ivory Coast job. However The Sun are quick to end the Swede's ambitions for the job quoting Svennis saying "No, no no, this job has nothing to do with me."
Next, the Daily Mail announce "Habib Beye aims to quit Aston Villa – barely seven months after joining them," while John Cross adopts carte blanche to spout nonsense regarding Chelsea's transfer targets, linking Benfica's David Luiz and Angel di Maria to the club, as well as "Atletico Madrid's Sergio Aguero, Monaco midfielder Jerko Leko and Everton starlet Jack Rodwell."
We end with one of the cattiest articles you likely to read for some time, as ex-Manchester United forward Andy Cole uses his column in the Independent to explain "the real reason I've hated [Teddy] Sheringham for 15 years: he refused to shake my hand."
Cole: "I walk on to the pitch, 60,000 or so watching. Sheringham is coming off. I expect a brief handshake, a "Good luck, Coley", something. I am ready to shake. He snubs me. He actively snubs me, for no reason I was ever aware of then or since. He walks off. I don't even know the bloke so he can't have any issue with me. We're fellow England players, it is my debut and he snubs me. You know what my immediate thoughts were? "Jesus Christ! How many people just saw Teddy Sheringham do that to me?" I was embarrassed. I was confused. And there you have it. From that moment on, I knew Sheringham was not for me. Two years later, in summer 1997, after Eric Cantona left United, Sheringham arrived. We played together for years. We scored a lot of goals. I never spoke a single word to him. "
---
GAMBLING CAN BE ADDICTIVE, PLEASE PLAY RESPONSIBLY