Saturday Lies: As belt-tightening is reported, Chelsea are linked with Torres (Liverpool), Kaka (Real), Ribery & Schweinsteiger (Bayern), Aguero (Atletico), Dzeko (Wolfsburg) & Pato (AC Milan)
Comment & analysis round-up
Quote of the day: "Absolutely not true. Rubbish. Absolute rubbish. That's a laugh if ever I have heard one. As I've said time and time again, the only thing that determines my staying here is my health. Unfortunately for you lot [the media] I'm in rude health. You can be left to suffer me. And you'll be gone before I'm gone." – Sir Alex Ferguson.
Runner-up: "When you play with somebody and you don't even talk to each other on the pitch it's really difficult. Me and Gallas … we didn't talk to each other at all. One of us had to go and it was me. It was coming down to me really because I didn't want to put the team in a difficult position, so I was the one who said I wanted to go. As a player, I had great respect for Gallas because he was older than me and in Africa when someone is older you have respect for them, but I think sometimes he took advantage of that in some ways. I had six years at Arsenal but the last two were very difficult. It can happen in football that you argue with somebody in training but when you are not even talking on the pitch something has to change." – Kolo Toure.
Today's overview: As the summer inches closer and closer, quality op-ed are in short supply this Saturday as the backpages get flooded by transfer gossip as Chelsea announces their new signing policy while cash-strapped Liverpool are linked with one of Real Madrid's better players.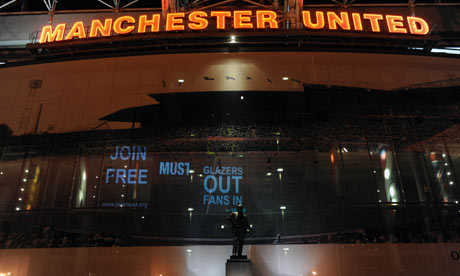 MUST do better: If you were wondering what has happened to the Green and Gold campaign at Manchester United in recent weeks, on Friday night tensions bubbled over at Old Trafford again after the anti-Glazer faction pulled off their latest PR stunt.
Daniel Taylor reported how "Manchester United  supporters pulled off one of their most audacious stunts yet in their protests against the club's owners by tonight projecting anti-Glazer slogans on to the side of Old Trafford to demand the American owners' removal… The logos of the club's main sponsors were also projected on to the glass walls of United's stadium, together with messages such as 'Time to choose sides' and 'Are you keeping the right company?' Security guards tried unsuccessfully to intervene and there were some minor scuffles as other slogans followed in a 30-minute show."
Looking forward to their next stunt, Ian Herbert announces that "Must is also seeking to raise £15,000 to fund the mass production of scarves and cards to turn the season's last game, against Stoke two weeks tomorrow, into one of mass protest."
Manchester United vs Spurs: Ahead of the early kick-off on Saturday Dominic Fifield sings the praises of Gareth Bale will spicing things up with some transfer talk. "If Bale once appeared a liability, superstition suggesting his inclusion would condemn Spurs to failure, then he has fast become this team's inspiration. Gary Neville may shudder at the prospect of snuffing out a player who so embarrassed Ferreira last Saturday, with the Portuguese withdrawn for his own good at the break… It is little surprise that United are apparently considering reviving their interest in a player whose prospective value has doubled to nearer £20m. They may have to trump interest from the likes of Internazionale and Juventus to secure their target."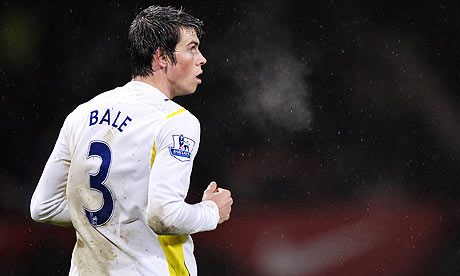 Keeping with Gareth Bale, Rick Broadband sums up why the Spurs winger is his favourite player at the moment. "No defender goes for the jugular like the jug-eared one. Once damned for being worse than David Kerslake, he is now the most refreshingly direct player in the top flight. Like James Milner with pace, the Spurs defender's dismantling of Chelsea shows he will be invaluable to Wales' next heroically doomed campaign."
On United's summer recruitment plan, James Ducker argues the biggest factor for a successful summer spending spree is Fergie's eye for talent. "The arrival of a new goalkeeper, midfield player and striker in the summer would be a good start, but for all the fears about the £716.5 million debts and whether cash is available, as pressing is the need for Ferguson to be on the money with any prospective signings given his chequered record in the transfer market over the past three seasons… The closest parallel to 2007 to 2010 in terms of signings came between 2000 and 2003, but for all the criticism the likes of Eric Djemba-Djemba, Kléberson, Juan Sebastián Verón and David Bellion received, Ferguson managed to bring on board Ruud van Nistelrooy, Rio Ferdinand and Cristiano Ronaldo during that period."
Changing tracks, Patrick Barclay wonders which of Jose Mourinho or David Moyes is better suited to be the next Manchester United manager. "United have the opportunity of a virtually seamless takeover from Ferguson, one that avoids all the discomfort involved in the long transition from Busby to Ferguson (not that there was an absence of good times under Tommy Docherty and Ron Atkinson) and that keeps Ferguson actively involved. The same argument would apply in favour of David Moyes, the Everton manager, for whom Ferguson and Gill have great admiration. Moyes, like Mourinho, would make an excellent United manager, albeit of a less cocky and confrontational kind (and there would be no harm in that). The main difference is that Moyes is not being chased by Real yet."
Chelsea's transfer policy: Contrary to the vast amount of transfer lies linked to Chelsea, a revealing article from Dominic Fifield details the Pensioners summer spending policy. "While Abramovich would be willing to bankroll a major signing, at an appropriate price, it appears that Ancelotti, too, is increasingly reluctant to spend heavily in a market likely to be distorted by Manchester City's limitless funds… Franck Ribéry's recent off-field travails could dissuade Chelsea from seeking to bring the Bayern Munich winger to the Premier League, and Atlético Madrid's asking price for Sergio Agüero – in excess of £40m at present – will have to be dropped to nearer the £30m mark for Chelsea to seek a deal. Further options would be Wolfsburg's highly rated forward Edin Dzeko and Alexandre Pato of Milan."
Matt Hughes rams home the point that Chelsea are adopted a more prudent transfer strategy by claiming "Chelsea have conceded defeat in the race to sign Fernando Torres because they refuse to compete with Manchester City's vast spending… Ancelotti is keen to recruit an experienced right winger and deep-lying striker, with Ángel Di María and Agüero the targets."
Jason Burt adds more name to the potential signings for Chelsea this summer. "With Aguero, Atletico Madrid maintain they want close to £50 million, with Chelsea offering £30 million. A more realistic target is Wolfsburg striker Edin Dzeko, with Chelsea also interested in Napoli midfielder Marek Hamsik and Ancelotti holding out hope he can eventually lure AC Milan's Alexandre Pato."
The Sun's Ian McGarry also wades into Chelsea's summer plans, barking "Ancelotti has revealed he will bring in FIVE Academy players to the first-team squad next season. The Stamford Bridge boss also expects to make at least two new signings, meaning a total of SEVEN stars of the current crop will be leaving… Kaka's first season at Real Madrid has been a disaster following his £62million switch and he may be tempted to take up the offer to join his old AC Milan boss in London for next season. The likes of £50m for one player will only be spent on the Brazil playmaker or Liverpool marksman Fernando Torres – if he becomes available. Chelsea are also keeping tabs on Atletico Madrid striker Sergio Aguero and Bayern Munich midfielder Bastian Schweinsteiger."
Selling Fernando: Focusing in on Liverpool's response to clubs eyeing Fernando Torres, Matt Hughes picks apart how much money is needed to force the Reds to sell. "An opening bid of £50m will be dismissed out of hand, but will the club's nerve hold if it increases to £75m, or even £100m? Liverpool would be mad not to encourage, and ultimately accept, such an outlandish offer, which could be re-used to overhaul the playing squad or shape the long-term future of the club."
Nevertheless, a charged Rory Smith makes the argument that Liverpool have no reason and no intention of letting Torres go. "Liverpool remain bullish that the player will not be sold. Martin Broughton, the club's new chairman appointed to secure new owners to replace Tom Hicks and George Gillett, insisted last week there was no imperative to sell players in order to meet Liverpool's debt obligations. Though Torres has expressed private and public concern over the club's financial future, sources at Anfield said they were confident he did not wish to leave."
Lies & Filth: And so we arrive to the Saturday transfer rumours.
The Guardian's Andy Hunter gets things going by announcing "Liverpool are considering a summer move for Rafael van der Vaart, having been offered the chance to sign the Holland international by Real Madrid." The story is also picked up by Phil Thomas in The Sun, who chugs "Liverpool have opened talks with Real Madrid about £6million midfielder Rafael van der Vaart… Former Portsmouth star Lassana Diarra was also spoken about but Van der Vaart was the man most discussed."
The Times' James Ducker gets in on the Liverpool gossip too, adding "Liverpool held talks with officials from Real Madrid during their brief stay in the Spanish capital. Real have been linked with Steven Gerrard, but while there was understood to be no discussion about the Liverpool captain's future, it is thought that the prospect of Rafael van der Vaart, the Holland attacking midfield player, moving to Anfield was floated… Jean-Claude Blanc, the Juventus president, will fly to Liverpool next week hoping to conclude a deal with Rafael Benítez, according to reports in Italy last night."
The big story in the Daily Mirror is that "Aston Villa star Ashley Young has emerged as a £25m summer transfer target for Barcelona."
According to the unreliable Daily Mail, "Fulham are ready to step up interest in Aston Villa striker John Carew," and "West Ham, Newcastle and Wigan are among a clutch of clubs monitoring Oldham striker Tom Eaves."
The Daily Express's Richard Tanner farts "Luis Fabiano has issued a remarkable plea to Manchester United to sign him this summer." Elsewhere in the Express we learn that Everton plan to keep hold of Steven Pienaar while any move for Bacary Sagna away from Arsenal is also torpedoed.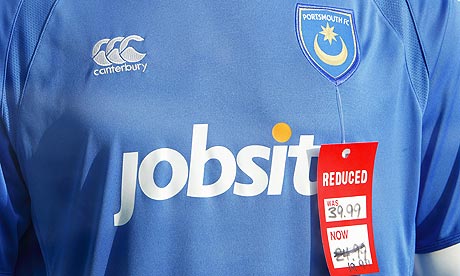 Lastly, Alan Nixon reports that "Crisis club Portsmouth put their FA Cup final squad up for sale yesterday – in a fax sent to all rival clubs… The For Sale fax dropped on the desks of managers yesterday with midfielder Kevin Prince Boateng the top valued player at £5 million… Versatile Marc Wilson is rated at £4 million, which is more than interested clubs have said they will pay. Algerian World Cup winger Nadir Belhadj is at the same price. Pompey want £3 million for Tal Ben Haim, who joined them on a free transfer, and the same figure for John Utaka whose wages have been draining them."
Click here for more Premier League betting tips
---