Santi Cazorla signs for Arsenal, RVP in limbo, PSG want Ashley Cole & Spurs linked with Rondon & Sterling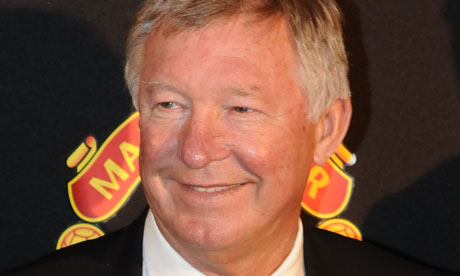 Comment & analysis round-up
Quote of the day: "Being aware of the media coverage that is currently ongoing I felt, on this occasion, that I should make my position clear to the Manchester United fans. In regards to suggestions that I have praised the Glazer family because I stand to financially benefit from the proposed IPO, there is not a single grain of truth in this allegation. I do not receive any payments, directly or indirectly, from the IPO. Ultimately, I run the football side of this club and in order to do this, you need backing from above. The Glazer family have let me get on with my job, there is no interference or obstruction, only support. My decisions and beliefs are not based around what is best for my personal financial gain. That is an accusation that insults me. If that was the case, I would have left Old Trafford a long time ago. I am speaking out because I do not want a situation to develop whereby the media and other parties create a rift, however small, between myself and any Manchester United fan. I've spent 25 years of my life pushing this club forward and not only could I not have done it without those fans, I do it for them." – Sir Alex Ferguson.
Runner-up: "I have always liked him since we were at Manchester City. He really knows how to fire up the boys in the changing room. He tells the boys how good they are. He gives so much confidence to the boys. We are fighting for each other. We have a great team spirit. It's given us a freedom to play our football." – Micah Richards on Stuart Pearce.
Santi Cazorla signs for Arsenal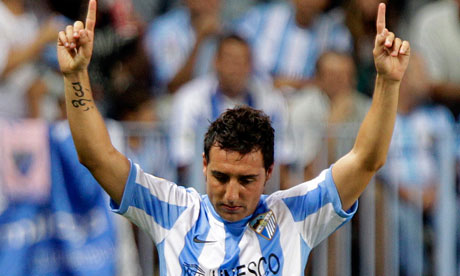 Arsenal recruit Santi Cazorla can sugar pill of Robin van Persie exit (David Hytner, Guardian) Santi Cazorla has undergone his medical at Arsenal and the club are poised to announce his £16m signing from Málaga, which they hope will be followed by the loan of Real Madrid's Nuri Sahin. Cazorla stands to travel with the Arsenal squad on their training excursion to Germany next week and make his debut in the friendly against FC Köln. The 27-year-old's transfer had been held up by the turmoil at Málaga, the club that he joined from Villarreal for £15m last summer; Málaga's debts and prospective sale have provided soap opera story-lines. But the London club's confidence that they would get their man is finally set to be realised.
Gunners seal Santi clause (Sun) Santi Cazorla  is set to become Arsenal's record signing after undergoing a medical last night. The Spanish international winger, 27, is due to seal a move from Malaga for £16million, rising to £20m.
Arsenal line-up Wanyama as replacement for Barcelona target Song (Daily Mail) Arsenal are considering Celtic's Victor Wanyama as a replacement should Barcelona make a substantial bid for Alex Song.
RVP in limbo
RvP's off to Germany… (but only for an Arsenal training camp and friendly) (John Cross, Daily Mirror) Robin van Persie will go to Arsenal's pre-season training camp in Germany next week – even after Juventus handed him a transfer ultimatum. Van Persie, now working with the Gunners' first-team squad again, is booked in to participate in the six days of preparation for the new campaign and to play in a friendly against Cologne in Sunday week. That gives a first hint that the Dutch striker could find himself stuck in limbo.
Robin van Persie doesn't fancy City, is going off Juve, costs too much for United and has no way back at Arsenal… So what next? (John Cross, Daily Mirror) Juventus made a low opening bid which was duly rejected. They've been back in touch since but are still nowhere near Arsenal's valuation. Manchester United seem confident behind the scenes but there is a feeling that they will not increase their bid despite having had an offer of just under £15m knocked back. United are acutely aware that van Persie is 29 this month, has a poor injury record and his resale value will be next to nothing. That does not fit in with the club's transfer philosophy. Maybe United feel that Arsenal will be forced to lower their price as August drags on as they would rather sell for less than £20m rather than losing van Persie for nothing next summer when his contract expires. It is also believed that van Persie does not fancy Manchester City – even though they have submitted a bid for him. City are well aware of van Persie's reservations which is why they are eyeing up alternatives like Gonzalo Higuain.
Manchester United
Angry Ferguson denies United shares pay-out (Gordon Tynan, Independent)
Man United in £30m fight for Lucas as Real Madrid prepare bid for Nani (Daily Mail) Manchester United are trying to tie up the £30m transfer of Lucas from Sao Paulo after Paris St Germain moved in for the 19-year-old.
Chelsea
Ancelotti wants Ashley Cole at Paris Saint-Germain (John Cross, Daily Mirror) Big-spending Paris Saint-Germain have made a sensational move to sign Ashley Cole.
Manchester City
Manchester City join Milan and Barcelona in hunt for Marseille defender N'Koulou (Daily Mail)
Tottenham
Rondon 2012? Tottenham eye striker raid on cash-strapped Malaga(Darren Lewis, Daily Mirror) Tottenham chairman Daniel Levy is trying to gatecrash Malaga's fire-sale with a bargain move for their Venezuelan striker Salomon Rondon.
AVB's bid for Kop kid (Shaun Custis, Sun) Liverpool starlet Raheem Sterling is a £7million target for Tottenham boss Andre Villas-Boas. Midfielder Sterling, 17, played in last night's Europa League clash in Belarus. But the teenager is known to be unsettled at Anfield and would welcome a return to London where he was with QPR as a schoolboy.
Liverpool win in the Europa League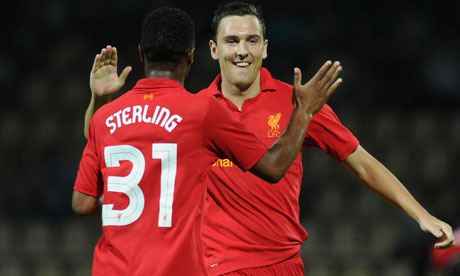 Gomel 0 – Liverpool 1 (Phil Thomas, Sun) In terms of gold medal displays, it was definitely more Bradley Walsh than Bradley Wiggins. Yet if new boss Brendan Rodgers can ride his luck like this on a regular basis, maybe Liverpool can expect another spate of silverware. Outplayed, often outbattled and lucky to be level with the Belarus no-hopers, the Reds ended the evening with a place in the Europa League play-off round all but secured.
Gomel 0 – Liverpool 1(Chris Bascombe, Daily Telegraph) The winger notoriously enjoyed no goals and no assists in the Premier League last season (to be fair, he scored twice in the cups), but his 67th minute winner ensured Liverpool could celebrate a landmark evening in Eastern Europe. If Rodgers is going to succeed in reviving the club, he first needs to revive those players' he has inherited, so Downing's contribution was a welcome way to begin a new era. Low key, in less than salubrious surroundings, Rodgers' Liverpool reign began with somewhat of a whisper.
Fabrice Muamba
D-day looming for Muamba's career with miracle man set to meet specialist (Daily Mail) Fabrice Muamba will visit a specialist in Belgium next week to find out whether he could continue his career in professional football. The Bolton Wanderers midfielder, who made a miraculous recovery after his heart stopped for 78 minutes in an FA Cup quarter final match at Tottenham on March 17, has expressed a desire to play again.
Stiliyan Petrov
Villa reveal Petrov in remission (Sun) Aston Villa have revealed that leukaemia-battling captain Stiliyan Petrov is in remission. Bulgarian international Petrov has been undergoing regular treatment at a London hospital since the illness was diagnosed four months ago. Now the player nicknamed 'Stan' has received a positive bulletin in his battle to defeat the cancer.
SPL preview
SPL 2012-13 season preview: Celtic to cruise home in Rangers' absence (Ewan Murray, Guardian) Complacency represents the biggest danger to Neil Lennon on the domestic front, and even that wouldn't be enough to alter the inevitable destination of the SPL trophy. Rangers' absence means nobody is even bothering to put up a genuine case for alternative champions to Celtic, who will be in gentle pursuit of a second title in succession. Lennon is still seeking added quality in central defence and a powerful centre-forward. Yet even without such arrivals, Celtic are vastly superior to the remainder of the division. Of more interest will be whether or not progress can be made to the Champions League group phase.
---