RVP the title decider, Wenger rules out Henry loan, Arsenal in for Adrian & Sturridge to Liverpool all but done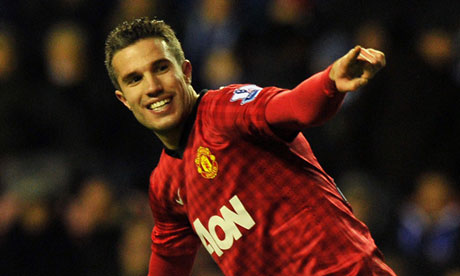 Comment & analysis round-up
Quote of the day: "Robin is a completely rounded footballer," said the United boss. "His ability to make and take goals is fantastic. His play for his first goal was absolutely magnificent. His turn, his balance, there was no drawback, he just sidefooted it in, it was a really good goal. We knew we were getting a top player, a major player. That's why we went for him. I knew he would make the difference because of his maturity, and I made the point at the time, because he has great international experience. He's played for Arsenal for seven years and he came to us at the very peak of his career. Over the years, December has been a good month for us," he said. "This time it has put us into a seven-point lead with 17 games left. It's not what I would say is a healthy lead, but it is a lead. It gives us something to kick on with. We just don't want to make mistakes like we did last year." – Sir Alex Ferguson.
Runner-up: "It's different at Chelsea. He  walked into a squad of  players there who are  Champions League winners, so you've got a chance. You would have had to have been a real dope to have messed it up with that group. They have incredible players and Rafa is an intelligent guy." – Harry Redknapp.
Manchester United roll on
No fuss this time, Fergie! RVP and Hernandez both get two as leaders start 2013 in style (Chris Wheeler, Daily Mail) There are few things in the Premier League quite so probable as a Manchester United win over Wigan, usually by some considerable margin. No fixture has been more likely to guarantee maximum points for United, no venue more accommodating than the one Sir Alex Ferguson opened in 1999 as a favour to his old friend Dave Whelan. Of the 17 games played between these clubs since Wigan were promoted in 2005, United have won 16 of them with a staggering aggregate score of 54-5. If this was a boxing match, they probably wouldn't sanction another. The latest victory, courtesy of two goals each from Javier Hernandez and Robin van Persie, was the sixth occasion it has finished 4-0. On three others, United have scored five without reply. Which makes it all the more baffling how they allowed that solitary defeat here in April to change the course of the title race when they were eight points ahead with six games to go.
Robin van Persie proves his worth to Manchester United once again (Paul Wilson, Guardian) With Van Persie in the side United are already 19 goals to the good and counting. They have acquired an immunity to those off days of old when the absence of Wayne Rooney would leave them seriously short of ideas and firepower and they can instantly dig themselves out of situations when not everything is going their way. One moment of class from Van Persie ensured normal service returned at Wigan, a ground where United have always been in the habit of scoring four or five but where an unexpected defeat near the end of last season cost them dear. Roberto Martínez's side never looked capable of pulling off another such upset here. They began the game passing neatly enough without managing to find the precision pass to hurt their opponents in the final third, whereas United looked fairly ordinary at times in midfield yet had undoubted quality up front.
Ferguson (still) not ready to quit
Manchester United manager Sir Alex Ferguson dismisses talks that he plans to retire from Old Trafford (Graham Chase, Daily Telegraph) Sir Alex Ferguson has reacted to stories that this could be his final season in charge of Manchester United by insisting that he will remain at Old Trafford for "a bit of time". Ferguson turned 71 on Monday and celebrated 26 years in the job in November, having reversed a decision to retire in 2002, but speculation has mounted this season that this really will be his last. "I'm hoping to stay on for a bit of time," he said. "In terms of football management, I have achieved everything I always wished for. "It's been a great journey for me but being manager of Manchester United, you have to kick on. You can't look back. The drive is always on to do better."
City still in the chase
Sergio Agüero caps Manchester City's easy victory over tepid Stoke (Jamie Jackson, Guardian) Manchester City cruised to a victory that keeps them seven points behind their city rivals, who won 4-0 at Wigan, but they were left counting the possible cost of an injury suffered by Sergio Agüero. Stoke City turned up and did little else but this was hardly a surprise. This was their 10th defeat in 10 league matches in Manchester since they were promoted to the Premier League in 2008. For City the afternoon's sole sour note was Agüero's hamstring injury that forced him off shortly after he scored his 73rd-minute penalty. The strain rules him out of Watford's visit on Saturday in the FA Cup and possibly the match against Arsenal at the Emirates on Sunday week. The latter is obviously the more important, possibly even pivotal given that United play Liverpool on the same day.
We have title lift-Hoff! (Sun) TV legend David Hasselhoff helped Manchester City's stars celebrate stuffing Stoke.  The Hoff, in panto in Manchester, joined the Etihad aces in the dressing room after the champions' easy victory. The former Baywatch star and Britain's Got Talent judge said: "There is nothing better than to go and watch City win on your day off. "I'm into the spirit. I know how the city is separated between City and United. I'm torn between the two clubs. I want to wish everyone a 'Hoffy' New Year."
Manchester City's injured striker Sergio Agüero may open the door for Mario Balotelli return at Etihad Stadium (Ian Whittell, Daily Telegraph) Manchester City face an anxious 48-hour wait before discovering the extent of a hamstring injury that forced key striker Sergio Agüero out of the action late in a routine 3-0 victory over Stoke on Tuesday. Agüero, who scored his seventh league goal of the season, has been in superb form but is already out of Manchester City's FA Cup third-round tie against Watford on Saturday. Manager Roberto Mancini claimed last night that the injury may not prove serious but his first-team coach, David Platt, revealed that it would be Wednesday before City's medical staff could give management a precise diagnosis. Platt also rated Agüero doubtful for City's next league game, the visit to Arsenal a week on Sunday, paving the way for a possible first-team return for Mario Balotelli, the volatile Italian striker who has been sidelined over the holiday period with a virus.
Benitez on Torres
Benitez prepares Torres for the bench (Gordon Tynan, Independent) Rafael Benitez, the interim Chelsea manager, has told Fernando Torres to expect more time on the bench in the second half of the season, as he looks to freshen up his forward line in January. Chelsea are in the midst of attempting to prise Demba Ba away from Newcastle and even though club sources have admitted negotiations with the Senegalese forward's representatives have been "unproductive", Benitez has spoken of his need to "manage" Torres through periods of rest. He is also aware of his limited options up front at the moment, with Daniel Sturridge's impending move to Liverpool.
Wenger rules out Henry loan move
The king is dead: Arsenal's Wenger rules out signing Thierry Henry on loan again (John Cross, Daily Mirror) Arsene Wenger ruled out Thierry Henry returning for a third spell at Arsenal, despite tearing into his players after a dismal draw at Southampton. The Arsenal boss accused his players of lacking "desire and sharpness" as they finished the festive period outside of the ­Champions League places. But Gunners legend Henry, 35, will not be coming back. Wenger insists he will definitely be active in the transfer market instead to boost their chances of finishing in the top four.
Thierry Henry will not be returning to Arsenal, says Arsène Wenger (David Hytner, Guardian) Arsène Wenger has rejected the possibility of Thierry Henry returning to Arsenal for a second loan spell as he criticised his players for a lack of desire and mental sharpness in the 1-1 draw at Southampton. The Arsenal manager had said that he was considering whether to re-sign Henry from the New York Red Bulls and the striker has been training at the club where he made his name as the record goalscorer. But the signs in recent days had been that another emotional return was unlikely. Henry had taken a holiday and returned well short of match fitness and, with the window of opportunity short before the restart of Major League Soccer in March, it had seemed as though Arsenal would have to complete the deal at the very beginning of January. They did not do so and Wenger said that the matter was now closed. "I think Thierry goes away somewhere," he said. "He is not ready. He has just come back from holiday so at the moment we are not on that case."
Arsenal in for Adrian
Wenger looking for killer touch as Arsenal manager ups efforts to bring in Atletico hitman Adrian (Sami Mokbel, Daily Mail)Arsenal have stepped up their interest in Atletico Madrid striker Adrian Lopez. Sportsmail revealed Arsene Wenger's interest in the Spain international in October and the Gunners have kept close tabs on Lopez throughout the season. And Arsenal are believed to have opened formal talks with Atletico officials over a move in this transfer window. The La Liga club are understood to want in the region of £15million for Lopez. Signing a new striker is top of Wenger's January list of priorities. His interest in Klass-Jan Huntelaar looks to have ended after the Dutchman signed a new deal with Schalke.
Daniel Sturridge to Liverpool is nearly done
Nearly Reddy: Sturridge on the brink of completing £12m move to Liverpool (David Anderson, Daily Mirror) Daniel Sturridge is poised to become the first big mover of the transfer widow when he joins Liverpool for £12million. The Reds are now finalising the deal, although it will not be done in time for Sturridge to make his debut against Sunderland at Anfield on Wednesday night. However, the former Manchester City hitman is expected to be at the game, and could be available for Sunday's FA Cup tie at Mansfield. Brendan Rodgers has captured Sturridge, who he knows him from his days at Chelsea, after pursuing him for most of his six-month Liverpool reign. The Reds boss failed to land him in the summer but Sturridge rejected a loan move, claiming he wanted to leave Stamford Bridge permanently. Rodgers has finally landed the 23-year-old after weeks of protracted talks and Liverpool threatened to pull out of the deal over agents' demands.
Newcastle to replace Demba Ba with Peter Odemwingie
Pardew wants Wing man to replace Ba (Steve Brenner, Sun) Alan Pardew  is lining up West Brom striker Peter Odemwingie as Demba Ba's replacement. Ba plays for Newcastle tonight for the first time since trying to seal his dream move to Chelsea. Talks were on-going last night and Toon boss Pardew is hoping to land Odemwingie for £3million. The Nigerian, 31, has 18 months left on his deal and wants to quit Albion.
Wesley Sneijder is asking for huge wages
Wesley wages scare 'em off (Sun) Chelsea and Arsenal have both snubbed the chance to sign Wesley Sneijder. And Inter Milan even made it clear they are willing to let him go on a FREE… The big problem is Sneijder's huge £200,000-a-week salary.
Can Harry Redknapp secure a miracle at Stamford Bridge tonight?
Queens Park Rangers manager Harry Redknapp lost at sea one year after being nation's favourite for England job (Oliver Brown, Daily Telegraph) In private moments, he might reflect on how quickly his career has been recalibrated. On New Year's Day 12 months ago, Spurs were third in the Premier League, six points off the lead, and Redknapp was a shoo-in to manage England. Instead, by boarding the good ship QPR, a violently listing vessel since the first week of the season, he has become typecast again as the grizzled escapologist. Past experience in this role with Portsmouth, then at Spurs after the Juande Ramos debacle, has taught him not to be too optimistic. Redknapp is desperate to augment the QPR squad – Ryan Nelsen, for example, was brought in as a fourth-choice centre-back, and has latterly been forced to play every game – but remains pessimistic about the prospects.
---
GAMBLING CAN BE ADDICTIVE, PLEASE PLAY RESPONSIBLY