RVP signs for Manchester United: Can he play with Rooney & is it good business for Arsenal??
Comment & analysis round-up
Quote of the day: "It's never great to lose players of that quality but he only had a year contract so we do not have a choice. We have already recruited since we Giroud and Podolski who originally were intended to offset the departure of van Persie." – Arsene Wenger.
Runner-up: "The season was not for me, it was for others. Chelsea wins the FA Cup but I don't play the semi-final nor the final. I didn't taste anything. I feel I participated a bit more in the Champions League but even so it was not the Champions League I wanted to win, not like that. I want to win another Champions League and in a different way. The fans helped me a lot — and you don't understand why. You come from outside and you have played well in this league and, with the Spanish mentality, the first who should have turned against you are the fans. You are not living up to expectations but they still support you. These people are special. At times I was thinking, 'I will sit here on the bench, I won't make any noise, I don't even want to play.' But they are demanding that you jump on the pitch and play. They lifted my spirits so many times. Not even my team-mates succeeded in doing that in this way. Whatever I do from now on will be for the fans. That is why I want to win another Champions League. For them." – Fernando Torres.
Manchester United sign Robin van Persie, but for how much?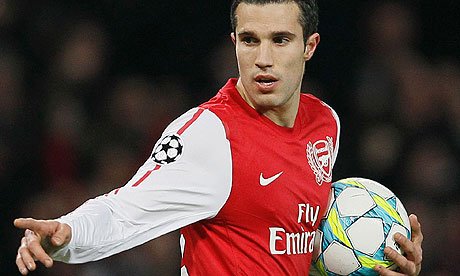 Red Van Man! Fergie finally seals £24m deal for Gunners captain RVP (Ian Ladyman, Daily Mail) Manchester United sealed the signing of the summer on Wednesday night when Arsenal agreed to sell Robin van Persie to their Barclays Premier League rivals for £24million.
Van United: Fergie finally lands RvP with massive £40million package (David McDonnell, Daily Mirror) Sir Alex Ferguson has finally got his man, with Robin van Persie poised to join Manchester United in a £24million deal. Van Persie will sign a four-year contract with United on £200,000-a-week in a package worth almost £40m to the Holland international. As revealed by the Mirror on Tuesday, Arsenal agreed to sell their captain and star striker once their asking price was met. He will travel to Manchester on Thursday, where he will undergo a medical at the city's Bridgewater Hospital before the deal is completed.
RVP is our Wayne man (Rob Beasley & Charlie Wyett, Sun) Alex Ferguson landed Robin van Persie last night for £22million.  And he promised him the chance to form a dream partnership at Manchester United with Wayne Rooney. Van Persie will travel to Old Trafford today for a medical after agreeing terms of just over £200,000 a week.
Robin van Persie secures £22m move after Manchester United and Arsenal agree on a fee (Mark Ogden, Daily Telegraph)
Analysis of RVP to United
Robin van Persie's departure will be seen as betrayal and he can forget a hero's return but at £24m it's good business for Arsenal(John Cross, Daily Mirror) He is 29, had one year left on his contract, has a poor injury record and the only surprise was that Manchester United boss Sir Alex Ferguson was willing go above £20m to get his man. At that price, it is good business for Arsenal. Sadly, van Persie's heroics last season will be instantly forgotten. I liken it to two players from the 80s: Liam Brady remained a hero despite going to Juventus. Frank Stapleton became public enemy number one by going to Manchester United. Stapleton was seen as greedy. Brady was forgiven because Juventus were one of European football's super powers at the time. I've spoken to lots of people about van Persie and many think it's worse him going to Old Trafford than Manchester City. I can't quite get the argument. Arsenal and United have been rivals for longer. Wenger and Sir Alex Ferguson have been at loggerheads for much of the past decade or so. But it's not as if van Persie is swapping Arsenal for Tottenham, the real arch enemies.
Arsenal's sale of Robin van Persie to Manchester United is good business (Amy Lawrence, Guardian) Arsenal are rather used to all this by now. Besides, is it really that much of a crisis? £20m-plus for a 29-year-old with a shaky injury history, replaced by three younger international attackers, does not sound such a terrible piece of business.
Vantasy football, Fergie has title firepower (Sun) When Manchester United trampled all before them on their way to their unforgettable 1999 Treble, Old Trafford rose to hail the awesome foursome… It was up front where United really took your breath away, with that four-pronged strike force of Andy Cole, Dwight Yorke, Teddy Sheringham and Ole Gunnar Solskjaer. It was an all-conquering, cut-'em-to-ribbons attack which tore teams to shreds. An attacking strength United fans have yearned for pretty much in vain ever since — until now.
What the signing of Robin Van Persie from Arsenal will mean for Manchester United (Mark Ogden, Daily Telegraph) On the face of it, the prospect of Wayne Rooney playing in tandem with last season's Premier League top goalscorer and the double Footballer of the Year is mouth-watering.
Alex Song set to quit Arsenal next
Next! Barca jet into London to begin negotiations over £12m Arsenal star Song(Sami Mokbel, Daily Mail) Arsenal are facing up to losing two of their top players for the second consecutive season after Barcelona made their move to sign Alex Song. Nou Camp officials flew into London on Wednesday intent on tabling a £12million offer for the all-action midfielder. And Sportsmail understands despite Song's major influence and the fact he still has three years left to run on his current deal, the Gunners will give serious consideration to selling the Cameroon international if they receive an offer between £15-20m.
Liverpool land Nuri Sahin
Sahin in, Tello no-go: Liverpool land one target but lose out on another (Neil Rowlands, Daily Mirror) Brendan Rodgers is continuing his overhaul of Liverpool by taking Nuri Sahin on a season-long loan from Real Madrid. The agreement with the Spanish champions Real over the midfielder's move to Anfield includes an option for a permanent deal, and he is expected to be unveiled on Thursday.
Luka Modric on his way to Madrid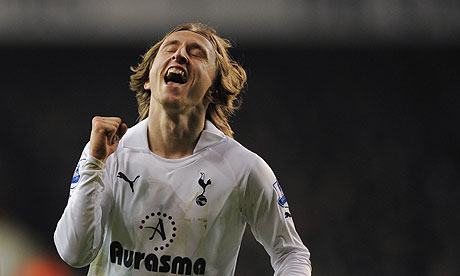 Tottenham's Luka Modric on way to Real Madrid for £26m plus add-ons (David Hytner, Guardian) Real Madrid scent victory in their summer-long pursuit of Luka Modric and they not only expect to complete his signing in the coming days but intend to do so for rather less than Tottenham Hotspur's £40m asking price.
Everton close to a signing
Everton boss Moyes opens Mirallas talks (Independent) Everton are in talks with Olympiakos to secure a £5.3m deal for Belgium's Kevin Mirallas. The striker, 24, can play both up front and out wide, and caught the eye with 20 goals in 25 appearances last season.
England 2 – Italy 1
Hodgson discovers strength in reserve as England's second string strike a chord (Matt Barlow, Daily Mail) Roy Hodgson, in that round-about way of his, aired fears on the eve of this game that some of his England players might not see much first-team football this season. So here was a friendly with a reserve-team atmosphere to get them accustomed to what lies ahead. Inside the half-empty Stade de Suisse, with chatter from the pitch audible in the stands, it was far removed from the carnival expected in Brazil in 2014. Handing first caps to five players, Hodgson added new blood at the start of the road to Rio, and with his selection, posed questions to others about their plans for the future.
Fearless Tom Cleverley quick to show his class for England against Italy (Dominic Fifield, Guardian)
Plenty of Olympic spirit but passion is in short supply (James Olley, Independent)
Lamp still Berne-ing bright… but England must play better when it matters (Steven Howard, Sun)
Michael Carrick's composure in midfield pleases Roy Hodgson (Jeremy Wilson, Daily Telegraph)
---