RVP 20 = 20 titles: United, Ferguson & "Vantona" hailed whilst Luis Suarez faces 8 game ban
Comment & analysis round-up
Quote of the day:  "I'm delighted for all the players, for myself, the staff and the supporters. You can go on and on about losing a title (last season) but at the end of the day, our consistency for the last 20 years is unbelievable. The focus of the team was good, they focused on the challenge of City and came up trumps. It was goal of the century for me! It was a marvellous hit, head down, over the ball, perfect timing – a magnificent strike. He's been unbelievable, his early form in the first six months was fantastic. He had the spell where he didn't score but he was unbelievable tonight. It's dead easy to say that, nostalgia plays tricks on people's minds. Put it in context, we've now got 84 points with four games left – we've never done that. We've won most of our games, drawn three, lost four, and the goal tonight… all the great goals we've scored over the years, from David Beckham through Ole Gunnar Solskjaer, Eric Cantona, that goal has joined that. These players have joined the pedestal." – Sir Alex Ferguson.
Runner-up: "I just sort of got on the the Twitter thing and I said hey, um, this is an interesting guy, let me follow him, check him out, see what his journey's all about. You know, he bit somebody, you know s*** happens, you know what I mean? I'm sure he made amends with his guy, I made amends with Evander, and we go on with our lives." – Mike Tyson.
RVP 20 = 20 titles
Time to honour Van the man at end of season awards (Jamie Redknapp, Daily Mail) It might be as simple as this: Manchester United lost the  2011-12 title on the last day, with virtually the last kick. Manchester City were champions on goal difference. So, Sir Alex Ferguson signed a striker, a guaranteed 20-goals-plus-a-season forward, from one of his rivals. And now the title is back in the red corner. At times, this United team have been efficient and effective.
How RVP helped deliver title glory (Neil Custis, Sun) When Manchester United lost the title in such dramatic circumstances last season, Alex Ferguson knew he had to make a big statement. To the players, fans and to Manchester City. He did that with the signing of Robin van Persie. The player City had courted was on his way to Old Trafford and, although we did not know it then, so was the Premier League trophy. His astonishing return of 19 league goals up to early February simply finished the title race. At £22million and 29 years old he was viewed by some as a very expensive gamble with a history of injury problems. Not for Fergie. After scoring on his home debut in a win over Fulham there must have been a few sniggers at the Emirates and the Etihad when Van Persie fluffed a penalty in the third game against Southampton, with United heading for their second defeat. The response told us everything about the man United had landed. He picked himself up to complete an incredible hat-trick with two goals in the last three minutes to win the game.
Robin van Persie gets his trophy reward for helping Manchester United win the ultimate prize (Jim White, Daily Telegraph) In the stands the coincidence between Van Persie's squad number and the total of championships won at Old Trafford was noted by several banner makers. "RVP 20 = 20 titles" read one. Sure, Rafael Da Silva has spent the season steadfastly growing into Gary Neville's boots. Yes, Michael Carrick's perfectly calibrated passing has been the lubricant in the champions' engine. But there was no doubt in supporters' minds who has been responsible for the shift of power back to Old Trafford.
Glory Glory Man United
Sir Alex Ferguson wins his 13th title, and there's nothing lucky about it (Daniel Taylor, Guardian) This season, there has been no squeaky-bum time. Manchester United's 20th league title, the 13th for Sir Alex Ferguson and Ryan Giggs, the 11th for Paul Scholes and the first for Robin van Persie, has arrived with a month still to go. There has been only one occasion in the Ferguson years, in 2001, when they won the league any earlier and it is tempting to wonder whether the man behind it all, having always insisted he would choreograph his retirement to go out a winner, might have any desire to make it his farewell gift. He will not, of course, and we say pretty much the same every year we see that little uncoordinated victory dance and clap of the hands as he adds another championship to his trophy collection, now standing one short of 50 if we include Community Shields. That endurance, more than anything, is the discouraging part for Manchester City and, possibly, Chelsea. The utter domination craved by the super rich might always be elusive while this 71-year-old grandfather, with the statue round the back, is still getting up at 6am to go into work.
20 more years of that to come (Steven Howard, Sun) There was also the glorious sight of Evra brandishing a plastic human arm covered in blood. The only thing missing were Luis Suarez's buck teeth embedded in it. The football memorabilia business doesn't hang about! So the football world had regained its equilibrium. United are back on their perch, king of the hill, top of the list, head of the heap. And it's going to take something special to knock them off.
Alex Ferguson's impossible dream to herald new Manchester United future (Andy Hunter, Guardian) "The Impossible Dream – Made Possible" reads one of the banners lauding Sir Alex Ferguson's trophy haul at Old Trafford. League title No20, the Manchester United manager's 13th, was sealed with appropriate haste against Aston Villa by champions who have shown a remorseless appetite to reclaim the trophy from Manchester City. As always, Ferguson's impossible dream will immediately turn to enhancing a team without a consistent rival in the Premier League this season. The coronation was so routine against Paul Lambert's relegation-threatened Villa that Ferguson began waving to the Stretford End after 25 minutes. By that stage United were two goals ahead courtesy of Robin van Persie, who had to wait a further eight for his hat-trick, and the remaining issue was the extent of the damage to Villa's goal difference come the final day of the season.
Branislav Ivanovic snubbed Luis Suarez apology
Bran snubs Suarez (Shaun Custis, Sun) Branislav Ivanovic has NOT forgiven Luis Suarez for biting him. Cops examined the Chelsea player's arm after Suarez sank his teeth into it during Chelsea's 2-2 draw at Anfield on Sunday. Ivanovic has decided not to press charges but refuses to accept the apology. That is despite the Liverpool striker phoning the defender to make peace. The Serb, relieved his skin was not been broken by the bite, spoke to police at Chelsea's training ground yesterday. Suarez has until 6pm to respond to an FA charge of violent conduct with his hearing tomorrow — a ban is expected to rule him out for at least the last four games this season.
Luis Suarez set for 8 game ban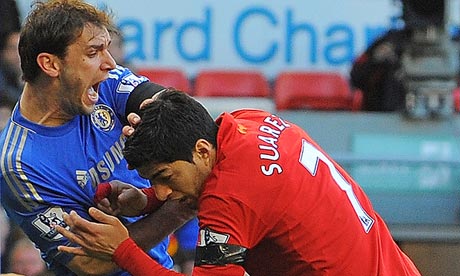 Luis Suarez bite: Disgraced Liverpool striker's ban set to continue well into next season (Martin Lipton, David Maddock, Daily Mirror) Luis Suarez faces being banned from football until September after being slapped with an FA charge over his bite attack on Chelsea's Branislav Ivanovic. Liverpool striker Suarez can expect to be sidelined for the rest of this season – and possibly for the start of next – as the FA are ready to hit him with a possible EIGHT-match ban for the shocking way he clamped his teeth onto the stunned defender's arm. Suarez must respond to the charge by 6pm on Tuesday evening with the hearing already pencilled in for Wednesday. It means the controversial 26-year-old faces an automatic suspension that will start immediately. The commission has unlimited powers of sentencing and it seems certain to rule his season is over and possibly add an exemplary ban to take him deep into the 2013-14 campaign.
Jose Enrique would have been history before he had time to lick his lips. Suarez will live to bite another day (Martin Samuel, Daily Mail) So he stays. Of course he stays. Are you mad? Did you seriously think Liverpool were going to expel Luis Suarez on principle? This is football. This is 2013. Every club has a room of specialists on site for such a crisis. Not biting necessarily, but outrage. Race issues, moral lapses, extreme misogyny. They manage, they handle, they diffuse. 'I think the most important thing is that we acted swiftly yesterday,' said managing director Ian Ayre, clumsily shining light on damage limitation magic.And so Suarez apologises. His manager apologises. The club apologises. He is fined £200,000 and donates the money to a charity that finds favour with the fans. The Hillsborough Family Support Group, naturally. And his rehabilitation begins. Liverpool could have pre-empted the action of the FA by imposing a suspension, as Suarez's former club Ajax did in similar circumstances, but they stopped short. To lose the player, rather than relieve him of personal wealth, would be the point at which principle begins to impact on results: and nobody at Liverpool is keen on that.
Downing Street calls for example to be made of striker (Andy Hunter, Guardian) Support for an increased punishment arrived from an unlikely source when a spokesman for David Cameron entered the debate over Suárez's conduct. "It is rightly a matter for the football authorities to consider," said the prime minister's spokesman. "As part of their consideration, I think it would be very understandable if they took into account the fact that high-profile players are often role models."
Liverpool's gamble on problem child Luis Suárez may return to haunt the club (Henry Winter, Daily Telegraph) By backing their problem child Luis Suárez so strongly on Monday, Liverpool risk deeper embarrassment if he transgresses again, which history unfortunately indicates he undoubtedly will. People can fall over in the last-chance saloon. Anfield's managing director, Ian Ayre, publicly supports Suárez, emphasising that he wants the Uruguayan to complete the remaining three years of his contract. Suárez is undeniably a very good player, scorer of 30 goals this season, many of them sublime, but he is still an accident waiting to happen, harming a great club again. Ayre is making a dangerous bet. Liverpool are paying huge sums in salary to an employee who has bitten an opponent. They will continue rewarding him during the duration of his inevitable Football Association ban for violent conduct which could stretch into next season. They will be questioned about the wisdom of building advertising campaigns around a player with questionable attributes as a role model.
Chelsea fans abuse Yossi Benayoun
Chelsea launch anti-semitism probe: Yossi Benayoun claims chants by own fans are "crossing the limit" (John Cross, Daily Mirror)
Chelsea have launched a probe into claims Yossi Benayoun has been the target of sick anti-semitic chants – from his own supporters. Benayoun has become a hate figure among some Chelsea fans and the Israeli midfielder has accused them of "crossing the limit" – a reference to the anti-Jewish content of some of the abuse. The midfielder was jeered again by some of the travelling support when he came on as a substitute in Sunday's 2-2 draw at Liverpool. Those chants are not thought to have been anti-semitic, but Benayoun has told the club that there HAVE been bigoted chants in the past few games. Benayoun took to Twitter on Monday to reveal fans started targeting him after he gave an interview supporting Fernando Torres in February.
---
GAMBLING CAN BE ADDICTIVE, PLEASE PLAY RESPONSIBLY