RVP 2 – Arsenal 1, Mancini to bid £50m for Neymar & Chelsea, Man United & Man City linked with Pep Guardiola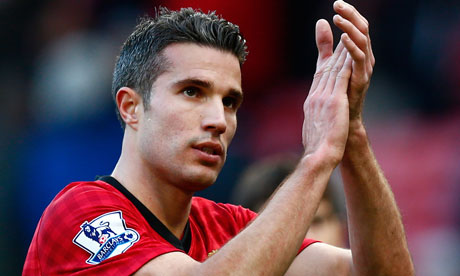 Comment & analysis round-up
Quote of the day: "I spent eight happy years at Arsenal and I have too much respect. I respect the manager, the fans, the whole club. I enjoy playing with Wayne, we are similar in a way. We can both play nine or 10, so you could say we are both nine and a half." – Robin van Persie.
Runner-up: "Robin showed his class there. Which is more than the Arsenal fans did." – Rio Ferdinand.
Robin van Persie (& Manchester United) beat Arsenal 2-1
Shoddy Arsenal remind Robin van Persie why he left to join United (Daniel Taylor, Observer) Robin van Persie had his hands in the air but his fingers were spread and his head was down. The ball was in Vito Mannone's net and the man who had just put it there was asking for forgiveness from the Arsenal fans who had serenaded him with their new repertoire of songs. What a charming collection it was, too. Van Persie was a "Dutch Jimmy Savile". Other songs followed about the time, in 2005, he was arrested in the Netherlands after a false accusation of rape. Arsène Wenger's request for supporters to applaud their former player always felt like wishful thinking but when the vilification goes to such lengths it does tend to undermine all those complaints, going back many years, about the chants Arsenal's manager has endured himself at Old Trafford.
Nine great reasons why RVP can become a Manchester United legend (Gary Neville, Mail on Sunday) Robin van Persie was fantastic for Manchester United against his former club, Arsenal and in his interview afterwards he said both he and Wayne Rooney were '9 and a halfs' — in other words, part-orthodox centre-forward, part attacking playmaker. I think Robin was being polite for television. Make no mistake, on the evidence I saw at Old Trafford, Robin van Persie is a No 9. This is a centre-forward who hunts on the back of the shoulders of defenders, who moves and takes chances with maximum efficiency. He might have started as a left-winger and developed into someone who played off a striker. But right now he is a top-class centre-forward, a player who excels at playing up front on his own.
Fans rage at Santos shirt swap (Mike McGrath, Sunday Sun) Furious Arsenal fans and ex-players ripped into Andre Santos after he asked for Robin van Persie's shirt at HALF-TIME! RVP had already scored against his old club before Santos' shameful request. Former Gunner Ray Parlour blasted: "That's a joke. I wouldn't have that. At half-time? He should be concentrating on his game and he was having a nightmare. "He can't play in a back four as he gets caught out of position all the time." RVP put United ahead inside three minutes — his 10th goal since a £22million summer switch from Arsenal.
Manchester United striker Robin van Persie reminds Arsenal and their supporters how far they have fallen(Henry Winter, Sunday Telegraph) The Old Trafford DJ was clearly in mischievous mood as Robin van Persie ran out to warm up before Saturday's meeting with his former club. As Arsenal fans heckled an old flame, the DJ put on Ever Fallen in Love (With Someone You Shouldn't've). Ignoring the hymns of hate, Van Persie simply responded by showing his class on and off the pitch. The playlist was supposed to be exclusively Manchester bands, rather overlooking the Buzzcocks' Bolton roots (let alone The Verve's Wigan associations) but the point was made. If the DJ had really wanted to rub it in, he could have followed up with another Buzzcocks' number – Promises.
United are on track, Arsenal aren't at races (Harry Redknapp, Sunday Sun) The most obvious thing was that United are streets ahead of Arsenal — they have now beaten them six times out of the last seven. United are going to be right there again, but you fear for poor old Arsene Wenger because he has lost so many top players. You lose the likes of Cesc Fabregas, Robin van Persie and Samir Nasri and it's going to hurt like hell, and Arsene must have feared Van Persie would cause him pain. That's exactly how it worked out, and you just knew from the moment he scored the opener that Arsenal weren't going to get anything out of the game.
Roberto Mancini wants Neymar
Boy from Brazil: Mancini asks City bosses to bring him £50m Neymar (Steve Bates, People) Roberto Mancini will ask for the green light to sign Brazilian sensation Neymar when he meets Manchester City's new director of ­football this week, writes The Sunday People. The Blues boss has placed the £50million Santos superstar at the top of his wish-list for next summer. But Mancini has told pals that even if Neymar arrives at the Etihad, he might not be around to greet him. The Italian fears that, though he signed a five-year deal in the summer, City's mega-rich owners will dump him if he doesn't retain the Premier League crown, no matter what it costs them.
Liverpool chase Huntelaar
Top of the Klaas: Liverpool ready to launch cut-price £6m bid for Huntelaar (Simon Mullock, Sunday Mirror) Liverpool are ready to launch a bid for Klaas-Jan Huntelaar after discovering that the Dutch striker may be available for just £6million. Huntelaar is out of contract at Schalke 04 in the summer and is expected to reject a final offer from the Germans. That has put Brendan ­Rodgers on alert as he looks to solve a striking crisis that is damaging ­Liverpool's season. The Kop boss has no intention of recalling ­£35million Andy Carroll from his season-long loan at West Ham. And, although he has been given a limited budget to spend in the New Year, Huntelaar will add proven firepower to his team.
Pep Guardiola for the Premier League
Come and get me! Guardiola return puts Chelsea, United and City on alert (Simon Mullock, Sunday Mirror) Pep Guardiola has put Chelsea, Manchester City and Manchester United on managerial alert. The former Barcelona boss is ready to open talks about coming out of his ­self-imposed exile. Guardiola walked away from the game at the end of last season, deciding he needed a 12-month break. But sources in Spain have revealed that Guardiola, 41, has put into place a timetable for his return and instructed his advisers to open talks with interested clubs in January. It is believed Guardiola wants to work in either England or Germany. Chelsea, City and Bayern Munich are his preferred options at the moment.
Guardiola stalks Premier bosses as Spaniard plots return to football next summer (Mark Ryan, Mail on Sunday) Pep Guardiola has told friends he wants to sort out his footballing future in January or February — which will leave one top Premier League manager as a dead man walking.  Manchester City manager Roberto Mancini is already having to defend himself against suggestions that the arrival of ex-Barcelona staff Ferran Soriano and Txiki Begiristain as chief executive and sporting director means Guardiola's appointment is also imminent. But Mancini won't be alone in looking over his shoulder.
More Mark Clattenburg revelations
Why Chelsea risked reputation on ref racism claim (Mihir Bose, Independent on Sunday) Chelsea feared being accused of a racism cover-up if they failed to report the alleged abuse of John Obi Mikel by referee Mark Clattenburg, it can be revealed today. The club were placed under pressure when confronted by claims from Mikel and Ramires that Clattenburg had called Mikel a "monkey", and believed that some press reporters were already aware of the incident. They feared that failure to act would leave the club open to the charge that, as with the John Terry incident, they did not take racism allegations seriously. For the first time a detailed picture has emerged of what motivated the club to take the unprecedented decision to go public on the flare-up following last Sunday's Premier League game with Manchester United, and subsequently to report the matter to the FA.
Race-row ref Clattenburg was 'uncomfortable' over Chelsea's visit to officials' room (Nick Harris, Mail on Sunday) Referee Mark Clattenburg's report on last Sunday's clashes at Stamford Bridge — when he was accused of racially abusing Chelsea's John Obi Mikel by calling him 'monkey' — will centre on the visit Chelsea employees and players made to the officials' room after the match.
And sources claim that the 'extraordinary incident' report will suggest Clattenburg was uncomfortable with what happened during that visit. Contrary to some reports, Chelsea chief executive Ron Gourlay is understood to have played no part in confronting Clattenburg after the 3-2 defeat by Manchester United. One well-placed source claims that Gourlay actually ushered Chelsea personnel away from the officials' room.
Abramovich wants answers after only finding out about race row AFTER it happened (Steve Stammers, Sunday Mirror) Roman Abramovich has launched his own investigation into the race row that has erupted at Chelsea. Sunday Mirror Sport can reveal the Russian owner did NOT know about the claims that ref Mark Clattenburg had been accused of making ­racist remarks to Blues midfielder John Obi Mikel during Manchester United's 3-2 win last Sunday. And Abramovich also did NOT know, or sanction, the angry raid on the referee's room by the incensed Mikel, who had been told by team-mate Ramires of the ref's alleged racist comment.
Why it is right to stick up for the wronged men in the middle (Daniel Taylor, Observer) Even before we get to the issue of whatever was said or not to Mikel John Obi, there is no doubt Mark Clattenburg made a significant error sending off Fernando Torres last Sunday and that, for Chelsea, there were considerable repercussions. It happens, it is an unshakeable fact of football life and it must be annoying for the people involved. Yet Roberto Di Matteo had had several days of reflection before his assessment later in the week that it was always Chelsea who lost out.
Premier League official Mark Clattenburg will see a sports psychologist before he returns to refereeing duty (Jason Burt, Sunday Telegraph) There is concern at the Professional Game Match Officials Board (PGMO) – the organisation that looks after the officials – that events since then have taken a heavy toll on Clattenburg, not least because of the intense media attention. The organisation is at pains to stress that Clattenburg has not been suspended or disciplined and the only other bar, beyond media attention, to when he returns to work will be whether he is in the right frame of mind. Clattenburg is said to be bewildered at the accusation against him and strongly maintains his innocence. The PGMO wants him to return as soon as possible.
Blues praise ref shock (Mark Irwin, Sunday Sun) Chelsea finally ended their ref war last night. Some people will never believe it but, after the Mark Clattenburg row, Blues boss Roberto Di Matteo was full of praise for official Kevin Friend. Despite seeing his side knocked off the top at Swansea, RDM said: "The officials were very good. Kevin kept the players calm and he let the game flow. He didn't have any influence on the game or the result and I congratulated him on his performance at the end.
Liverpool v Newcastle
Brendan Rodgers must settle for transition rather than instant remedies (Paul Wilson, Observer) Money will be tight at Anfield for the foreseeable future, due in no small part to the poor value the American owners gained from their initial foray into the football transfer market. Rodgers now finds himself complaining about a small squad after letting several forwards leave in summer, but says he had little option. "It wasn't a choice really, I knew we had to do some work on reducing the squad and the wage bill," he says. "The owners accepted there wasn't going to be a quick fix and I was brought here for that reason. My job is to get Liverpool back on an upward spiral, and there are two ways of going about that. You either invest enormously in getting the best players, or you build and cultivate and grow your own, and bring in players you can work with. After a very big investment from the club in a small period of time this was always going to be a season of assessing, and trying to bring in players who can fit the model."
Stopping Gerrard is key to ending 18-year jinx at Anfield, says Cabaye (Simon Turnbull, Independent on Sunday) If Liverpool could have chosen an opposing club to walk under the "This is Anfield" sign and face them this afternoon, Newcastle would have been close to the top of the list. Brendan Rodgers's team might be reeling from their 3-1 Capital One Cup defeat by Swansea on home turf in midweek, but their Premier League visitors this afternoon have 18 years of hurt on Merseyside to overcome. The Magpies have not won a top-flight fixture at Anfield since April 1994, when Rob Lee and Andy Cole scored the goals in a 2-0 success.
Premier League salary cap?
Millionaire owners plot new rule to stop players and agents pocketing profits from £5bn TV deal (Joe Bernstein, Mail on Sunday)Premier League owners, including Roman Abramovich and the Glazer family, are close to agreeing a crackdown on players' wages.
Talks have already taken place between all 20 top-flight clubs about introducing their own version of financial fairplay and a formal outline could be agreed later this month when Premier League chairmen meet in London on November 15. There is a growing desire among the Premier League's international owners to keep a big slice of what could be £5billion from the new  television deals that start next year, rather than see it all go to players and their agents. They are about to agree new rules on 'wage restraint', prohibiting clubs from increasing their wage bill by more than five per cent annually. Clubs spent £1.5bn on wages in 2010-11, 69 per cent of their income, and they had debts of £2.4bn, more than the amount they brought in.
Cesc Fabregas the love rat
Fabregas stole my wife as we tried for baby (Stephen Moyes, Sunday Sun) A millionaire businessman told last night how he and his wife were trying for a third child — when he found out she was playing away with soccer star Cesc Fabregas. Property tycoon Elie Taktouk discovered the affair when he saw newspaper pictures of the former Arsenal skipper on holiday with a "mystery brunette" and recognised her as wife Daniella Semaan, 38. Elie, also 38, is now divorced and forced to watch Spanish maestro Fabregas, 25, becoming stepfather to his son aged eight and 11-year-old daughter.
---
GAMBLING CAN BE ADDICTIVE, PLEASE PLAY RESPONSIBLY