Roy Hodgson has 1 game or 2 weeks to save his job at Liverpool
Comment & analysis round-up
Quote of the day: "I have been lucky the support I have had has been from the players and within the club," he said. "I haven't had a lot of support from the fans ever since I came here. The fans have not been happy with what they have seen in the whole of 2010 and since I came here we have not won enough games to keep them happy. That is understandable in the sense that they were hoping when I came here the latter part of last season would be forgotten and we would start flying again. That hasn't happened and as a result, as manager, you are the one in the firing line, but of course it doesn't make the job easier because it makes the players more nervous. I can only say as a manager you have to understand that fans care for their club and want it to do well and when it is not doing well they voice their disapproval. That is the way of football today. When you take on any job, especially a big job like this one, and results don't go the way people want – especially when you lose games at home – you are going to be a target for disapproval. I have to accept that and try to keep doing my job and try to improve things for the club and hoping that the results turn around. It is a vicious circle and in order to break it we have to start playing well and winning matches because if we don't they are going to reserve their support until such time as we can do it." – Roy Hodgson.
Runner-up:Â "I wouldn't swap our squad with anybody in the Premier League, that's my personal view. It's for Manchester United and Sir Alex to lose it but they have been around the block, they know how to go on and win it. However, I wouldn't swap any of our lads for anybody in the top four or five teams or anyone in the league. We've been looking at the top four as a priority and to take it from there and it's obvious that it's Manchester United's to lose now. It's in their hands and it's for them to lose. They've been there, the same as Chelsea have in recent years. We're going quite well. It was always a top-four place at the start of the season, so we're doing OK on that and no one is getting carried away. I believe we've got the manager and the players that will go the distance. When I was at United as a coach they came second to Leeds then won it the following year. As soon as we get a trophy, it will be intoxicating. When you win things it's unbelievable what it does for your squad." – Brian Kidd.
Ryan Babel is the latest to criticise the Liverpool fans: "However bad we were, Paul [Konchesky] didn't deserve to be treated like that."
Today's overview: Roy Hodgson's woes at Liverpool continue to dominate the back pages. Whilst a number of papers claim Woy is "on the rocks" (The Sun), the Daily Mail say Liverpool must beat Bolton on Saturday whilst David Anderson in the Mirror claims Hodgson has two weeks to save his job.
Paul Hayward mounts a defence for Hodgson in that Liverpool's mediocrity set in a long time ahead of Hodgson's arrival whilst Harry Redknapp also calls for the former Fulham boss to be given more time at Anfield. On potential successors, Ian Ladyman argues that neither Rafa Benitez or Kenny Dalglish should be appointed.
Chelsea's transfer moves, a refusal on Rafael van der Vaart in the summer and a recent bid rejected for David Luiz, is also reported. And there are a fair few reviews of 2010. Steven Howard pinpoints Wayne Rooney as a villain of the past year and Sam Wallace revels in Gareth Bale's last 12 months.
There is also plenty of transfer gossip. Including David Beckham's imminent return to the Premier League, that Jose Mourinho wants Cesc Fabregas at Real Madrid and West Ham are after Michael Owen. Finally, all the papers report that Howard Webb has been awarded an MBE.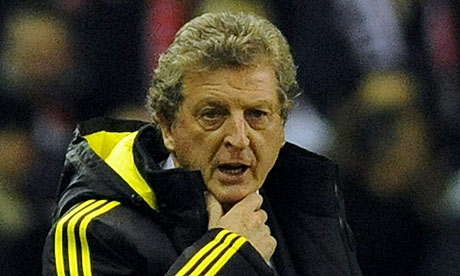 Roy's on the rocks: Phil Thomas writes "Roy Hodgson is on the brink at Liverpool as even the club's American owners are losing patience. The under-fire Kop boss hit back at fans who turned on him during the Anfield humiliation by Wolves. And John W Henry feels Hodgson dropped a major clanger by having a go at supporters. And after Wednesday's pitiful display, sources close to Henry's New England Sports Ventures group also admit the Americans fear players are not performing for Hodgson."
Tim Rich adds "Liverpool's American owners are running out of patience with Roy Hodgson amid fears that the manager's relationship with the club's supporters has broken down irretrievably. Despite the fact that in one poll 95% of Liverpool fans wanted Hodgson to be sacked immediately after last night's 1-0 home defeat by Wolverhampton Wanderers, there appears to be no great appetite for regime change. John W Henry and Tom Werner of New England Sports Ventures are prepared to give Hodgson more time after six torturous months."
Dominc King outlines the stark reality for Woy. "Liverpool owners have reached breaking point with under-fire manager Roy Hodgson. Only a victory against Bolton at Anfield on Saturday is likely to save him following the shambolic defeat by Wolves which led to fans calling for him to be sacked. With Hodgson seemingly on the brink after just six months, the club have even been forced to deny claims he has already left. If the patience of owners Fenway Sports Group runs out, Kop hero Kenny Dalglish is a ready-made candidate for a caretaker role with a view to assuming a senior boardroom position once a permanent replacement has been found."
In contrast David Anderson says Hodgson has two weeks. "Roy Hodgson has two weeks to save himself at Liverpool as the American owners begin to lose faith in him. It is understood John W Henry and parent company NESV feel Hodgson blundered in attacking the fans for booing him during the shock home defeat to Wolves. They are also said to be dismayed by the team's limp showing and fear Hodgson may have lost the players. NESV are refusing to panic and have not called a board meeting to discuss Hodgson's future before tomorrow's clash with Bolton at Anfield."
Rory Smith also joins the chorus. "Though John W Henry and Tom Werner, the American group's principal backers, have shown nothing but support in public for their beleaguered manager, in private they are believed to harbour concerns that the furore marks the end of any hope he had of winning over the fans, who offered ironic chants of 'Hodgson for England'. FSG had hoped to allow Hodgson to continue until the summer – when his position would be reviewed – but concerns are growing that, should results continue to prompt almost unprecedented insurrection in Anfield's stands, they may need to act much more quickly."
James Lawton fears for Hodgson. "What does Hodgson do now, assuming he retains the capacity to shape his own destiny? Reality suggests he cuts his losses. He certainly shouldn't negotiate away any more of his dignity by futile rallying calls directed at anywhere other than a dressing room which seems never to have been in more desperate need of healing. He is a good football man, unquestionably, but he is in the wrong place at the wrong time and without, it seems increasingly obvious, any striking ability to do much about it. Fans are fans, no more, no less, and he should have realised that when he made his desperate appeal. Fans only help managers – in 99 per cent of cases, anyway – who prove that they can help themselves."
Paul Hayward takes a historical view of the problems at Liverpool. "Liverpool have recruited dozens of duds over the last 10 seasons while Manchester United, Arsenal and Chelsea have signed very few. The Kop, the team's best players and Hodgson himself are toiling against this debilitating imbalance, which has become manageable only in bursts: first when Rafael Benítez's team won the 2005 Champions League and then when Gerrard, Carragher, Pepe Reina, Xabi Alonso, Fernando Torres and Javier Mascherano gelled to propel the 2008-09 side to second place in the Premier League with 86 points. Any professional footballer will tell you a trophy-winning team needs a decisive ratio of gifted players and committed winners. Benítez's best side possessed that magical half-dozen. But when Alonso and Mascherano left, Torres lost interest and Gerrard and Carragher were hampered increasingly by injuries, the mediocrity all around them again became Liverpool's defining characteristic."
Harry Redknapp is one of the few pundits to defend Hodgson. "Roy knows as well as anyone what needs to be done at Liverpool and, don't forget, he got the job in the first place on the back of a hugely disappointing season at Anfield. He hasn't been able to bring in the right man to partner Fernando Torres but, give him time, he will. I saw Liverpool thrash Aston Villa not long ago and they looked very strong – but any side missing Steven Gerrard for six weeks with injury and seeing Torres struggle for form would find it tough. I know this is a club used to challenging for titles but fans must accept they are in transition and that Roy will get it right if they get off his case."
On potential successors at Anfield, Ian Ladyman argues Liverpool should not turn to Rafa Benitez or Kenny Dalglish. "Between them the two men have won seven major trophies as managers of Liverpool. Dalglish would certainly take the job again while Benitez — back on Merseyside after a disastrous spell at Inter Milan — would inevitably be interested. Neither, though, should be allowed anywhere near it. Dalglish, at 59, is by no means an old man. His old rival at Manchester United, Sir Alex Ferguson, has a decade on him. But it is 15 years since he managed successfully — winning the Premier League at Blackburn — and almost 20 years since stress forced him out of Anfield after a 4-4 FA Cup draw with Everton in February 1991. Quite simply, Dalglish has been away from the sharp end of football too long. The game has changed in many ways since he won Liverpool's 18th and most recent title. Many young players, particularly the foreign ones, would not be inspired by the mere mention of his name or his presence in a room. Some — as dreadful as it sounds — would not even know who he was."
Chelsea: Rob Beasley reveals in The Sun: "Chelsea turned down the chance to sign Dutch star Rafael van der Vaart in the summer.
The Blues reckoned the brilliant midfielder – now with Spurs – was 'not good enough.' So they rejected a £10million deal and instead spent £24m on Yossi Benayoun and Ramires. A Chelsea insider revealed: 'We had a call to say Jose Mourinho was ready to let Van der Vaart leave Real Madrid for around £10m and did we want him. But it was decided he wasn't good enough so we passed on him. That's not looking the best of decisions is it?'"
Also on the Blues, in The Sun we learn "Chelsea's £17.5million bid for Benfica defender David Luiz has been rejected. The Portuguese giants say they will not listen to offers below £26m for the versatile Brazilian central defender, 23, who also plays at left-back."
Aston Villa in freefall: In his "five things we learned from the Premier League this week," Jacob Steinberg writes: "The last few months have been dreadful for Liverpool managers past and present: Hodgson is under pressure at Anfield, Benítez has been sacked by Internazionale and now Gérard Houllier is leading Villa in only one direction. Houllier's management so far has been atrocious. Since his appointment, Villa have won just three games and have been knocked out of the Carling Cup by their neighbours Birmingham City. Along with West Bromwich Albion, they have conceded the most goals in the league (34) and have the worst goal-difference (-14), which makes a mockery of Houllier's decision to freeze out Richard Dunne. He has also fallen out with John Carew, Stephen Warnock and Stephen Ireland – admittedly not the most difficult of tasks – and the signing of Robert Pires has not worked out. Their best player, Ashley Young, wants to leave. Villa are in seemingly terminal decline. They would not have expected to be in a relegation battle at the start of the season and this is something Houllier has never experienced before. They are not too good to go down – maybe they were not that good in the first place."
Reviewing 2010: Steven Howard looks at the sporting heroes of 2010 and the sporting villains of the last year. In the latter list, Wayne Rooney leads: "They always remember the Treble year at Old Trafford. Well, Rooney achieved a treble of his own in 2010. He disgraced himself, his club and his country. With his own game joining his private life in the gutter, he infamously slagged off England fans after the grotesque goalless World Cup draw with Algeria in Cape Town. Then he had the brass neck to demand a transfer from Manchester United. Even worse, United rewarded him with a new, increased, five-year contract just two days later. There is no greater example of the depths to which football in this country has plunged – and the manner in which celebrity players can do what they want."
Sam Wallace highlights the moments of 2010. "My moment of the year, for sheer, rip-roaring, up-and-at-them excitement is Bale's performance for Tottenham Hotspur against Internazionale in the home game at White Hart Lane on 2 November. I could have picked the second half of the game at San Siro when, after all, he scored a hat-trick in a 4-3 defeat were it not for the fact that there was something mesmerising about his performance in north London. Every great performance requires talent, self-belief and determination – of which Bale had all. Great performances are also measured by the stature of the opponent who is overcome and in the Inter full-back Maicon there was no greater test for Bale. But this was not a full-back v winger duel in the tradition of Ashley Cole's against Cristiano Ronaldo at Euro 2004 or the World Cup two years later. In that case both gave as good as they got. In Maicon's case the Brazilian, who had been voted in Uefa's Champions League team of the previous season, was taken apart piece-by-piece by Bale. And the more Bale picked the ball up and ran at him the worse it got for Maicon and the more compelling it became for those of us in the stadium."
David Beckham could be a Premier League player next week:Â Simon Cass reports in the Daily Mail: "David Beckham could sign for a Barclays Premier League side as early as next week with the iconic midfielder eager to fast-track his return to top-level action. Beckham is in search of two months of high-intensity football before returning to LA Galaxy to see out the final year of his contract with the MLS side. To that end, he is ready to go back on his assertion that he would only ever play for Manchester United on these shores despite reiterating that stance just 10 days ago."
Robbie Savage hopes David Beckham joins Spurs. "I would be most excited to see him at Tottenham, in a central midfield role like the one he used to play in when we were kids in Manchester United's youth team. I can't think of anyone else who could play the sort of clever long passes that Luka Modric specialises in, letting in Gareth Bale and Aaron Lennon. He could be a great like-for-like sub for the brilliant Croatian."
Transfer gossip: The big names are starting to be mentioned in The Sun. Geoff Sweet copies and pastes from yesterday's Marca: "Jose Mourinho is to make a direct appeal to Cesc Fabregas to join him at Real Madrid in the summer."
With the transfer window opening tomorrow, there are a host of stories in The Sun including Liverpool after Eljero Elia, West Ham are eyeing a loan bid for Robbie Keane, Stewart Downing is a target for Sunderland, Roque Santa Cruz has snubbed a loan move to Lazio and Chievo are after Carlos Vela. The stories continue: Roma are after Valon Behrami, Everton are after Juraj Kucka, Stoke will offload Eidur Gudjhonsen and QPR have signed Petter Vaagan Moen.
The Daily Mail run with Manchester City turning down a loan bid for Wayne Bridge, Aston Villa and Fulham leading the chase for Chris Samba, Freddie Ljungberg has secured a short term switch to Celtic and Birmingham want Spurs pair Robbie Keane and David Bentley.
The big transfer story in the Daily Mirror is that West Ham want Michael Owen whilst they also link Liverpool with a move for Ashley Young.
Howard Webb MBE: All the papers report: "Soccer referee Howard Webb who dished out 14 yellow cards in the World Cup Final becomes an MBE in the New Year Honours. Webb, 39, became the first Englishman to officiate at a World Cup final since 1974. He was praised for his handling of a volatile final in South Africa between Holland, who also had a player sent off for two yellow cards, and eventual winners Spain."
Click here for more Premier League betting tips
---