"Rooney's performance did not include some of the flicks, passes and turns of Ronaldinho; rather he went briskly about the business of winning the game. And on nights such as these that really is all that matters" – Sam Wallace
Comment & analysis round-up
Quote of the day: "It is not over here. We can win 2-0 in Manchester and that would be a normal result. Today was the demonstration that when we played football like we can, we really put Manchester in a lot of difficulty. The first half could have ended 3-0 and we were very unfortunate to concede a fluke goal… We have proven that we can be superior to this Manchester. We are disappointed to have wasted so many chances in the first half and I think this is a real shame." – Leonardo.
Runner-up: "I was very frustrated in the first half with a lot of things. Some ­people were not doing their jobs right and I let my feelings be known. We learned from that and won the game, which I am delighted about. It was a bad start to the match for us but after that we did well to get back in it. We fully deserved to win and overall I felt we were the better team. I'm disappointed to concede the second goal because I felt we were in control, but 3-2 in San Siro is a great result." – Wayne Rooney.
Today's overview: There is only one place to start this Wednesday after Wayne Rooney's double lead Manchester United to a famous 3-2 victory in the San Siro against AC Milan. But, as is often the way, looking for an angle, the papers flag up the negative.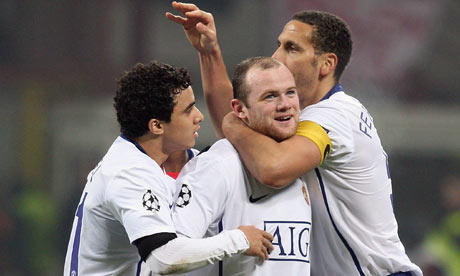 Focusing on the friction, Daniel Taylor observed "Rooney was visibly annoyed during a first half Ferguson later described as being 'a catalogue of mistakes' and there were times when he could be seen gesticulating angrily in the direction of Darren Fletcher and, in particular, Nani. The forward later admitted that he had been so aggrieved by his side's shortcomings he had remonstrated with his colleagues during the interval."
Oliver Kay was at pains to stress how United's eventual victory came after Milan had dominated the early stages. "This was a truly remarkable game. Remarkable in that United were so comprehensively outclassed for long periods, having conceded a third-minute goal to Ronaldinho, and yet somehow came away with a scoreline that resonates as powerfully as any in their long and illustrious history in European football."
For James Ducker, United's starting midfield in Milan was a shambles. "It was a mystery as to how AC Milan had not buried their opponents. Bamboozled by Sir Alex Ferguson's inexplicable decision to start with Park Ji Sung through the centre and Darren Fletcher out on the left, the United players simply did not know what their colleagues were supposed to be doing. It almost had a domino effect, Fletcher's absence in the centre affecting Carrick and Paul Scholes, with the defence, in turn, exposed by gaping holes in a midfield that was about as secure as an Icelandic bank."
Putting his neck on the line, Gabriele Marcotti failed to see how either Manchester United or AC Milan can win the Champions League this season. "Milan v Manchester United left me exhausted. The fan in me marvels at Rooney and Ronaldinho. The journalist in me is bound to point out the many defensive mistakes, how Klaas-Jan Huntelaar did nothing apart from that one shot, how Rio Ferdinand is operating at 20 per cent of his potential and how Milan could just as easily have won this game by a wide margin (though a draw, I think, would have been a fair result). Bottom line, these are two very fragile teams right now."
Ronaldinho earned himself mixed reviews for his performance against United.
Richard Williams commented on the bucked-tooth wonder that "Ronaldinho's presence constantly illuminated the match as he tormented Rafael, his young compatriot, with flicks and darts, all of which had the crowd ­sighing with delight."
Sam Wallace compared Ronaldinho's performance with Rooney's. "There were moments last night when Ronaldinho made an elegant case that, in spite of everything, he can still recapture the form that once made him the greatest footballer on the planet. Then Wayne Rooney intervened to remind him that time moves on… True, Rooney's performance did not include some of the flicks, passes and turns of Ronaldinho; rather he went briskly about the business of winning the game. And on nights such as these that really is all that matters."
The harshest assessment of Ronaldinho arrived from Martin Samuel. "It is hard to see Milan winning by two clear goals now, but the margins could have been in their favour if Ronaldinho could last for 90 minutes. As it was, as brilliant as he was for 45 minutes, so he was wretched after half-time. Milan are not a young team and it was predicted they could run out of steam. There really is no excuse for Ronaldinho, though. Still in his third decade, he should be at the peak of his career. Maybe it all came too soon and he lost interest."
Widening the Ronaldinho discussion, Matt Dickinson weighs up whether Milan's number 88 should be picked for the World Cup. "What does it say about Brazil that a certain Ronaldo de Assis Moreira is not even in the head coach's plans?… [Ronaldinho] has begun to state a compelling case for a recall that grew to a clamour as he gave Rafael Da Silva, the 19-year-old, a lesson last night. Two goals against Juventus last month, his first hat-trick for Milan in the next game against Siena — and then this, a bewitching masterclass in exuberance, dribbling, ball mastery and general havoc-making… Can Brazil truly ignore him playing like that?"
Sadly for Goldenballs he failed to have a vintage night against his former employers, and the fourth estate dished out only a lukewarm appraisal of his performance.
Arguably using this one match against United to form his beliefs, Kevin McCarra argued "the fuss naturally made of David Beckham's appearance against his old club was to be expected, but his limitations as age steals over him could also have been anticipated. The midfielder did play a part at the opening goal in the third minute, but rarely registered thereafter. A watching Fabio Capello will be more convinced than ever that Beckham's only use now must lie as a substitute for England."
Mark Odgen assessed Beckham's performance by comparing him to a fictional character. "Just like Rocky Balboa, he is the ageing star who just does not know when his time is up. But does he still have the ability to hurt his opponent like Sylvester Stallone's pugilist? With Fabio Capello watching closely from the directors' box, the answer thrown up from his performance against United was yes — in small doses."
Turning to Wednesday night in the Champions League, and Arsenal are arriving in Porto will an ever increasing injury list of key personnel.
Surveying the wreckage, Dominic Fifield notes that "William Gallas and Manuel Almunia have joined the likes of Alex Song, Andrey Arshavin and Eduardo da Silva by remaining in rehabilitation at London Colney after succumbing to calf and finger complaints respectively, stripping Wenger of key personnel for what is likely to prove an awkward first leg… It is Campbell's return to Europe's elite competition that is truly ­staggering given that, only last September, the 35-year-old was losing with Notts County at Morecambe in League Two."
Unafraid to pick holes in Arsenal's team, Matt Hughes fears for the Gunners in Porto. "Campbell's lack of pace against the speed of Falcao… will be a concern for Wenger, but his biggest fear centres on the inexperience of Lukasz Fabianski… The 24-year-old Poland goalkeeper has started only five matches this season, three of which have ended in defeat, and was at fault for both goals in last year's FA Cup semi-final loss to Chelsea."
Shifting the Champions League conversation along to look at the Premier League's play-off proposal for entry into the competition, and Paul Kelso raises a potential pitfall for the plan. "There is also a strong counter-argument in favour of elitism that the big four clubs can expect to make. The fourth Champions League place is not in the gift of the League, but rather is dependent on English teams succeeding in the competition and boosting the coefficient that governs entry. By admitting teams from lower down the league England risks reducing the overall level of European performance, lowering the coefficient and eventually losing the fourth berth."
With his tongue firmly pressed against his cheek, Martin Samuel mocks the play-off proposal. "One might even argue the latest plan to decide the final Champions League spot by play-off lottery does not go far enough. Why stop at seventh? Why not extend the fun all the way to the bottom? If accruing fewer points is no barrier to success at the top, why should it carry such a penalty for the relegated clubs? Open it right out."
Onto the rest of the news.
The Times reveal that Crystal Palace have attracted a large amount of interest from prospective buyers. "Crystal Palace's administrator has met two and spoken to 25 parties interested in buying the Coca-Cola Championship club."
Horror news for Evertonians as John Edwards reveals that "Marouane Fellaini is struggling to be fit for the start of next season after being told he needs surgery on his damaged ankle ligaments."
The Daily Mail's inability to not spout transfer crap is again apparent as we learn that Tottenham and Chelsea are keen on Shakhtar Donetsk captain Darijo Srna. Vic Holly continues the transfer toss in The Sun farting "Manchester City and Chelsea are on red alert after Seville striker Luis Fabiano refused to rule out a big-money move to the Premier League."
The Mirror finish off the lies claiming "AC Milan plan to use Klaas Jan Huntelaar as bait to land Manchester United's Nemanja Vidic… Milan believe Sir Alex Ferguson is interested in Huntelaar and they would be happy to sell the striker to United just 12 months after buying him from Real for £14million."
---
GAMBLING CAN BE ADDICTIVE, PLEASE PLAY RESPONSIBLY