Rooney's back, the "Torres effect" works even when El Nino doesn't play & Wenger blasts Chelsea's "financial fair play"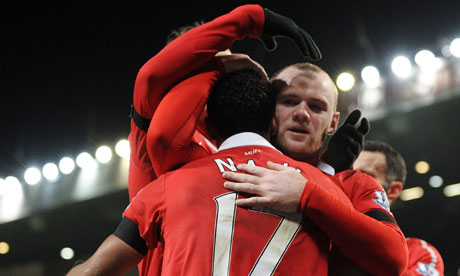 Comment & analysis round-up
Quote of the day:Â "It is the scoring partnership that matters and the combination between our two front men has improved beyond all recognition. If we finish the season with Berbatov scoring 30 and Wayne on 10 I will be more than happy. That is what I call a successful strike partnership… If we keep winning our games and keep knocking them off then eventually you run out of games." – Sir Alex Ferguson.
Runner-up: "Chelsea supported financial fair play. But in the morning they announce a £70m loss and in the afternoon buy £75m worth of players. Where's the logic in that?" – Arsene Wenger.
Ancelotti on El Nino: "Torres can play in every team because he has such fantastic ability. With his quality he will have no problem settling into our team. I know what he is – he is not a keeper, not a defender, he is a striker and he will play as a striker. And he will have no problems playing with Drogba."
The "oh really?" quote of the day: "I didn't want to leave at all. Derek Llambias asked me to hand in a transfer request, so I was pushed into a corner. I wasn't wanted by them and they made it clear they wanted the money. Then I flew down in the helicopter. I'm gutted that I wasn't wanted at my home team after everything I have done." – Andy Carroll.
Today's overview: There are no shortage of variable themes for Fleet Street to get stuck into this Wednesday morning following last night's action as we all catch our breath following Manic Monday.
Wayne Rooney's two-goal haul in Manchester United's 3-1 win over Aston Villa is hailed as a return to form for the England striker. Mark Ogden hails the "potential significance" and Paul Wilson highlights Wazza's transfer value if he bangs in some goals.
Chelsea's 4-2 win at Sunderland is seen in the light of Fernando Torres' arrival at the Bridge. Rob Stewart describes it as "the Fernando Torres effect," whilst there is plenty of speculation as to whether El Nino will line up against his former club on Sunday. Matt Lawton says Ancelotti will go for three up front and the Daily Mirror lead with the news that Torres will play.
On Arsenal, Mark Fleming describes a "gritty" win whilst Dominic Fifield raises question marks on the depth of the Gunners squad.
Liverpool and Newcastle are heavily featured after the events of the final day of the January transfer window. David Maddock and James Lawton back the Merseyside giants whilst Oliver Holt slams Alan Pardew as the biggest loser of the last month. Colin Young meanwhile points out that each north-east team has lost their best player.
Finally, there is still reaction to Andy Gray and Richard Keys leaving Sky. Barney Ronay writes of the first live Premier League game post the former Sky double act and Charles Sale updates on Andy Burnton.
Is Rooney back?: Ian Ladyman is convinced. "At the end of a transfer window that saw three of their rivals spend a total of £135million on strikers, Manchester United were finally reintroduced to one of their own last night as they consolidated their
position at the top of the Barclays Premier League. While Fernando Torres and Edin Dzeko settle in at Chelsea and Manchester City respectively, and Andy Carroll and Luis Suarez grow accustomed to life at Liverpool, Wayne Rooney returned to his true form at Old Trafford. It could not have been more timely."
Mark Ogden also highlights what Wazza could do this season. "In a week when the value of a goalscorer has reached new stratospheric levels, Wayne Rooney finally reminded Manchester United why he was too valuable to let go by re-awakening his dormant goal touch to secure victory against Aston Villa. Two goals from Rooney, plus an assist for Nemanja Vidic's second-half strike, ensured that United equalled the club record run of 29 league games unbeaten and consolidated their five-point lead at the top of the Premier League. But the statistics pale into insignificance when measured against the potential impact of Rooney's return to the scoresheet."
Paul Wilson writes of United's comfortable win over Villa. "Manchester United chose not to splash out in the transfer window but perhaps they always knew Wayne Rooney could give them a mid-season boost. The striker looked a completely new player against Aston Villa, showing his sharpness in the opening minute and going on to treble his number of club goals from open play for the season. With Antonio Valencia also on his way back and Park Ji-sung due to return from the Asian Cup, Sir Alex Ferguson could be right in thinking United do not particularly need anyone at this stage. Not at current prices anyway, though Darren Bent again demonstrated his reliability in front of goal with a typical strike to bring Villa back in the second half."
Chelsea: All the pundits point out that Chelsea played well at Sunderland and their strikers performed at the Stadium of Light due to the signing of Fernando Torres.
Rob Stewart writes "He may have been hundreds of miles away back in London but the Fernando Torres effect was already clearly in evidence here at the Stadium of Light. Everyone knows the most expensive footballer in the history of English footballer can be an inspirational presence on the field, but on Tuesday night the £50 million striker's new Chelsea colleagues showed just how influential he can be even when he's got his feet up. Defensively Chelsea might look shaky but in taking their tally of goals in 10 in three Premier League games, Carlo Ancelotti's forwards provided evidence that Torres has had a galvanising effect on Stamford Bridge after being on the payroll for less than 24 hours. Even Ancelotti admitted that Torres and fellow new recruit David Luiz had caused the champions to raise their game after his team overcame a dreadful start to glide to a comfortable victory."
Rob Beasley: "Chelsea's under-threat strikers fired a warning to £50million Fernando Torres last night – but it may be too little, too late. Although Salomon Kalou and Nicolas Anelka were both on target at Sunderland, manager Carlo Ancelotti cannot wait to link Torres with Didier Drogba against the Spaniard's old club Liverpool on Sunday."
Matt Lawton also wonders who will play up front on Sunday. "Chelsea manager Carlo Ancelotti revealed last night he could launch Fernando Torres, Didier Drogba AND Nicolas Anelka on Liverpool this Sunday. After seeing his side hit four goals in a resounding victory at Sunderland, Ancelotti admitted he could change his tactics to suit his superstar trio. 'I will probably play two strikers, maybe with a diamond,' he said, hinting at a front two of Torres and Drogba playing in front of with Anelka just behind. 'He (Torres) will have no problems playing with Drogba or another striker.'"
Simon Bird is certain that El Nino will start against his former club. "Carlo Ancelotti insisted Fernando Torres will start against Liverpool – after a four goal show by rampant Chelsea. The Blues destroyed Sunderland with a brilliant second half display as John Terry and Nicolas Anelka settled the match with goals after the break. Ancelotti declared Chelsea ready to chase Manchester United to the death for the title and he insisted his side have been handed a massive boost by Roman Abramovic's £70 million transfer window splurge on Torres and David Luiz."
Martin Samuel puts the Torres and Luiz deals in perspective. "So one again the madness of the free market and the January transfer window succeeded where UEFA and their president Michel Platini will surely fail, by redistributing wealth throughout the game. Roman Abramovich took roughly £75m from outside football – never forget – and invested it across Europe. The process is haphazard, granted, and is motivated by self-interest not altruism, but what is wrong with that? Base desires can be useful, too."
Fernando Duarte profiles David Luiz. "One thing Chelsea do not need to worry about is David Luiz ending up splashed across the tabloids: he is a devout Christian who names Kaká as a model of professional conduct. Hardly material for tales of drunkenness and debauchery. In Lisbon, he is also known among fans for his approachability and even has his own official fan club, which no doubt helped him become player of the year in Portugal last season – Luiz received 38% of the public vote, his former team-mate, Angel di María, trailed back in second place with only 8%."
Arsenal: Dominic Fifield wonders if the Gunners have the necessary depth. "It may be unconvincing at times, forever flirting with catastrophe, but Arsenal's title pursuit remains intact. As the dust settled in the wake of Chelsea's unnerving extravagance on transfer-deadline day, Arsène Wenger's team had been craving a comfortable win, a walkover to maintain their pursuit of Manchester United and offer reassurance that their passiveness in the market last month was justifiable. Even understandable. Arsenal, it seems, do not comply so easily. This was too tight for comfort. Once the elation provoked by another nail-biting victory has subsided, the murmurs of concern may resurface, for all the established mantra of 'In Arsène we trust'. The squad benefits from more depth than in recent seasons, with promising youngsters maturing into pedigree players, but it is competing on four fronts. It can still appear stretched. The troops asked to turn out most often are inevitably those in areas where the ranks appear weakest, most notably at centre-half. The sense that additions should have been made in January lingers."
Mark Fleming points out the gritty nature of last night's win. "Arsenal put their beautiful football to one side and instead produced a display of character and desire that suggests they are finding the steel to go with their trademark silk. They had to respond after going behind in controversial circumstances to Louis Saha's first-half goal, a strike which both managers agreed should not have been allowed to stand. And as the match seemed to be slipping from their grasp with 20 minutes to go, Arsenal claimed the victory by forcing Everton into making uncharacteristic errors."
After Arsenal's victory, David Moyes laid into Cesc Fabregas. "Everton boss Moyes, whose side were beaten by Arsenal defender Laurent Koscielny's late winner, said: "Fabregas' comments to the officials warranted a sending off, half-time coming down the tunnel. I'm not going to repeat them. Disappointing comments from such a talented footballer. They were deserving of a sending off, 100 per cent. If he'd said them on the pitch he would have been off like that. We heard it. Why should it be any different in the tunnel? The decision for the goal seemed to change a lot of things in the game. He (Fabregas) got away with that kick on (Mikel) Arteta – there were three tackles on Arteta in the first six minutes. I don't mind tackling, as long as we don't get it thrown back in our faces when we do it. But I get fined too much money if I talk about the referee."
The Daily Mirror chip in on the Gunners that Samir Nasri is set for a new deal.
Liverpool: Antony Kastrinakis reveals what we all suspected: "Fernando Torres has wanted to join Chelsea since last summer. And Friday he slapped in a transfer request to force Liverpool to accept a £50million British transfer record move. The striker's right-hand man gave an explosive account of the biggest deal in English football history and revealed… Torres wanted to join Chelsea in a £35m switch in July when the Blues made a formal offer. He was forced to stay after Liverpool promised him huge investment."
David Maddock describes Liverpool's transfer dealings as a "triumph." "For Liverpool's new owners, their first transfer window was an ordeal by fire, a ferocious baptism in the art of running a Premier League club. They passed that trial, if not with flying colours, then at least with a confidence and conviction that shows they are at least prepared to be decisive in their attempts to revive an ailing 'franchise'. Put bluntly, the loss of Fernando Torres could have been a disaster, not just from a short-term, PR perspective, but in regards of the long-term future and development of the club. Losing your best player under the circumstances that unfolded from last Thursday evening onwards left Liverpool in a near-impossible situation."
James Lawton also backs Kenny Daglish's transfer dealings. "The new Liverpool owners have conceded the point of Dalglish, his meaning, at least for the moment, and have given him some means to fuel his work. They may not be hell-bent on throwing around their money but they have already proved that they know how to remake a great sports institution. Boston Red Sox have two World Series titles to prove it. Saying adios to Torres was a wrench, for all kinds of reasons, but, soon enough, you have to suspect, it may prove not to have been the worst goodbye."
Newcastle: On the Andy Carroll transfer Shaun Custis reports "Newcastle were so desperate to get rid of Andy Carroll they laid on chairman Mike Ashley's private helicopter to fly him to Liverpool. Carroll joined the Reds on Monday for £35million. The England hitman, paid £20,000 a week by Toon, will now trouser £75,000 a week for the next 5½ years. But Carroll insisted he could have been talked into staying at St James' Park for less than the Kop offered if Newcastle had bothered to try. And he claimed Toon managing director Derek Llambias told him the club was desperate to cash in on their prize asset."
Not so, according to Alan Pardew. "The fall-out after Andy Carroll's departure from Newcastle has descended into a war of words between the £35million Liverpool forward and Toon boss Alan Pardew. Carroll maintains he was forced out of St James' Park by owner Mike Ashley, managing director Derek Llambias and Pardew following Liverpool's incredible bid for the England striker on Monday. Pardew claimed the 21-year-old wanted to quit Tyneside after his pleas for a new contract were rejected."
Oliver Holt describes Alan Pardew as the transfer window's biggest loser. "Pardew talked the talk but couldn't walk the walk. When it came to the crunch, everyone knew what was going to happen: Ashley would sell Carroll and Pardew would suck it up. It was never going to be any other way. A stronger manager would have quit the moment Carroll was dragged onto the helicopter to Liverpool. But for Ashley, the joy of Pardew is that he desperately needs the job. He was treated appallingly at Southampton and, after failing at Charlton, Newcastle could be his last shot at the big time. He is a good manager in dire need of a lucky break, but sadly this isn't it. Monday night made him look like a dupe, like the patsy brought in to take the fall."
David Conn points out that Andy Carroll already faces a legal battle with a former agent. "Andy Carroll's £35m move to Liverpool has made his legal battle with the agent Peter Harrison all the fruitier. In a fortnight both men will present their respective cases to an arbitration panel convened by the Football Association. Harrison alleges that Carroll is in breach of his exclusive representation contract signed in March 2009. It is believed the contract was for two years, meaning it would nominally run until next month. However, a few months after signing it, Carroll informed Harrison that he wanted a change and would join Mark Curtis, who represented his friend and then captain at Newcastle United, Kevin Nolan. Harrison's claim is that this put Carroll in breach of contract, resulting in a loss of earnings after he lost out on the agent's fee from the striker's contract renegotiation last summer. Monday's transfer complicates matters."
Colin Young points out the players that have left the north east. "In the last month alone, three of the biggest names and most iconic fans' favourites at all three major North East clubs have left. Darren Bent, Andy Carroll and David Wheater join a depressing list. Once a self-proclaimed football hotbed, the North East is now nothing more than a breeding ground where players are put into cold storage for the benefit of the others. Just studying the roll of honour of the North East Football Writers' Association players and young players of the year brings home to Mackems, Geordies and Middlesbrough's Smoggies the reality of the region's place in the game."
Manic Monday: Ian Herbert explores some of the reasons behind the mad rush on the last day of the January transfer window. "
Fear, in its own way, has also driven Roman Abramovich's decision to spend more in one day than he had in three years. Chelsea are rallying but they know, standing three points above fifth-placed Tottenham, that Champions League qualification is not their divine right this season. There was a time, not so long ago, when Chelsea, Manchester United and Liverpool did not need outright financial muscle to compete for the best players in the transfer market because they could offer them the supreme platform and know they would come. Manchester City and Spurs are sharing the platform now and City are offering considerably more money. There has been no interest in Torres at Eastlands this month but Chelsea knew that if it transpired that City could offer Champions League football next season and they could not, then Torres would not have needed that helicopter."
Transfer gossip: The Daily Mirror reveal that Sven is set to swoop for Chelsea starlet Jeffrey Bruma.
Sky post Keys & Gray: Barney Ronay writes of the first live Premier League game post the former Sky double act. "In the event Sky plumped for a man called Dave. Dave Jones it was who loomed into view in the executive swivel-chair after an intro-segment that featured a series of quotes from Confucius, Socrates and, weirdly, the obscure ancient Greek philosopher Heraclitus. Was this a statement? Were we about to witness a new fiercely cerebral Sky Sports, infused with the wisdom of the ancients?… Interestingly, Gray's voice, the voice of Sky for two decades, was absent from the usual goal-montage head-to-head round-up that preceded this game. Are Sky going to do this to their whole back catalogue? Are Gray and Keys being edited from their history so thoroughly that we will never hear "Teek a boo son!" or even 'And it's live!' ever again? Post-sexism, the Sky studio did seem a little under-done and charisma-neutral. But at least, finally, you could just get on with watching the football."
Charles Sale adds on Andy Burnton: "Sky say touchline reporter Andy Burton, suspended from Carling Cup duties last week as part of the Linogate disciplinary process, is back working his normal shifts. But doubts will remain about his future until he is seen conducting live game interviews again. He was in the Sky Sports office but didn't appear on air throughout their wall-to-wall deadline-day coverage, despite transfer talk being one of his specialities. Burton's last TV interview was the fateful Wolves-Liverpool match, in which, to his credit, he tried to get the better of manager Kenny Dalglish about transfer targets in a testy exchange."
Best football betting tips & free bet offers
Click here for more Premier League betting tips
---