Rooney will have to submit a transfer request to leave United & Luis Suarez to Arsenal?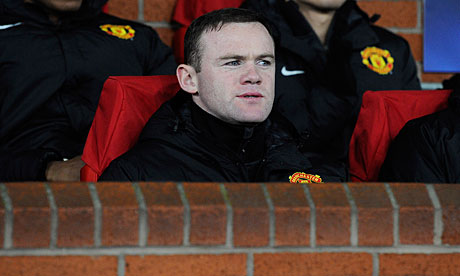 Comment & analysis round-up
Quote of the day:  "I know he has what's needed to be one of the three best players in the world. He'd fit well with Barcelona. He can adapt to many positions. He's best as the centre-forward, but we have even seen him on left or right side. He is very versatile, strong, fast, has great technique. I don't think he would have any problems adapting." – Gerard Pique on Wayne Rooney joining Barcelona.
Runner-up: "No player wants to hear their own fans booing the players, booing the team. But football is a hard game and you can't win everything. As players, of course it's hard because you don't want to hear it. I recognise, though, that we're there to do a job and I'm representing my country. And when I'm playing I'm able to block it all out." – Ashley Cole.
Wayne Rooney will have to submit a transfer request to leave
Do it the write way! Rooney will have to submit official transfer request if he wants to leave United (Ian Ladyman, Daily Mail) Wayne Rooney will have to submit a written transfer request if he wants to leave Manchester United. The Old Trafford forward returned to training on Wednesday with his future still up in the air. It is understood he did not have a specific meeting with new manager David Moyes about his situation. That may happen at the club's Carrington training centre on Thursday. The two men did speak but not for long and United's stance on him remains unchanged.
Manchester United play tough with Rooney over his prospective transfer (Jamie Jackson, Guardian) Wayne Rooney will have to make a formal transfer request if he wants to leave Manchester United as the club continue to insist the striker is not for sale. It is unclear whether the player and David Moyes were able to sit down on Wednesday to discuss his future, but United are relaxed about the issue and in no rush to resolve it. The new manager has no wish to sell Rooney, and the 27-year-old has two years remaining on his contract. Rooney's position is that, having aired his grievances to Moyes around a month ago, he now wants to hear how the Scot views his prospective role in the side. Last season Sir Alex Ferguson selected Rooney out of position, dropped him for key games, and questioned his fitness. The forward may also want Moyes to publicly confirm that he did not make a formal transfer request towards the end of last season, as Ferguson has claimed.
Manchester United manager David Moyes holds all the aces in test of wills with Wayne Rooney (Jim White, Daily Telegraph) New manager's credibility at Old Trafford could hinge on how he decides to deal with the club's unsettled striker. In his first week at Manchester United, David Moyes has been arriving for work early. Since Monday, he has been photographed at 8am driving through the gates of United's Carrington base (or the AON Training Complex to employ its official new title). There is a lot to do, confronted as he will be by a tottering Himalaya of paperwork, an entire backroom staff to embed, not to mention that meet and greet with the club's latest commercial partners, Bulgaria's leading budgerigar cage distributors. But the real work begins on Thursday, when the players report for pre-season training. Now, in a series of face-to-face meetings, Moyes will be obliged to address by far the most pressing item in his in-tray. And how he handles the issue will set the tone for his first few months in charge.
Luis Suarez to Arsenal?
£25m Suarez Arsenal frenzy (Tony Little, Sun) Luis Suarez was last night linked with a sensational move to Arsenal. Bookies stopped taking bets on the £25million-rated Liverpool striker quitting Anfield for the Emirates. The controversial hitman had been strongly tipped to join Real Madrid.
Chelsea in for De Rossi
Chelsea line up Daniele de Rossi after Roma chief admits "everybody is on the market" (Martin Lipton, Daily Mirror) Chelsea are plotting a £10million raid to make Roma star Daniele de Rossi their new midfield general. Returning Blues manager Jose Mourinho is seeking to reinforce the engine room of the side he has inherited from Rafa Benitez, with John Obi Mikel's Stamford Bridge future now in grave doubt. And the Chelsea boss is set to try to take advantage of de Rossi's fall-out with his boyhood club to lure the Italy ace to the Premier League. De Rossi has been labelled Roma's "future captain" for most of the past decade, but fell foul of former boss Zdenek Zeman last season before the Czech was sacked.
City close in on Negredo
Pellegrini eyes £18m Sevilla hitman Negredo as City search for Tevez replacement (Simon Jones, Daily Mail) Manchester City are interested in an £18m move for Sevilla striker Alvaro Negredo. Negotiations are still to unfold but Manuel Pellegrini has identified the Spain international as a target to replace Carlos Tevez. Pellegrini tried to sign Negredo while coach at Malaga but now, with relations good between City and Sevilla due to director of football Txiki Begiristain and the purchase of Jesus Navas, the City manager wants to try again.
Joey Barton agent takes the rap
Joey Barton's agent takes the blame for midfielder's late arrival at training with Queens Park Rangers (Jeremy Wilson, Daily Telegraph) Willie McKay, the agent of Joey Barton, has accepted the blame after his player returned to pre-season training two days after Queens Park Rangers expected him back. Harry Redknapp, the QPR manager, claimed that Barton had been sent "the same information as every other player" to report on Monday but he did not return until Wednesday. Barton wrote on Twitter that "I am brilliant at a lot of things but telepathy isn't one" and McKay later told Telegraph Sport that it had been a misunderstanding. "It's my fault – I told Joey that it was Wednesday," he said. "There is no way he would want to report late for pre-season."
QPR want Scott Parker
QPR ready to pay Tottenham £2m for England midfielder Scott Parker (Dom Fifield, Guardian) Queens Park Rangers hope to persuade Scott Parker to drop out of the Premier League having indicated they would be willing to meet Tottenham Hotspur's £2m valuation for the England midfielder. Parker, like Tom Huddlestone, has been told he can leave White Hart Lane this summer, with Spurs on the verge of adding the Brazil international Paulinho to their central-midfield options. The 32-year-old was signed for Spurs by Harry Redknapp, now at QPR, two years ago and was a key member of the side thereafter, with the relationship between player and manager still strong. Yet Redknapp must still persuade Parker to lower his wages from £60,000 a week and drop into the Championship in a World Cup year, with the midfielder still hoping for a role in Roy Hodgson's senior squad should they reach Brazil 2014. That may be difficult if top-flight clubs seek to secure his services, though only Sunderland have expressed an interest in a player whose instinct would be to remain in the capital.
Why you need a VPN?
Cut chords:
Watch everything (Netflix, BBC iPlayer, Hulu) online using a VPN.
Unlock geoblocking:
A VPN gives you access to the best content from anywhere in the world.
Privacy & security:
A VPN keeps your information private, activity encrypted & data anonymous.
Just $6.67 a month + 3 months free!
Best football betting tips & free bet offers
Click here for more Premier League betting tips
---