Rooney tips Liverpool to challenge & now Inter move for Tevez
Comment & analysis round-up
Quote of the day: 'They've made some really good signings under Kenny Dalglish, British players, and I'm sure they will try harder than they've ever done, fighting to be up there. They will think they have a chance of winning the title. The main threat is going to be from Chelsea, Liverpool , Arsenal and Manchester City. One of them, plus us, will be fighting for the title."
Runner-up: "Since I left Arsenal there are new players, a new generation and maybe a new philosophy because now they play better football than we used to do. The passing, the movement is better and they are faster, but our team was more physical and responded better to the English game. We had everything, and maybe now Arsenal lack the physical aspect of the game. They lost the physical aspect but have gained in the technical aspect. Maybe it's the balance you need to find to win trophies. If you look at Manchester United, Chelsea and City, the physical aspect of the game is there. The big problem in the last few years has been the physical difference between Arsenal and other clubs." – Patrick Vieira.
Andre Villas-Boas on Fernando Torres: "I don't want to turn Torres into an obsession like you people are trying to do. I am not going to waste time over this. I disagree that he is lacking in confidence. Every time a player doesn't score, I am asked questions about him. I agree that Torres is a £50m striker but my focus is purely on the performance of the team, not the individual. It doesn't matter who scores. These are pre-season games and they don't have the importance that some people think. Every Chelsea player is competing to be successful and the best players in training will go into the team. The point of these games is to get a feel for your team and achieve your objectives in terms of fitness and training. To gain the confidence to find the back of the net, Torres needs training, tolerance and patience. It doesn't look like he is getting this at the moment but we are ready to give our forwards this patience."
Today's overview: Still, there is not a great deal happening but big names are talking (and playing) so the papers have plenty to chew on. The latest club to be linked to Carlos Tevez are Inter Milan which simply sounds like another PR exercise from Kia Joorabchian.
Steven Howard lays into Arsene Wenger (again) whilst Jeremy Wilson has a fine Q&A with the Arsenal boss. Dom Fifield wonders how Fernando Torres will fit in at Chelsea, the Mirror report on Malaysian racial abuse of Yossi Benayoun as well as the news that Ravel Morrison is in trouble with the law again.
Finally, Jonathan Wilson previews the Copa America final and Jim White writes of Rupert Murdoch's relationship with football.
Carlos Tevez to Inter Milan: Daniel Taylor reports "Carlos Tevez's recurring habit of bringing embarrassment on Manchester City continued to provide the backdrop to their pre-season trip to the United States when Roberto Mancini admitted he had still not been able to contact his captain and pictures then emerged of the Argentinian speaking to the Internazionale official with responsibility for player transfers. Tevez's meeting with the Inter sporting director, Marco Branca, while holidaying in Sardinia, has been passed off by the player as a coincidence. Whether City will be willing to take his word remains to be seen but it represents another unfortunate development in a summer when Tevez has made it clear he cannot abide the thought of having to go back to Manchester, a city he has made no secret of disliking."
Ken Lawrence also adds fuel to the Tevez to Inter rumour. "Speculation that Manchester City striker Carloz Tévez might move to Italy this summer intensified on Thursdy night when he was photographed at his holiday hotel in Sardinia talking to Marco Branca, the head of technical staff at Inter Milan. The Serie A club, who last month denied that they wanted to sign the Argentine striker, have lurked in the background throughout the proposed £40million transfer to Brazilian club Corinthians that collapsed earlier this week. Now it appears Inter might step up their interest. Branca is believed to be staying at the same hotel as Tévez in the resort of Porto Cervo on the Italian island."
Mancini wants players: Martin Blackburn leads in The Sun with news on Manchester City. "Roberto Mancini has told the Manchester City board he needs new players NOW. The FA Cup winners have failed to make a major signing this summer, while star striker Carlos Tevez wants to quit. Boss Mancini said: 'We have to buy players, then we can say what we can win. We want to improve from last year when we were joint second on points with Chelsea. We play in the Champions League for the first time and we want to do a good job. We need time and I hope before the Community Shield we can add other players. We need to wait this week or 10 days. We have two or three targets but it depends. At the moment we need a few players for competition.'"
The Daily Mail report on another blow for Emmanuel Adebayor. "Manchester City misfit Emmanuel Adebayor was dealt a further humiliating blow on Thursday as he was forced to train with the club's youth team. The former Arsenal striker, who was left out of the tour of North America, is in search of a new club after expressing his desire to leave Eastlands."
Arsenal: Steven Howard wonders if Arsene Wenger has a "cunning plan." "In the last six seasons, the Arsenal boss has spent £66m in the summer months. Yet this pre-season alone, champions Manchester United have forked out £52.4m on a mix of youth (Phil Jones and David de Gea) and experience (Ashley Young). Meanwhile, Arsenal's priority positions remain unfilled, as they have for the last four seasons. If you're not totally convinced by keeper Wojciech Szczesny, then why stand by idly as Shay Given signs for Aston Villa. Want a centre-half? Make a derisory £10m bid for Jagielka, some £2m LESS than you offered last summer. Yet key players like these should have already been signed."
Jeremy Wilson speaks with Arsene Wenger in the Telegraph. "Q When do you say, 'I have to let him go'? A When he starts to disturb the efficiency of the company and only you as a boss will know that. Sometimes it's difficult to know, because when a guy is very important at a company, the natural run of that company goes through him. That has a disadvantage too, because it keeps other employees with qualities quiet. Then if this guy goes, sometimes you see others step up and take responsibility and you didn't even know they had it. Sometimes you have to take these decisions without really knowing what will happen afterwards. It's always better to get rid of someone who is too disturbing rather than keep him because he has the quality."
Cesc Fabregas: Sam Wallace has the latest on the never-ending transfer saga. "Cesc Fabregas will not be on Arsenal's flight to Germany today for their key pre-season training camp, as the club captain remains in limbo waiting to be told whether Barcelona have been successful in their efforts to bring him back to his boyhood club. The same hamstring injury that prevented him from travelling to the Far East on the club's more commercially oriented tour earlier this month continues to be a problem for Fabregas. Quite apart from whether Barcelona, who yesterday confirmed they will sign Udinese's Chilean winger Alexis Sanchez for €26m (£23m) plus add-ons, meet Arsenal's valuation of the player, it means that he will miss the bulk of the pre-season preparation for the squad in a summer that has been full of frustration for the player."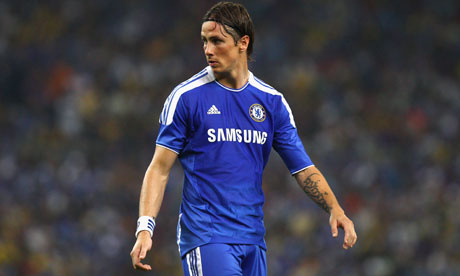 Fernando Torres: Dominic Fifield wonders how El Nino can fit in at Chelsea. "André Villas-Boas's tenure as Chelsea manager is still in its infancy, but already the sense of optimism generated by his arrival is threatening to be doused amid familiar concerns. The Portuguese was left parroting Carlo Ancelotti at the Bukit Jalil national stadium, attempting to deflect questions about Fernando Torres's lack of bite by urging the watching world to focus instead upon the power of the collective. For now, scepticism persists. Torres endured his now customary frustration here as the tourists heaved themselves in stifling heat to a scrappy 1-0 victory against a Malaysian XI. The Spain international was denied in the opening two minutes by Mohd Farizal Marlias and, just as at Portsmouth last Saturday, his performance rather fizzled out before the entire team's half-time substitution. It is dangerous to read too much into pre-season fixtures with this in effect a very public training session, but the striker still appears ill at ease – uncomfortable, even – and that, in itself, is unnerving."
John Cross adds on the Chelsea match in Malaysia: "Yossi Benayoun was booed throughout Chelsea's pre-season tour opener – because he is an Israeli. Benayoun was the first player from Israel in recent memory to play in Muslim-majority Malaysia, which is a staunch supporter of the Palestinians and has no diplomatic ties with Israel. The midfielder was booed and jeered during the first half of Chelsea's 1-0 win over a Malaysian XI. He was substituted at the break, along with the rest of the starting XI."
Ravel Morrison: Also in the Mirror we learn that "Manchester United starlet Ravel Morrison has been questioned by police after allegedly harassing a teenager. The England youth ­international was asked to sign a harassment order after his third run-in with the law in a year. Morrison, 18, is under a 12-month referral order after admitting in January that he intimidated a witness. He was told he would be locked up if he offended again. But four months later he was fined £600 for ­criminal damage caused during a bust-up with his girlfriend."
Transfer gossip: The Sun say Liverpool have renewed their interest in Marcell Jansen, Arsenal remain hopeful of signing £20million ace Juan Mata and Stoke want Mohamed Sissoko.
The Daily Mail says Spurs are ready to firm up their interest in Mirko Vucinic, Chelsea are closing in on Barcelona youngster Oriol Romeu and as ABola reported yesterday, Liverpool want Alvaro Pereira.
Copa America: Jonathan Wilson previews the final. "The Argentinian newspapers are full of Estudiantes transfer stories and pre-season friendlies. Boca Juniors have used the same first XI in training for the past two days. River Plate, as though doing penance for their relegation, trained in driving rain on the beach. On television the 24-hour sports channels show Racing playing a practice match against Acassuso while a horse chews hay dispassionately in the background. Diego Maradona slags off the national manager Sergio Batista; Batista's brother points out Maradona's Argentina lost 6-1 to Bolivia. And somewhere, very much in the background, the Copa América goes on."
Rupert Murdoch and football: Jim White looks at the 20-year association between the shamed media mogul and the Premier League. "Of course, his empire has benefited these past 20 years as much as football; last year Sky's turnover was £5 billion, most of it derived from sales associated with the game. And sure the downsides of the Premier League are so substantial many of us would wish he had restricted his commercial interests to funding over-excited American rolling news channels. But the fact is Murdoch was right: when it comes to football we cannot but recognise his contribution. Though presumably, as he did everything else on Tuesday, if he asked about it, he would deny all responsibility."
---