Rooney the new England vice captain, Rodgers preparing for January, Wenger unsure whether to spend £35m & Spurs after Zaha
Comment & analysis round-up
Quote of the day: "Theo hopes to be released soon but he said he felt like he'd been hit by a bus." – A "pal" of Theo Walcott.
Runner-up: "In this country we talk about the great John Charles, Ryan Giggs, Ian Rush. Southall was the best goalkeeper in the world. But there's no doubt in my mind he will be up there with those guys. He's only 23. It's not a case of 'can he be up there with those guys?' He will be. I have not seen many better performances by a Wales player than that — and that's apart from his two goals. As a manager you admire players from afar and you know someone is a good player but it is not until you work with them when you find out exactly how good they are. I knew he was good but against Scotland he was a different class. The goals capped off a brilliant performance. Gareth's a quiet lad. You would never think he is one of the most dangerous left-sided attacker on the planet, but he is. And he wouldn't be fazed by moving. He loves playing football, that's when he smiles. He has the character to handle that. It's not easy moving to another country, another culture. It's a tough ask. But he's young and has it all in front of him. He's a totally level-headed lad who is completely unaffected by it all so there are no concerns about getting big-headed." – Chris Coleman.
England
Now Hodgson must solve England's identity crisis (Glenn Hoddle, Mail on Sunday) Roy Hodgson has completed 10 games as England manager and while he will not be unhappy that his only defeat came in a penalty shootout and that he has built a foundation, I still think he will feel he needs more time to be truly satisfied with his team. At times this England side fall between two stools. It looks as though they want to try to keep possession and play on the front foot, but I don't know if we have evolved into the type of team yet that can actually do that and control a match by passing the ball.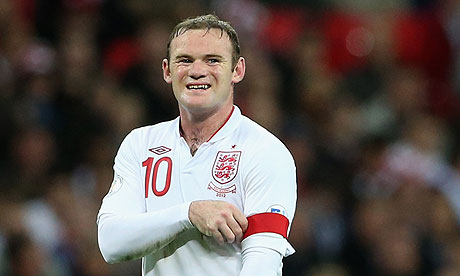 If the cap fits: Rooney will be next England skipper, reveals Hodgson (Matt Law, Sunday Mirror) Wayne Rooney will be England's long-term captain. The Manchester United striker has jumped ahead of Frank Lampard to ­become permanent vice-captain. And England boss Roy Hodgson claims Rooney has proved he can follow 32- year-old skipper Steven Gerrard and lead his country. Hodgson said: "Wayne was my vice-captain in the Euros – at least he was from the moment he could start playing again. "Steve was given the captain's armband and I made it clear Wayne would be the vice-captain."
Wayne Rooney's past wiped clean as he takes on England vice-captaincy (Paul Wilson, Observer) It is exactly a year since Rooney needlessly earned a suspension that almost put him out of the European Championship by earning dismissal for kicking out at an opponent in Montenegro, yet the player now says he has grown up and calmed down, and is more in control of his temper. Hodgson is not about to suggest otherwise. "If you are asking about maturity you are asking me to take on board previous games and situations, things that happened before I became England manager," he said diplomatically. "I don't like to talk about Rooney and England before I became involved in May. I'm not naive, I am aware that various things have happened over the years, but I don't want to dwell too much on that. I only want to judge him on what I have seen since I began working with him."
El Tel: Nothing can beat playing for the Three Lions (Sunday Sun)  
Poland v England: Manchester City goalkeeper Joe Hart hoping to frustrate Robert Lewandowski once again (Henry Winter, Sunday Telegraph) Warsaw's heaving, seething National Stadium this week could stage one of the defining duels of World Cup qualifying Group H when the pride of Poland, Robert Lewandowski, renews acquaintance with Joe Hart, the keeper of England's fortunes. The pair come face to face 13 days after Lewandowski's Borussia Dortmund threatened to run riot at the Etihad only for Hart's reflexes to keep them largely at bay. "I hope it won't be any different!'' reflected the Manchester City keeper. "Hopefully it won't be as open as the last time I played against him.'' Hart was beaten once, by Germany's Marco Reus, but otherwise seemed to project a force-field around his goal, repelling all Borussia attempts. Lewandowski could be forgiven a certain trepidation this Tuesday as he appeared daunted by Hart's feats in that compelling Champions League qualifier.
Giovanni Trapattoni
Giovanni Trapattoni: I'm not fighting to save my job and Republic or Ireland can still qualify despite Germany loss (Sunday Telegraph) The 73 year-old could only look on as the side ranked second in the world by Fifa trounced his makeshift team 6-1 at the Aviva Stadium and condemned them to their heaviest defeat on home soil. However, asked if Tuesday's World Cup qualifying Group C encounter in Torshavn could be vital to his continued presence at the helm, he replied: "No. "It's a long way to Tipperary. Germany have gone, but we are in there fighting with Austria and Sweden for qualification. Why not? "The players have to answer us and I am sure they can. We need to see their commitment in a very important situation here. "I am proud of those players because their commitment is full, 100 per cent. I don't accept players without this commitment."
Man City don't think Super Mario is a good role model
End of the road? City tell Balotelli he is not a role model they want (Simon Mullock, Sunday Mirror) Mario Balotelli has been told by Manchester City that he is not the kind of role model they want at the club. In a brutally honest assessment of the ­Italy international, City's influential ­Football Administrator Brian Marwood admitted Balotelli has an image problem that is now causing concern within the hierarchy at the Etihad Stadium. Sunday Mirror Sport exclusively revealed last week that City are ready to dump the £24million striker after a catalogue of ­controversial incidents since his arrival from Inter Milan two years ago. And, with City about to begin work on a new £200m training centre that will ­include a youth academy designed to produce stars of the future, Marwood has stressed how important it is for the club's senior players to set the right example.
Liverpool
Rodgers calling out for January reinforcements and says he won't tolerate another transfer mess (Mail on Sunday) Liverpool manager Brendan Rodgers has made it clear he will not tolerate another transfer-window disaster in January. Rodgers was left fuming when Charlie Adam, Jay Spearing and Andy Carroll were allowed to leave Anfield in August without replacements being signed. A broken foot for Fabio Borini has left Luis Suarez as the Liverpool manager's only fit senior striker, and Rodgers says he is looking forward to being busy in January with Celtic striker Gary Hooper and Theo Walcott, of Arsenal, reported targets.
Arsenal
Wenger told he has £35m to spend in January… but Arsenal boss unsure if he'll use it (Mail on Sunday) Arsenal manager Arsene Wenger has a transfer fund of more than £35million waiting for the January transfer window — but the Frenchman is still not sure whether to spend it. Arsenal would most likely sign another striker in January if Wenger does decide he needs reinforcements, with Athletic Bilbao's Fernando Llorente a potential target.
Spurs want Zaha
Zaha so good: Tottenham plan £8m raid for Palace wonder kid (Alan Nixon, Sunday Mirror) Tottenham are ready to splash out £8million on Crystal Palace wonder boy Wilfried Zaha in the transfer window, writes The People. White Hart Lane supremo Daniel Levy wants the exciting England Under-21 striker – the star of Dougie Freedman's high-flying Eagles side – and will pay big bucks to get him. Zaha has already been the target of £3million-plus offers from Wigan and Bolton, but Spurs are willing to pay more than DOUBLE that. Freedman has already warned suitors that Zaha is worth more than £11million.
Aston Villa want rid of Darren Bent
Unwanted goods: Aston Villa ready to sell Darren Bent (Tom Hopkinson, Sunday Mirror) Aston Villa are ready to sell Darren Bent in January as his feud with boss Paul Lambert deepens, writes The People. Liverpool and QPR will be alerted to the availability of the England striker who has been dumped on the bench by his club and stripped of the captaincy. Villa will listen to offers in the transfer window for a player they paid £18million to Sunderland for 18 months ago. The deal rises to £24m with add-ons over the course of his contract. Lambert made Bent captain at the start of the season but quickly handed the armband over to defender Ron Vlaar. Bent was then axed for games against West Brom and Tottenham, and People Sport understands the 28-year-old will be allowed to leave if the right offer comes in.
Senegal-Ivory Coast riots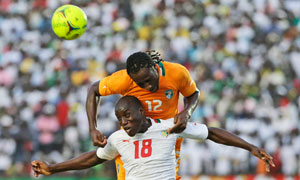 Didier Drogba and Premier League players caught up in Senegal riot (Observer) The former Chelsea striker Didier Drogba and seven Premier League players were caught up in a riot as Senegal's Africa Cup of Nations tie with Ivory Coast in Dakar was abandoned after police fired teargas inside the packed stadium when thousands of fans lit fires and threw rubbish in protest at the home team's show. The rioting forced the referee to abandon the second-leg qualifying tie with 20 minutes left and Ivory Coast leading 2-0 thanks to two goals from Drogba, the second from the penalty spot. The Premier League-based players involved in the match, included the Newcastle pair Demba Ba and Papiss Cissé lining up for Senegal, along with West Ham's Mohamed Diamé. In Ivory Coast's starting lineup were the Arsenal striker Gervinho, Manchester City brothers Yaya and Kolo Touré, and Newcastle midfielder Cheik Tioté.
More Hillsborough revelations
Hillsborough: as many as 58 victims could have been saved, experts say (Mark Townsend, Observer) As many as 58 victims of the Hillsborough disaster might have been saved if the emergency services had responded better, far more than estimated by the recent report into the 1989 tragedy. The Hillsborough Independent Panel said last month that 41 of the 96 Liverpool fans who died could have survived if the response had been quicker. However, further analysis of the medical documentation has led to that figure being revised sharply upwards, according to sources close to the families' campaign for justice. The news that more than 60% of those who died at Hillsborough could have lived will intensify pressure on the attorney general, Dominic Grieve, to reopen inquests into the tragedy.
Revealed: Plot to blame junior Hillsborough officer (Brian Brady & Jonathan Owen) South Yorkshire Police are to be quizzed over a suggestion that they plotted to shift blame for the Hillsborough disaster from senior officers on to a lowly "scapegoat" from the ranks, just four days after the fatal crush which cost the lives of 96 Liverpool fans. Peter Hayes, deputy chief constable of the force at the time of the disaster in 1989, discussed with senior colleagues whether a "terrified" junior "Officer X" might come forward and admit responsibility for opening the gates at the Leppings Lane end of the stadium – a move identified as a major cause of the catastrophe. He raised the possibility during a meeting with lawyers and insurers on 19 April 1989, documents published by the Hillsborough Independent Panel revealed.
United youngster in car smash
Utd ace Ryan Tunnicliffe nicked on suspicion of drink driving after smash (Sunday Sun) Footie star Ryan Tunnicliffe was nicked yesterday after smashing up a £60,000 motor within hours of getting the keys. The 19-year-old midfielder was breathalysed after the afternoon crash and arrested on suspicion of drink-driving. According to witnesses he lost control of the luxury black Range Rover as he took it for a spin round an industrial estate. He allegedly hurtled into a stationary van, shunting it 30ft into a wall. One onlooker said the young Red Devil looked "white as a ghost" as cops raced to the scene in Heywood, Manchester.
---
GAMBLING CAN BE ADDICTIVE, PLEASE PLAY RESPONSIBLY