Rooney opens up, Replacing Roy at Liverpool & Beckham for Spurs
Comment & analysis round-up
Quote of the day:Â "I went in to see the manager and David Gill and basically asked for answers. Looking back, it really was nothing to do with me. I just wanted to make sure that signing was the right thing to do and I got the answers in the end. But it was probably wrong of me to do that. I'm just glad it got sorted and it is all over now. That Thursday night I'd spoken with the Glazers, the manager and David Gill. They called me and just said the club was going to carry on moving forward and being successful. From there I phoned my agent and organised a meeting with David Gill. Then I went training the next day and, afterwards, it took only two hours to negotiate it. People said I was odds-on to go to Manchester City but there was no way I'd have gone there. Liverpool? There was more chance of me going to City than there. They were the two I wouldn't have gone to. It was a big time in my career and I know I've made the right decision. I've made myself happy." – Wayne Rooney.
Runner-up: "David [Beckham] could make a big impact. It's whether Galaxy will let him go on loan. If they did we'd be interested. He'd give the whole place a lift. He's been a fantastic player and someone the players would look up to and respect. He can do a job for sure. If he's over his injury and is as fit as he thinks, then he could still play at the top level. He could sit in his fantastic house with a pool and enjoy his life for a few months before he starts with LA Galaxy again. But he wants to come over here, freezing cold, and play football. That tells you everything about him. He's still got real passion for the game." – Harry Redknapp.
Hodgson apologises:Â "Things have been misinterpreted, I'm afraid people have taken one small comment where I was describing my situation. I was responding to a question about how it felt to be jeered by fans, making it clear it hurts me and I was disappointed by it because no-one wants to feel they are unpopular. I understand it is up to me to take it on the chin but it's not been an easy ride for me. It's been an uphill struggle and I was not the first choice appointment with a lot of fans. But if I have offended them in any way I deeply regret that. All I can do is apologise and make it perfectly clear there was nothing offensive in my comments."
The "oh really?" quote of the day:Â "The chairman, chief executive, the fans, everyone is suffering, probably to a level we did not expect, but we keep working and I'm confident at some stage we will get there. We keep working to do a good job, and at some stage we will turn things around. Honestly, with some experienced players, who've been out for some time, we'll be a better team. Maybe after mid-January this will be different." – Gerard Houllier.
Today's overview: Just as the Premier League's finest don't get to rest on New Year's Day, nor do Fleet Street and there is a fair amount of reflection on many of the press conferences on Friday.
Wayne Rooney opens up to MUTV and The Sun and his quotes on wanting to leave Manchester United and World Cup failure dominate the first day of 2011.
A number of papers also detail how Liverpool are looking for replacements for Roy Hodgson with Des Kelly writing a fine piece on Woy's "Gerald Ratner moment."
After Harry Redknapp's admission yesterday that Spurs want to sign David Beckham there is frenzied excitement that Goldenballs could be heading back to the Premier League and this is the biggest story of the first day of the transfer window.
Terry Venable, Barney Ronay and Jason Burt all get excited about the January transfer window whilst there is also comment on West Ham, Shakhtar Donetsk and the best football blogs.
Big Wayne Rooney interview: The Sun trumpet their big interview with Wazza (see quote of the day). The Manchester United striker also says:Â "My pre-match ritual is to go into the physio's room after the warm-up and pray – that's about it really. I'm quite relaxed, I listen to a bit of music. But I have my own iPod so I don't listen to what Patrice Evra puts on. Have my prayers been answered? It's been brilliant. I've been lucky to have won three Premier League titles, the Champions League and two Carling Cups. I'm hoping we can win more so I can try and get close to what Giggsy, Scholesy and Gaz Neville have achieved."
Rooney has also given a wide ranging interview to MUTV (perhaps the same one claimed exclusively by The Sun?). On his World Cup he added: "Before I met up with England, I wasn't really right. But I trained in every session with England before the World Cup and I felt fit. There was no problem with my ankle, but the World Cup was obviously a disaster. We were training well and everything seemed good. There was talk of trouble in the camp, but everyone was fine and there was no trouble. But in the games we were terrible really and we just didn't get going in the tournament. People say that the players don't care, but the players that were there all seemed to care and it does hurt. If we don't win it [the World Cup], there's always going to be disappointment, but we weren't good enough." The full transcript of the MUTV interview is here.
Also on United, the Daily Mail exclusively reveal "Manchester United have sent their supporters Happy New Year text messages — and  then asked them for help selling tickets. Sir Alex Ferguson's team begin 2011 as Barclays Premier League leaders but even the biggest club in the country are not immune from the effects of the recession. This week Old Trafford have sent out thousands of text messages urging ticket-holders to bring a friend to Tuesday night's game against Stoke. The text, which went out on Thursday, reads: 'Happy 2011 from Man Utd. To bring extra friends to Stoke on Tuesday call and we will try to seat you all together.'"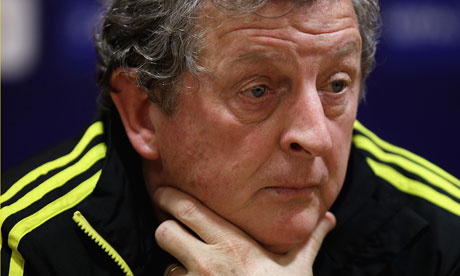 Replacing Roy: Tim Rich reveals "Roy Hodgson's days at Liverpool appear to be numbered after it emerged last night the club's American owners are ready to replace him midway through the season, if the right candidate becomes available. As the manager made an emotional plea to fans to get behind him and apologised for his perceived criticism of them after Wednesday's defeat by Wolverhampton Wanderers, Fenway Sports Group, which bought the club in October, had reportedly decided to start looking for his successor after six months at the helm. The former Barcelona coach Frank Rijkaard has been linked with the job, as have Didier Deschamps, Porto's André Villas Boas and Bolton's Owen Coyle."
David Anderson sings from a similar hymn sheet. "Roy Hodgson last night edged closer to the Anfield exit as the club's American owners began the search for his successor. Hodgson is on the brink going into today's clash with Bolton and John W Henry and Tom Werner want to have a replacement lined up if they decide to wield the axe. They are reluctant to name a caretaker boss, such as the Kop's hero Kenny Dalglish, and would prefer to make a permanent appointment. Henry and Werner want a young, dynamic manager and have started drawing up their shortlist, which is believed to include Owen Coyle, Frank Rijkaard, Borussia Dortmund's Jurgen Klopp and Porto boss Andre Villa Boas."
Des Kelly also predicts the end for Hodgson. "It was his Gerald Ratner moment. Roy Hodgson looked out at the sea of microphones and, in a fury over his team's defeat and humiliated by the jeers and chants from the crowd, the Liverpool manager decided to say his piece. 'Ever since I arrived, the famous Anfield support has not been here,' he complained. With that one line, he surely brought the curtain down on his brief and troubled Liverpool reign. The fans could not have reacted with more outrage if he had gone on to say he hates You'll Never Walk Alone, can't stand The Beatles and despises Cilla Black (although he'd probably get away with the last one). Hodgson committed the cardinal error of blaming the audience. He had told the paying public they were part of the problem at Anfield and not only a factor in his personal plight, but the team's struggles too. Just who was giving him media advice, I wondered. Paul Konchesky's mum, perhaps?"
Lee Dixon calls for Hodgson to be given time. "The Liverpool fans booing Roy Hodgson wouldn't be doing it if they knew he was going to be in the job for the next two seasons, irrespective of results. I think all managers should be given time to make the changes they want, and it is way too soon to judge Hodgson. Things are bad at Anfield but supporters need to get behind the manager, not jump on his back."
David Beckham to Spurs: Paul Doyle adds fuel to Harry Redknapp's quotes yesterday: "Although David Beckham has previously said that he could not envisage playing for any English club other than Manchester United, sources close to him tonight confirmed he would consider Tottenham Hotspur's offer. Beckham believes a loan move to the Premier League until the resumption of the Major League Soccer season with Los Angeles Galaxy in March will not only enable him to maintain his fitness but help him fulfil his ambition of adding to his 115 England caps."
Dominic Fifield and Louise Taylor argue the case for and against Beckham joining Spurs. Yes: "The list of Premier League clubs, led by Tottenham Hotspur, who would leap at the chance of securing David Beckham on a short-term loan offers an indication of the appeal the former England captain retains. His pool of suitors comprised six sides at the last count with managers still drooling over the veteran's delivery from the flank, both from open and set plays, and the influence he bestows within a dressing room. Past his pomp he may be but signing him requires no second thought."
Simon Cass highlights some reasons Beckham may join Spurs: "Spurs will face competition from a host of Premier League sides as well as from clubs in Italy, Spain and Germany, but they can offer Beckham Champions League football and are the team his late grandfather, Joseph, supported. In addition, Beckham was born in Leytonstone, just down the road from Tottenham's training ground, while 'Beckingham Palace' is also a short drive from their Chigwell base. Playing in the Premier League would also put Beckham right under Fabio Capello's nose as he tries to force his way back into the England reckoning."
Can West Ham survive?: Jamie Jackson: "West Ham United supporters will spend New Year's Eve sinking a few drinks to celebrate the back of an awful 2010. The club enters 2011 bottom of the Premier League while the fans contemplate an undesired tour of Championship grounds next season. What the Upton Park faithful hope is that their three-match unbeaten run is no false dawn. Avram Grant's side have collected five points against Blackburn Rovers, Fulham and Everton as signs appear that a team featuring Robert Green, Matthew Upson, Scott Parker and Carlton Cole are finally gelling."
The Transfer Window: Terry Venables welcomes the transfer window with some hyperbole in The Sun. "Like all the contenders, they now have the chance to improve their squad as we enter the second half of what has been an incredible and unpredictable campaign so far. All five clubs will fancy their chances of being crowned champions. They have shown they can do the business on the pitch. But it is the business they do off it this month that could determine where they finish in May."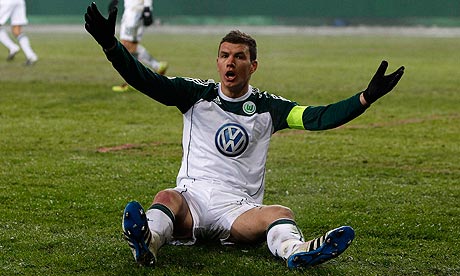 Barney Ronay gives his take on what the window does to the gossip. "The main reason I like the window is the energising effect it has on transfer rumours generally. Inflamed by the corset of regulation, there is a wild creativity abroad. Arsenal have been linked with a swap deal for North Korea's Under-17 midfield enforcer Chung Ji-pah, with Emmanuel Eboué moving the other way to become minister for fisheries. Chelsea are about to sign Brazilian playmaker Ze Robertinho, inventor of the 'centipede dribble', which involves lying on top of the ball and slowly crawling beneath a tree stump. David Beckham is on his way to Spurs. Daily, we're swamped with this stuff, which, in turn, has a stimulating effect on the rumour gland itself, creating a state of almost constant, tantrically delayed transfer arousal."
Jason Burt wonders if the loan market has collapsed. "Most interesting of all is the expected collapse of the loan market which, traditionally, had been the most obvious place for clubs to try to bolster their squads at this time of year. After all, if their Premier League status is in doubt, why would a club risk making a potentially ruinously expensive permanent signing? But the tightness of the league has also led to another factor – clubs are far less likely to loan within the Premier League because of how close things are. Do they really want to strengthen their rivals?"
Transfer gossip: The Sun say Fulham's bid for Nicklas Bendtner has been rejected, Daniel Sturridge wants to go on loan to Liverpool and Leeds want old boy Jonathan Woodgate on loan. The Guardian run with West Ham tracking Robbie Keane and Wayne Bridge and Arsene Wenger's admission that Manuel Almunia can leave Arsenal.
The Daily Mail claim Manchester City have contacted Anderlecht over starlet Romelu Lukaku and Newcastle will listen to offers for Sol Campbell. In the Daily Mirror we learn "Liverpool are ready to beat Jose Mourinho's Real Madrid to the £15m signing of France star Yann M'Vila" and Gerard Houllier will not sell Ashley Young or Stewart Downing in January.
Jonathan Wilson: The tactics guru writes of 2010 in eastern Europe and hails Shakhtar Donetsk. "There are those who will instinctively dislike Shakhtar because they are oligarch-driven, but it is hard to believe any oligarch has driven his club was well as Rinat Akhmetov. He has shown great patience, giving Mircea Lucescu six years to construct a squad that plays intelligent, attacking football, and has supplanted Dynamo Kyiv as Ukraine's pre-eminent team, winning four of the past six titles. They went into the winter break 12 points clear. There are those who complain they are over-reliant on imports and don't develop enough of their own players – a particular frustration given Ukraine's recent encouraging performances in youth competition – but that tends to be the way in modern football."
2011: Sam Wallace and Mark Fleming pick 11 young players to watch in the coming 12 months. "William Keane: Manchester United. No relation to Roy, William turns 18 this month and is coming up to that stage for so many talented United academy players where they have to go out on loan to get first-team experience. A reliable goalscorer at academy level, Keane has played in the reserves this season and has scored goals at that level too. A striker, he won the club's young player of the year award, the Jimmy Murphy prize, at the end of last season. Born in Stockport, his twin brother Michael is also at the club. Unlike William, who has played for England at youth level, Michael, a defender, has chosen to represent the family's native Republic of Ireland."
Football blogs: James Dart profiles 100 football blogs to follow.
Click here for more Premier League betting tips
---