Rooney lauded while Balotelli-Mancini slaughtered after United beat City, Henry agrees Arsenal loan & Chelsea seek Serb
Comment & analysis round-up
Quote of the day: "Leo is supernatural. He doesn't have limits. We'll always have to remember everything he gave us. We have to enjoy every minute we have with him." – Gerard Piqué.
Runner-up: "It was so disappointing in the end. It has been our adventure so far this season. If we count the number of goals we concede in the last 15 minutes, we would be top. Small details have cost us so much. Everton got more aggressive with the long balls in the end we couldn't deal with them. There are so many different reasons why we conceded late – it is not easy to explains because some come from different situations." – Andre Villas-Boas.
Man United: The Monday Bragging Rights
This was the special one (Sun) Sir Alex Ferguson hailed his greatest-ever derby triumph as Manchester United went six points clear at the top of the Premier League… United boss Fergie said: "We've done it in the past against City but today was a special one simply because they haven't lost at home for two years and both teams are contending at the top of the league."
Manchester United striker Wayne Rooney shows why he is Sir Alex Ferguson's most important player in derby win (Alan Hansen, Telegraph) Wayne Rooney gave an almost perfect performance for Manchester United against Manchester City and showed just why he, rather than Robin van Persie, is the one player you would always want in your team. Van Persie has been a fantastic addition to the United team and he showed that again with his late winner at the Etihad, but his goals are really the icing on the cake.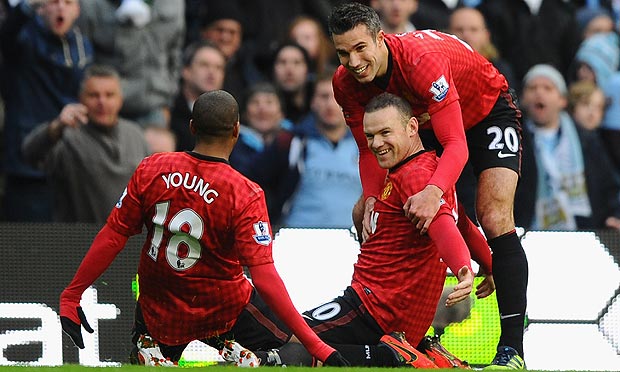 Clever Roo's the youngest to 150 (Sun) Wayne Rooney became the youngest player to hit 150 Premier League goals — as Manchester United moved SIX points clear at the top of the table… The brace also gives Rooney 10 goals in Manchester shootouts — making him United's greatest derby goalscorer. It puts him alongside City's Francis Lee and Joe Hayes as all-time top scorer from either side in these encounters.
The Wayne Rooney show (Guardian) The Liverpudlian continues to build a credible case as a Paul Scholes with pace. After an anonymous start that featured two sharp tackles that may have got him booked, Rooney became the first half's slickest operator, adding two goals as he roamed in and around the fringe of the City area. Each of his goals came from the handbook of classic No10 strikes.
Manchester United's fast breakaways down flanks cut City wide open (Michael Cox, Guardian) United recorded their lowest pass completion rate and their lowest share of possession this season but this was a natural consequence of playing on the break. This approach will not be possible in the majority of Premier League games, but Ferguson appears to have found his "big game" strategy and, with the exception of Nemanja Vidic's imminent return, he has found the right combination of players too.
Manchester United enjoy blockbuster ending on Manchester's day of thunder (Sam Wallace, Independent) It is remarkable that this Manchester United side find themselves six points clear at the top of the Premier League, a lead for which they can thank, in part, the poor form of City and Chelsea among others.
Man City: The Monday Recriminations 
Rob rage at Hart and Balotelli (Sun) Roberto Mancini flew into a dressing-room rage after City lost the Manchester derby to Robin van Persie's late free-kick. Mancini tore into keeper Joe Hart saying, "It's your fault" as City's unbeaten Premier League record was ended dramatically. The City boss then turned his attentions to misfiring striker Mario Balotelli, Carlos Tevez and Samir Nasri. Balotelli was surprisingly chosen to start but was hauled off early in the second half and replaced by Tevez. A dressing-room insider said: "Mancini was going mad, he just seems to pick fights with everybody."
Mancini got it so wrong again (Steven Howard, Sun) Having made the absurd decision to start the game with Mario Balotelli — the strutting prima donna with an average this season of one goal every 535 minutes — he saw his side totally outplayed as the outstanding Wayne Rooney scored twice to give United a 2-0 lead at the break… He talked of the agony of losing with almost the last kick. And the agony of having to live with Balotelli. Yet not for a minute would he admit any responsibility. His excuse, one we hear increasingly these days, is that it is very easy to be wise after the event. Yet Mancini should have known that the moment he inked in Balotelli's name on the teamsheet rather than Carlos Tevez, a player who always troubles his former club, that it would blow up in his face. Everyone else did. Why not him?
Sell Mario (Jamie Redknapp, Mail) How many chances does Mario Balotelli need? How much more can City take of his unprofessionalism and bad attitude? Roberto Mancini trusted him yesterday and he let his manager down again. Get him out in January, but who will want to solve City's problem?
Mancini made a mistake by choosing Balotelli over matchwinner Tevez (Martin Keown, Mail) I don't understand why Carlos Tevez is not an automatic pick — he's City's matchwinner. His introduction gave us a proper football match and he played like a man possessed. Unlike Mario Balotelli, he chased down everything and gave the United defenders a torrid time.
Mancini blasts Balotelli as striker storms off after being replaced in Manchester derby (…and fans then mob his camouflaged car!) (Mail) Roberto Mancini has ordered Mario Balotelli to 'start thinking about his job' after the Italians stormed down the tunnel after being replaced just minutes into the second half of the Manchester derby… Balotelli's day didn't get any better after the final whistle – as he tried to escape the ground in his camouflaged Bentley Continental GT, he was mobbed by Man United fans.
It's got to be all over for Balotelli after this disgraceful show (Mark Lawrenson, Mirror) If I were Roberto Mancini this morning I would call Mario Balotelli into my office. I would also get hold of his agent and say: 'Right Mario, sort out your transfer, you can leave tomorrow.' Honestly. I would sell him on the first of January if I could. Because he was an absolute disgrace yesterday.
Mancini no nearer solving the Balotelli problem (Ollie Holt, Mirror) Mancini has got a classic rebel without a cause on his hands and it is clear he is growing utterly ­exasperated. He may not have given up on the Italian striker, who has only scored three goals this season, but he seems at a loss as to how to get the best from his talent.
Tossers! Rio Ferdinand & The Coin
Coin tosser could have blinded Rio (Sun) Cops were last night hunting a soccer yob who hurled a 2p coin at Man United ace Rio Ferdinand — almost BLINDING him.
PFA chief calls for netting around pitch to protect players after Ferdinand is hit by coin from crowd during shameful scenes in  pulsating Manchester derby (Mail) Taylor told BBC Radio 5 Live: 'I think you've got to give consideration to possibly, as has been suggested, some netting in vulnerable areas, be it behind the goals and round the corner flags.'
Madchester: Ferdinand hails Hart for stepping in as derby descends into chaos (Mirror) Ferdinand tweeted: "Respect to Joe Hart for protecting that idiot who ran on!! Love the banter between fans but there is a point when it goes too far…calm it!"
Lionel Messi: All Hail The Greatest
Messi Mullers goals record (Sun) Writing on Facebook, Messi said: "It was important to win the game today and pretty amazing to beat Gerd Müller's 85 goal record. A really big thank you to all my team-mates and fans who have made this possible! Thank you very much for your incredible support. I could not have done this without you!"
EIGHTY SIX goals in ONE year… and he's not done yet! Messi breaks Muller record with early double strike against Betis (Mail) Debate will now rage about exactly who had the better year. And for once Messi might come off second best. Of Muller's 13 international goals, six were scored to help Germany win the European Championship, including two in the final against the USSR. Messi's international goals have all come in friendlies. Muller had such a good year in 1972 that Barcelona almost signed him a year later for 30m pesetas – around £150,000 – but Bayern were pressured not to sell just a year before the World Cup finals were to be held in Germany. Barcelona signed Johan Cruyff instead.
Showering Praise On Shelvey & Joe Cole
Stand-in Shelvey hailed after leading Liverpool to victory at West Ham (Mail) Brendan Rodgers hailed Jonjo Shelvey's 'outstanding' performance as a lone striker in place of the suspended Luis Suarez after Liverpool's 3-2 victory at West Ham.
Joe Cole goes back to the future to show that he can do more than just warm benches (Independent) Cole began the afternoon in his now customary role as bench-warmer but injury gave him his chance and after a hesitant start he turned a match which had been shaping up to provide further confirmation of Liverpool's modern mid-table mediocrity. He also provided a hint that his glorious future may not all be behind him as his gamecraft enabled Liverpool to overcome the absence of a recognised striker.
Backing Benitez?
Rafa rap has to stop at Chelsea (Steve Brenner, Sun) Chelsea fans are going to have to make a decision soon. They can sing all they like of how they do not care about Rafa Benitez and how he does not care about them. And yes, the Shed End can continually bark out the name of Roberto Di Matteo. What good does it do, though?
Torres revival faces sterner tests ahead (Guardian) Did you see the light Fernando? Your star is shining bright. The only disappointment for Mr Torres after scoring twice – and proving unlucky not to get three – at Sunderland was that the Stadium of Light did not serenade him with a burst of Abba's Fernando at the final whistle. That old cliche about form being temporary but class permanent is a bit tired but it could well turn out to be true in the case of Torres. A Rafa Benitez inspired recovery is not yet complete but there are enough encouraging indications in his game to suggest that the Spain striker could soon be sticking two – strictly metaphorical – fingers up at his critics.
Cheat Cazorla
Diving Cazorla should be banned for three games, just like Wenger wanted (Graham Poll, Mail) Back in April, after Manchester United's Ashley Young had come under fire, Wenger said: 'If an obvious dive is punished by a three-match ban, the players would not do it any more. I would support it. It has to be obvious diving.'
Oh No, O'Neill
Mart in trouble ahead of Royal rumble (Alan Shearer, Sun) I was with Alan Hansen on Match of the Day on Saturday night and he said he thought Sunderland would be OK. I had to take issue with him because I can see nothing to suggest Sunderland will be in anything other than a season-long battle against the drop. Right now they are looking like a team heading down… This is the main problem with the modern Match of the Day. There were highlights of six matches delivered from the shiny new set in Salford on Saturday, not one definitive game. But then Match of the Day is not definitive any more. That happens on a Monday night on Sky with Gary Neville and his interactive white board. MotD is now occupying a beige middle ground of irrelevancy.
Monday Op-Eds
Wake up Gary, or Match of the Day's old boys' club may close for good (Laura Williamson, Mail) The BBC website features a page called 'How to watch Match of the Day'. Increasingly, however, the answer is quite simple. Record it and fast-forward past the 'analysis' between games or risk water intoxication (or a nasty hangover) by putting the kettle on or topping up your wine glass every time the Three Wise Men come on to your screen in their smart-casual, open-necked shirts.
It is incredible that South American clubs aren't swept off the global stage (Sam Wallace, independent) The Club World Cup and its former incarnation as the one-off game, the Inter-Continental Cup, is one of the most stunning examples of the power of South American football. Europe takes away the continent's best players, sometimes, in the case of Lionel Messi, before they have played professionally in their home nation, and yet for all that the South Americans are still competitive.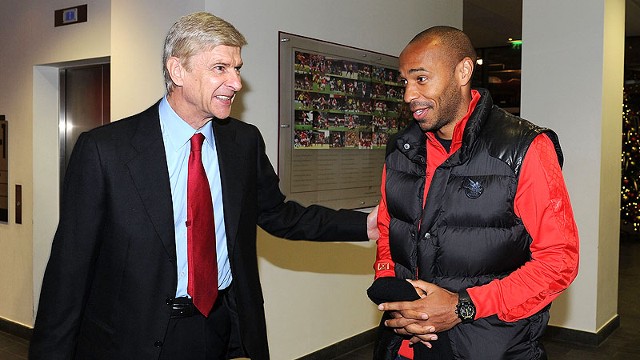 Transfer Lies
Arsenal legend Thierry coming back again and wants to stay (Mirror) Thierry Henry has agreed to return to Arsenal for a third time – and wants to stay for the rest of the season.
Chelsea to kick-start January spending with £8m deal for Serbian youngster Markovic (Mail) Chelsea are close to finalising an initial, £8million deal for Serbia wonder kid Lazar Markovic, 18… He has also scored six goals in 12 games for his club, Partizan Belgrade, this season. Liverpool, Arsenal and Inter Milan have all been negotiating with Partizan, who want a deal which eventually rises to around £14m based on appearances. However, Chelsea are the player's preferred option.
Saints back in for Dann (Sun) Southampton will revive their interest in Blackburn defender Scott Dann next month. Saints boss Nigel Adkins was put off by a £6million fee in the summer. But he is now willing to table a new offer for the 25-year-old who has returned to form.
Adkins wants Hooper reunion as Saints boss prepares bid to lure Celtic striker to South Coast (Mail) Nigel Adkins wants Celtic striker Gary Hooper to join Southampton in the January transfer window… Adkins wants Hooper to play alongside Rickie Lambert in the Southampton attack as they look to extend their spell in the top flight.
Aston Villa, Norwich and QPR Keane on bringing Robbie back to Premier League (Mail) The former Tottenham striker has has no plans to move back to the Premier League at the moment, but that will not stop the interested parties from trying to tempt him back.
---
GAMBLING CAN BE ADDICTIVE, PLEASE PLAY RESPONSIBLY