Ronaldo pledges his future to Manchester United, Evra claims he is the best left back in the world & "can no decent home be found for poor little Michael Owen?"
Comment & analysis round-up
Quote of the day: "At the moment I'm only thinking about the [Champions League] final, independently of what will happen to me or my team-mates next season. I'm sure [Florentino] Pérez [who is expected to be elected Real president next month] would create an incredible team at Madrid, but at the moment I'm at United and I don't care about what happens there. I only care about what will happen next season at Manchester United." – Cristiano Ronaldo.
Runner-up: "Last year was last year and this is totally different but I was very proud of myself after that semi-final because I knew I'd done my job, I won't forget that, but this is a new year. Is he a better player now? Well, he's scored more goals this season and probably been more consistent so maybe it will be even tougher. The thing against Messi is, you can stop him 10 times but if he passes you once and scores, everyone will say 'Oh, Evra had a poor game'. That's why you have to be focused for the whole game against him… I had one bad game in the Carling Cup final and suddenly people were saying I wasn't the same player. I thought to myself, 'I've played for Manchester United for three years, I've had one bad game, and they're saying this?' So I was actually happy with the criticism because it made me believe that, yes, I am the best left-back in the world." – Patrice Evra. (To aid Evra, The Times have provided a helpful graphic of "how to stop Lionel Messi".)
Today's overview: The Manchester United-Barcelona Champions League final is already the talk of the backpages.
The Sun run with the non-story that Carlos Tevez and Dimitar Berbatov won't start in Rome, in an article titled "Tevez final insult." "Carlos Tevez will be a sub for the Champions League final in Rome — signalling his exit from Manchester United. He will be joined on the bench by Dimitar Berbatov for the game against Barcelona as Alex Ferguson sticks with the strikers who tore apart Arsenal in the semi-final. Tevez will see it as the final insult, proving that he must leave to get regular first-team football."
Steven Howard (The Sun) writes of the Carlos Tevez situation. "Well, if he really does want to play for United then I suggest he volunteer his services at Hull on Sunday. It's not as if he will have to save himself for Wednesday in Rome where, once again, he will be on the bench. Making himself available for United's contentious trip to Humberside would be a tremendous gesture to both United supporters who have taken Tevez to their hearts and to the game in general."
On Cristiano Ronaldo's latest comments confirming his desire to stay at Old Trafford, Oliver Kay adds that "United will now gauge whether Ronaldo's commitment is genuine by seeing whether he would be willing to discuss an extension to his £120,000-a-week contract, which runs until June 2012."
Matt Hughes responds to Lionel Mess's comments that Barcelona "deserve to win" the Champions League. "Barcelona can hardly be accused of not believing in their own publicity, as one would expect from an organisation whose slogan is 'more than a club'. The shock of being a minute from elimination at the hands of a Chelsea side whom the Catalan team viewed with contempt has clearly subsided, because Lionel Messi stated yesterday that Barcelona deserve to win the Champions League because of the quality of their football." 
Also ahead of Rome, Sir Alex Ferguson in The Times "goes back to his roots to reveal what turned a young, abrasive shipyard shop steward into a legend of the game." Duncan White in the Telegraph asks "who will Ferguson pick in Rome?"
Pete Jenson in The Independent profiles Barcelona manager Pep Guardiola. "Guardiola has spent most of the season calming the euphoria that has surrounded a record points and goals haul in La Liga for Barcelona. He has often referred to himself as 'lucky' as those around him have tipped him to become the greatest manager the club has ever had. But as far as the venue for the final goes fortune has perhaps not smiled on him. After finishing his career at Barça, he went to Italy where he played for Roma in the Olympic Stadium. 'What memories do I have?' he said. 'Well, mainly I remember the bench! I didn't play too many games. They were intense years with some good times and some bad times too.'"
Looking ahead to Newcaste's do-or-die match against Aston Villa, Harry Pearson concentrates on Michael Owen. "Call me foolish if you like but I have to confess the current media campaign featuring heart-tugging photos of those moist, dark eyes set in that beseeching little face is upsetting my emotional equilibrium. Indeed hardly a day has gone by over the past month when I have not cast the newspaper aside of a morning, dabbed the salt tears from my cheeks and cried out, 'For pity's sake, can no decent home be found for poor little Michael Owen?'"
Further comment on Survival Sunday comes from Stan Bowles, who "doesn't care who goes down as long as it's Sunderland."
Also on the last day of the Premier League, The Independent salute Roy Hodgson. "Let us briefly celebrate an even more remarkable achievement: that of Roy Hodgson, the modest, wise old owl from Croydon, in taking Fulham from the narrowest possible relegation escape last season – on goal difference, by a goal scored 10 minutes from the end of the last match – to the brink of European Competition. If Fulham win or draw their last game against Everton on Sunday, they finish seventh in the table and will be on their travels."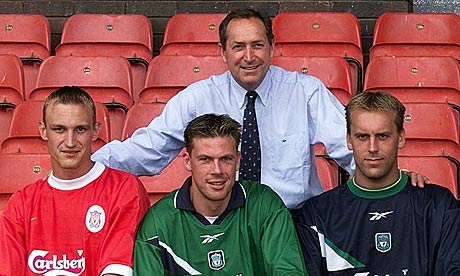 With his final game for Liverpool approaching, Andy Hunter speaks with Sami Hyypia. "I won't like being the centre of attention, not at all. But in this case I have no choice, it is not like I am retiring. I have a new challenge ahead of me but it will be very emotional and it is better not to think about that too much before the game."
In other news this Friday morning, Cesc Fabregas has been cleared by the FA over the spitting row with Hull City's Brian Horton and Phil Brown. And all the papers also report this morning that UEFA are ready to throw the book at Didier Drogba for his antics after the Chamions League semi-final second-leg against Barcelona.
In almost the only article reveiwing the UEFA Cup final in any of the English papers, Jonathan Wilson explains what it will mean to a Shakhtar fan to have seen off Werder Bremen. "It's for the likes of Zenit and Shakhtar, Werder Bremen and Rangers, Sevilla and Sporting, Marseille and, yes, Middlesbrough. Their comebacks from three down against Basel and Steaua Bucharest in 2006 stand alongside the Wilf Mannion-inspired demolition of Blackpool in 1947 (the only game his future wife Bernadette ever attended) in the collective consciousness of the club – and football, surely, is about those memories rather than the ground-out draw that secures a comfortable 13th-place finish. Sides of that middling stature should be allowed a chance of success and the Europa League, as the Uefa Cup did, gives them a chance to dream, perhaps even to progress. So what if it's a secondary competition? Assuming you can find a sober Shakhtar fan in the next week, just ask them if it feels second rate."
The made up transfer stories this morning include Rafa and Harry's battle over Glen Johnson, Arsene Wenger to bid 15 million pounds for Brede Hangeland and Sebastien Bassong's comments that he will leave Newcastle if they go down.
The Daily Mail go with Chelsea and AC Milan chasing Emmanuel Adebayor and the news that Middlesbrough winger Adam Johnson has rejected a new deal at the Riverside. And The Mirror bring the surprise news that West Ham are looking to offload Dean Ashton this summer.
---