Ronaldo could return to Manchester United for £60m, Ba heading to Chelsea & Walcott set 2-week deadline for new Arsenal deal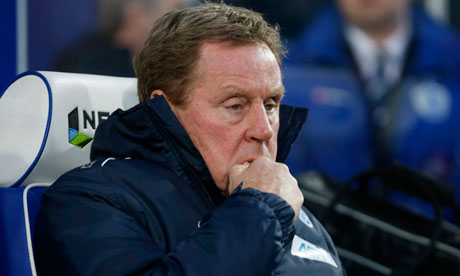 Comment & analysis round-up
Quote of the day: "I still think we'll stay up. People will think I'm mad, but I think we will. I only want positive players around me. I said that in the dressing room after the match. Those who are moping around … the subs are not playing because they're no good. If they were any good, I'd be picking them. I don't need miserable faces, I don't need them around me. I need people who are upbeat because the next two games are unbelievable, Chelsea away and Tottenham at home … two of the best teams in the country. But we've got to keep going and I still think we'll do it. I know what the problems are. You need to have everyone working as a team together. If one or two don't buy into it, you have a problem. A few have miserable faces too often for some reason. If there are people who don't want to be here, as soon as the window opens we'll see if we can fix something up for them if we can, but it's not easy moving people on. Bosingwa's injured, he has been ever since the day he wasn't on the bench [against Fulham]. Not fit to train. But I've had a good chat with the players, a meeting, and they'll be in on Monday and we start again. You don't give up." – Harry Redknapp.
Runner-up: "I've got Chelsea in me for life because of what they've done for me since I've been here. The supporters were amazing — they have been from the minute I've been here. They have always been behind me. They back their team and I can't thank them enough. What I hope the New Year brings for me is playing in a winning team." – Frank Lampard.
Cristiano Ronaldo could return to Manchester United for just £60m
Come 'n get Ron (Antony Kastrinakis, Sun) Cristiano Ronaldo will NOT cost Manchester United £122million if he quits Madrid. If Ronaldo genuinely wants to leave, then Real's asking price will tumble and players will come into the negotiations. The fee would be around £60m with David de Gea and possibly Nani joining Real. SunSport broke the bombshell news that Ronaldo has confided in his former Manchester United team-mates that he would love to return home to Old Trafford. In last week's column I told you Ronaldo could now force his way out of Madrid as he will have just two years left on his contract in the summer. On Wednesday Madrid sports daily AS splashed with the news Ronaldo will not renew his deal. The article was signed by one of his close friends.
Chelsea close in on Demba Ba
Ba gets £2m 'loyalty' bonus from Newcastle as dream move to Chelsea nears (Neil Ashton, Daily Mail) Demba Ba will be paid a £2million loyalty bonus by Newcastle United as he prepares to complete a dream move to Chelsea. Ba's agents staged talks with Chelsea last night and the European champions are expected to trigger his £7m January 1 release clause tomorrow. Newcastle have accepted Ba's departure and are confident his replacement will be at St James' Park to watch the team play Everton on Wednesday. Ba, 27, who has scored 13 times in the Barclays Premier League for Newcastle this season, negotiated the amazing loyalty bonus when he moved to the club in 2011.
Toon's Demba will be first of THREE Chelsea buys in January (David Anderson, Daily Mirror) Demba Ba was last night set to become the first of three Chelsea transfer window signings. The Newcastle striker was locked in talks over a £7.5million switch to Stamford Bridge. And Rafa Benitez's spending won't stop there, with a £10m move being lined up for Metalist Kharkiv's midfielder Taison followed by Corinthians' Paulinho. Chelsea are prepared to activate the buy-out clause in Ba's contract to make him their first signing of the January window. They have moved for Ba because £48m-rated top target Radomel Falcao says is staying at Atletico Madrid at least until the summer.
Isn't Frank Lampard terrific
Frank Lampard shows Chelsea his predatory instincts are undimmed (Richard Williams, Guardian) Lampard captained the side in the absence of the injured John Terry, as he did in Munich last May when, with Terry suspended, Chelsea won the European Cup. If it is hard to imagine the club parting with a player who has given them so much over 11 and a half seasons, it is also necessary to look at his transfer value, which might be considerable during the coming transfer window but will dwindle to zero when he becomes a free agent in six months' time. "Sign him up," the travelling fans chanted after he had equalised three minutes before half-time and nudged Chelsea into the lead with just under half an hour to play. But with Uefa's financial fair play demands looming, Chelsea's money men might see this as an opportunity to adjust the balance in their favour by putting a few million in the bank while getting a big salary off the payroll and making more space for the younger men deemed to represent the club's future. But Lampard's commitment to the cause would be missed, as would the enormous experience and footballing wisdom of a man whose relevance on the pitch appears to be barely diminished.
Lampard's wise old head offers timely reminder to Benitez that every revolution needs a leader (James Lawton, Independent) If the true test of any revolution is not the slaughter of lame ducks but successful hand-to-hand fighting in the meanest of streets, it is time to acknowledge the one Rafa Benitez has vowed to achieve against so many odds at Chelsea. He may still be a long way from the presidential palace but the victory at Everton was by far the most searching test of a manifesto which has promised a late but significant entry into the Premier League title race. However, nothing is simple at Chelsea, not even the winning of the Champions League, and it was entirely typical of Benitez's situation that the man who delivered yesterday's triumph under the most biting of pressure had already been pronounced time-expired by the Stamford Bridge hierachy.
Alan Hansen: Chelsea must not bid farewell to Frank Lampard the best player they have ever had (Alan Hansen, Daily Telegraph) When Frank Lampard leaves Chelsea this summer, he will do so as the finest player in the club's history. It is a compelling argument, and no doubt the Stamford Bridge faithful will have a view on the greatest to ever wear the Chelsea shirt, but for the full package I can't believe there has been anyone better. When you look at the best there has ever been, you list all their attributes. More often that not, even outstanding players have one or two flaws. There is no weakness in Lampard. He scores goals — his return is extraordinary for a midfielder — he can defend, he has character and temperament, he finds the net with either foot, can head the ball and, perhaps most importantly of all, he is a winner – the ultimate professional on and off the park.
Walcott set 2-week deadline for new Arsenal contract
Arsenal set two-week deadline for in-form Walcott to sign new deal to keep him at Emirates (Sami Mokbel, Daily Mail) Arsenal want Theo Walcott's long-term future secured within the next fortnight. Club officials are working to set up a second round of formal contract discussions with the player and his representatives in the next 14 days. Arsenal are increasingly optimistic a deal can be reached. Sportsmail understands the 23-year-old's preference is to stay.
Let's striker deal! Wenger's given Walcott his preferred role NOW he must sign (John Cross, Daily Mirror) Arsene Wenger will challenge Theo Walcott to sign a new five-year deal by telling him: I've kept my side of the bargain so keep yours. Wenger is hoping that giving Walcott an extended run as a striker will be the key to a breakthrough in contract talks as both parties prepare to sit down together within the next fortnight. Mirror Sport revealed on December 18 that Wenger had held peace talks with Walcott after his contract stand-off and immediately gave the England winger his wish to play up front. Arsenal boss Wenger, chief executive Ivan Gazidis and transfer fixer Dick Law are anxious to now set up more negotiations and will try to persuade Walcott to sign.
Theo Walcott answers critics but Arsenal's striking questions remain (Paul Doyle, Guardian) It says everything about Theo Walcott that he can score a hat-trick and create two other goals yet still not settle the argument as to whether he is best deployed as a centre-forward or a winger. And it says a lot about Arsenal that despite Walcott's feat and the fact that Olivier Giroud came close to matching it in just a quarter of an hour on the pitch against Newcastle, there is still a widespread view that Arsène Wenger urgently needs a striker such as Demba Ba. "Let's keep those we have, that is the first target," answered Wenger when asked whether he would make a move for a new centre-forward as soon as the transfer window opens in January. That was a reference to his desire to secure a new pledge of allegiance from Walcott, who continues to haggle over a proposed extension to his contract that expires in the summer. The 23-year-old showcased his exceptional talents in spectacular style against Newcastle, yet Ba demonstrated some of the skills that Walcott still lacks and showed why Wenger is considering further investment.
Theo exit would sink Gunners (Alan Shearer, Sun) Arsenal have got to do everything to make Theo Walcott stay at the Emirates or simply forget about being a major force for years to come. It is that big an issue at the club right now. Lose him to one of the big three of Manchester United, Manchester City or Chelsea and I would not blame Arsenal fans for giving up. They have seen far too many good players leave with the departures of Cesc Fabregas and Robin van Persie the major body blows, of course. Let Walcott leave as well and they are on the back foot immediately when they try to bring any major signing to the Emirates. They made a big statement of intent recently by signing up five of their bright young stars on long-term deals, most notably Jack Wilshere.
Happy 71st birthday Sir Alex Ferguson
Ferguson refuses to count candles but can wrap up title (Tim Rich, Independent) This is a morning for statistics at Manchester United. It is their manager's 71st birthday – an age Sir Alex Ferguson once vowed would see him retired – and they go into the new year with the kind of lead no club in the history of the Premier League has ever tossed away. Bigger post-new year leads have been squandered – on Easter Sunday, United were eight points ahead of Manchester City with six games remaining while Newcastle were famously 12 points clear of United in 1996. However, the fact remains that since three points for a win was introduced only one club, Arsenal in 1986-87, has reached the new year with as big a lead as United's and failed to be champions by May.
Manchester United to launch bid for Wilfried Zaha
Fergie wants: United will launch £8m bid for Palace dazzler Zaha this week (John Cross, Daily Mirror) Sir Alex Ferguson will launch an £8million bid for Crystal Palace wonderkid Wilfried Zaha this week. Manchester United boss Ferguson and Arsenal will go head-to-head in January after Zaha admitted publicly he wants to move to the Premier League. Tottenham are also keen but Mirror Sport understands that Zaha sees it as a straight choice between Arsenal and United and he does not want to go anywhere else. Palace boss Ian Holloway insists Zaha, 20, will not be sold in January but the England international's decision to go public on his desire to leave has now forced the issue.
Harry Redknapp wants to be reunited with Joe Cole
Redknapp in talks over taking Cole on loan with a view to buy… if QPR stay up (Sami Mokbel, Saily Mail) Queens Park Rangers manager Harry Redknapp is closing in on a reunion with Joe Cole. Sportsmail revealed the Loftus Road club's interest in Cole on November 30 and Rangers have now opened talks with Liverpool — who beat them 3-0 — over a January switch for the midfielder, 31, who was given his professional debut by Redknapp at West Ham in 1998. Redknapp is hoping to seal a loan deal ahead of a permanent move if Rangers avoid relegation. But if Cole and Liverpool agree a severance package for the 18 months left on his £90,000-per-week deal, he could join permanently next month.
FA confirm Bale booking
Gareth Bale's booking for diving at Sunderland must stand, says the FA (Luke Edwards & Jeremy Wilson, Daily Telegraph) The Football Association has refused to rescind Gareth Bale's latest yellow card for an alleged dive despite furious suggestions from Tottenham that their winger is being persecuted by referees.  Bale will now miss Tuesday's match against Reading for what was his fifth caution of the season, even though three of those bookings have come in the last five games for highly contentious incidents of supposed simulation. The issue of diving has been placed at the forefront of referees' minds this season following high-profile incidents involving Luis Suárez and Santi Cazorla, and there is a clear sense at Tottenham that Bale is being punished for his reputation rather than the reality of recent incidents. On Saturday, Bale went down under a challenge from Sunderland's Craig Gardner when there had clearly been contact but was still cautioned by referee Martin Atkinson. Andre Villas-Boas, the Tottenham manager, claimed that Bale's treatment "looks like persecution" and the Wales winger also took the unusual step of speaking out on the issue himself after the game. "That's three times now I've been clipped and booked for no reason," said Bale.
---