Roberto Mancini facing CL ban, Arsene Wenger also rages at the officials & Stevie G wants to play for Mourinho
Comment & analysis round-up
Quote of the day: "I said to the referee that it was a goal. I didn't see the last situation with Mario, but my players say it was a penalty. The referee and his staff were really poor tonight. The cameraman wanted to film me and he followed me all over the pitch. I said to him 'finish, finish' because it's not about me, it's about the game. I said to the cameraman, 'finish, go'… Now it is very difficult. If we win our next two games and go through with eight points, then we will win the Champions League. That will be our destiny. We have conceded six goals in two games against Real Madrid and Ajax, games we could have won. We had many chances to score today, but probably this is not our moment in the Champions League. Perhaps Dortmund and Real Madrid are better than us, maybe Ajax also." – Roberto Mancini. 
Runner-up: "There was a foul on Walcott and he gave a foul against Walcott. It is a foul from Afellay on Walcott, 100 per cent. There was another decision that was amazing, the first time I've seen anything like that, to stop the game when a player has rolled over on his ankle. I never seen that when you have a goal chance. It was important not to lose and, if possible, to win. We managed the first part, not the second one. Overall, we played reasonably well, we dropped physically in the second half. The regret we have is we conceded the goal before half-time and we missed the chance (from Walcott) at the end. It was important not to lose and, if possible, to win. We managed the first part, not the second one. Overall, we played reasonably well, we dropped physically in the second half. The regret we have is we conceded the goal before half-time and we missed the chance (from Walcott) at the end." – Arsene Wenger.
Roberto MADcini
It's MADcini! Boss rages at ref after City are refused last-gasp penalty (Neil Ashton, Daily Mail) Roberto Mancini lost the plot as he stormed on to the pitch to confront referee Peter Rasmussen after Manchester City's stormy 2-2 draw with Ajax. The City manager will be charged by UEFA with improper conduct and faces a minimum one-match touchline ban and a heavy fine. The Italian believed his team should have had a penalty when Ricardo van Rhijn tugged Mario Balotelli's shirt. City also had a goal by Sergio Aguero ruled out for offside.
Mancini should have kept his cool and deserves ban for on-pitch rant (Graham Poll, Daily Mail) Roberto Mancini could face a touchline and dressing-room ban for the remaining two Champions League games after his post-match outburst on the pitch at Danish referee Peter Rasmussen. No matter how aggrieved the Italian felt, he should have kept calm on and off the pitch.
Mario Balotelli loses his rag as Manchester City lose touch (Richard Williams, Guardian) Him again. The one and only Mario Balotelli, of course, enfant terrible turned father-to-be, was back in the spotlight as Manchester City fought to overcome the consequence of their own errors in a desperate effort to maintain their presence in the Champions League, and at the centre of the action as the match ended in controversy. There was no shortage of head-scratching when the Italian turned up on the Ballon d'Or shortlist last week, alongside Lionel Messi and Cristiano Ronaldo. Were those two semi-final goals against Germany in Warsaw really enough to have secured his nomination? City's fans would probably opt for that prodded pass to Sergio Agüero in the 94th minute against Queens Park Rangers last May, the one that reshaped the modern history of the club, as ample justification. And last night, after coming on as a half-time substitute, he gave further evidence of his ability to change the course of events, even if the result might not be enough to preserve City's interest in the competition.
City's rage at the officials would be better being directed at themselves (James Lawton, Independent) Embattled manager Roberto Mancini threw himself at the Danish referee Peter Rasmussen and even in these days of near legalised, shirt-grappling mayhem it was not hard to understand his rage. It came when an Ajax defender attempted, and almost succeeded, in removing the jersey of Mario Balotelli in the last seconds of the match which took City to the very edge of another Champions League extinction. Yet there was a deep frustration that went beyond another moment of European despair.
Roberto Mancini blameless against Ajax as Manchester City are exposed by inept defence (Paul Hayward, Daily Telegraph) Time, now, for the players to face the music for Manchester City's struggles in Europe, not the manager whose own miscalculations hardly explain the abject defending that allowed Ajax to run up a two-goal lead inside 17 minutes in a game that demanded the utmost concentration and professionalism from England's champions. 
Schalke 2 – Arsenal 2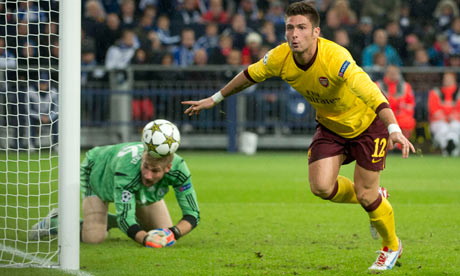 Theo Walcott and Olivier Giroud strike for Arsenal but Schalke hit back (David Hytner, Guardian) Arsène Wenger had insisted beforehand that Arsenal's situation was "not dramatic" yet this is a team that seems to trade exclusively in the commodity. There was the familiar cocktail of hope and anxiety here, together with headline-grabbing plotlines, chief among them Theo Walcott's goalscoring return to the starting lineup for a big game. Olivier Giroud's headed goal was another highlight while it sounded as if André Santos, the villain of Saturday's defeat at Manchester United, had been booed by some of the travelling fans upon his introduction as an injury-time substitute.
Theo: Pick me again (Sun) Theo Walcott  fired his 50th goal for Arsenal — and then demanded a regular starting spot. The England winger netted the 18th-minute opener in Germany on only his fourth start of the season. He said: "I just want to play and, hopefully, I can have a run in the team. I feel I fully deserve it. "We will try to win our last couple of group games – that is all we can do. If we do that we'll get into the Champions League knockout stages and that's the main thing." Off the pitch, Walcott has seen talks over a new contract drag on. When asked if he has been frozen out because of ongoing negotiations, the 23-year-old added: "You'll have to ask the manager. I can't answer that. "I just want to play for this team and hopefully we'll win the Premier League."
Theo Walcott in firing line but makes his point as Arsenal draw 2-2 against Schalke in Champions League (Jeremy Wilson, Daily Teelgraph) Having led 2-0, thanks in part to a goal from returning contract rebel Walcott, the brittle self-belief of the other Arsenal players was again evident as they ultimately wilted under sustained Schalke pressure. Yes, a final 2-2 scoreline was not in itself such a terrible result from the most difficult of their Group B fixtures but, given their start, this was still a missed opportunity for Arsenal's season to recover some momentum.
Steven Gerrard's Real Madrid bombshell
I'd love to play for Mourinho (Jack Ryan, Sun) Steven Gerrard has sensationally revealed he still wants to play for Jose Mourinho.
The Special One is a long-time admirer of the Kop legend. And he almost persuaded him to join Chelsea in 2004 and 2005 — a period when Mourinho led the Blues to two Premier League titles and a League Cup. But Mourinho did not give up the chase and renewed his interest as Real Madrid boss, saying he could never understand why Gerrard, 32, was still at under-achieving Liverpool. Now the Anfield skipper has confirmed: "I would like to play for Mourinho, the Special One."
Chelsea v Shakhtar
Shakhtar Donetsk have learned lessons and again stand in Chelsea's way (Jonathan Wilson, Guardian) At the moment, Shakhtar are in a happy position. They can rest players domestically, essentially using those games as practice matches, clocking up the wins, building confidence, perhaps experimenting with tactical tweaks. Although the party line is to spout the usual platitudes about no easy games, the Armenian Henrikh Mkhitaryan let the truth slip when asked if he'd had to work "really hard" in the home game against Chelsea a fortnight ago. "Yes," he replied. "This is not the Ukrainian championship. When playing in the Champions League, you must move faster, close down the zones, orchestrate fast attacks. There are no weak opponents. All the teams are very strong. We must know how to defend, how to attack."
Roberto Di Matteo calls on side to summon old spirit at Stamford Bridge (Paul Kelso, Daily Telegraph) Shakhtar Donetsk arrive at Stamford Bridge having outscored and outplayed Chelsea in Ukraine a fortnight ago. With a trip to Turin to come – and Juventus expected to consolidate their position with victory against group makeweights FC Njordsjaelland – anything other than victory for Chelsea will make the knockout stage unlikely for the Blues. Roberto Di Matteo's side are well qualified for the task, having spent most of their time in Europe last season with their back against a wall, winning the title with a string of resolute performances when the margin for error was minimal.
Braga v Manchester United
Nani needs more love, says Braga coach who spotted him (Ian Herbert, Independent) Braga's ebullient coach, Jose Peseiro, who plucked Nani out of Sporting's Under-18 side and cast him into the first team, said yesterday that the player was the kind who needed more encouragement than this – "an embrace and support" as he put it. "I know him," Peseiro added with a grin. "If he doesn't play, it is not easy for him. He doesn't feel well when he doesn't play – because he likes to play. All players have different personalities. Sure, the English players don't need too much support, but the Portuguese, Brazilian and Spanish players need more emotional contact. Sir Alex Ferguson can't speak differently to him than to the others. But I know some players need more. Nani needs more, I think."
Racism in football
Strictly speaking, we are looking in the wrong place for racism (Martin Samuel, Daily Mail) Barely a day goes by now without a fan or footballer being accused of racism. There was that guy in the crowd at Chelsea, and now an Everton supporter at QPR. John Terry and Luis Suarez we know about. There are some quite nasty individuals on Twitter, too. And they are all packaged together, these lone souls, into a festering boil called Racism in Football. Meanwhile, the rest of society goes on its merry way, unquestioned and unquestioning, assured that only the national sport has a problem with black people: despite it making more of them rich than politics, journalism, law, ballroom dancing or the mainstream Saturday night entertainment industry put together. Is it any wonder that, in this climate, Ramires of Chelsea believes he heard a white referee, Mark Clattenburg, refer to his black team-mate John Mikel Obi as a 'monkey' two weeks ago.
Chamakh wants out of Arsenal
Get out of jail: Chamakh wants to escape Arsenal wilderness and go back to Bordeaux (Alex HAnkin, Daily Mirror) Marouane Chamakh is fed up with the cold shoulder treatment at Arsenal and is eyeing an escape route back to Bordeaux. The Arsenal misfit arrived in 2010 and was a hit during his early spell at the Emirates – but it has been downhill from there. Not even Robin van Persie's summer exit has opened the door for Chamakh, who has been restricted to just one Capital One Cup start at Reading this season.
---
GAMBLING CAN BE ADDICTIVE, PLEASE PLAY RESPONSIBLY