Rio Ferdinand gets fined £220,000 for his t-shirt boycott, racism charges levelled at Serbia & Uefa, Chelsea may axe JT, Cole & Lampard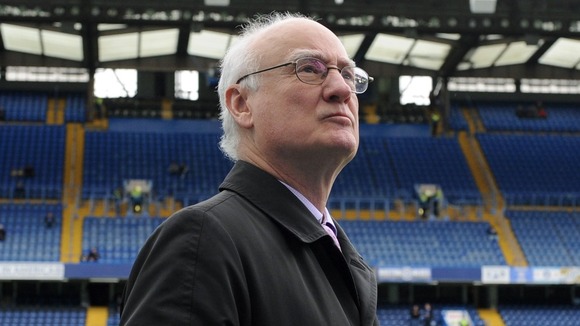 Comment & analysis round-up
Quote of the day: "In the criminal court I sat a few seats away from Anton Ferdinand's family — his father, his mother, one of his siblings — and I could see the effect that was having on him, and it wasn't good. We understand what they've gone through and Chelsea FC would like to apologise to them, because it's been a very difficult year and they didn't do anything wrong and they shouldn't be suffering. We're sorry… Anton Ferdinand was not mentioned specifically in the John Terry apology. Terry apologised to everybody and in my mind that should mean an apology to Anton Ferdinand." – Chelsea chairman Bruce Buck.
Runner-up: "The Jimmy Savile chants told me this wasn't about one fan; the ripped up seats, the hoardings being pulled up, bottles thrown on the pitch, police and stewards being pushed and shoved. All this told me it wasn't about one bad fan. I apologise if I'm tarring all good Leeds fans — but I ask them to imagine what they would do if they were in my shoes? What would they do, if they had their daughter, their son, their two young grandchildren — 11 and 8, crying for Christ sake — listening to all the vile chants coming from the crowd? Those chants weren't coming from just one bad fan. They were chanting about Jimmy Savile as if he's some kind of hero." – Sheffield Wednesday manager Dave Jones.
It's All Kicked Off: Rio's T-Shirt Snub
Manchester United's Rio Ferdinand and Reading's Jason Roberts' boycott of Kick It Out T-shirts is no trivial matter (Henry Winter, Telegraph) It may seem petty, not wearing a T-shirt, but individuals of the intelligence of Rio Ferdinand and Jason Roberts need acknowledging and respecting when they make a point like Saturday's… Their decision should not simply be construed as criticism of the Kick It Out charity and campaigning organisation – it is a sign of disgust at what they perceive is the authorities' slowness in confronting racism. T-shirts seem tokenism to Manchester United's Ferdinand and Reading's Roberts. They want more assertive action.
Rio leaves Kick It Out campaign in tatters… leaving fuming Fergie embarrassed by snub (Mail) Rio Ferdinand 'will be dealt with' for embarrassing Sir Alex  Ferguson by refusing to wear a Kick It Out T-shirt in blatant disregard for his manager's wishes. The Manchester United chief pledged in the build-up to the match at Old Trafford that Ferdinand would join the rest of the team in supporting the FA's anti- racism campaign. The manager was left seething at his former captain's public defiance. 'I'm very disappointed because I said in the press conference that the players would be wearing it,' said Ferguson. 'It's embarrassing for me.'
Fergie: Rio has shamed me (Sun) The England defender will be fined two weeks' wages of £220,000 with his Manchester United future in doubt… Terry received a four-game ban and a fine of £220,000.
Serbia Racists: The Quest For Justice Persists
We owe it to young Danny Rose to take a stand against these vile bigots (Patrick Collins, Mail) The longer we do nothing, the more terrible it will become. The vested interests are formidable and the status quo is a comfortable option but we have to see this one through. We owe it to young Danny Rose and all the others who have suffered the same bigotry. The European game is not serving them well. They deserve much better.
"Very innocent and understandable": Angry Ruud Gullit defends Danny Rose's reaction (Mirror) Gullit said: "I demand to know if UEFA are really going to sanction Danny Rose. The boy's reaction to kick the ball away was a very innocent and ­understandable reaction. An ­obvious one under the circumstances. The Turkish referee Huseyin Gocek gave Rose a red card. Can anyone explain what else Danny could have done?"
Racism: The Governing Bodies Are At Fault
Ignoring racism is a crime in itself – and not limited to Serbia (Daniel Taylor, Guardian) The authorities need to be stronger – however it is dressed up, the FA's four-match ban for Terry is pitiful – and a conversation with Uefa's head of communications, David Farrelly, did at least encourage the sense that behind the scenes the relevant people are aware of how the organisation is perceived. He said Uefa is actually putting an awful lot of money, time and effort into promoting anti‑racism campaigns, with 227 different events taking place as part of the two‑week Football Against Racism in Europe action programme. That is all very good but sooner or later a team, or a player, will walk off the pitch and the impression Uefa gives is that the punishment for the victim would be greater than for the offender. Think back to Michel Platini's response when asked about the prospect of Balotelli doing just this in Euro 2012. His reply was a belter. "It's a yellow card," Uefa's president pointed out.
Why racism will never be kicked out until UEFA and FIFA accept there is a problem (Ian Holloway, Mirror) The Serbs remind me of the ­alcoholic who thinks it is normal to hit the bottle first thing in the morning; or the gambler who puts the mortgage money on a nag ­because it's wearing his lucky number. Just like addiction, racism is an illness. And until you admit you've got a problem you have absolutely no chance of treating it. Sepp Blatter and Michel Platini can deliver some hard medicine by kicking Serbia – and any other nations with racist fans – out of international football.
Tottenham Lose: Twitter Trolls Target Kyle Walker
AVB deserves a second chance: Most good managers and some great ones have failed before (Gary Neville, Mail) Andre Villas-Boas is undoubtedly lucky to be Tottenham manager. Having failed at Chelsea, he walked straight back into one of the top six jobs in the country. I sense some people might even resent that, while others are waiting for him to fail. But contrary to the popular opinion that grew last season, when it was perceived by some that I had an agenda against him — and I certainly didn't — I'm really pleased he's been given his second chance at Tottenham.
Villas-Boas still battling to convince Spurs faithful (Michael Calvin, Independent) There will always be a minority at Spurs who want a return to the good old days, when 'Arry addressed the football world through the window of Kevin Bond's Range Rover. The determination of Villas-Boas to be his own man is fraught with personal issues.
Keep Bale at all costs (Harry Redknapp, Sun) Gareth has the lot. He can dribble, run with terrifying pace, head the ball and shoot with both feet. You can't tell him where his weaknesses are because there aren't any. But if you tell him areas to improve, he accepts it with good grace. There is nothing of the diva about him. When there is talent like that over here, let's not be in a mad rush to send it to Spain. Enjoy it — even if you happen to be on the receiving end!
Spurs star Walker closes Twitter account after own supporters turn on him (Mail) Tottenham defender Kyle Walker has deleted his Twitter account after receiving abuse on the micro-blogging website about his performance in Saturday's 4-2 defeat to Chelsea. The 22-year-old was named the Professional Footballers' Association Young Player of the Season last term, but has not been as consistent this year.
Kirkland's Assault
Jail my attacker for YEARS (Sun) Chris Kirkland last night told The Sun: "The thug who attacked me must be jailed for years." The Sheffield Wednesday keeper fears a player could be "killed" unless there is a severe penalty for the Leeds yob who floored him on Friday.
Kirkland shocked by Leeds fans' hate and anger (Sun) Kirkland, 31, said: "It had all started during the warm-up for the second half. I was hit by something thrown at me before the restart. The Leeds fans were behind my goal and when I looked up the anger and hate on their faces was frightening. It shouldn't happen at football grounds."
Fans Riot On The Continent
Germany latest to be shamed with 200 arrested at Dortmund and Schalke derby (Mail) Despite repeated appeals by both clubs for their fans to behave during the week, violent skirmishes were reported in the build-up to a game which Schalke won 2-1 in Dortmund. This comes after some high profile recent supporter incidents, including Serbian fans racially abusing England U21 players and a Leeds fan smacking Sheffield Wednesday goalkeeper Chris Kirkland in the face.
Transfer Lies
JT's end game: Chelsea will not offer John Terry a new deal as Blues look to remove old guard (Mirror) The Chelsea skipper is under contract until 2014, but recent controversy and concerns over his fitness mean it will not be extended.
Special One Jose Mourinho eyeing up a move for left-back Cole (Mirror) But the Real Madrid boss may be forced to wait until next summer when the Chelsea star is out of contract… Real Madrid boss Jose Mourinho is weighing up a move for Ashley Cole in January after losing left-back Marcelo to injury
Bolton trying to tempt Crystal Palace boss Freedman into taking over Reebok reins (Mail) Bolton were on Saturday night locked in talks with Crystal Palace manager Dougie Freedman over becoming the next boss at The Reebok Stadium.
LA Galaxy ready to make new attempt to bring Chelsea veteran Lampard to MLS (Mail) MLS commissioner Don Garber previously insisted there would be no shortage of suitors were Lampard to make it known he wanted to end his career in America. Garber said: 'Frank Lampard's a great player. He has a great history with the sport. If he decides he wants to play in Major League Soccer, I'm sure any club would be happy to have him on their roster.'
Adebayor on the brink (Sun) Emmanuel Adebayor's Tottenham future is in the balance. The striker, 28, increasingly believes he has no future under manager Andre Villas-Boas. Adebayor has not started a Premier game this season — and has managed just 82 minutes on the pitch.
Huntelaar to use the Emirates as a platform to the Premier League (Mirror) He will become a free agent at the end of the ­season – and Tottenham, Chelsea, Liverpool and ­Arsenal have all been linked with Huntelaar.
Crystal Palace starlet Zaha at the top of Tottenham's most-wanted list (Mirror) Palace value Zaha in excess of £20million and that fee would not frighten Tottenham, who would likely make a down payment of £10m with the remainder paid over the course of a five-year contract.
Sir Alex Ferguson talks up Ryan Shawcross of Stoke ahead of window (Guardian) Sir Alex Ferguson has signalled he may make a move for Ryan Shawcross in the January transfer window, admitting it could have been a mistake to let the former Manchester United defender join Stoke City in 2008.
PSG bid to steal Radamel Falcao from Manchester City (Star) PSG have informed their Spanish counterparts they are willing to meet the massive £48million release clause in the Colombian striker's contract as soon as the January window opens.
Tottenham battle Manchester United to sign Borussia Dortmund star Ilkay Gundogan (Star) United boss Sir Alex Ferguson is actually tracking two Dortmund players – Gundogan and Poland striker Robert Lewandowski, 24.
---
GAMBLING CAN BE ADDICTIVE, PLEASE PLAY RESPONSIBLY