Rio fears Fergie axe for Man United-Braga, O'Neill condemns "we wish you were dead" chants & Chicharito linked with Atletico Madrid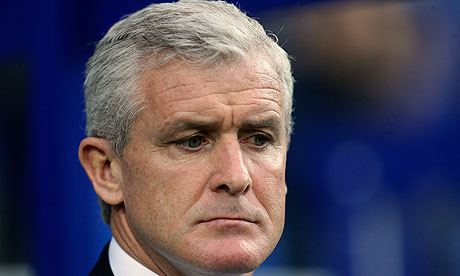 Comment & analysis round-up
Quote of the day: "It's a personal thing but my personal view is that any campaign that focuses on trying to take racism out of sport and football is a good thing and we should try to support it. Everyone will have a view about whether or not enough is being done. Sometimes someone will take a personal view that what's being done is not enough but you'll never get rid of it totally. I don't think so. It's very, very difficult. There'll always be some idiot who feels that it's something they want to do. I think the point is being made that they want more to be done. I'm sure because of their strength of feeling that people within these organisations will look at themselves and question themselves and maybe that's a good thing and maybe that's why the guys feel strongly enough to do that." – Mark Hughes.
Runner-up: "We don't make the decisions, we don't run football. We are a small charity trying to help football come to terms with the reality of the 21st century. We can shout from the rooftops and I can understand what the black players are saying: you are too involved in the game in the way you operate to be independent and say the things that have to be said. The power and decision-making is with the Football Association and the Premier League. We all would have liked the John Terry case to have been wrapped up within days last October, alas it's lasted a whole year and it has caused a lot of pain and grief. They know what has to be done. We've been knocking on their door for a long, long, long time so they know what their responsibilities are. The absence of their voices during all this has been noticeable." – Lord Ouseley, chairman of the anti-racism campaign Kick It Out. 
Rio Ferdinand v Sir Alex Ferguson & the Kick It Out debate
Racism debate is too big for T-shirts and tweets, Rio (Martin Samuel, Daily Mail) Rio Ferdinand is right. We're not going to T-shirt racism in football out of existence. Then again, we're not going to tweet it into oblivion, either. Education, discussion, action. We evolve from there. Ferdinand, and other black players, may find the white cotton gesture politics of the anti-racism pressure groups facile, but so is trying to make a complex, nuanced argument in a medium of no more than 140 characters. Some of us preferred the old days, when Ferdinand conveyed his thoughts with a statement more substantial and eloquent than the odd succinct hashtag.
Out of order! Fergie faces climbdown over threat to 'deal with' Rio Ferdinand (David McDonnell, Daily Mirror) Sir Alex Ferguson faces a humiliating climbdown in his T-shirt race row with Rio Ferdinand. The Manchester United boss promised Ferdinand would be "dealt with" following the defender's refusal to wear a 'Kick It Out' T-shirt to support the anti-racism campaign. Ferguson had ordered all of United's players to wear the shirt but Ferdinand defied him by not doing so before Saturday's 4-2 win over Stoke at Old Trafford. Ferdinand is said to be furious at his manager's public criticism of his personal stance and has vowed to fight any attempt by the United boss to punish him for his actions.
Ferguson and Rio hold crisis talks on race row (Ian Herbert, Independent) Sir Alex Ferguson moved to avoid a breakdown in his relationship with Rio Ferdinand yesterday by holding talks in which he accepted that the defender will not apologise for refusing to wear a Kick It Out T-shirt. The two met after Ferdinand had arrived for a training session yesterday, when the United manager explained that it was the lack of advance notice from the player of his intention to boycott the anti-racism campaign – in contravention of Ferguson's orders – which had angered him. The 33-year-old has apologised to Ferguson for that but has not voiced any contrition for the act itself.
Rio fears Alex axe (Neil Ashton, Sun) Rio Ferdinand could be axed for Manchester United's crunch Champions League tie tomorrow. United boss Alex Ferguson was fuming with Ferdinand after he refused to wear a Kick it Out T-shirt ahead of Saturday's home win over Stoke. Fergie had told all his players they had to wear the warm-up top in support of the anti-racism campaign. As a result of his actions, Ferdinand is heading for a two-week fine of £220,000.
Fergie is the last person on earth you'd want to cross, Rio (Steven Howard, Sun) It's time for Rio Ferdinand to take a step back.
Or else risk tumbling over the precipice. Everyone understands the point he was trying to make by not joining the rest of the Manchester United team in wearing a Kick It Out top on Saturday — that he didn't agree with John Terry receiving just a four-game ban for racially abusing his brother Anton. The £220,000 fine — and anything else added on top by Chelsea — is immaterial. But Ferdinand is not doing himself, the Kick It Out campaign, his club or Alex Ferguson any favours by continuing to act as the focal point for a group of disgruntled black players who firmly believe the Chelsea skipper got off lightly.
Manchester United manager Sir Alex Ferguson may have taken on one battle he cannot win with Rio Ferdinand (Alan Hansen, Daily Telegraph) The first thing to consider is what happened in the build-up to Saturday to make Ferguson so adamant his player would follow his wishes. If, for example, Sir Alex asked Rio if he would be wearing the T-shirt and the reply was 'yes' there is an obvious challenge to his authority and internal issue to be dealt with. If, on the other hand, Rio was never asked for his view on the subject before his manager told the media he would definitely wear it, it is impossible to see any justification for taking action against the player. It's fair to say it is highly unlikely Rio was asked if he'd wear the T-shirt prior to the game.
The Chris Kirkland attack
The Kirkland attack was horrific – but let's keep some perspective (Sam Wallace, Independent) When he reflects on his attack on Chris Kirkland at Hillsborough on Friday, the Leeds United fan in question might wonder why he picked the night the Sky Sports HD cameras were in town – capable of reading the "LUFC" tattoo on his neck, never mind capturing his grinning face. Violent, cowardly and thuggish? Undoubtedly, but not exactly the Professor Moriarty of football-related crime, is he? And as for his fellow pitch invaders, one of them – you will have to refer back to the video clip for this one – appears to be, for reasons best known to himself, fighting with the goal net.
Sunderland 1 – Newcastle 1
Sunderland lack the guile to capitalise on Newcastle United's 10 men (Michael Cox, Guardian) A fiercely contested Tyne-Wear derby was never likely to produce a particularly strategic contest. This was more a midfield scrap, with a red card almost inevitable. In the end Sunderland's performance was an example of how not to play against 10 men, and they were fortunate to escape with a point. Cheik Tioté's dismissal actually made the tactical battle more interesting. Both sides had started with a similar 4-4-1-1 system, with Demba Ba and Stéphane Sessègnon playing behind Shola Ameobi and Steven Fletcher respectively. There was little time in midfield for anyone to put their foot on the ball and dictate play, while none of the four wide players contributed enough in the final third.
O'Neill's side look so poor (Alan Shearer, Sun) Sunderland will be absolutely delighted with that point. It is one they did not deserve. I know I will be accused of Newcastle bias here but Martin O'Neill's team were so poor. They have now won only three of their last 21 Premier League games going back to last season and on the basis of yesterday's performance you can see why. The statistics say they had two shots on target, I can't remember either.
We wish you were dead: O'Neill condemns sick Sunderland chants at Toon's Taylor (Simon Bird, Daily Mirror) Martin O'Neill condemned chanting by Sunderland fans that wished Newcastle defender Steven Taylor was "dead". Geordie Taylor faced the wrath of the angry Stadium of Light crowd after his claims on Saturday that no Sunderland players would get into Newcastle's first team – and that he'd rather collect stamps than pull on a red and white shirt. The response from the home crowd was to sing: "We wish you were dead, we wish you were dead, Steven Taylor, we wish you were dead." Ironically Taylor was on the bench for the 1-1 draw, coming on with 11 minutes to go, but was subjected to the taunts during warm up.
Mata, Hazard & Oscar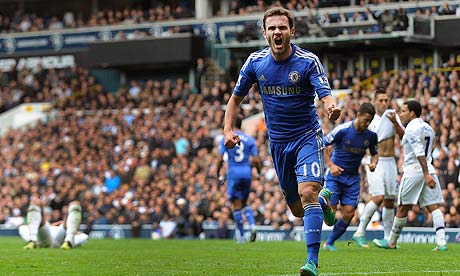 Chelsea's brio trio of Juan Mata, Oscar and Eden Hazard ready for tougher tests following defeat of Spurs (Henry Winter, Daily Telegraph) Mata gave an insight into the ­system. "The three behind the striker [Fernando Torres] always try to play with movement, swapping positions and trying to assist our striker,'' said Chelsea's No 10. "We have to work in training but we are players who play like this naturally as well. I don't think it is a surprise. Oscar, Hazard, Fernando are top players. If you can win and also play really well, it is the perfect way." The man who brought Mata to England, André Villas-Boas, praised the style of his old club. "This fluidity they have with those three players behind Fernando is tremendous and you have Victor Moses and Daniel Sturridge on the bench, so it looks good," the Spurs manager said. "It's difficult because these are players who can beat their man. If you press or stay low these are players who can beat this kind of systems. At the moment they are playing at tremendous level and to counter them is extremely difficult."
Writing off Arsenal
Nor chance! Arsenal's title dreams look in tatters after defeat at Canaries (John Cross, Daily Mirror) Arsene Wenger spent much of last season being told to mind the gap by North London rivals Tottenham. This season a "very unpleasant gap" of 10 points has developed between Arsenal and Premier League pace-setters Chelsea, after defeat by Norwich at Carrow Road. If winning the title was ever a possibility for Arsenal this season, that hope seems to have gone before the end of October. The reality is that maybe the top four is the height of Wenger's ambition these days. Arsenal caught Spurs last season despite being even further behind and yet this time they will have to make up ground on Chelsea with a flaw in their make-up. Wenger's men look desperately short up front and in need of major investment in January to ensure their season does not run out of goals.
Chicharito heading to Spain?
Atletico Madrid want £12m Hernandez to replace Chelsea and Man City target Falcao (Daily Mail) Atletico Madrid are hoping that Manchester United's Javier Hernandez can be the man to fill Radamel Falcao's boots should the striker depart as expected in January. Falcao, 26, has become the most sought-after striker in Europe and Chelsea, Paris Saint-Germain and Manchester City are queuing up to meet his £46m release clause in the next transfer window. The Colombian has already expressed his desire to leave the Spanish capital and Atletico hope to lure Mexican Hernandez as his replacement, according to Metro.
Bolton pressing for Dougie Freedman
Bolton to ramp up Freedman pursuit with lucrative offer this week (Neil Ashton, Daily Mail) Dougie Freedman will decide this week whether to walk out on Crystal Palace and join Championship rivals Bolton. The highly-rated Scot will be offered a three-year deal at the Reebok by chairman Phil Gartside, who will make an approach to Palace within the next 48 hours in an attempt to push him into a quick decision over his future. Palace are on the brink of something special after Freedman guided them to six wins in their last eight matches.
---
GAMBLING CAN BE ADDICTIVE, PLEASE PLAY RESPONSIBLY