Replacing Ronaldo: Manchester United track Valencia, Eto'o, Benzema & Ribery
Comment & analysis round-up
Quote of the day: "I had been told, when we are safe, we talk contracts. It's either a lie or a misunderstanding on my side but I think I understand English well enough to understand what that sentence means. I am angry because I had tried to talk to them in January about my future and the manager [Ricky Sbragia] said: 'Djib, you have to stop talking.' So I stopped talking. The chairman said that I had to wait until we are safe so I wait until the last day to hear: 'Thank you, we are not going to take up the option.' Luckily, I have opportunities at other clubs, otherwise I would be stuck… I am just waiting to see who they buy. Are they going to find a £6m striker or are they going to buy a £12-15m striker? I am going to know whether they bullshit me or not." – Djibril Cisse talking to the Guardian.
Runner-up: "Only the paranoia of some supporters would lead you to believe the owners are not going to continue investing in the team. A substantial number of world-class players have been brought to the club in the past few years and that will still be the case. Sir Alex Ferguson is in total control of his squad. He is empowered to make whatever decisions he thinks are in the best interests of Manchester United. That continues to be the case. The fact is that Cristiano Ronaldo decided, after six years, that it was time to move on and the manager said OK. The idea that Manchester United are motivated by a debt burden is just not true. It is not an issue." – a spokesman for the Glazers.
Today's overview: Scoop after scoop after scoop. It's like being in an ice-cream shop. Except that the tasty treat is replaced by greasy hacks.
Yet we start with Gate-Stealing.
The backpage of The Sun screams "Pompeygate," with Shaun Custis EXCLUSIVELY claiming that "fears are mounting that disgraced former Thai Prime Minister Thaksin Shinawatra, the man who took over and was then forced out of Manchester City, could be linked to the takeover." Custis' claim to the EXCLUSIVE though is highly fictional, the story was first mentioned on May 28th in the Guardian when Jamie Jackson reported on the "speculation in Dubai last night that Shinawatra is among Al-Fahim's backers."
In an unfounded piece of scaremongering from the Daily Mail's Des Kelly, who argues that the fallout from the Ronaldo deal could irrevocably destabilise hopes of a financial level playing field in the Premier League. "The knock-on effect of Ronaldo's switch could ultimately bring forward the day when the Premier League's top four or five clubs finally decide to cut loose from the pack, sell their own individual television rights and help establish a European Super League."
An argument rages in The Sun over life after C-Ron.
Harry Redknapp is the first to show his cards barking "Fergie will have a few targets lined up but Ronaldo is irreplaceable. He is amazing." Yet, like Mother Teresa, Terry Venables swoops in to extend a comfdrting arm to United fans. "There is no need for the Last Rites to be administered at the Theatre of Dreams because there is a cure. And his name is Wayne Rooney… Rooney will become United's top life-saver in the same way Ronaldo has been."
No sooner has CR7 left the building but Manchester United have set about recruiting his replacement. According to Daniel Taylor, "United will return to Wigan Athletic to complete the signing of Valencia for a fee in the region of £17m… Lyon's Karim Benzema is a realistic though potentially expensive target if, as Ferguson fears, Carlos Tevez decides not to accept the club's offer of a permanent deal." Yet, according to Bill Edgar, United won't stop spending there. "Manchester United are lining up a move to take Samuel Eto'o to Old Trafford as they prepare to fill the void left by Cristiano Ronaldo's impending departure." Staying with the Cameroonian striker, Darren Lewis reports "Samuel Eto'o has been offered to Liverpool by Barcelona in a swap deal as the European Champions step up their bid to land Javier Mascherano."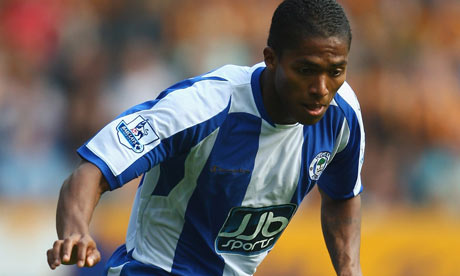 Is Valencia worth it? Andy Hunter is unsure. "For a club of United's resources and in the context of Real's offer for Ronaldo it is a modest sum, however obscene that description seems in the real world. But for a player of Valencia's achievement and top-level experience, if not his pedigree, the fee represents a sizable gamble. It is, though, £1m less than Ferguson paid for Nani."
Simple question. Do Manchester United want Franck Ribery? Definitely not says Daniel Taylor, confidently penning "David Gill, United's chief executive, has told colleagues the club will not bid for Franck Ribery at Bayern Munich." Yet the Daily Mail take the complete 180 position, bleating "United are determined to land him after accepting an £80million offer from Real for Cristiano Ronaldo."
The Real Madrid spending spree is far from over, and Arsenal fans should be concerned. According to the Independent, "Arsenal's Gael Clichy has become the latest player linked with a big money move to the Bernabeu." Of far less concern will be Liverpool fans who will likely baulk at reading Mark Irwin's assertion that "Madrid are set to step up their astonishing spending spree — after an £8million offer for Liverpool's Alvaro Arbeloa."
After Tianio, Malbranque, Reid and Chimbonda (who since returned) all arrived last summer, the Stadium of Light continues to attract second-rate Spurs players by the droves 12 months later. According to Daniel Taylor, "Sunderland are closing in on a £10m deal for Darren Bent and the club have also considered an audacious swoop for his Tottenham team-mate Robbie Keane."
So what about Spurs? Gary Jacob suggests it may be a busy week in North London as the Lilywhites target four serious footballers. "Tottenham Hotspur have entered the race to sign Moussa Sissoko and Étienne Capoue, the combative Toulouse midfield players… [while] Daniel Levy, the Tottenham chairman, expected to hold talks with Real Madrid on Monday about Klaas-Jan Huntelaar and Ruud van Nistelrooy, their Dutch forwards, who are available for transfer."
Keeping with Spurs The Daily Mail pens a completely different set of lies printing "Tottenham are interested in Aston Villa striker John Carew, potentially as part of a deal with Jermaine Jenas." While over in The Sun we learn "Harry Redknapp is chasing Aston Villa winger Ashley Young. And he is prepared to offer David Bentley and Jermaine Jenas to land the PFA Young Player of the Year."
Moving across London to Chelsea, and it seems that Carlo Ancelotti is about to make his first signing. Writes Sam Wallace, "Paolo Maldini was in a meeting with Carlo Ancelotti the new Chelsea manager at Cobham yesterday with a view to joining the club's coaching staff."
Temporarily stepping backwards from the whole transfer circus is Henry Winter, who makes the case that Premier League clubs are losing out to the Spanish tax system. "Foreign players considering transfers to England this summer have noted Alistair Darling's plan to raise the top rate of income tax to 50 per cent from April in contrast to Spain, where the top rate of income tax is 27 per cent (plus a local tax). Overseas players have also expressed shock at the level of National Insurance contributions here."
How many Russian billionaires are there, and why do they all love football so much? Irish broadcasters Setanta wont give two-hoots about that, as explained by James Robinson, after the company earned a "dramatic stay of execution after finding a potential saviour who may take a controlling stake in the Irish pay-TV company. A billionaire US businessman, Leonard Blavatnik, has offered £20m for a 51% stake in Setanta and discussions between the two parties look set to continue over the weekend."
James Montague previews Iraq ahead of the Confederations Cup. "The Confederations Cup campaign, now under the aegis of the Serbian coach Bora Milutinovic, may seem like an irrelevance to most fans. Just don't tell the Iraqis that. This is their one chance to remind the world that this generation of talented players was no flash in the pan, a quaint sporting aberration dreamed up in a Hollywood script."
Returning to the transfer gossip, and the Daily Mail is jam-packed with lies, myths and rumours.
The psuedo-tabloid kicks off by barfing "Arsenal have been encouraged to make an improved offer for Paris St-Germain defensive starlet Mamadou Sakho," while showing the Reds' shrinking pulling power Christopher Davies claims "Liverpool hope to complete the £5million transfer of Javier Saviola from Real Madrid next week."
But the red-tops come storming in with Liverpool targets that will likely be more favourable to the Anfield faithful. Antony Kastrinakis claims "Real Madrid are offering Arjen Robben to Liverpool in a straight swap for Xabi Alonso," while in The Mirror John Cross prints "Rafa Benitez has made a £6million offer for Real Madrid's Alvaro Negredo – but faces competition from Valencia."
---
GAMBLING CAN BE ADDICTIVE, PLEASE PLAY RESPONSIBLY