Reigning in on football finances, Stoke victory may not stop Zola walking, Ipswich ready to sack Keano & Spurs target former Gunner Diarra
Comment & analysis round-up
Quote of the day: "Fat, lazy and useless!" – David Sullivan berates the West Ham playing staff.
Runner-up: "He would ring me every Sunday night at 11pm so he knew I was in bed. 'Oh gaffer, it's Kanu here. Gaffer, I have the upset tummy, I cannot train tomorrow. I will not be in tomorrow, I do not feel well.' Every Sunday. But on the pitch … first game, I stuck him on for the second half against Blackburn, he got two great goals and missed a penalty for the hat-trick. Monday we went to Middlesbrough, won 4-0 and Kanu got two more goals. He ran from the halfway line for the second. What a goal! We got back home to the airport and we were sitting while waiting for the baggage to come. Suddenly he could not get up. His body had given up. We had to lift him into one of those wheelchairs. No matter how the physios tried, his body would not straighten up. They lifted him up into the chair and wheeled him out the airport! He had to leave his car there and he could not drive. The physio had to drive him back. His body had gone. How old is he? 49? I don't know (officially, he's 33). But when you think he played at Inter Milan, won the Champions League with Ajax and he'd had a heart problem. In training you'd pay to watch him some days. He could do things you'd never seen. What a lovely guy as well." – Harry Redknapp.
Today's overview: There's a mixed bag this Saturday as the European men in suits try to get a grip on football's finances, while domestically another Premier League manager is hanging his legs off the end of the plank.
Is, as Matt Dickinson headlines his lead article in The Times, the game really over for football's sugar daddies? "English football's super-rich owners, including Roman Abramovich and Sheikh Mansour, face drastic curbs on their influence under Uefa proposals. The extent of the crackdown on "financial doping", championed by Michel Platini, the Uefa president, is laid bare in a 60-page document seen by The Times. In it, Uefa sets out its detailed plans to force clubs towards break-even, allowing them to spend only what they earn… Over the initial three-year period of regulation up to and including 2015, owners would be allowed to cover losses totalling "45 million (about £40 million). The "acceptable deviation" from break-even would then fall to £30 million over three years and then less, with the amount to be determined."
Matt Dickinson offers a supplementary article helping flesh out the impact of the new Uefa initiative. "Those clubs who fail to comply with the rules — which are effective from the 2013-14 season, although a club's books will be examined back to 2012 — risk being barred from European competition but there are already expectations of drawn-out legal battles that Uefa can ill afford as the competitions move quickly between one campaign and the next. While the rules apply only to those competing in Europe, Platini is encouraging domestic leagues to introduce the standards for all clubs…It makes sense on the surface — but the devil will be in the detail. Supporters mystified by their club's lack of transfer activity may want to become experts in profit-and-loss and player amortization."
Patrick Barclay is quick to throw his support behind the plans. "Uefa's proposals for "financial fair play" are reasonable as far as they go. Even our own dear Premier League, which used to react to any notion of outside regulation with a hostility bordering on paranoia, ought to be able to contemplate them with comfort… Something had to be done to halt football's ruinous inflation — and the European game's governing body has made a start."
Ahead of another packed weekend in the race for the Premier League, Glenn Moore makes the point that "the focus is on Wayne Rooney, Didier Drogba and Cesc Fabregas, but the key man in the title race may prove to be one of the supporting cast. That was the case the last time the Premier League title was this closely contested with seven games to go… Of the current Arsenal players, Andrei Arshavin is perhaps the most likely player to emerge to produce such a surge, with Florent Malouda and Luis Antonio Valencia his equivalents at Stamford Bridge and Old Trafford. Then again, maybe it is time Dimitar Berbatov produced a serious return on his £30m fee."
The Sun lamely splash with an EXCLUSIVE interview with Arsenal skipper Cesc Fabregas in which the Spaniard spouted banal and trite soundbites. Cesc: "I certainly don't believe all this talk that we have the easy run-in, we won't fall for that one. We know every game from now on will determine whether we will be champions or not. We know that, in the same way that we came back from 11 points behind, we can lose all that we've done since just as quickly."
Staying with the title challengers, Martin Lipman announces that "Ashley Cole has been pencilled in to make his Chelsea return next month – six weeks before the start of the World Cup," while Patrick Barclay explains what changes he'd make to Chelsea this summer. "Let a more traditional type of manager come in. Let him dispose of Anelka (31-year-old strikers have limited relevance), Drogba (ditto 32-year-olds), Ballack (five months short of his 34th birthday), Deco (Brazil-bound anyway, for personal reasons) and Hilário… Salomon Kalou and Joe Cole should be sold, the latter because his wage demands are unrealistic… Chelsea could start next season with a team along these lines: Cech; Bosingwa, Terry, Carvalho, A Cole; Pienaar, Essien, Lampard, Arteta, Malouda; Torres. They would win the league."
Dropping further down the league table, Chris Brereton tells Liverpool fans that their club is without funds. "Rafael Benitez does not expect his Liverpool transfer kitty to be adversely affected if his club does not qualify for the Champions League this season – only because he has precious few funds to play with in the first place… Not finishing fourth is currently unthinkable yet if they do not make it, he expects no reduction in his war chest only because he is determined not to miss what he never had."
The noose appears to be tightening around Gianfranco Zola's neck, as Andrew Dillon claims that the Hammers are preparing a Plan B. "West Ham have drawn up a 10-strong list of replacements for Gianfranco Zola… Mark Hughes was the leading candidate to replace Zola but the former Manchester City boss has priced himself out of the running by demanding a package of nearly £10million for him and his coaching staff."
According to Jason Burt, "such is the intense pressure being felt by Gianfranco Zola that the West Ham manager is believed to be close to breaking point. It is understood that he is considering walking out after Saturday's vital relegation battle against Stoke City – even if his team are victorious."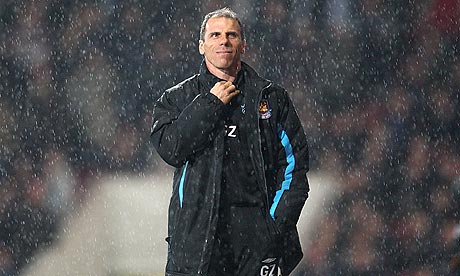 Adding to the bad feeling around Upton Park, Darren Lewis reports that "angry West Ham players fought an astonishing verbal battle with co-owner David Sullivan in an explosive team meeting. Sullivan hijacked boss Gianfranco Zola's get-together to round on the team, calling them 'fat, lazy and useless'… Injured Luis Boa Morte was among several players who blasted the ex-Birmingham chief, condemning the open letter to fans in which he made his comments. The striker told Sullivan: 'If you've got something to say to us, say it to our faces.'"
Injecting some comment into the West Ham crisis, James Lawton tears strips off of David Sullivan's behaviour this week. "Sullivan displays a crass ignorance of the basic challenge facing any manager. It is to win the respect if not the affection of the players. Sullivan… compounded the insult to a professional once described by Sir Alex Ferguson as "the most honest player I have ever seen" by publishing on the club's website: "I am writing this on Wednesday morning. I had no sleep last night, after watching the shambolic performance by the team." There it is, the most heroic image of another week in the life of English football; a sleepless chairman tapping away at a computer in the oak-panelled office in his mansion as the first pale sunlight plays through the leaves of Epping Forest. What could be more inspiring? Maybe a short walk into the woodwork rather than the trees."
Staying in the relegation dog-fight, Des Kelly makes an excellent observation on Wolves. "Remember when Wolves were hit with that suspended fine of £25,000 for fielding a 'weakened side' at Manchester United? Well, eight of that supposedly under-strength team appeared in Tuesday's trouncing of West Ham; Hahnemann, Elokobi, Zubar, Halford, Mancienne, Foley, Jones and Jarvis. Moreover they 'looked like Manchester United,' according to the fuming Hammers co-chairman David Sullivan. It shows how arbitrary and ridiculous the Premier League's punishment was."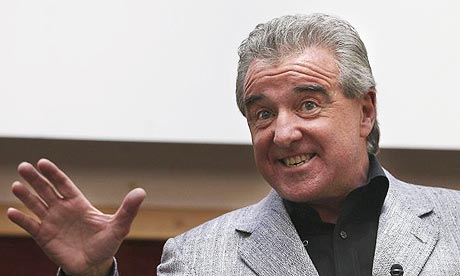 Who isn't tired of the overly-simplistic, cliched crap spouted by Terry Venables!
Helping to undermine any respect left for the former England manager, 'El Tel' Venables today wastes his time explaining why relegation is bad by adopting suicide imagery to help make his dumb-ass points. "With millions of pounds in revenue at stake, it could literally mean the difference between life or death… If you finish below fourth bottom, you end up in the Championship – and possibly lower. And as we have seen with the likes of Leeds, Norwich, Southampton and Charlton in recent years, that can have near-fatal consequences on a club."
Turning to Spain, Pete Jenson reports on Manuel Pellegrini's anger at seeing an injured Kaka deemed fit enough to feature in an ad this week. "The £56m signing is, according to the club, currently injured with a persistent groin complaint but that did not stop him filming an advert this week at Madrid's university rugby ground. The man who has not trained properly since Real Madrid were bounced out of the Champions League could be seen running and jumping freely in the publicity spot… "I have an opinion on the matter but I prefer to keep it to myself," said coach Manuel Pellegrini when asked why Kaka was fit for filming but not for football."
We end with the tabloid lies.
Neil McLeman farts that "Alan Curbishley has been lined up to replace Roy Keane if Ipswich lose at Swansea today. Former Manchester United star Keane is understood to have lost the dressing room with his abrasive style of management."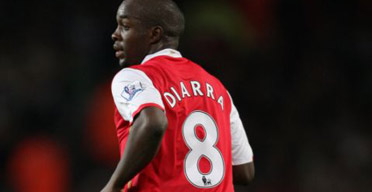 Despite having signed Sandro in the week, and having the likes of Huddlestone and Palacios on their books too, the Daily Mail expects readers to believe that "Tottenham are among the clubs monitoring Real Madrid midfielder Lassana Diarra."
A faceless article in the Daily Mail claims "Fiorentina have joined Palermo in the scramble for Blackburn winger Morten Gamst Pedersen. Fenerbahce and Celtic are also interested in Pedersen, 28, who is out of contract in the summer." And lastly Ashley Gray chugs along with news that "Lokomotiv Moscow have not given up on signing Roman Pavlyuchenko, despite the Russia striker forcing his way into the Tottenham side."
---
GAMBLING CAN BE ADDICTIVE, PLEASE PLAY RESPONSIBLY