Redknapp's recycling at Spurs as Pompey's James & Kranjcar, City's Petrov & Palace's Moses in while Bentley & Cudicini are shipped out?
Comment & analysis round-up
Quote of the day: "It is terrible what has happened to us. Maybe someone has something against us and our national team. In the past year, they [English footballers] have injured Eduardo and now the same has happened to Luka Modric. I can only ask whether someone did it deliberately on the eve of the game with England. I can only ask myself whether it is a coincidence or not. Modric is our most important player. We are depleted without him." – Vlatko Markovic, president of the Croatian Football Federation.
Runner-up: "I know we have the right squad and I trust them. It's an insult to suggest that I could lose my faith in my players overnight… The bulk of the £80 million we got for Ronaldo is still there and seems to be burning a hole in the pockets of a lot of fans. But you don't suddenly scrap your transfer policy because of one defeat, even if it was a bad one. I have explained our strategy, based on my confidence in our squad with a few new faces, existing players maturing and eager beavers on the way up, and I have no intention of abandoning it." – Sir Alex Ferguson.
Today's overview: Read all about it! Read all about it! Its the final day of the summer transfer window and the whispers, rumours and flat out lies take centre stage for the last time until the new year.
Wheeler-dealer extraordinaire Harry Redknapp is chomping at the bit for new recruits, however the Spurs boss is finding it tough going.
David Hytner reports that "Redknapp's desire to take David James from Portsmouth… may have been scuppered, after Daniel Levy, the Tottenham Hotspur chairman, told him that he was opposed to the idea." Not so, according to Gary Jacob, who claims "Portsmouth are demanding about £5 million for James after they rejected an initial offer from Tottenham of a swap deal involving Carlo Cudicini," while adding that Spurs are also trying to sign Niko Kranjcar, with David Bentley a £10 million target for Manchester City.
Andrew Dillion in The Sun claims that the Kranjcar-Tottenham deal is done, while adding "Spurs are also thought to be close to taking Crystal Palace starlet Victor Moses, 18, on loan after beating off interest from Wigan." Adding weight to this story, James Nursey reveals in the Mirror that "Crystal Palace boss Neil Warnock is desperate to cash in on their prized asset Victor Moses. Warnock has been told he must raise funds to wheel and deal and is willing to sell teenage Moses for £3million."
On the future of David Bentley, the Telegraph announce "Manchester City look set to complete a player-plus-cash deal to land David Bentley from Tottenham with Martin Petrov understood to be going the other way."
Sunderland have scooped the Turner prize, but the centre-half did not come on the cheap. As reported by Louise Taylor, "Sunderland have completed the signing of Michael Turner from Hull City on a four-year deal for £12m… George McCartney is poised to swap Sunderland for Hull as part of the deal which will take Turner from the KC Stadium to the Stadium of the Light. Steve Bruce hopes to replace the Northern Ireland left back with Wigan's Maynor Figueroa."
According to The Times, "Portsmouth are chasing Amr Zaki, the former Wigan Athletic forward, and Boudewijn Zenden, the former Chelsea winger… Tal Ben-Haim signed a four-year deal with Portsmouth yesterday after leaving Manchester City." On the Zaki deal, the Independent add that "Portsmouth have made a bid of £3m for Egyptian international."
Pompey are again in the headlines in the Daily Mail, where we learn "Fulham and Portsmouth are battling with Porto over Serbia starlet Stefan Djordjevic." The Cottagers are also looking for new blood up-front, John Cross detailing that "Roy Hodgson has made a £1m move for Kalmar striker David Elm."
It is a case of upgrading at West Ham. Jacob Steinberg details how the Hammers "have signed the Portuguese defender Manuel Da Costa from Fiorentina, with the attacker Savio Nsereko travelling in the opposite direction." Staying with the Hammers, the Daily Mail claim that the Eastenders will try one last time to sign Marouane Chamakh from Bordeaux.
Aston Villa have sought to reinforce their backline, John Percy delivering the skinny on how "Martin O'Neill has moved to compensate for the potential loss of Curtis Davies for three months with the £5m signing of West Ham United defender James Collins."
Newbies Wolves are working hard and trying to bring in some extra firepower before the window shuts. The Daily Mail write "Wolves have made a bid for £6million-rated Cardiff City winger Joe Ledley after finalising a £2m deal for Austria striker Stefan Maierhofer."
Everton are struggling to complete on their deals, according to Rob Draper. "David Moyes is trying to salvage moves for Valencia midfielder Ever Banega and Atletico Madrid defender John Heitinga after both hit a snag. Moyes looked set to add £6million-rated Dutch centre-half Heitinga to last week's signing of Sylvain Distin and Real Madrid discard Rafael van der Vaart was also on the radar."
Stoke, having signed Tuncay and Robert Huth in the past few days, have now completed the purchase of "Uruguay midfielder Diego Arismendi from Club Nacional for a fee that could rise to £4.84m from an initial £2.9m."
Happy anniversary for Middle Eastlands.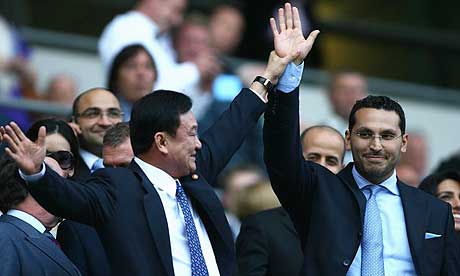 It is a year to the day that Manchester City became the richest club in the world and Daniel Taylor traces the developments in the past 12 months. "So far the club have spent £201m on 13 new players, five of whom have been given salaries well in excess of £100,000 a week. Twenty-one players have been sold, loaned or released, and counting." Taking a more broad-brush approach, James Ducker comments that "the club's transformation over the past year has been one of the most significant stories of the Premier League era."
Tongue-in-cheek, Mike Norrish complains against City's start to the season. "Since the season has started, City have been no fun whatsoever. They have been an incredibly solid, pragmatic football team who swat aside limited opponents with the minimum of fuss. They stick corners on the forehead of their giant centre-forward and then rely on their fabulous goalkeeper to keep them out at the other end. Snore. City may have more strikers than a French haulage firm, but there hasn't been a peep of discontent from anyone so far. Even Robinho was dropped on Sunday without storming off to Brazil on his private jet. Who'd have thunk it?"
Diving. Eduardo. McGeady. This story rumbles on.
James Lawton attempts to focus minds to why this issue has blown up over the past week of football. "It is not about Eduardo or Wenger or Messi – it is about what can pass for reasonable behaviour on a football field. Diving, whether Wenger and all the other managers who so relentlessly see everything from their own perspective like it or not, is in football the most visible form of a rottenness that is now hopping from one sport to another like a monster flea."
Moving north of the border, Paul Forsyth attempts to deflate the anger around Aiden McGeady's tumble for Celtic last weekend. "A split-second decision taken on the halfway line by an exhausted player, seeking to gain the advantage demanded by his team's supporters, is hardly up there with match-fixing, career-threatening tackles or even the dreaded spitting… Divers, though, have become a fashionable target, the means by which those in power can occupy a moral high ground." Keeping with Celtic, Phil Gordon notes that "Massimo Donati has left Celtic and signed for Bari, the Serie A side."
Graham Poll defends the two-match ban response to diving. "The FA, in consultation with UEFA and FIFA should work out a consistent punishment for divers to ensure that the risks start to outweigh the rewards. A two match ban, whether the referee sees it or not, seems to the best way, because fines are irrelevant for millionaires."
On Arsenal, loudmouth Ian Wright criticises the north Londoners for being a soft touch. "So a few weeks into the new season and the secret to beating Arsenal is out. Not that it is that much of a secret. It is exactly the same way teams beat them last season, the season before and the one before that. By bullying them… Arsenal need to sign someone like AC Milan's Gennaro Gattuso, an experienced, tough-tackling midfield enforcer who would not have allowed himself or his team-mates to be bullied by a player like United's Darren Fletcher. "
Switching attention to European football Sid Lowe gives his verdict on Real Madrid's opening day win over Deportivo. "Madrid were promising rather than perfect, wobbly rather than woeful, and a little disjointed rather than disastrous." By contrast, Paolo Bandini bathes in Inter Milan's demolition job of their city rivals AC. "It finished 4-0 but it was the performance, more than the result, that left a deep impression. Where recent Inter sides have won through physical force and individual technique, this was a victory borne out of team-work, collective movement and quick passing."
Finishing on a completely different note, Henry Winter tells the story of Anthony Hudson. "He roomed with Carrick at West Ham, debated the joys and pitfalls of having a famous footballing father with Lampard, has just been short-listed as Coach of the Year in the United States and is also spending time this week learning from Arsène Wenger at Arsenal and Carlo Ancelotti at Chelsea. His name is Anthony Hudson, he is the son of Alan, and one day he wants to manage England."
---
GAMBLING CAN BE ADDICTIVE, PLEASE PLAY RESPONSIBLY